"Dngn" barrage simulator on Flash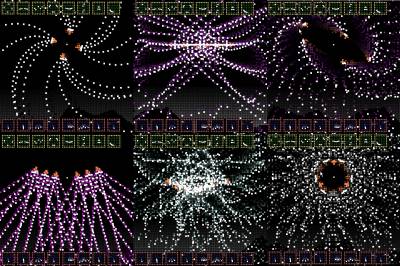 Dngn(pronounced done-gun, meaning "bullet" in Japanese) is a Flash applet well simulates various kinds of barrage in a arcade shooter game.

Click on upper icons to change the turrets' formation, lower to select the bullets they shoot. Move your mouse on the applet to adjust turret's position. Mouse movement makes the pattern of barrage more fabulous.

Source code also provided. Read on for the access.

Dngn
http://www.asahi-net.or.jp/~cs8k-cyu/flash/dngn/

Left and right cursor key to rotate the firing angle. Left click will change the firing rate. It's not playable for it'a simulator, not a game. Hope there's a shooter trainer using this system.

Author of this neat applet is also the creator of "Tsumiki Fighters", which was remade as Wii game "Blast Works: Build, Trade, Destroy" by majesco.

The author's official site also contains some interesting shooters, like "L.A.2" designed in motif of "Conway's Game of Life" and so. Check those out, too.
in Game, Posted by darkhorse_log