The currently released movie "Detroit Metal City" will be filmed in Hollywood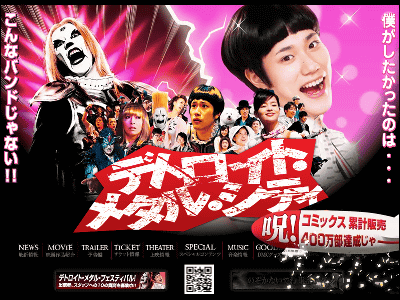 A movie based on Wakasugi Komori's same-name manga published on August 23Detroit Metal CityIt is revealed that it will be remade in Hollywood.

Apparently it seems to be a result expected to pass even overseas.

Details are as follows.
"Detroit Metal City" remake in Hollywood! Whirlwind will not stop! It is! : Entertainment: Sports report

According to the report by the Joshin Shimbun, according to Toho that is distributing after the release of the movie "Detroit Metal City", there are inquiries about the remake rights from Hollywood movie production companies. Currently we are negotiating about terms and conditions, so we have not reached an official contract, but remake will be decided within the year as well.

Regarding not only remake but also the currently released "Detroit Metal City" road show has already been decided in Hong Kong and South Korea, and from the United States, Britain, France, Germany, Taiwan, Australia, Brazil etc. It is said that the offer is dancing.

In recent years as Japanese cartoons and animation such as animated cartoons continue, I am particularly concerned about whether it is possible to reproduce the atmosphere of the main characters, which is the key element of the film, properly.