Implemented a campaign in which e-mobile, terminal purchase will be free for 1 year communication charge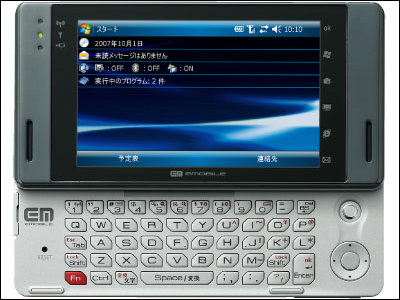 E-Mobile today announced that it will start a campaign to free a communication fee for users who purchased handsets for one year.

In addition to becoming all-you-can-eat high-speed mobile internet for 1 year, it is a ridiculous campaign that the contract office fee is free.

Details are as follows.
1 year communication charge free
"EM · ONE α One-Year Campaign for One Year (EM Charge)" implemented

According to this release, EMOBILE is a limited time period from Thursday, November 20th to December 31st (Wednesday) today, a highly functional data communication terminal adopting Windows Mobile 6 "EM · ONE αAt the same time as purchasing prepaid communication service "EM charge"EM · ONE α One Year Use Campaign for 1 Year" that makes the communication fee of "EM charge" free for 1 year will be implemented for users who have subscribed to "EM · ONE α". The contract office fee will also be free.

After the campaign application period, it will become a normal EM charge standard plan, and we will continue to be able to use it as a prepaid terminal. By the way it is EM · ONE α body,Sold at eMobile's online store at ¥ 69,800It is being done.

The campaign can be thought of stock disposal of "EM · ONE α" which can not be sold due to the appearance of smartphone such as "Touch Diamond", but if it can be used at around 5800 yen per month with terminal substitution, It may not be bad.