"METAL GEAR SOLID TOUCH" for iPhone / iPod touch is decided as the latest work of "Metal Gear" series


before"New work of the Metal Gear Solid series, a mysterious site emergesWe talked about that, today from 17th (Wednesday) KONAMI will introduce the application introduction site for iPhone / iPod touch "Touch KONAMIOpened, it became clear that the latest work of "Metal Gear" series will be for iPhone / iPod touch.

It is original content making full use of the world view of "METAL GEAR SOLID 4 GUNS OF THE PATRIOTS" in various settings such as characters and era background, genre is "touch shooting".

Detailed delivery dates and price details, screenshots from the following.
"Metal Gear" series latest work etc 4 titles for iPhone / iPod touch sequentially from late this month - Konami Digital Entertainment

The expected delivery date is Spring 2009, the price is undecided. It is possible to move the aim and change to the zoom by intuitive operation by the touch panel.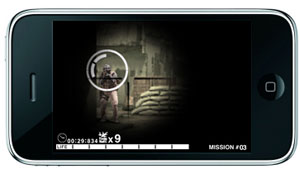 In addition, the location of each stage and the setting of characters appearing are in accordance with the story of "MGS 4". At the start of distribution, eight stages are set and it seems to deliver additional stages sequentially. In addition, when you clear the stage, points are awarded to the player, you can use the collected points to watch videos in the "Metal Gear" series and to get wallpapers.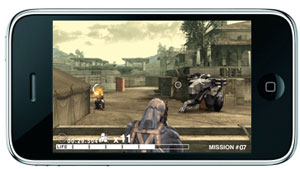 According to Famitsu.com, it is not coach of Hideo Kojima who serves as a producer, but Yasushi Watanabe, the first female producer of Kojima Productions.