Kadokawa Group established the game company "Kadokawa Games", representing the former Tecmo president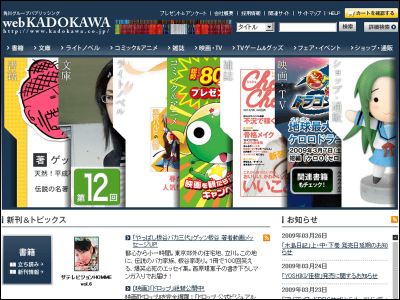 Kadokawa Group Holdings announced the establishment of "Kadokawa Games" which develops and sells game software.

Former Tecmo's PresidentYasumi YasudaIt is said that it will be launched with Mr. President as president, because it is the same group with powerful contents including "Melancholy of Haruhi Suzumiya" and "Lucky Star" I will.

Details are as follows.
(PDF file)About establishment of new company "Kadokawa Games Inc."

According to the release of Kadokawa Group Holdings, from April 1, 2009, it is said that a strategic subsidiary on game business "Kadokawa Games Inc." will be established. Mr. Yasuda Yasuda, who was president of Tecmo until September last year.

This is currently intended to strategically address the development and sales of game software handled by businesses such as Kadokawa Shoten, ASCII · Media Works and Enterbrain in the Kadokawa Group, and focuses on the following three And that.

1.Promote game development of diverse content that is the strength of Kadokawa Group
2.Strengthening sales capabilities and production capabilities through cooperation with each operating company in the group
3.Collaboration with game publishers and development studios outside the group

In addition, by strengthening Kakogawa Games' efforts to globalize and expand the game market to expand to the Internet, we are striving to strengthen content earning power beyond now and create a new game market.

By the way, at Kadokawa Group Holdings last year, it was the creator of Sony's "PlayStation" seriesMr. Hisao Kura assumed office as outside directorI am wondering if this was a pivot to strengthen the game business. It is worrisome.