Osaka's Got Talent! Videos from the Elimination of NHK's Anison Karaoke Contest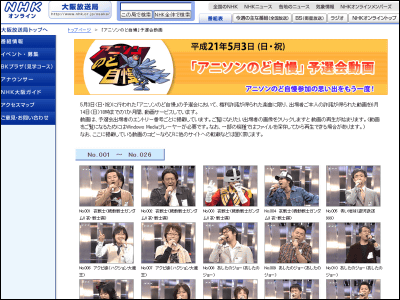 NHK Osaka is now streaming videos of 151 contestants from the elimination contest of "Anime Nodojiman" held on May 3, 2009.

Songs from recent popular anime including Ponyo on the Cliff by the Sea, Neon Genesis Evangelion, Haruhi Suzumiya and Macross Frontier as well as classics such as Galaxy Express 999 and Tomorrow's Joe were performed enthusiastically by contestants of all age, some in cosplay. The videos will expire at 18:00 June 14 (JST: that's GMT+0900) so don't miss them!

Read on for details and links to the videos.
NHK Osaka: "Anison Nodojiman" Elimination Contest Video

The videos are sorted by entry number.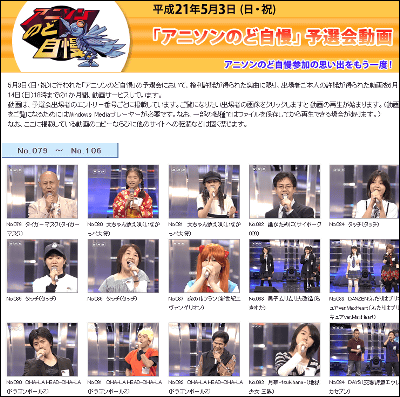 Here are some of our favourites. Click the images to see the video (Windows Media Player).

Cute girl in a Gakuran singing "L for Lovely" from The Kabocha Wine, with a chubby cheerleader cheering on.



Ookami Shonen Ken's theme song performed by father and son in matching plaid outfit.



Sisters in matching outfit singing Ponyo's theme.


Two girls frantically dancing and singing Cutie Honey's theme. In case you're wondering, the guy on the right is the next contestant waiting his turn.



Looks like twins. "Koi Kuru" from Onegai My Melody: Kuru Kuru Shuffle!.


"GHOST SWEEPER" from Ghost Sweeper Mikami




The boy didn't really want to be Ikkyu-san, it seems. Was it his sisters' idea?