Revealed that YouTube is considering charging fee-charging, monthly billing etc.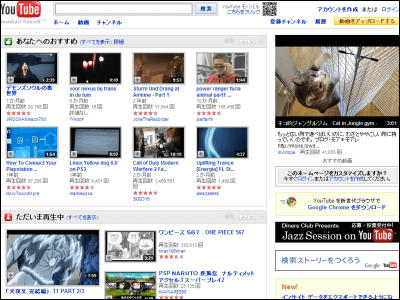 It became clear that it is considering introducing a new pay plan to YouTube which is one of the world's largest video sharing sites.

It is a YouTube that has been managed by advertisement revenue and has not been charged directly to users, apparently there are various reasons behind the background.

Details are as below.
YouTube looks at subscriptions, more ad dollars | Reuters

According to Reuters news agency, David Eun, vice president of Google, who is in charge of partnerships with content providers, said Cable Television (CATV) Bureau on Google's affiliated video sharing site "YouTube" It seems that we are considering introducing a fee-based plan including monthly billing.

Currently, YouTube is considering introducing distribution services for movies and other videos by partning with Hollywood film companies and television program production companies, but movie companies and others like CATV and DVD Because it adopts a system that charges users directly in a form, the business model that YouTube adopts "Do not charge directly to users but earn revenue from advertisements" makes it negative for their own business model to collapse It is said that.

In addition to monthly billing, we are also planning to introduce a rental system like iTunes or Amazon.com has adopted, and it is said that they negotiated with Lions Gate Entertainment, Sony Pictures, Warner Bros and so on.

Incidentally, although YouTube is currently the most commonly accessed video sharing site in the U.S., analysts said that in the future it will be a high quality video that was launched by film companies such as Walt Disney and television stations Video sharing site where you can watch videosHuluIt is predicted that it will become a threat to YouTube.

In other words, as strong rivals appeared, it seems necessary to adapt the existing business model of advertisement revenue, to incorporate content providers.