UQ WiMAX, extended campaign that can use high-speed communication with the lowest monthly fee in the industry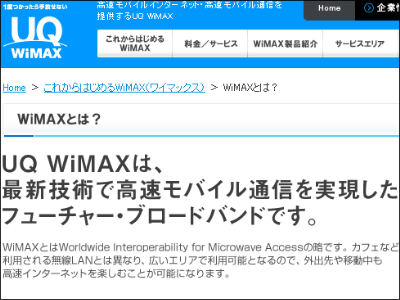 High-speed communication service "UQ WiMAX" with downlink 40 Mbps and uplink 10 MbpsUQ Communications announced that it will extend "WiMAX Speed ​​No. 1 Campaign" that can use mobile broadband at the monthly rate that is the lowest in the industry.

In addition, the campaign to encourage transfer from other companies and the campaign where the price of the terminal is half price has been extended.

Details are as below.
Extension of implementation period for Commercial Service 1st Anniversary Campaign | Data communication card for high speed mobile communication, high speed mobile Internet UQ WiMAX

According to this release, UQ Communications has received the popularity of the implementation period of Commercial Service 1st Anniversary Commemorative Campaign "UQ WiMAX Half Price Campaign", "WiMAX Speed ​​No. 1 Campaign" and "Speed ​​Transfer Campaign" It is said that he decided to extend it by Tuesday 31st (Tuesday).

"UQ WiMAX terminal half-price campaign" will offer WiMAX data communication cards sold by the company for half price, for users newly subscribed to the full flat rate plan "UQ Flat" or the 2-step flat rate plan "UQ Step" thing.

"WiMAX Speed ​​No. 1 Campaign" is for users who purchased WiMAX-equipped equipment via the UQ homepage and subscribed to the fully-flat-rate plan "UQ Flat" for a maximum of 13 months from the start of use monthly fee of 3780 yen (Usually 4480 yen), and the "speed transfer campaign" to which 6000 yen is cash back by sending a copy of the invoice of the other company's data communication service is also applied to the campaign target user I will.

Comparison of regular fee and campaign fee when using 12 months from the contract next month. It will be cheap about 20,000 yen.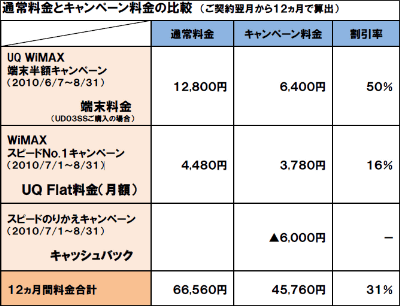 In addition, UQ WiMAX has not introduced so-called "two-year binding" where a penalty will occur unless it is used for two years unlike other companies, and users who are dissatisfied with the current communication service You may want to consider it.

The official page of UQ WiMAX is from the following.

High speed mobile communication, high speed mobile Internet data communication card UQ WiMAX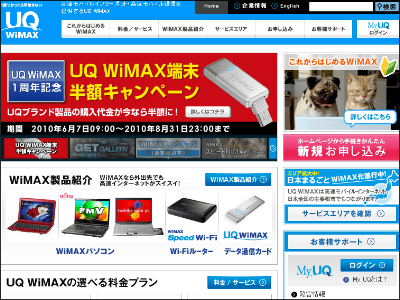 in Mobile, Posted by darkhorse_log