Sharp 's "Mebius" brand disappears, I inquired in response to a computer business withdrawal report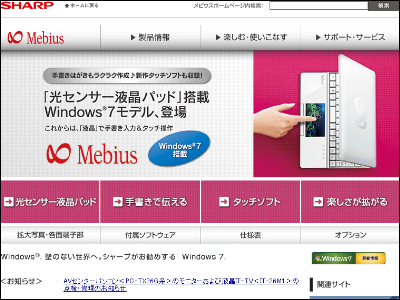 On the previous dayYomiuri ShimbunYaAsahi Shimbun,Mainichi ShimbunAnd other companies "Sharp withdraws from PC business"We did a report, but the company's PC brand"Mebius (Mobius)I asked Sharp whether or not it really disappears.

Speaking of Sharp PDA "ZAURUS"And ultra-thin laptop computer"MURAMASAThere are a lot of nostalgic brands for mobile users, such as "Mebius" will be included in that ... ....?

Details are as below.
When I contacted Sharp's public relations office at the GIGAZINE editorial department, from Sharp "In the future, we will develop GALAPAGOS business unique to our company, which is out of conventional PC-centered personal computer business and combines hardware and content distributionI got a comment saying.

Also, as reported, the production of the previous model "Mebius" has already been canceled.

However, it is only to say that Sharp will evolve from the conventional hard-focused personal computer business, and will develop GALAPAGOS business that combines hardware and content distribution, and inquire about future plans of "Mebius" Because there was no clear comment such as "to let it end", apparently it seems to be another story whether "Mebius" will disappear as it is.