Imperial Director's Retrospective "Millennial Souvenirs" will be held from 12th to 24th August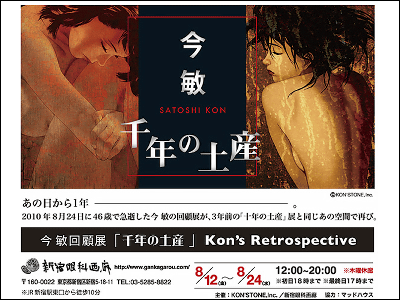 One of the leading animation directors in JapanMr. Imatoshi died in August of last year. That one year from that, from August 12 to 24Imagoshi Retrospective "Millennial Souvenir"Will be held.

The place is the Shinjuku Ophthalmologic Gallery and it will be held in the same place as the event "Ten Years Souvenir" once hosted by the director himself.

Details are as below.
Now Toshi official site - KON'S TONE
http://konstone.s-kon.net/

"Millennial Souvenir Shin Toshite Retrospective" Held - KON'S TONE

■■ Ichimitoshi Retrospective "Millennial Souvenir" ■■

In this retrospective, Illustration that the director made for the work now, original drawings of manga works drawn before the director debut, precious works such as private sketches are also exhibited and it is quite dense It seems to be contents.

The place once held the "Souvenirs of the Decade" exhibitionShinjuku Ophthalmology Gallery. In the title of "Millennial Souvenirs", the thought that I want to convey "souvenirs" that I am Toshiyuki left over beyond the millennium is put in it.

The session is from 12 o'clock to 20 o'clock from August 12 (Fri) to August 24 (Wednesday). The first day is until 18 o'clock, the last day is held until 17 o'clock, August 18 th (Thu) will be closed.

Also, at the gallery, we will sell 100 sets of "Ima Illustration Book BOX" in advance, and gifts from Imatoshi will be presented to purchasers.

It is said that selling goods which imitated director's illustration now, and always screening of Imjitaku talk footage will also be performed, so please bring someone who's on schedule.
in Note, Posted by logc_nt