Social tag "Lapa" to find things lost using technology and people's power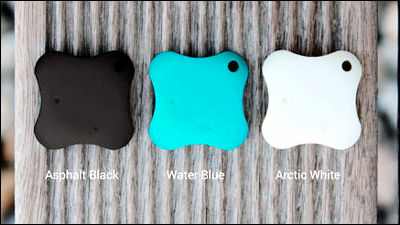 The pain of the heart that loses social connection to the brain is the same as physical painResearch results have come out that people and people's mutual help are indispensable to our lives, but not only the power of technology but also people who can find lost things and lost things with the help of people But"Lapa"is.

LAPA: Social lost and found machine | iOS, Android application compatible | Find keys, pets, children | Facebook collaboration
http://lapa-app.com/jp/

Lapa - Your social lost & amp; found | Indiegogo
http://www.indiegogo.com/projects/lapa-your-social-lost-found

You can see how you actually use Lapa and how to find lost things from the following movies.

Lapa - Your social lost & amp; found - YouTube


Lapa develops three colors of black, light blue, and white.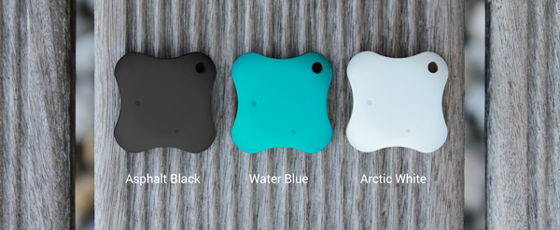 So far"Stick N Find" that you can manage things with Bluetooth and smartphonesOr putting it in trouble if you lose it"Button Trackr" that can be managed and tracked by smartphone & cloudLapa's new point was developed in conjunction with Facebook and e-mails, asking people for help, and the same Lapa user can find a lost item by technology It combines the power of men with the help of people.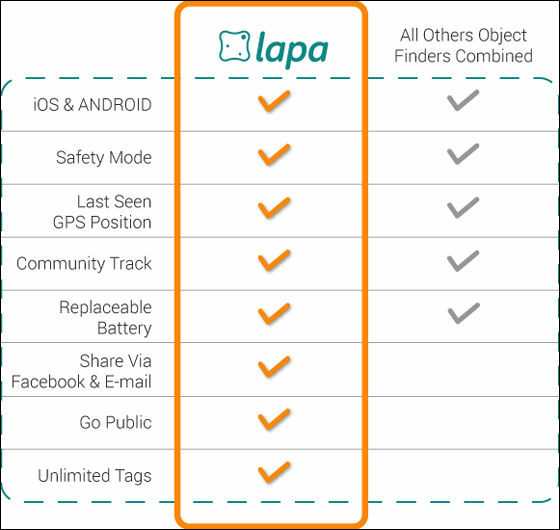 Lapa has the following six features. First of all, you can measure the distance between you and yourself. When I lose my wallet or key with Lapa, I will give you a signal and tell you if the direction you are looking for matches.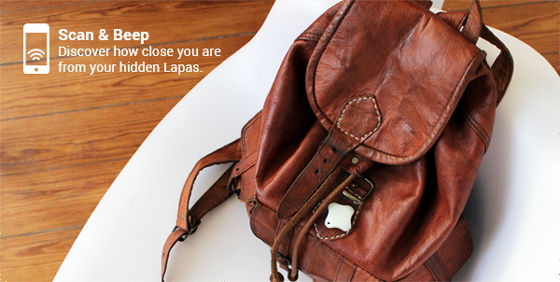 Moreover, it can also set "safety mode" in which a warning sound is heard when the distance to the person or object attached with Lapa goes away, and it helps to keep the child from losing sight.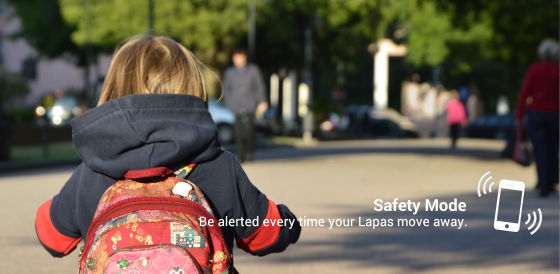 It is also possible to display on the map where Lapa is. Besides the bag, it is safe to know where you are at a glance even if you put it on your pet.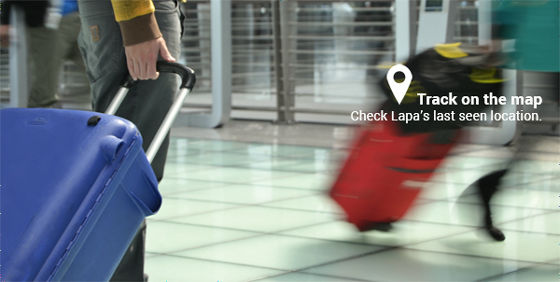 Even if you forget to set the safety mode and drop Lapa in a place that is 100 to 150 feet (about 30 to 45 m) or more away, where you dropped it will be immediately understood by the function called "community track" It is. This is a function throughout the Lapa network, which will update the location if another Lapa user passes by the dropped Lapa. Furthermore, it is not known to the user who passed by the location or information of the lost owner Lapa.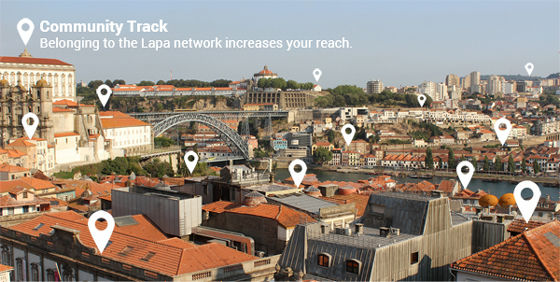 When you want further help, you can send a message to trusted friends using email or Facebook with just one tap. If you download the app from email, they will have access to your Lapa information, so the probability of finding lost items will be higher.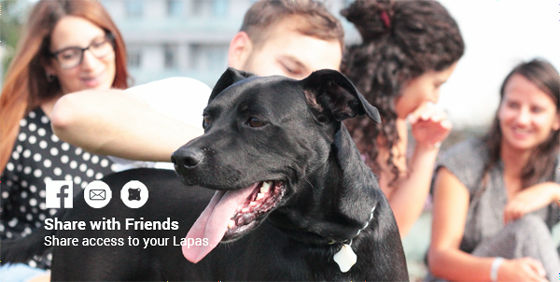 There are lost things "There is absolutely no way to come back ...", but if you use the mode "Go-Public" you can ask for help from the entire Lapa community. This is a function that makes Lapa users see lost information when they pass near your lost item, so even people you do not know can deliver the lost item.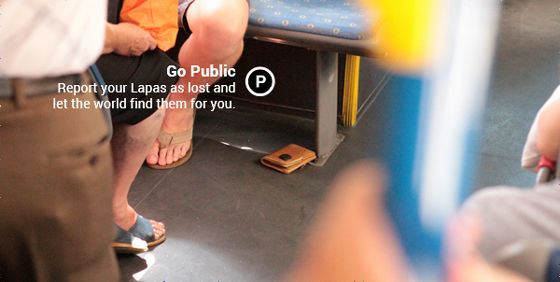 Battery life is about 1 year and can be used anywhere with devices and applications. The application can be used with Android terminal with Bluetooth 4.0, iPhone. The color of the tag displayed on the map can be changed, and the information is displayed as the following feeling.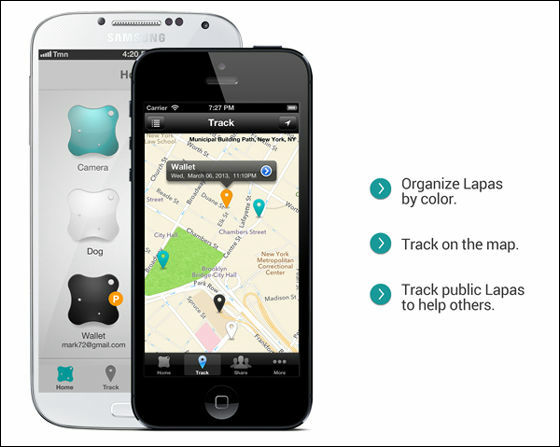 In the application, it is easy to set information such as creation of information, setting of safety mode, guidance method to the place of Lapa, etc. with the Lapa attached.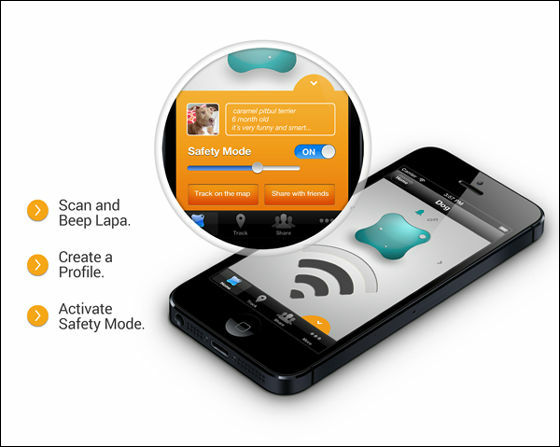 It is also easy to select items with Lapa and ask for help only for certain friends on Facebook.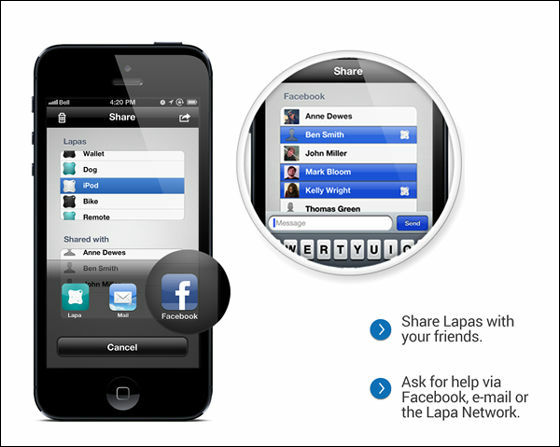 The size of the main body is 27 mm × 27 mm × 5 mm, and the weight is 5 g. You can manage it using Bluetooth 4.0 up to about 50 meters away.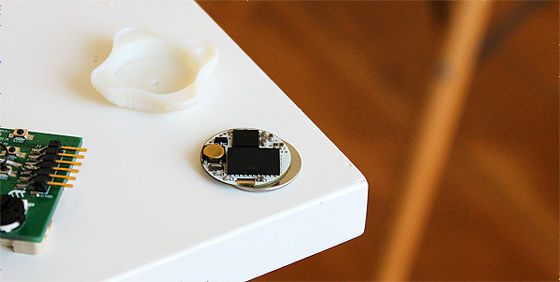 This is the Lapa team. While Lapa is currently recruiting investment for commercialization, it is collecting 60,000 dollars (about 5.9 million yen) at the present time at the target amount of $ 75,000 (about 7.4 million yen). You can get 1 Lapa with a contribution of 29 dollars (about 2800 yen). Three sets of black, light blue, white Lapa with a contribution of 59 dollars (about 5800 yen), set of 5 at 99 dollars (about 9800 yen), set of 9 at 165 dollars (about 16,000 yen) It is possible to increase the number of Lapa which can be obtained when goods are successfully raised as you increase the investment amount.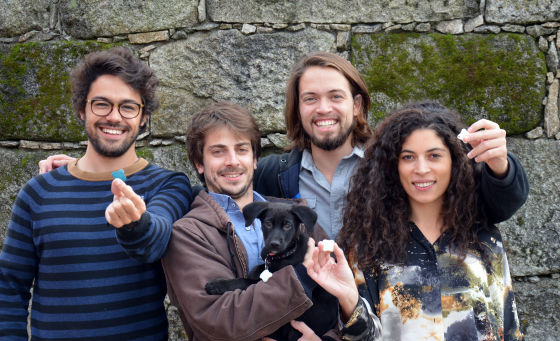 The deadline is Japan time, 4:59 pm on November 10, 2013.