What is the reason why "HashFast" that sells the world's fastest Bitcoin mining chip was in a state of good sight?


The world's fastest · low power · Bitcoin miningASIC(Integrated circuit) selling "HashFast"Is a company in a state of four samurai who is receiving lawsuits one after the other since the summer of 2013. Even since entering 2014, two cases of complaints against federal courts came in succession and received five split mediation, but it has been reported why such a situation is falling.

Meet HashFast, another Bitcoin miner manufacturer accused of fraud | Ars Technica
http://arstechnica.com/tech-policy/2014/05/meet-hashfast-another-bitcoin-miner-manufacturer-accused-of-fraud/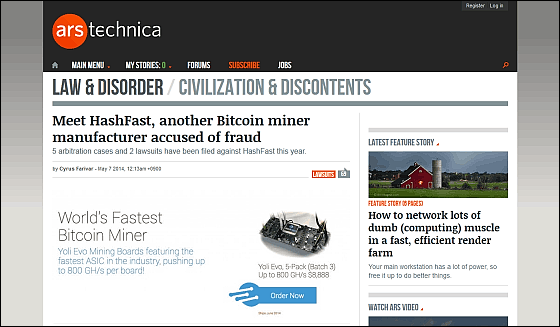 According to Ars Technica, the trouble of HashFast,Collapse of illegal darkness site "Silk Road"AndThe world's largest Bitcoin exchange "Mt. Gox" went bankruptIt is related to litigation problem which continues to increase to the right as it is done.

HashFast can not deliver to the purchaser of the product, and when it slackens the delivery date has progressed, "HashFast's false listIs created so much. Simon Barber, CTO of HashFast in August 2013,Bitcoin Forum"BTC orders are rushing, promising to be able to refund BTC full amount to customers who are unavoidable (who paid the product with BTC)". However, this declaration will not be realized, and BTC mining ASIC of 400 GH / sec which delivery date was delayed in September 2013 "Baby JetWe announced that we will ship, but this has not been realized either.

List of Lies - HashFast Wiki
http://hashfast.org/List_of_Lies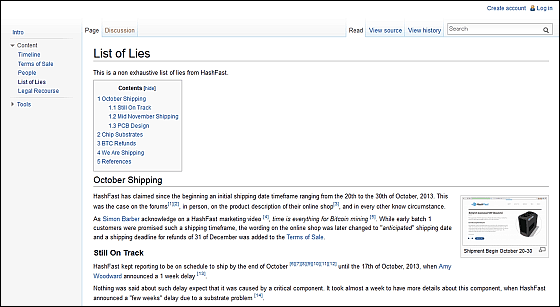 The shipping schedule continues to be delayed, the presentation that "product shipping schedule in mid November 2013" is finally stopped and the status report is stopped. In the form of ignoring complaints from customers asking for a refund, finally the shipping of products has been lost until January 2014. Eduardo de Castro officially "Apologies for customersA blog titled "It is posted, apologizes for the delay of the delivery date and announces that it will also accept refunds.

An Apology to Our Customers | HashFast
http://hashfast.com/an-apology-to-our-customers/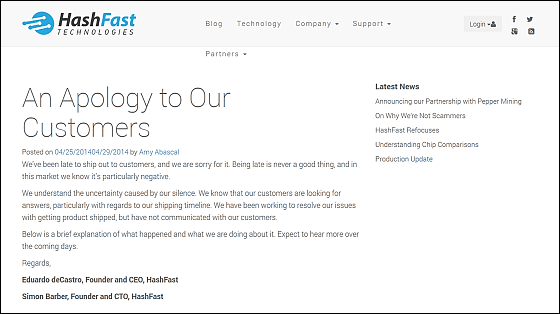 At that time, HashFast says it will enable mining at 800 GH / s despite long term delivery deadlines "Yoli EvoIt was sold at a high price of 8888 dollars (about 900,000 yen) at the lowest price. However, mining became difficult as time went on, and the BTC transaction price continued to fall, so even if you use high-performance chips, customers are in a state that they will lose money rather than profit by mining. At that time, a lawyer who was in charge of three of the five mediation mediated by the customer said, "When it is the only worry that HashFast will become unpayable, why they will not even refund the dollar I do not know - the client is seeking a prompt arbitration award, "he guesses the situation at the time of HashFast.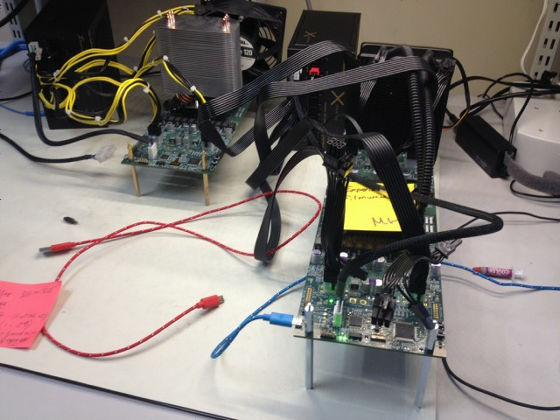 The financial situation of HashFast continues to deteriorate, and in May 2014 "Reason why we are not cheaters"In the blog post that announced that half of the employees were dismissed in order to survive financial difficulties. "Everyone in HashFast lies on the beach with your moneyMytaiWe are not drinking drinking water, "he announced that he was not able to recover the failure of Unit 1 ASIC, and spent much money on development costs. Moreover, regarding the suspicion that "I am merging BTC in-house," internally, I only operate the prototype for development, I do not keep the balance of BTC If our own mining We may have left assets if we do it. "

On Why We're Not Scammers | HashFast
http://hashfast.com/on-why-were-not-scammers/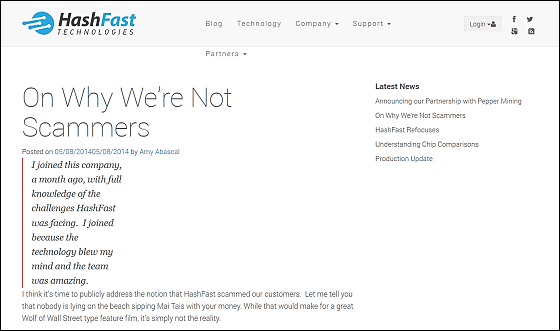 On May 12, 2014, the management team of HashFast answers Ars Technica 's interview on how he committed a failure that changed its fate significantly in the latter half of 2013. Because the current HashFast responds to the maximum possible refund, it has tens of thousands of chips in inventory and there are almost no cash left. Castro CEO says, "We are now poor like church rats."

Embattled CEO of Bitcoin miner firm: "We are as poor as church mice" | Ars Technica
http://arstechnica.com/tech-policy/2014/05/embattled-ceo-of-bitcoin-miner-firm-we-are-as-poor-as-church-mice/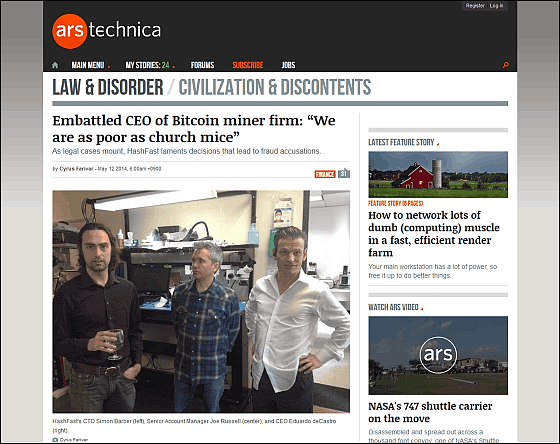 Burber CTO on the left, Jo Russell accounting manager in the center, CEO Castro on the right. You can see a uniformly exhausted expression.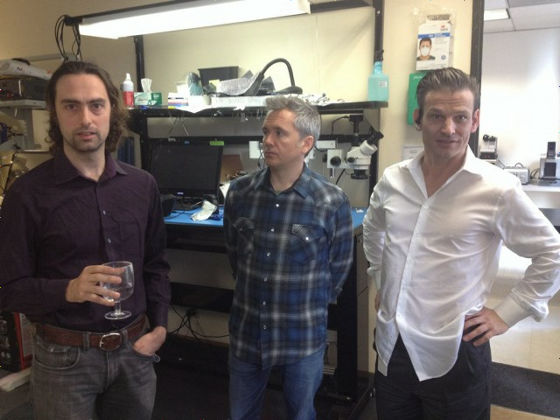 In response to the reporter's question, "What is the biggest failure?", "In the second half of September 2013, we started asking the contractor to design the circuit," CEO and CTO 2 People agreed and tell. The contractor concealed the esoteric part of the product test and said, "If not hiring them, a series of delivery deadlines may not have occurred." After that, although we temporarily stopped all product sales on the last day of December 2013, the customers were furious and litigation and mediation began to occur.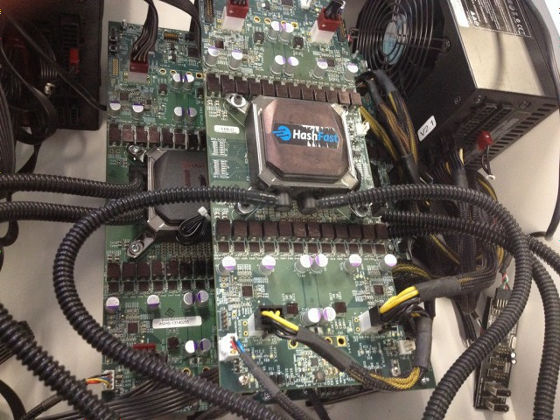 You can see how Ars Technica interviewed the office of HashFast from the following.

Gallery: Inside HashFast, a struggling Bitcoin chipmaker startup | Ars Technica
http://arstechnica.com/business/2014/05/gallery-inside-hashfast-a-struggling-bitcoin-chipmaker-startup/

The office of HashFast is on the 6th floor of the historic building in San Francisco, which was built in 1929.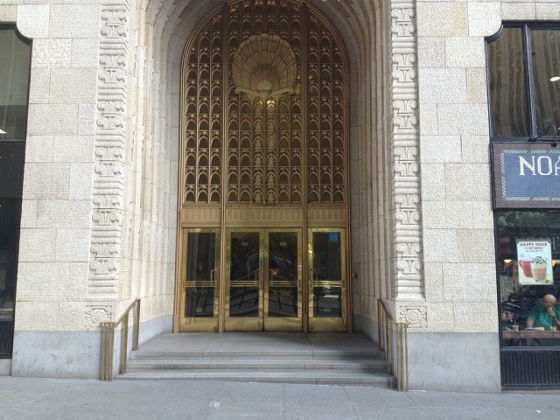 Signboard at the entrance of the office.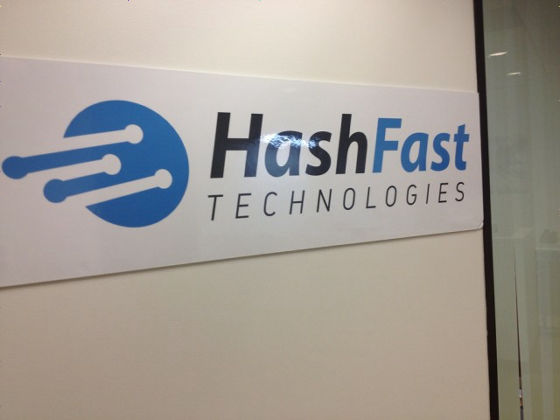 Although employees are halved, they seem to be small offices.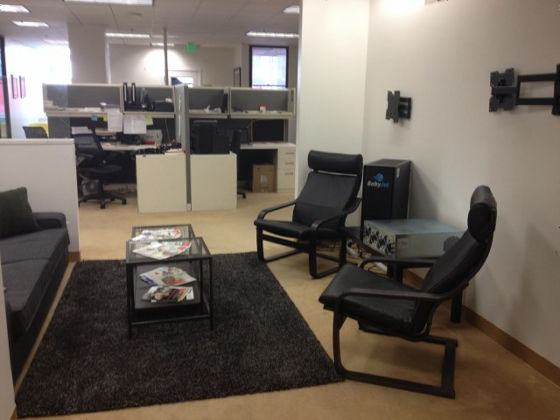 HashFast, a phrase startup company that says "the world's fastest mining software," acknowledged that "selling was stopped" and "refusing communication with customers" was the biggest mistake and " Even though it was inside, we should keep communicating and keep sending information. " Although we still continue to sell products, we are saying that we are turning almost all of the profits obtained to refunds or repayment.