Does Twitter acquire music cloud service "SoundCloud"?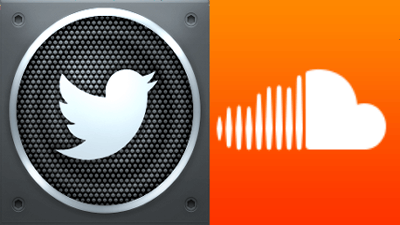 TwitterITunes Radio·Rdio·SpotifyMusic service linked with "Twitter # MusicWe started in April 2013, but in March 2014Finished providing iOS version applicationsdoing. However, the idea of ​​putting emphasis on music has not changed, and it is reported that they are considering the acquisition of music sharing service "SoundCloud".

Twitter Is Considering a Deal to Buy SoundCloud | Re / code
http://recode.net/2014/05/19/twitter-is-considering-a-deal-to-buy-soundcloud/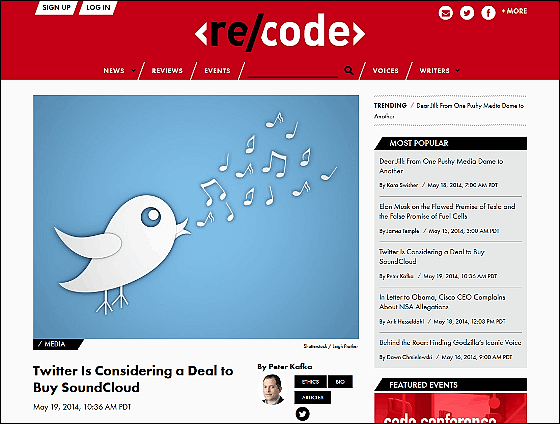 According to information from people familiar with both Twitter and SoundCloud, Twitter is considering the acquisition of SoundCloud with the same number of users. SoundCloud from Berlin is a cloud service that users upload and share music files, and the number of users as of October 2013 is about 250 million, the same size as Twitter. In January 2014 we raised $ 60 million in funding (about 6,888 million yen), and at that timeI am receiving a company rating of 700 million dollars.

Twitter is a mobile advertising company in September 2013MoPubAcquired over $ 300 million (about ¥ 34 billion). If this acquisition talk is going on it will be expected to become a transaction exceeding the purchase price of MoPub, and it is predicted that it will be the highest purchase as Twitter.

Looking at which music services are commonly shared on Twitter, the number of shares of SoundCloud is about 26 times that of Spotify. The number of users of Twitter and SoundCloud are almost the same, and it seems that there is a wide range of duplication in that audience. For this reason, Twitter says that by acquiring SoundCloud, it aims to develop music-centered services following "Twitter # Music".

A year ago I set up a tool to count tweets containing various various music terms. Just remembered about it!Pic.twitter.com/e8O3OeEgRm

- Peter Watts (@ptrwtts)2014, March 20
Many artists and music labels are uploading songs to SoundCloud, but on the other hand, there are many cases that users without copyright are uploading songs, and if the acquisition talks are going on, Twitter The point of how to deploy services is becoming an important point.