Report of "Paradise expulsion technical meeting" report of Shuji Mizushima co-directed about the difference and technical aspects of 2D / 3D animation production system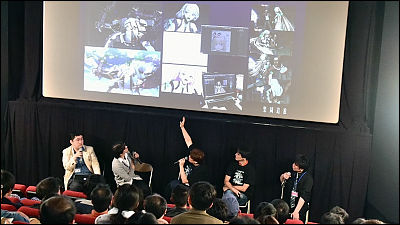 Theatrical animation scheduled to be released on November 15 "Exposed paradise - Expired from Paradise-"The event" Paradise Expulsion Technical Meeting "sprinkled with various things including technical parts etc. was held in early MayMachi ★ Assortment 12It was held in.

"Exposed paradise - Expeled from Paradise-" Technical meeting - Machi ★ Asobi vol.12 2014.05.03 - 05.05 held
http://www.machiasobi.com/events/rakuen.html

The venue was ufotable CINEMA.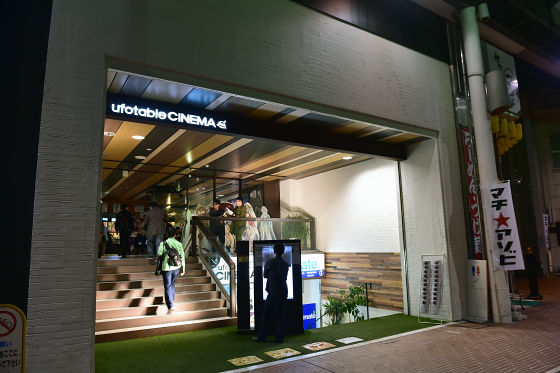 It was the director 'sShimji MizushimaMs., director of modelingYokomi Yokokawa, Producer'sKoichi NoguchiMr. Hiroaki Yoshioka, Chief Animation Producer. Progress is on the animated portal siteAniFav· Edit capMaeda HisashiHe served.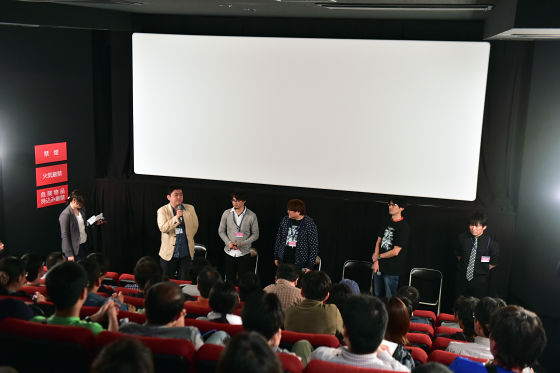 Following a light opening talk, such as introducing the main character / Angela's cosplay, screening of 4 minutes of video and a talk event started.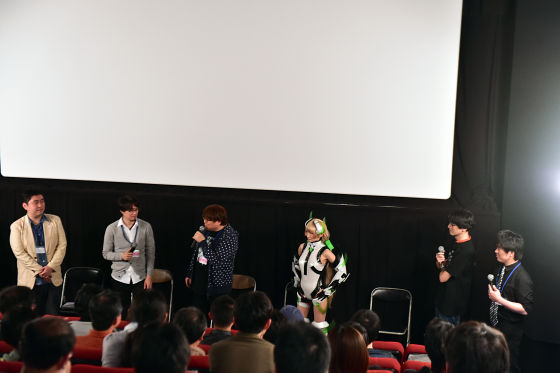 Mr. Shimji Mizushima (hereinafter, water):
What I saw now is the image which was completed in September of last year. Actually, this is a pilot image. How to work on quality and schedule in making a work called "exiled paradise" with meGraphicaI made it for each other to grasp.

Hiroaki Yoshioka (hereinafter, Yoshi):
From Mr. Mizushima I was tried "How much can Graphicika be made"? On the other hand, we also tried "I can do it well with Mr. Mizushima" (laugh)

water:
In the meantime, I made it for more than half a year ago, and as you all know "Arpeggio of Blue Steel - Ars Nova-"Or"Knight of SydneyIt is the situation that is coming out. Since we are also working as if we do not raise the quality as rapidly as possible, the staff said that they should not show the old ones much, but the producers say they want to show it by all means because they are 4 minutes, the director Meanwhile in the meantime "Are you showing again?" I am angry (lol) There are images made for the March event, but I will screen this later for editing for Machi ★ Asbee.

Mr. Kazutari Yokokawa (hereinafter, sideways):
It will be somewhat brushed up or it will be possible to be technically impossible at the stage of last summer ... ....

water:
It is also the animator's skill and there are improvements in how to model it, making films while evolving technology. So I think that you can flow PV, so please have a look.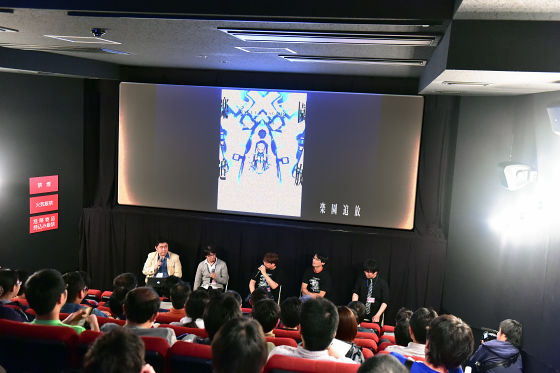 (Screening of PV for Asobi)

water:
This is the final version. It is becoming possible to make facial expressions by reworking the model a little.

Yoshi
I am not quite a bit nervous, are not they (laugh)

side:
Yes, it is getting very hard (laugh)

water:
Every day, we also make it while developing, so I think that we can talk about such struggle and current TV animation.

Mr. Maeda (below, before):
So "the expulsion of paradise" Technical meeting ...... Technical name is high, but we will proceed. First of all it is from a form like a self introduction, but Miyajima Shoji is director.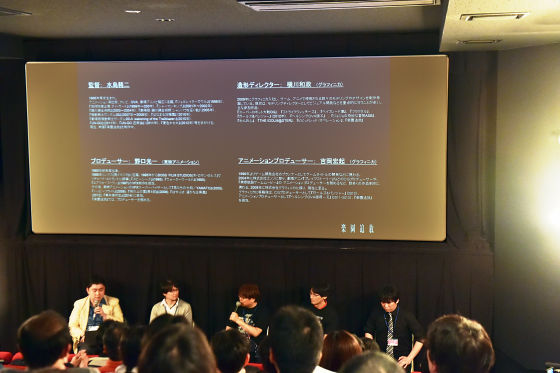 water:
I was invited by Noguchi Producer of Toei Animation to see if I could make a work at 3DCG.

Before:
By the way, how did the director become interested in 3DCG?

water:
As I thought it was from before, it is interesting to make it all with it. Also, I thought that it would be nice to be touched before others, so I was thinking of going well or not.

Before:
Producer Mr. Koichi Noguchi.

Koichi Noguchi (hereafter, field):
Originally I was doing a movie VFX, but now I'm going to be a producer. When I thought what to do, it was recorded in Kambayashi Nagaira tributeFictitious sourceThinking that it is interesting to read shorts of Mr. Mizushima, who thinks who I should make it, Mr. Mizushima's name came up.

water:
Mr. Fumiyuki said that Kakubuchi-kun and Toei are interacting with each other in plotting that unless the director is decided, the script can not be written.

field:
thereSangjigenofMr. MatsuuraWhen I consulted, I was told that "Mr. Mizushima is good".

water:
Several others also said that Mr. Mizushima was interested in 3DCG, has an understanding, and recommended it.

field:
That's why I went to a family place and talked about "I will do it!"

Before:
Next is Yokokawa, director of modeling. What kind of position is "design director"?

side:
The position will change a lot depending on the company and the project, but my position in this title is "Any shop."

Yoshi
There are animation settings such as drawing settings, but you can put shadows in that setting, but absolutely differences will come out when you do it in 3D. Making the front, making sideways, trying back to the front also has strange parts. To adjust it, there is a difference as to whether it is possible to become a model director there if there is no design power.

water:
The character of "banishment of paradise" moves lively because he understands that point and makes a framework. This is seriously "I think it is so different?", After I told you "It's over there," after a month or so I'm pretty, When I hear the story that it was returned to Yokokawa-kun's place and adjusted, I think that it is sense. It is easy to move and express when you know in advance what kind of person who uses the tool is necessary, but it is an individual skill, so that anyone can do it with software I do not have it. People who are key people at each company are growing up and it is becoming the owner of making powerful images.

side:
I really appreciate it, I feel the hurdles are rising (lol)

water:
No, no. (Lol)

side:
Basically, I am keeping around control tools for moving shapes and textures, including 3D and general, including 3D characters and mechanics. After that it is a texture setting, if it is a detailed place, it is drawing from the top ... ....

Before:
Draw from the top?

water:
I use retouching from the top using the tool, and I do my own thing like 2D brushwork. It is not told to "do it", but to do it prejudicially (lol)

side:
There is a work called "special effect" (putting gloss of the mechanism and giving realistic texture) to animation, it is the part which I leave it to the person of specialty, but there is also a place I am doing by myself.

Before:
That means that while doing a directorial work in the hand-drawn animation, he performs work related to picture making such as directing / shooting / special effect etc. to multi.

water:
In addition, I do something close to 3D animators. Cell animation is a division of labor, but 3D animation has tools, so if you have a sense to use it, you can take it to the picture you want to make the final. So, there are not so many parts of filming that make up the condition of the picture. In terms of PV, I am applying a filter like a blur with an action scene, but until the very moment, all 3D animators make a texture.

field:
It looks like a technical meeting.

Before:
At the end is Ms. Yoshioka, the title of animation producer, what kind of work are you doing in this work?

Yoshi
Basically, I do not touch about planning, but I will try to think about what kind of scene we will build based on the contents, thinking about "color". What kind of things are strong in the company, I think that it is color to stick to such a place, but how much do you appeal to it and how far? Also, there are quite a couple of compatibility with the director. After all, absolutely good work can not be done unless the workplace and director are able to work happily. When Ms. Mizushima got to see if it could be done, I got along well with each other and it sticked to such a bad mood (laugh), I received a report that I am doing well, so I'm missing it The place is like a feeling like taking charge of time while turning the staff.

water:
To Mr. Yoshioka, I played a big part in making a production system in doing this work. Normally, it is said that an animator cuts the layout and reconstructs it on the 3D side, so to speak, a way to create a guide is said to be less risky. But, I do not understand the power of 3DCG animator, I want to do from the time of picture making with checking on the monitor to see and check it from the point of view, that staff will grow as well, let alone Graphicica When I insisted, I sympathized with it and let me make the system.

Yoshi
There are directors who do not understand 3D yet, and there are things that I want you to use it better as a 3D side in terms of how to bring individuality and how to bring it to a work. But, if you do not understand but enter the check, they just get stressed each other. If you talk with Mr. Mizushima, you would understand this person. Because I thought, I asked "Please do it" from me too.

water:
With 3D animation that is being broadcasted most recently, 2D animators do not make motion rough first, but previously it was never the case that animators did not put motion rough in 3D, so make a decision like this It was great that I got it. Everyone had been doing the same thing for about 3 years, but it was not an unusual story (lol)

Before:
So today's draft is like this. First of all, "Why are the 3DCG works increasing now?", "Where do you pursue" Paradise expulsion "?" "Exhaustion of paradise" What kind of feeling is it now? "" The place to see "Exclusion of paradise" is here! Finally, I'd like to ask the story "What is the future of 3DCG and what is the future of animation?"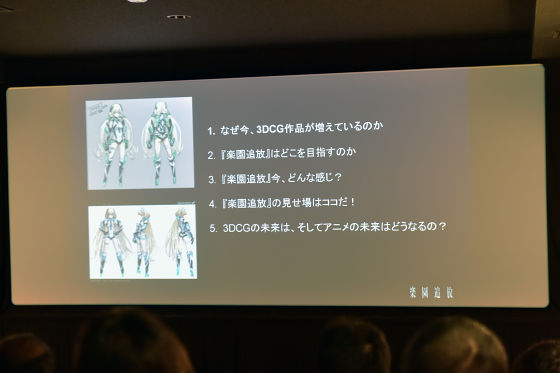 Before:
First of all, why is 3DCG increasing now? I tried to list recent works. Although it is not all here, it is the first time there are many movies, full 3DCG is increasing in 2011 and beyond.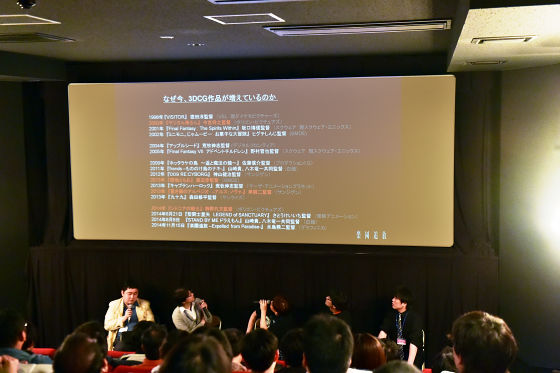 water:
I"Full Metal Alchemist"When I was making the armor, I decided to partner with Sanzige, thinking that 3D is not more labor intensive. At first, I applied animation drawn by an animator in 3D to 3D, and behind the Mob was to explain the director and leave it to it. When I checked it, there was a drop kicking guy and I could not use it indeed (lol), but I thought that I'd like to do something like that and I am interested in it became. then,Mobile Suit Gundam 00When it is, I thought that it would be fun if I made a plan to do heavy things in 3D,Movie versionI did it. There is a concept that it is better for a 3D worker to supervise a person who understands 3D, but as far as opportunities come about "exile for paradise", it would be better to do better than to not shrink.

Before:
First of all, it is like enthusiasm of CG's site, so to speak, like a long-time brawling animator (laugh), did the feelings move with the appeal of enthusiasm in the job?

water:
Well, if you are with these people, it is not the same as cell animation, but maybe you can make something that is spectacular as a visual story. Actually, although I am making other pilot images that are out of the world, I have sometimes completed it with a feeling of losing at all, without compatibility with the workplace. The answer to what you want as a director depends on the way you think in the field, so there are places that are still scary. But what I was happy about this time is that there are many young staff who are motivated to move closer to 3D animation, such as 3D, but also cell animation.

Before:
Everyone involved in 3DCG animation, how have you been increasing the number of works and feeling as you can do it as well?

Yoshi
I want you to succeed if you are willing to do anything including the site. There is a desire to nurture animation of 3DCG, whether it is a rival but coexistence prosperity. However, sometimes ships sinking will certainly come out, so at that time I'm really excited. However, certain results gradually come out, there are places where we have changed the way the studio understands and how to do it systematically, and it is reflected in the picture I think that there is something that customers admit as well.

side:
Working on the work of TV animation, pachinko / gaming machines, games etc. While the companies around the world are stepping forward, someday these jobs will definitely come, but I was confident that I could do well when I did it. Because I have cultivated skills while making something that can not be given to the world.

Yoshi
Since Graphica was later, it was useless unless it succeeded in the first attempt. So, I selected a work that I really work on. Actually, another work was coming a while ago when I was going to "banish paradise", I was a little progressing, but as I was worried, I could not take it to the stage of "doing".

water:
Whether or not we can achieve the best result of our ability is that people who think properly at the planning stage have few losses, so I can study well there and I am doing my best while thinking about connecting next time. First of all, as Noguchi says, please do it in 3D without any conditions, so Angela's hair is tough to have a long time, parts are difficult to cut in, and various technical problems ... ....

field:
"Saint SeiyaSaori of Saori also heard that her hair is long, so I wonder if she can put out later (lol)

water:
At first it was planned to cut hair as well, but that scene is gone (lol) But let's reveal each other's hands with Graphica and let's measure how much you can do, as a result of that It is video. In terms of the industry, it is the goal to keep up with 2D animation, and what you can do after you do it, you can see what it is fun to do in 3D. Simply speaking, it is a big deal for the camera to be free, so considering the problem of the model and the problem of the space, plus setting the space setting properly considering the cost first will be positive, thinking about it It is very hard if there is nothing.

Before:
What is the cost?

water:
The biggest difference between 3D and 2D is that you can make settings for using only one cut if you are cell animation and you can make it under special setting only there, but 3D creates a box garden So, if you think that you want to move the camera freely, you have to make models that are not inferior to full HD, even for one cut. As this builds up, it becomes a big cost. Because there are so many models that we can not say that we want to average power, we will add people or add time to that amount, but doing so will result in a huge amount of gold and more than ordinary cell animation It will take time and you will have to manage it further.

Besides, although this may be done if my heart is strong, if you edit the cut that you made, the part saying "I do not need it" comes out, but if you do it with cell animation as well, I am sorry but I think it is impossible for 3D.

Conversely, when it is devised as to what action can be done though it is not 3D, in 3D objects like 2D animation pseudo space, there is only 3D acting character, "3D model is used But it is like a hybrid with 2D "is progressing. To impress and express it, someone would invent invention in the interaction. I think that there is a dream site. I think that young children will start to do something strange about it.

We are getting older, so in keeping in mind the idea of ​​Celluk as combining this element when we combine this element, I think it is a good part of 3D ... .... so far, but I am making it so far, but this place is probably I think that it is a medium that has such a possibility that some people take out "such things". Cells are reversedMasaaki YuasaAs for Mr., I can not produce in 3D, what I will specialize in animator's habits, so I think that I will move in that direction. It's such a cartoon in the US, is not it?

Before:
It is Yokokawa-san who carries on herself the expectations of the site which is excited like this.

water:
Since 2D animation has been growing over the years, there is a sense that we are doing a lot of work. Among them, it has evolved by fusing 3D, but next time I hope to build a system that will take only 3D and further make it. When I entered the site, I thought that people in 3D would show me new things, but I thought that 's not it, unless I make it together,' Oh, that's right. '

Yoshi
However, 3D costs money ... Give each of the best spec PCs, including some software to do hundreds of thousands of yen into it, it is really hard, how many scripts are there, what kind of aircraft are you using ...?

Before:
There is a misunderstanding that 3DCG rises cheaply or goes easy.

water:
Probably, I thought that movement would automatically reflect when putting a curved line, I was also using motion capture, but now I have a lot of handwork. In that sense, people who are looking at expressions of actions have also seen 2D's superior action, so it will not be possible to get close to just the texture. As for how we evolved it, it is a hand-drawn animation that taps pose on a frame-by-frame basis. It is not different from cell animation. I think that it is the largest that all the animators that can be done there are gathered, and I think that it is also talked about in arpeggios and the like, but because of that, I think the director who was making a cell like us is also good in 3D It came to be like.

Before:
"Where do you pursue Paradise expulsion"? There was a story saying that it will be done with hand-drawn animation, but Mr. Yokokawa.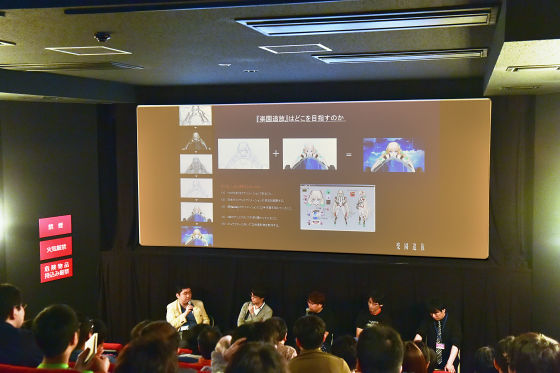 side:
As a director who is not used to 3D, as I mentioned before, there are things that seems to be "If you make 3D once, you can use it", but 3D animators and modeling staff are comfortable as animation one frame at a time As you can see, I would like you to understand the part that takes as much time as painting hand-painted in shapes and drawings.

Before:
When arranging the composition one by one and doing movement while arranging it.

side:
In hand-drawn animation, even movements turning the face sideways Adjust so that the shape looks better every frame at a time or receive advice from me or our drawing staff to adjust, Or is it fixed like that ... ?.

water:
It is not that I'm going to be able to do with it if I make one character model, but I need to think about what angle of view I'm seeing at what angle of view. When you decide the lens on the program, the distortion gets bigger. If it is 2D animation, the animator draws the best choice so that the character is coolest and looks cute. It's a selfish interpretation that we are drawing a storyboard. However, since 3D is a form that is made up of programs, it does not lie, so why is it like this? It will be like a face. In the past I was sticking "This is a 3D model because it is a funny model", but now I thought that this is strange, I will prepare what this model is "at this angle this model" I am doing my best to reduce the places I think are wrong.

Before:
Although it is physically accurate to make with CG, there is unnaturalness when looking at the image, so if you decide to find it there and fix it one by one.

water:
I will fix it from modeling and receive advice from 2D animator "You better have a better perspective", you may fix it by hand. Because there was a scene that is going to be tremendous in Kaneda Perth by the cut made at the time of the pilot film, it made me laugh. However, there is no discomfort even though it is cool and it is awesome thing. At that time, "I am deforming this, is not it? It is absolutely not the model that is not it?" I heard that "it is so" when asked, "No, not at all, do not do it at all, do it!" I returned. If you are further enhancing what you are looking for in a storyboard, it is ok to broaden it based on the directing intention, so we have a relationship of trust from that. At this time, I was deeply moved by saying, "Oh, this is how many people can do with these spirits."

Before:
Is such adjustment one by one case by case? Or is there a certain degree of law?

side:
There is a certain rule.

Yoshi
Even though there are not enough money as long as you are doing it apart (laugh)

Before:
When thinking as a work process, I thought it was a serious thing.

Yoshi
There is also a case on a case-by-case basis after firmly assembling what is called a basic pipeline, but there are some patterns "In case of this kind of case, let's do this". On top of that, there are also parts that the director wishes to submit, or that it costs money to do this as a production, but I'm trying to find a good drop as I want to make it as good as possible.

water:
Problems of work processes and costs also affected the schedule, so it will be impossible to make sufficient promotions. Since I am trying to make everyone want to see something good and I am aiming to complete it at this time, it will come out that "This is sticking to me so much"? At that time I would like to talk with the directors "I want to do this here, but how long will it take?" "Well, let's go as it is now, I think I'd like to brush up a little bit yet, but because it seems that it's a part that does not change from the customers I am seeing" is here I am taking a balance with the part that I do firmly. I think that it is important to first understand 3DCG animation, because there are environments in which you can hear what you do not understand, since understanding has deepened, so you can question.

Before:
It is said that the goodness and badness of drawing is told compared with a long time ago, but what kind of fine adjustment is done at the time of turning is too natural and it does not come out, but the animator is done unconsciously That is what I mean.

water:
It really is. In our work we are hitting the walls "expression of shadows". Because this is difficult and it is stereoscopically correct, there is a shadow that I do not understand well because of slight angular difference in lighting. A person who likes cell animation and likes fine details may worry but there is a slight gap between the part that feels to be an issue within the industry and the part that the viewer thinks "?" Since I have a feeling, then I feel that it will lead to the development of 3D representation as to how to fill it and to do it. Nickelodeon's now being broadcast "Mutant TurtlesSomething, how low cost it is all in 3D to pursue is being pursued, and thinking about the balance between the cost and the actual film can be awesome. When Japanese anime is done in 2D, it always tends to be effort and guts, but it is dangerous as a production, is not it?

Yoshi
It's dangerous, but I have to work with effort and guts (lol)

side:
Ultimately it is effort and gut (lol)

Before:
To put effort and guts at the end of the last thing, you have to increase the number of system ticks before that.

side:
Where can we simplify the work, how efficiently can we turn on workflows?

water:
Even if you really move a bit, something like distortion comes out. In a picture, if you move your mouth, let's inflate this part of the contour ... ... and animators can be drawn in a well-balanced way, but if you do the same thing with a 3D model it will make a strange feeling, so when I see it Three animators and Yokogawa are doing it to fix and prepare before getting angry (laugh) When I realize that, "It is just as sensual as an animator," he says. Although neither 3D nor 2D will change, how can we grow a lot of people with sense as an industry, words are bad, can you manage to think about productivity or make it possible to make it available at any time? I think that earthquake before that is very important. In 2D animation, the part has been aged deteriorated by all means, and animators are also polarized to people who are very good and can not draw at all. It is serious. Because the production flows to the comfortable one, there is a director who makes a hard feeling by putting out the original picture to a human being.

Before:
The story is pretty much in the direction ... ... (lol)

water:
Oh well, I do not want to do so, I think that I want you to work hard on production.

Before:
I do not speak on the stage, but at the site of 3DCG I mean that you are doing trial and error in parallel to polishing individual skills as well as creating a system.

Yoshi
Even though I make one face, as Mr. Mizushima said, it is somewhat balanced to be a drawing, but there is a part that can not be done. But there, Yokokawa assembled a script against it, and since this model has these patterns, please distribute it as this. However, people who have old versions and new versions mixed up .... Because version 1.7 or 1.8 has evolved steadily.

water:
You are doing it all through the production.

side:
Let's stop snatching already (laugh)

water:
"Although it is a previous version, but considering the labor of making changes, this is still a level where you can issue OK so let's go as it is", you can turn the power of that go to other places, so decide such things on the production side I thought that skill is necessary. This time I and Mr. Kyoto (directingKota TomoMr.) also speaks well (lol), I do not mind explaining, so I think that it was good. Surprisingly directors are not good at communicating.

Before:
There are also people from all over the world, "That is the one who draws by yourself soon!"

water:
I do not say that he wants to make it in absolute 3D (lol) I am not very good at drawing, but it is not who I am, but a young director can not draw a picture I can not draw a picture There is a person who makes the painting angry ...... It is not easy for those people to come into the 3D site of the early stage and to stir it, so I think that it is dangerous unless you look at people and make it as possible as possible.

Before:
As the talk spreads rapidly, I will let you know how to promote powerpo. What is it like to be banished from paradise?

water:
Just right now, although the picture comes out behind the scenes, as I said earlier, the animator presented that "This angle is close to the impression of Angela if it is this angle and it looks cute" I'm doing something like ...... PV was 70 cuts, it was about five cuts out of them that I made a reference?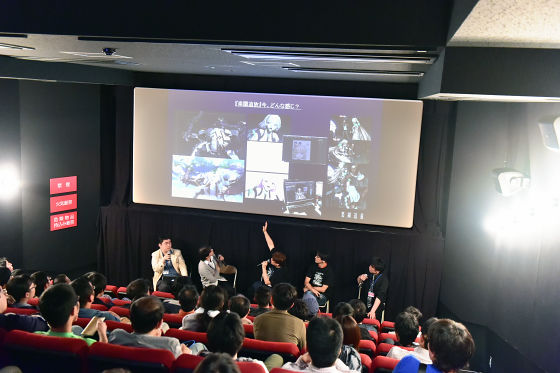 Before:
Although there seemed to be easy 3DCG, there was a story saying that it took so much time and effort, but did you make 3DCG, you could not do this kind of work without trouble, did you have a part that was easy to do?

water:
The best thing is that you can actually place the model and decide the layout. Something I thought as "at last" in the contest stage was something different, but I was able to work with the animator to bring it closer to the storyboard or to the intention. It is like a relationship between director and cameraman in real life. It is impossible for cell animation to be able to work with stickiness while actually talking, though it depends on poor and poor in drawing when drawing. No way, I can not say that I am behind the drawing artist "Oh, that is not the case," I decided to do it in this way this time, so even 3D animators are too close to the storyboard at first Although the director had collapsed, if you explain "Why is drawing this kind of picture here?" From the second time, I realized that "this is important", through Easy picture comes up. You can teach the director's intention. I think that it was good to do it because it will increase creativity and it was hard but it was fun.

Before:
It is easier to tell that it is a person with a clear directing intention.

water:
It is easy to do if communication is good type. However, it is difficult if it is a type that is not so, or a long-term idea. Because everybody forgets while going home with what to do.

Yoshi
I hope there is time and budget like Hollywood's work, but if you do your best and have to make it in a short period of time, you will rely on director's directing power.

water:
If it is in Japan, there are places where it is difficult to establish a plan that is based on overseas development from the beginning. "Transformer prime"Or"TRON: RisingAs I was just working on it,Polygon · Picturesof"Knight of SydneyI think that I am thinking overseas as well.

field:
It's "Captain Harlock"And"Saint Seiya LEGEND of SANCTUARYI made it targeting overseas. However,"Cool JapanHowever, there are places that overseas animation is not sold so much, so if you can not sell it even if you spend so much money ... ....

water:
But are the two works that I tried to make for taking overseas, are not both photo realistic? Seiya still has places like manga though.

field:
Flat pictures of 2D can not be sold abroad, so stereoscopic viewing is really good. In overseas, animation is "for children", and animation for adults can not be sold. So, it is more than a flat picture but a work that is stereoscopic and children can also do it.

water:
Does Toei think too high? There are things that you normally hit overseas with cell animation, but that is not the case. Where is the line "hit"?

field:
First I aim for a payline. From the establishment of Toei animation,White snake"It's because Disney is in fashion", and "Toy storyBecause it is popular ", I invested in 3D, and I was born Captain Harlock and paradise expulsion. So, I'd like to manage 3D animation and 2D animation at the same time.

water:
In that sense "expulsion of paradise" is 3D animation, but it is nearly as close to 2D animation as it is. That area is linked with what we want to do with this animation. The desire to use 2D animation staff is that not only is it closer to texture but also closer to the aim, it is that we wanted to do that kind of project, and sometimes you do not need to spend such abundance of money That's right. It can be done if you are an excellent scenario writer to write on the premise that you do not increase it if you restrict the number of models, limit the space, or conversely make it with a scenario game. This time I was convinced that you can make Moe animation with 3DCG. There are many places that we have not been able to show to you yet, but Angela is so cute. "I can make Moe characters" (Laugh) Kamiuchi also said the same thing.

Before:
I'm pretty sure even PV.

water:
that isKugimiyaThe power of it is also great.

Before:
I,"CrowdsBecause I became it.

water:
Finally Mr. Kinomiya gave me a pretty girl, before thatYounger brotherBecause it is. Kugimiya 's ability has been highly appreciated for a long time, so when you try to do this, as you are thinking about how to engage in characters, if you are reading a scenario as a child you must be a bit tired, you Kurimugi san (Laugh) I thought, "Oh, this is Kinomiya," and asking Mr. Kakubuchi, "How is Riku Kugimiya to Angela?" "Good, hey!"

(All lol)

water:
after,SaitoCharacter design itself also contains a moe-like symbol, it has a lot of three-dimensional lie, and there are so many curves that it is soft in puni. This man is the one that got it to the point of expression to express it. He himself made a model with cheeks softness or full power, so it is really pretty cute when the animator moves carefully! I am surprised to see it when the female freshman animator did it well.

side:
Yes, I heard that the cast is Mr. Kinomiya, I was doing it in the mind saying "Cucumber squeeze!"

water:
Hahaha! That's all there is to it!

(All-out loud laugh)

water:
However, the motivation that the actor gives to creators is really big, and even here we know that it is a film that must compete, so we want a material that can be relieved. That's Kunimiya-san,Mr. MikiWell,Kamiya-kunIt is an actor who can trust himself, that is, and the sound directorMr. MikaWith musicNARASAKII decided that it was, and Noguchi worked hard on that part.

field:
Yes, I heard 100% already.

Before:
great.

water:
Okay ... .... Everyone, please watch it please (laugh)

Before:
Let's go next, I would like to see you strong from everyone's point of view.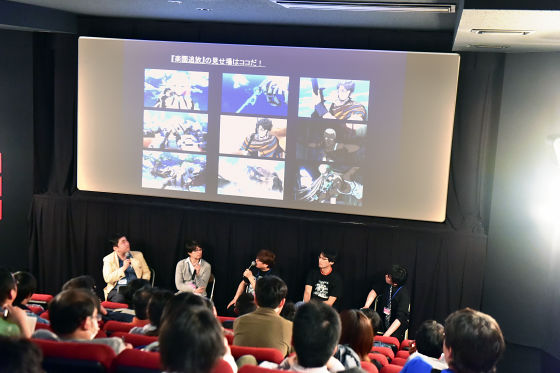 water:
This is already the full story. Neither Kakubuchi nor I am the original movie for the first time, I am trying hard to think about the most fun things in the scale that I can use. Well, because this story tells a straight theme, first of all it is one story and action & person play is also quite nice feeling.

Before:
That reminds me, although we have many female customers, we suspect that Angela is overrunning right now. There are also handsome elements, right?

water:
Dingo is nice, I have a little odorous ingredients, but Miki Shinichiro is still a good voice, it's a good plays too (ah) If I think about the naughty feeling that this character has or the nihil point, Miki was the one that heard naturally inside, so say "Miki san."

Before:
What is the point of commitment, such as male characters or mechanical design in action?

water:
Mecha is also amazing, deformation ... ... lie deformation and so on (Laugh) Saito did mechanical design, but it seems that thought that it would be transformed in himself with super-looking emphasis type not thinking much of structure, He made a solidMaki AsaiSaid that he made a model called "absolutely impossible" and verified it. "If you do this axis here, you will confront this part."

side:
I thought "I wonder" even if I do it, "This is impossible".

water:
In the first place there is no place for Angela to enter (lol) I was worried that it was not big enough if it was the first setting, but it was no use after all.

side:
I tell Mr. Saito, but I am revising it while saying "You bastard, Saito!" (Laugh).

water:
From the way, saying "Transformers are okay" and the number of lines of cuts increased in the design, "It was not such an easy thing, this is impossible impossible!Mr. KawamoriIt is really spicy! "Yanase·Ebi River(Laugh) In that I said that Mr. Noguchi wanted to suddenly make a cut in the place I was dividing into two cuts, "I make two models for up and long use Yo "" No, can you cut a single? "There is a dialogue that the producer of Toei says so, so put in technology as it can not be helped.

Yoshi
That is the series of events that Angela says "It is just right for shoulder breakouts", but it was a truly inspirational when I was able to do it.

side:
It was not right for shoulder accustoming.

(All lol)

water:
That was saying four toru ... .... Thank you, truly!

field:
"Because CG, you can say that, is not it?" (Laugh)

water:
Even though it is a husband holding a cost or the like, I make such a request to the scene in the outsider.

side:
Even on the design side, around the mechanism, especially Ahan (the exoskeletal suits on which Angela is riding) does not destroy Mr. Saito's concept design, and I am sticking to detail as well as modeling well as good-looking. Because it is also doing texture design, even with other broadcasted animation, there are places where we are suppressing the burden by coming closer to the cell, in terms of cost, in terms of cost when becoming Celluk. Among them, I want to express to the world view, and I am attaching texture to all models to the extent that it is not usually possible with cellulic animation.

water:
It was designed with the feeling of being sticky in Angela's clothing and parts attached to hands, initially it was made of metal, but knowing that it does not move with metal, it means that it is a soft part from the middle and " (Laugh) I can make it a good feeling, but in 3D, I thought of the texture from the way to make the model, changing it as rubber texture comes with rubbers and changing it and did a variety of things As a result, it was such a wonderful thing.

Before:
Shall I tie it to a big story with such a trend? "What is the future of 3DCG, and what will be the future of animation?" Although it made a big theme of being "mati ★ Asobi", I will start with the future development of "paradise expulsion".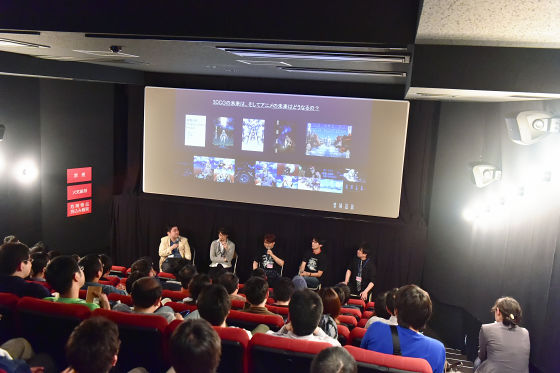 field:
Although I can not do it, I talk so much (laugh), I can not do it, thinking I can not do it ... ....

water:
It is you who said that they wanted to tell everyone what they are making, like entertainment! (Lol)

Yoshi
If by any chance you will be postponed you will be told that "They were those guys?"

Before:
Please do not talk about such scary.

(All lol)

Before:
Are you planning for the future, media development, etc.?

field:
I am thinking on the first day of completion and I will announce it at a little more. About three are planned, so I think that you want to come at that time. In autumn ⇒ Asobi, it would be nice to bring a completed one and see it.

water:
It is natural that it will make it on time on November 15 absolutely. ...... I'm embarrassed to tell myself what I would do with this powerfully.

(All lol)

Before:
While acclaimed production is ongoing, where are you going to make it as a 3DCG creator after making "Expulsion of Paradise"?

water:
I did not think there was any big thing so far ... But, like the Mutant Turtles I said earlier, I wrote a work of texture of animation different from live-action, like all the space is built in 3D, in a TV series There is something that I want to make. Since I think that I am more for myself than a movie for a TV, I would like to make a TV animation.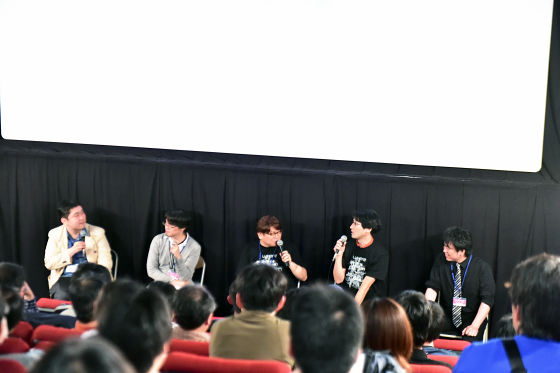 water:
Also, as some things I would like to say in this place, there are people who say things like "3D animation drives 2D animation", but I think that is impossible. Because, as I said, both expressions are suitable for us, so we will evolve individually by making use of it, and there is also a hybrid that combines it. As the number of 3D animation production increases, the number of 2D will decrease if the total number does not change, but I think that it is the most beautiful to get out of the current state of fierce by introducing proper human resources by that As I'm thinking, there are prospects that as to the number it will be good to think both by the manufacturer who orders and the industry as a whole. Although I tried doing it this time, the drawing animation will not go away.

Before:
There was also early stage, super animation such as Mr. Yuasa is not lost.

water:
Even if it's not a supermarket, the power of the staff who support the current TV animation, the people who came with me, the young children, those who draw high-profile pictures do not disappear. Because it comes out under the influence of past libraries. People with such spirit are also appearing in the 3D animator, but after all the way it expresses is changing, I think that both are compatible.

Yoshi
It is also the case with this time's work, but what I'm thinking is that what sorts overseas is important is what is important as it is said by Ms. Noguchi. When a car is imported from overseas to Japan, it is not as it is Japanese cars were improved by improving themselves for ease of use, and those which were exported in reverse were selling overseas again. I believe that animation should also be so, and I think that I would like to create an essential part of Japan for animation, with a company that is serious about animation.

side:
Since I love 3D animation and growing up looking all the time, I sometimes think that animation is bad, but in the end it comes back to animation. This time we are doing theatrical version, but next time there is a desire to aim for the quality of theatrical version in the TV series.

water:
There is a feeling that it is possible if building a system and if possible without loss.

field:
It is absolutely not necessary to go to the world, but first talking with Mr. Kamiuchi about "to make a work that will last ten or twenty years", I told the director that I will not do it off It was. I gave an example to Director ImaginePERFECT BLUEIt was, but I want to make it on scale, let's do what I make. "I'd like to make something that lasts 10 or 20 years" as a theme, so I'd like to show you "banishment of paradise" in a cool form on November 15 as the first step.

After finishing talking about all the themes in this way, the Janken competition was held with various goods.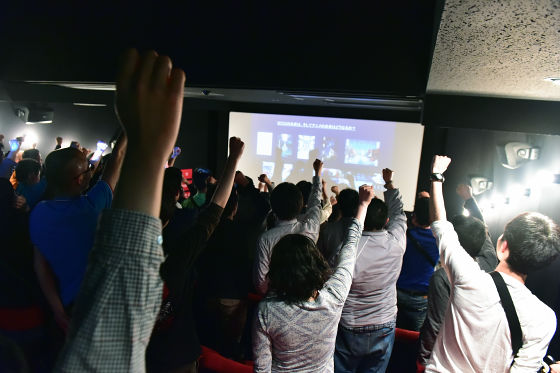 Before:
Finally I would like to receive one word at a time. From Ms. Yoshioka.

Yoshi
Although it says to make it on November 15th, the workplace is tough (laugh), but I promise you will be completed as promised in this place, so please look forward to it. Thank you.

field:
The shirt I am wearingMr. Kusano(Graphic design manager) designed it, I definitely want to sell it in the summer comic. In order to enjoy Comiket.

side:
I think that you can look forward to November 15 because I think that you can do works that can not be done unless you are doing graphicnica, including 3D animators, modelers, after-production staff and design department, from editing to shooting.

water:
I think that it is possible to make good ones because it is a site where many people who worked together worked together, making it possible to make it in a single production line including video editing. I am looking forward to November 15 .... Also, Mr. Noguchi's "Let's make it anything" corner is also Angela's cosplay, but making this sort of thing other than this T-shirt, etc. I think that I will continue in the future, I am glad if it makes me interest. I will do my best to make everyone enjoy all things, thank you.

Before:
Although it was a long time, thank you for seeing us today 's event.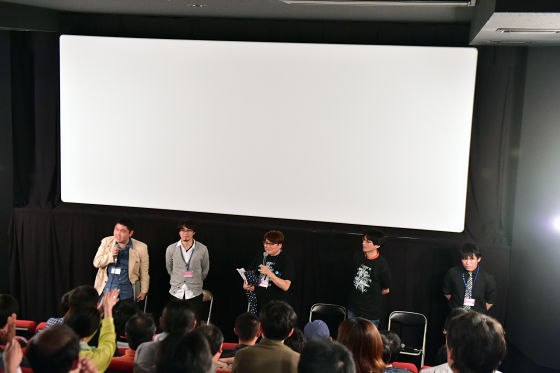 After this "Technical Meeting" was done, dubbing was completed in June. A new visual and a further trailer are released in July.

"Exposed paradise - Expired from Paradise -" theater trailer (30 seconds) - YouTube


At the Wonder Festival 2014 [Summer] to be held at Makuhari Messe on 27th July at the Nitroplus boothA life-sized figure of the heroine Angela Balzac will be displayedDistribution of notifying items is supposed to be done.

· Additional notes
The situation of Angela exhibited at the nitroplus booth on the day was like this.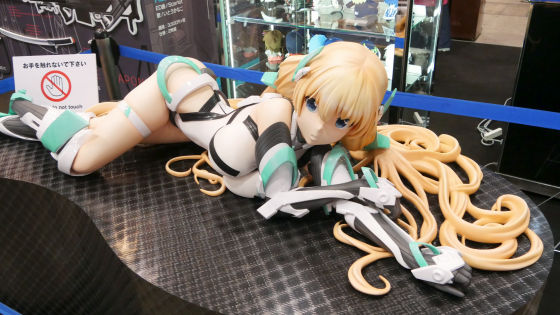 It is prohibition to touch the hands.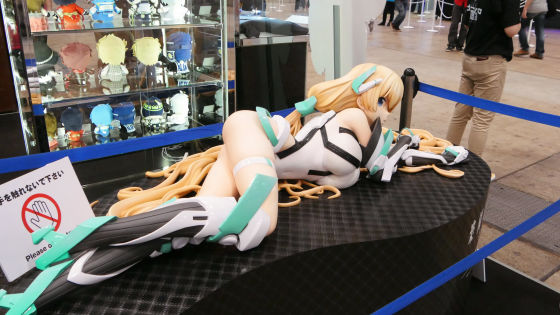 Mr. Kayabuchi also pushes Daiko A sense of touchIt is so regrettable that I can not touch it because it is so.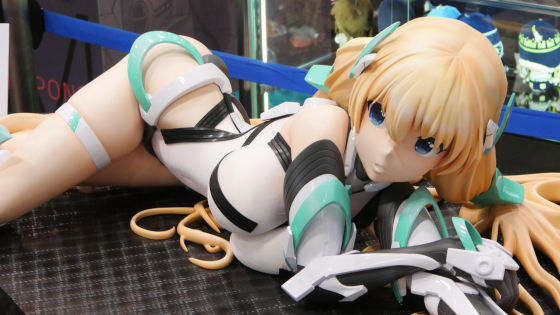 The butt side is like this.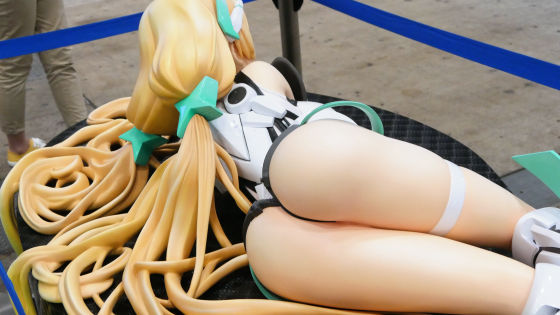 Before the movie is released, there may be opportunities to see it at some event.