The next iPhone appeared in September 2016 or the possibility of "iPhone 6 SE" rather than "iPhone 7"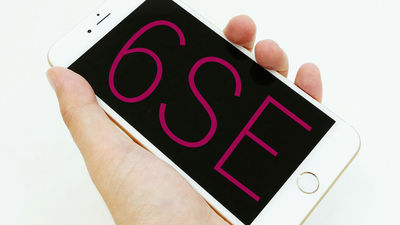 Apple is supposed to announce it in 2016The 2016 iPhone"Evan Blass known for leakage of smartphone information tweeted on September 16th if there is something. This is a reasonable prediction from the release cycle so far, but the iPhone that will be announced will not be the "iPhone 7" that was hitherto been called, "IPhone 6 SEThere are rumors saying that it is named.


Just to clarify, this refer to to the retail release, not the launch event. To be even more specific, it should happen on Friday, Sept. 16th.

- Evan Blass (@ evleaks)July 23, 2016

IPhone 7 release date reportedly set for Friday, September 16th as rumor suggests 'iPhone 6SE' naming | 9to5Mac
http://9to5mac.com/2016/07/25/iphone-7-retail-release-date-reportedly-set-for-friday-september-16th-as-rumor-suggests-iphone-6se-naming/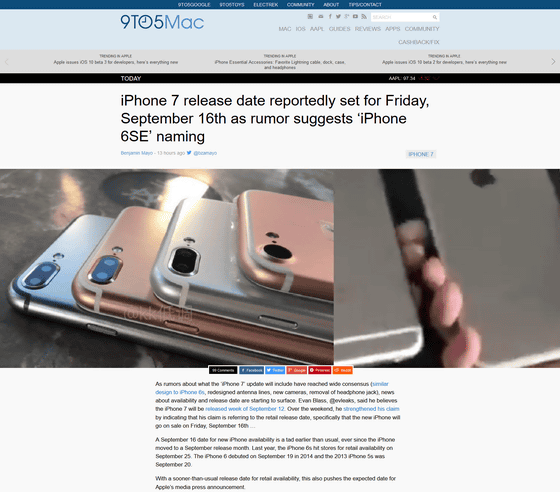 Currently, new models are appearing once a year for the iPhone. However, since it is a model with "s" behind the figure once every two times, it means that there is a major change once a year.

According to 9to 5Mac, 5 models after the iPhone 4s have been announced and released in the fall, especially when iPhone 5 or later it is announced and released in September for 4 models, so as Evan Blass says, the next There is plenty of possibility that iPhone announcement will be held on 16th September 2016.

When I make a list, it looks something like this.
IPhone 4s: announced on October 4, 2011, released on October 14, 2011
IPhone 5: 2012September 12Announcement, 2012September 21Release
IPhone 5s: 2013September 10Presentation, 2013September 20Release
IPhone 6: 2014September 9Announcement, 2014September 19Release
IPhone 6s: 2015September 9Announcement, 2015September 25Release

However, regarding this iPhone announced in September 2016, no major change is made compared with the current model, it is the nextModels expected to be launched in 2017 will be subject to substantial changes such as wireless charging compliance · home button removal · OLED display loading etc.It is rumored to be.

For that reason, the iPhone that will be announced in September is not being called "iPhone 7", which has been referred to as "iPhone 7", it is also said that it is called "iPhone 6 SE".

If all these rumors are true, some people will wait for the next iPhone until 2017 due to new features.