A new kind of shrimp with the name of the legendary rock band "Pink Floyd" born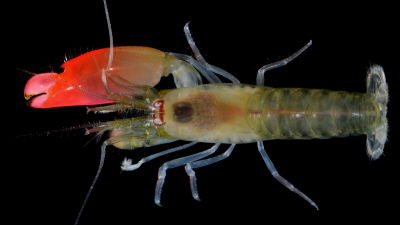 It is a name given to a new species of teppo shrimp with huge and pink scissors only on the right arm, it is a legendary progressive rock band who has released numerous name albums from BritainPink FloydIt was derived from.

Rock giants Pink Floyd honored in naming of newly discovered, bright pink-pistol shrimp
https://phys.org/news/2017-04-giants-pink-floyd-honored-newly.html

Psychedelic shrimp with tons of sonic energy named after Pink Floyd
http://mashable.com/2017/04/12/pink-floyd-snapping-shrimp-science/

This kind of teppou shrine which feels psychedelic even pink scissors that are easily noticeable was discovered in the warm sea near Panama. It was announced at "Zootaxa" which is an academic journal of animal taxonomypaperThree authors in this Teppo Shrimp "Synalpheus pinkfloydiI'm naming the scientific name of.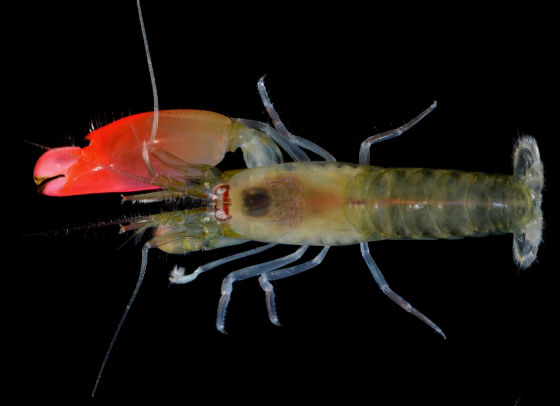 The common point between this shrimp and Pink Floyd is not just the keyword "pink". By moving large claws at high speed, this shrimp is underwaterCavitation(Bubbles), and by using pressure waves generated when the bubbles disappear (implode), we have the habit of fainting or killing and killing small fish which are foods. Speaking of Pink Floyd, one does not overwhelm the audience with explosive sounds, but rather a comfortable and precise sound, and a guitarist / vocal David Gilmore plays, in a good sense, "It is not full of techniques but to the soul It may be said that it has the same "attack method" as this shrimp, in the sense that it fascinates the audience with the sound of the guitar which gathers praise as "it echoes".

Papers were presented by Arthur Anker of the Federal University of Bosil, Brazil, Kristin Hultgren of the Seattle University in the USA, and Sammy De Grave of the University of Oxford Museum of Natural History. In fact, Mr. De Grave is a fan of enthusiastic Pink Floyd, who was aiming for the opportunity to name the new species to the band. De Grave says "I am an album" Pink Floyd announced in 1979 "The WallAt that time I was 14 years old. Since then I have been visiting Pink Floyd live many times and also went to a reunion concert in London and Hyde Park in 2005. Naming this new teppou shrimp was a great opportunity to greet my most favorite band, "he says, commenting on comments that seems to be unexpectedly rocking with rock fans.

Mr. Anker does not seem to be related to Pink Floyd, "I always had Pink Floyd running down to BGM when I was at work but now the band and my work are one in the scientific literature "I am talking about comments that seems to come out of the mouth unless it is a genuine fan.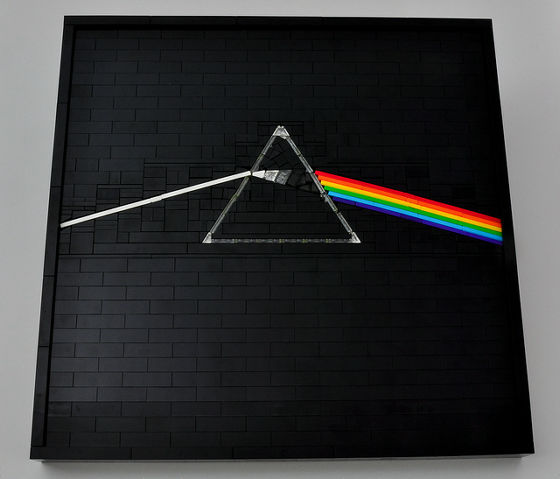 ByRicecracker.

Although Synalpheus pinkfloydi has been certified as a new species, species with similar scissors have been confirmed so far. In 1909, a species called Synalpheus antillensis was confirmed in the same Panama neighboring sea, and said that it has features very similar to this new species. However, as this new species was confirmed to be a big difference at the DNA level, it seems that it was certified as a new species as a new species.

In addition, things related to animals often appear in the creation of Pink Floyd. 1970 album "Atomic mind"In addition to being a characteristic work of cattle drawn in album jacket, album of 1977, its name also"Animals, The song titled "Pig with wings" "Dog" "Sheep" is recorded. Also, in 1969 the album "Uma Marina"Umma gumma" which is the name of the dragonfly has already been registered, but this time it is the first case that a name with the band name itself as a motif appeared.

Incidentally, as a song of Pink Floyd, the entrance theme song of the bad wrestler "Abdulla the Butcher" was used as "Wind blowing wind, call it Arashi(Original: One of These Days) "is one of the well-known songs in Japan.