Interview with Nobuyuki Huhara directed by "Space Battleship Yamato 2202 Ai no Senshi" who thoroughly packed Yamato's love feeling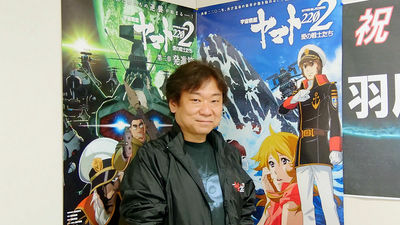 From Saturday, June 24, 2017, theatrical screening of "Space Battleship Yamato 2202 Ai no Senshi" Chapter 2 "Starting Story" starts.All seven chapters constitutionThis work is a content that should also be called a remake of two works, which is made inheriting subtitles from the movie "Farewell Space Battleship Yamato Ai no Senshi", from the TV series "Space Battleship Yamato 2" to "2". To serve as a directorNobuyoshi HabaraIs the middle generation, "Space Battleship Yamato" that he was watching from the first episode of the first TV anime. I have asked various stories about how the director is making this new work.

Space Battleship Yamato 2202 Ai no Senshi
http://yamato2202.net/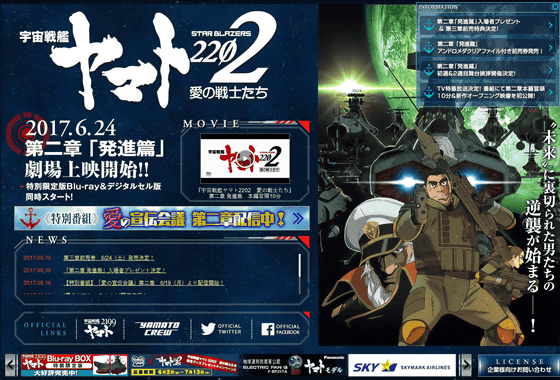 GIGAZINE (hereinafter, G):
When I see various interviews, I met with Hashihara 's "Space Battleship Yamato" when I was in elementary school fifth grade and I was thinking that I was already thinking about becoming an animator at this point. What was the work that drew the director into the anime path?

Nobuyoshi Hanehara (Habara):
From "Mazinger Z" I began to be interested in animation. The picture changes every week as "Mazinger Z" does not it? So when I thought "Why?", When I noticed that the picture changes when the name of the person who is credited to the drawing director changes, "I have such a job" is that, is not it.

G:
"Sabah Laboratory Blog"In a fan blog named Habara directed by Hahara in 2010," heroine "for the director is a bow, and moreoverYoriko SerikawaI was told that it was particularly good when I was directing. "Mazinger Z" is two years earlier than "Space Battleship Yamato", so the director Hahara was in third grade of elementary school. I was surprised at that point that I was watching the animators and the direction of the director firmly, but did the endrol check each time?

Hanehara:
Yes, I was watching. At first, I was thinking that people who are credited with music are also wearing music, but every time the name of the songwriter is the same, Serikawa's song uses the old Toei's movie version of the song! Because it was a feature, I thought, "This director is amazing" I remembered.

G:
Indeed, you came from that kind of place. For "Space Battleship Yamato"Space Battleship Yamato 2202 NewspaperIn the interview "The Space Battleship Yamato" The reminiscence scene of the old battleship Yamato of the second episode is the animator'sTomonaga KazuhideMr. Orimashi drawn the original picture is, that (the picture) is now quite done in the motion, "but I shall be deemed to be replaced, did you have been drawn from the first episode in Yamato, or here in the scene of the second episode Did you get in?

Hanehara:
When Yamato saw the first episode, when it first started from the red earth, "What is this?" The shock was great. However, I think that the first episode certainly knew and did not match the channel, and I happened to see it. Anyway, I remember being very surprised. At the time of the first episode I was surprised at the story and how to show rather than the drawing. I did not have any other expressions, so I felt really real at that time. So when I saw the second episode when I was shocked, I thought "Oh, Tomonaga!

G:
At the production presentation, In Hiroshima is the birthplace of Habara supervision in order to Yamato of broadcast time has not overlap with the "monkey of the corps", become like a channel disputes, there was a story that looked somehow to persuade his brother's. In this case, because saw the Yamato put in the hands of the channel right, then, I have the feeling that that was a big run-up towards the animator.

Hanehara:
There will be influence. Because I was watching special effects, I was also attracted to the "monkey army corps". I also liked Charlton Heston's "planet of the monkey" before that, so I was a little interested. But, since I liked animation anyway, there was a feeling that "Yamato if you see it after all." Also, it may have been good for us to say that the album "Heidi's Girl Heidi" was not at the same time.

G:
It is a famous rival (laugh) It is certainly a big point that rivals were absent. As director Hanehara was "to see Yamato", how was the surrounding people? Such as coming out of animation ... ...?

Hanehara:
That's right. When I was in the fifth grade of elementary school, it was a society like "How long have you been watching TV cartoons" and something more, I went to see the "Toei Manga Festival", and much less an environment that I could not say afraid. That's why I felt like going to the theater under the pretext of "taking a small relative from a relative."

G:
Is there no situation that almost nobody is looking at Yamato already?

Hanehara:
Some of my friends were watching, so I was talking about being a 'little girl' in a small group of friends.

G:
A little is available from the TV series until the movie "Farewell Space Battleship Yamato Ai no Senshi". About "Farewell"I also told Ms. Harukoshi Fukui hotlyHowever, was it supposed to be the atmosphere "Let's go see for everyone?"

Hanehara:
I was also being introduced with Animage etc. just before "Farewell", and there was a feeling that the animation boom came somehow when I was a junior high school student. Before "Farewell", when it was the full version of the movie version, it was a feeling that everyone around me watched anime.

G:
Are you the first movie version? That means "Farewell" to air that everyone can shake.

Hanehara:
That's right. "Farewell," I suppose it was not like I gave a school and went to see it (laugh).

G:
I see. Mr. Habara watched on the first day and heard that he was one of those who cried.

Hanehara:
I went and I went. Already, the inside of the theater was a stupid throat. It was truly amazing from the way.

G:
When you go to a movie of another animation, it is a sight that you can not see very much.

Hanehara:
There is not it. Firstly, the Toei Manja Festival is not that kind of atmosphere, and most of the theatrical animations at that time were mostly reedited. In the meantime, I think that Yamato was the first time to cry. When "Titanic" was released, everyone started crying, did not he? It might have been close to that feeling as the atmosphere inside the theater.

G:
Oh, "Titanic" is easy to understand. This movie "Farewell Space Battleship Yamato Ai no Senshi" will have a heavy ending, but "Space Battleship Yamato 2" will start just a few months later. Some people asked that some people responded that "There were my tears", but how about capturing the director's "Yamato 2"?

Hanehara:
Initially I knew that "Yamato 2" was announced in Animage and I think I was saying "What it is" (lol)

G:
If you cried in that last, of course I guess saying "What is this".

Hanehara:
I was surprised at the feeling like "Are you?" Though it was written that "Everyone who loved Yamato for the last one has never revealed again" again. However, since I was rather a drawing maniac rather than a story, once I started,KanadaI was glad to see it with the feeling that "You are in". So, in other words, about "Yamato 2", there are many things you remember in video. There were many memories of such feeling that "This scene of this cut is cool". At that time I was already shifting to becoming an animator, so no matter what the story I saw, the story almost never came in.

G:
I see. When you hear the name of the work you feel like you remembered like "There was such a cut?"

Hanehara:
That's right. When I was told about the story, "That story was that kind of stuff," there are things like "Was that so?" I remember the picture as a scene (lol)

G:
"Yamato 2" is basically the same story as "Farewell", but new cuts are increasing as much as the length has increased from 2 hours 30 minutes to 2 courses (total 26 episodes), and it is said that Hamahara is a happy work Is not it?

Hanehara:
Well (laugh) Well, I know by now thinking, because the film has changed from 35 mm to 16 mm, something like this, the color texture has changed a little shocking. Because "Farewell Space Battleship Yamato" liked both color and background, when I became "Yamato 2" it was a bit disappointing that I got the impression "something is thin". I do not know for a moment what the TV was due to ... ....

G:
Even if I do not know the cause, I feel that the texture of the color has changed, I think that it is a comment that I was watching the picture forever as long as expected. In "Yamato 2" after raising a big sensation with "Farebee", how was the environment and situation for watching the surrounding animation?

Hanehara:
As the animation boom was already coming "Yamato 2", everyone was watching animation.

G:
Then, it seems to be okay if you look at animation even after junior high school ... ....

Hanehara:
I think that it was becoming such air. There were only people around me who talked about drawing (laugh), but this may have been for everyone who adapted to me.

G:
Have you also got excited about the story of "Yamato 2"?

Hanehara:
Yes, I was only talking about drawing (laugh)

G:
Sounds good. That kind of company is ... ....

Hanehara:
I appreciate it.

G:
This is how "Space Battleship Yamato 2202 Love Warriors" is made in a way like a remake of its "Farewell" and "Yamato 2". It is said that director Hanehara was also surprised that the subtitle entitled "Love Warriors" was included in the proposal issued by Mr. Fukui, but as a project, from the beginning "Continuation of" Space Battleship Yamato 2199 " Let's go with a remake of "Farewell" and "Yamato 2" ". Or was there a story that "in some way the continuation of the" Space Battleship Yamato 2199 "? Thereafter, was it determined that it was like a remake of" Farewell "and" 2 "?

Hanehara:
When I talked to myself, it was meant to be "a new thing with a mixed feeling of" Farewell "and" Yamato 2 ". The continuation of '2199' was already decided at that time.

G:
When being told "With mixed feeling", was there not any puzzle like "What will you do?"

Hanehara:
I was worried a lot about what to do with the last. However, there was already Fukui-san's plan and it was convinced by the feeling like "It is that!" "It is that!" When listening.

G:
Hideki Oka who is participating as a screenwriter with Mr. Fukui this time is a person who is also a director in the Ultraman series and heard that this work was participated by Ms. Habara's recommendation. Is this a recommendation of "Oka if you do Yamato?"

Hanehara:
When I was not listening to Mr. Fukui's participation yet, as the story like "Who is not writing" came from our president, I recommend it with the feeling "Oka-san" I was allowed to do. Originally, when Ms. Oka was assistant director with another live-action work, I entered as a picture story of CG scene. Then Mr. Oka gave me a voice like "I saw Mr. Huhara, machine ROBO," and got a spirit. Both he and I also had somewhat geeky feelings about the Tiger Mask so it got excited with a Tiger Mask, and also Yamato was excited, it feels like it (laugh). While I was doing that, I entered the job of "Space Battleship Yamato Revival Hen" and Mr. Oka came also when I went to the screening, and later he said "It was nice to hear from the resurrection" What do you think? "It was quite exciting again with the feeling. As for Yamato, I was quite knowledgeable and I knew that I liked Yamato, so when I was talking about "Screenplay, anyone?", I would be a director but could also write a screenplay That's why I asked Ms. Oka.

G:
I see. Mr. Oka is mainly live actions, special effects, etc. I think that this work is probably less for the first time as for the animation work, but it is OK if Yamato is okay, it was drumming when left to do.

Hanehara:
Yes. Yamato is okay if there is a "soul" ... .... (laugh)

G:
In a message to the series production director Hahara "Put your soul in it."(Laugh)

Hanehara:
I think Yamato is still there. As I inherited Button from Hiroshi Ubuchi's director of "Space Battleship Yamato 2199", I participated as a story staff, so I looked closely at Mr. Tatebuchi's precise production or calculation It was. Because I am a good friend who has been doing well for more than 30 years, I also knew the hardship of Mr. Tatebuchi, I thought that I would like to take over that feeling, but there are also many things I can not do after all. If so, it is a feeling that I made it a sentence by the conclusion that the part where technology is insufficient is only the soul.

G:
Hamahara, Yamato direct hit, Oka. In addition, if he says Fukui - san, if he says that "Farewell" was not seen at the theatrical launch, he is strongly motivated to work, so imagine whether it would be tough to make arrangements and meetings as you all got it together However,

Hanehara:
It is already (laugh). Mr. Fukui's idea is so terrible that it comes out like a mountain so I'm adjusting it while talking like "I can not join in a bit". Even at the stage of film making, I have been watching the contest and making it while receiving various advice, such as "I guess it is better to make this kind of dialogue a little more" or so, I am the position of director, but this time Yamato Especially the impression that everyone is making is very strong. As a director, I am doing it like this and I've been interviewed for various things like this, but it is a feeling that people who really like me gather and making it crazy with everyone. But, if it is not interesting, I am going to own all my responsibilities.

G:
On site, Habara - san, Oka - san, even Fukui - san, others of the main staff as well Yamato are each one who has a family name that is quite well?

Hanehara:
Many people are really dark. Deputy coachMakoto KobayashiSays "I am not familiar with Yamato so much" I am totally messy while talking about it. I guess that person is shy. Actually I truly love Yamato while keeping it sticking out.Yanaoka TaniokaThose who are doing art director called Mr. Young are young, but in reality they are from Kure, where battleship Yamato was built.

G:
It is a terrible edge.

Hanehara:
It seems that there are Yamato construction related to the inside of the family, there are people of that system, and the battleship Yamato and the space battleship Yamato really love it. Even among art staff, it is a very encouraging person because it is a person who is "most familiar with Yamato".

G:
Speaking of generations, it is by no means Yamato direct generation generation.

Hanehara:
It should be because it is young, but it's pretty detailed. In the first chapter I am making an opening in the form like a summary and it will be a "complete version" from chapter 2, but the picture depicts the situation that Yamato is rebuilding. Originally, when I thought about how to make an opening, I thought what Yamato you have not seen before is still "Yamato is under construction, is not it?" I thought that I would like to draw a picture of the hot men who are making Yamato.

G:
This is astringent.

Hanehara:
Although I do not know the name, I do not know who the character is, but I wanted to include what those people are involved in, talking with Ken Azumiya, talking with each other from the stage of painting story development I made it while talking about various things, saying "Do not cut this," "Let me see you," and that eventually the original drawing was painted by Mr. Kena Asamiya. The final work to paint the color and so on was all drawn back and took the form of harmony. Characters are coming out, but painting is painted by the people of the background, studied usual illustration of Mr. Asamiya, "Working based on the fact that Asama is going to paint like this" Because it did it, I got quite amazing things. Although it is a continuation of stop picture, I think that it was because the art director of Yamato Mania, like Mr. Tanioka, was there because I was able to make it look awesome. I would like to take a look at this.

G:
"Space Battleship Yamato 2202 Ai no Senshi" In all seven chapter set advance tickets, Mr. Kena Asamiya is in charge of A3 size illustration. This illustration drew a near miss of Andromeda and Yamato, I remembered that I was surprised that "This illustration will come out before the first chapter screening."

"Space Battleship Yamato 2202 Ai no Senshi" Public news release, sale of all seven chapter set advance tickets with picture frame - GIGAZINE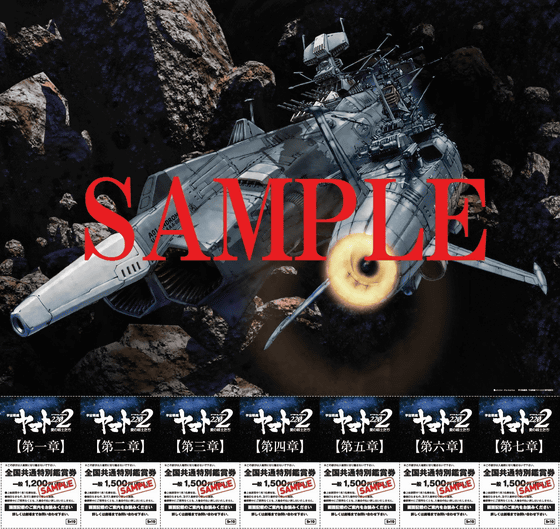 Hanehara:
The time to get out is fast. I was also surprised (laugh). There is a feeling that the neighborhood has a pleasure in the publicity department.

G:
Is the director surprised, too?

Hanehara:
Wow, that is a surprise. But the most surprising thing is the work of the CG group. The scene where Yamato and Andromeda pass each other was made with a storyboard, and almost similar angles were set. Because it is because it is a scene that appeared in "Yamato 2", but since the CG team is working while compareing with the illustration of Mr. Asamiya, even in this volume, it appeared at almost the same angle as that illustration I will.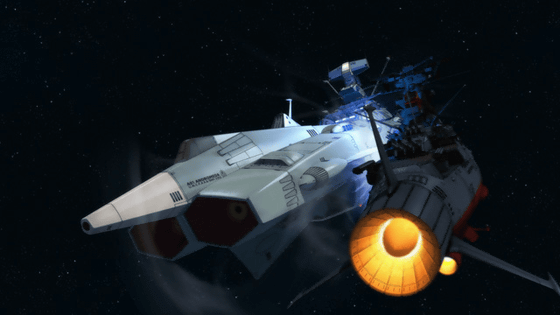 G:
When I saw this scene at the preview, I thought "I've completely shown the same scene as the illustration, but it was because I was working on it to be the same.

Hanehara:
That's right. I also talked with the CG director, "I would like to show this a bit more", I think that it was definitely a scene of 5 or 6 seconds in the storyboard, but probably it got about twice and passed slowly I am trying to show it carefully.

G:
This scene is the original of "Yamato 2" which does not exist in "Farewell", but this is because it is not a remake of "Farewell" alone but "2202" is a work that mixes and creates.

Hanehara:
I had you take care of the good.

G:
I think that the flow after this passing also is work of Ms. Fukui and Mr. Oka, but I felt that he was skillfully doing it.

Hanehara:
That's right. Although Yamani that appeared in 2199 reappears, I think that I managed to make a picture by having him write about it very naturally and writing it.

G:
From the beginning of the first chapter I think whether to remake completely as a remake, the homage scene is coming out there, especially the scene of the hero's hill that appeared in "Farewell" It is perfectly reproduced. As the relationship between Earth and Gamirasu has changed, there is a big change in the inside, but it is summarized without discomfort.

Hanehara:
The scene where the southern part shouts to Andromeda on the hero's hill is also in "Farewell", but since the feeling that Yamato's standing position and what was reconstructed can be drawn deeper than "Fare" I think that "Bacaro" in this place than "Oka Yaroro" was more desperate and anger could be expressed.

G:
"2202" is a scene after a battle with Gatlantis, so you feel more entering. In the first chapter Andromeda hit the wave cannon as soon as it came out to the Gatlantis big battleship · Kalakurum class, and from the beginning it was to taste hope and despair from the beginning (laugh) Director I wanted you to see "a cool fleet warfare", so did you decide these elements from the first chapter already from the beginning?

Hanehara:
After all I thought that it would be good to show the quantity. At the time of "2199", I was doing neatly how to arrange the fleet and I thought what I was supposed to do this time, but I tried it as much as possible to have Keren taste and power.

G:
When the Kalakurum class came out from a huge rock, it certainly was not overwhelmed by the existence of a gigantic rock, but it was overwhelmingly "that it would come out no wonder ... ...".

Hanehara:
Mr. Makoto Kobayashi, assistant director, is giving ideas around here.

G:
The Gamiras fleet, which will fight this large battleship, has a ship called "Armor rush type Zelgut" like a shield held in front of a battleship. "No wonder the ship has a shield" I was surprised, is that work of Mr. Makoto Kobayashi?

Hanehara:
Everyone saw the picture and I was surprised to see "What's the shield!?" "What's going on?" (Laugh) But when I get to the screen, the part I said so is Yamato.

G:
Have you thought about images like special forces holding a shield and pushing it ... ... How do you think of doing it in fleet warfare?

Hanehara:
That scene eventually did not come true because the space became a bright and fresh scene, but in fact I thought it would be nice to see only the Gamirasu mark when I panned from the Earth fleet . Although it was a shield with its purpose also, I decided to settle in the form I had you see while adjusting variously.

G:
In the design there are various things that are amazing, and Gatlantis 'Needle Slave' who was attacking the telezart was also excited in the mind, "Shoot the real needy! I'm sticking !!" .

Hanehara:
That is terrible, is not it (laugh). Of course Mr. Kobayashi's idea, Mr. Kobayashi is in charge of the design. This time it is designed to express the coldness of Gatlantis.

G:
I talked about Andromeda before, but that Andromeda's same class ship, which was supposedly one ship, will carry out four at the same time, that attracts another eye.

Hanehara:
That is Mr. Kobayashi. Often a great idea is Kobayashi-san.

G:
Mr. Kobayashi also is amazing, too (haha). The way of the outer space, before that surely only floated on ordinary ... .... Is there anything that the director asked Mr. Kobayashi "Do you feel like this?"

Hanehara:
Because it comes out more and more before we think about it, I'm just saying "Yes! Great !!" (laugh)

G:
Mr. Fukui will also come up with plenty of ideas to cripple, and Mr. Kobayashi will also come up with ideas for not entering the main volume.

Hanehara:
There are really so many things, I am always surprised.

G:
"Mr. Fukui is an idea man and Makoto Kobayashi is a genius" as I mentioned in the interview. Mr. Kobayashi also wrote that "His wife is great" when viewed from Hahaha.

Hanehara:
It is only amazing to be surprised. Originally I worked together with "Revival Hen", I knew the height of technology, but it is only a matter of being surprised even at "2202".

G:
Is Kobayashi's something like "Were there such an idea?" Even after the third chapter come out?

Hanehara:
There are already so many mountains! Certainly, there is something that is convincing that if you do what you were doing in "Farewell" and "Yamato 2" now it will be this, that is amazing.

G:
Is there quite a bit of a depiction that came to be possible from the broadcasting of "Yamato 2" when it became the current technology?

Hanehara:
There are many parts because it is CG after all. If it was hand-drawn ... ... Maybe I still made the first half of the first chapter (laugh). That is the reason there is CG.

G:
There was a large fleet fight in the first chapter ... ....

Hanehara:
I really force the CG team to impossible, but I am doing it. The version K of Cosmo Tiger is going to evolve slightly from now on.

G:
Version K isIsao KanedaIt is a model that lowers the wing tip to make it a Cosmo Tiger as Drawn.

Hanehara:
That's right. The part of Keren taste seen in "Yamato" is because of the goodness of drawing by all means. However, this time I wanted to prove that there is Keren taste which can be output also in CG, not by escaping from CG, I made it while consulting with people of CG variously. I am still planning various things.

G:
In terms of Keren taste, I heard that battleships are actually made with different sizes.

Hanehara:
That's right. The size is totally different by cutting. Rather, rather than size, even the aspect ratio is also different. If there is a scene in which "Yuenagi" and the big battleship pass each other, I have extended the length more than twice.

G:
Yeah! Is it?

Hanehara:
For example, if you look at Gerirasu Zelgut class on the Plamo, it is quite deca, but when making "2199", there was a problem that "When you do it in real size, you can not see it much when it comes to the screen" . Mr. Mr. Uchubuchi was glanced at me saying "That one should look a little longer". So, when thinking about what to do with "2202" this time at the same trouble, "I will extend it twice."

G:
I thought that it was quite impressive, it was because it stretched out twice.

Hanehara:
There will be cuts more than doubled. Even the scene where Andromeda passes by "Yuunagi" is extending a bit. But, do not you notice it when you see it?

G:
I was wondering if it was said, but I did not notice it when I saw it.

Hanehara:
Surprisingly it seems that there is no sense of incongruity when looking at the image. Although there is a part which the aspect ratio also has been fiddled, I am going to make it so as not to be bothered by watching it.

G:
Is there a lot of deformed parts?

Hanehara:
Originally I draw a false lie when drawing a picture. Based on the accuracy of figures, I think that I want to clarify what I want to say with that cut and what I want to show. Even live action movies, please think that the shortest actor is actually the same as riding on the table in a place where the screen can not be seen.

G:
Version K does not bother to make it separately from the normal model, is not it? By doing so, you have to recreate the Cosmo Tiger you saw at that time, rather than reproduce it. It is the work of the soul.

Hanehara:
I think that is important. People of CG really worked while saying "It's funny" and it really helps. I was wondering how I could persuade him if I told you "I can not do that", but I'm having a lot of help with it (laugh). In the current animation "There is a part where the theory is strong by all means" the size is right ". For example, it is the standing position. Even if the cut changes, it is certainly important whether the standing position is correct, but there are quite a few things more important than that.

G:
There is something you want to take care of rather than reasoning.

Hanehara:
Even in lighting, I think that I do not care because light comes first from me, but in the next cut it becomes backlit. Writing is correct at that time, depending on how you express the feelings of the cut character, how the shadow changes. "Since light is hitting here from the previous cut, it is strange that the way of lighting in the next cut is like this" Since it is thought that animation is over, as I mentioned earlier, the battleship Even if it's size or aspect ratio, I do not care only numbers, but I think that we would like to properly film what we should express with that cut.

G:
There was a story about the size and ratio of the battleship, but also in the animation part of the character, are there some parts that are fiddling with the director's direction?

Hanehara:
There are quite a few. Even though I was standing in the previous cut, it is also frequently that I am coming here next. "I want to take this picture so you are here" (laugh) Even in the Yamato bridge, I arrange the layout in 3D so that the layout is decided properly, but the seats of Moriyuki are a little obstructive If I thought it would be lower back.

G:
'I will not be troubled if you stay here now 'is not it?

Hanehara:
That's right. "It is better not to be on the screen now, just get a little brush ..." It is also important to lie in that way. In the first chapter, it will be a mess if you follow only the position of Todo and Serizawa, and only the tsuname. The distance between them is different depending on the cut. But, it is doing deliberately on "It is better not to be in the screen at this cut Serizawa," and Serizawa is doing something about it (lol) When you want to show it as if you are nearby, close by aiming for the telephoto wind I also do it to show it.

G:
Oh, even with those cuts, the ingenuity is overlapped.

Hanehara:
With a scene of the observation style, Todo, Serizawa, Barrel, Keiman are talking side by side with four people. It is made by Serizawa surprise and a wide-angle lens in the cut which is expressed by the barrel and keyman in a slightly distant view but if you actually took a picture with a wide-angle lens it should look a little closer. But, because I'd like to get a distance feeling over there, I'm showing a lie and feeling far away.

G:
It shows the sense of distance between Barrel and Serizawa even in video. The director has also been active as an animator, and he is also in charge of mechanical directorialization, but this time, was there anything that "I wanted to draw such a thing" too?

Hanehara:
In the scene where Yamato leaves from underwater, I drew a part of the wave. That scene was developed while exploring the method, so I cut it, first the waves that stood behind Yamato were projected by the effect superintendentTakashi HashimotoMr. Mr. Kobayashi Mr. Mr. Kobayashi Mr. Mr. Kobayashi draws the waves dripping from the side after going through CG or drawing and then composes the waves and the splash material drawn by those materials and artists While doing it, I added a 3D additional addition to the 3D special effectMasaya SuzukiAnd if you include animation or finishing more than five people, just painting, probably more than 10 hands are added.

G:
Was there something burning that scene in the end?

Hanehara:
of course! Speaking of the scenes that emerge, in reality ... ... In the key visual of Chapter 2, there are pictures that Yamato is emerging from the ocean, where islands are depicted with ancient times. It is sometimes that there was not anyone to draw, but I wanted to draw the waves by myself, so I drew it (laugh)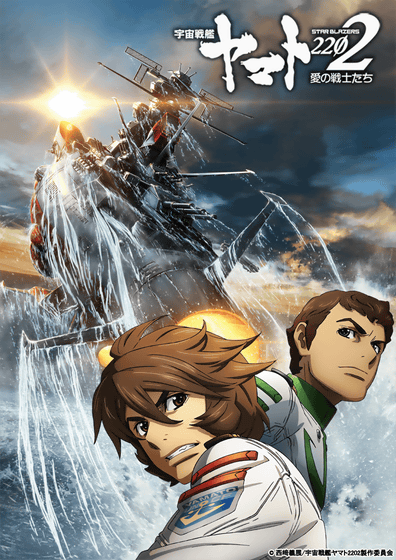 Hanehara:
The wave that Asamiya was drawn in the key visual of the first chapter was really cool, and while I was watching, I thought "I also painted it" (lol)

G:
There is something burning as a person who has drawn after all.

Hanehara:
Actually, I painted a similar angle once on the cover of the Yamato fan club newsletter, but I have a desire to want a little revenge.

G:
Because the first visual that was announced pushed Saito to the front, I thought that the second chapter would be a pretty awkward poster, but the version that Yamato comes out was also available Right.

Hanehara:
Fukui also thought that this is also the idea of ​​Mr. Fukui, and as a package I thought that there was a character picking up every time, initially, the second chapter was supposed to go with this Saito visual only, but also what Yamato comes out I decided to make it because it would be better to have it every time. However, we can not divide the main staff here, so the character is a director of drawingAkutoshi MaedaMr. says to draw and CG as possible to use from the main part as much as possible.

G:
Is this story left to the people of the animator, is there anything you can think of as "drawing that cut" looking at the animators?

Hanehara:
Although there is also it, the rising is properly done, and the pleasure like "Kitakita !!" is larger.

G:
Also watching "part looks like hard" part ... ....?

Hanehara:
I think that it is already painfully painted by everyone. This time there are some people who are very good at free manga man also inside the company, but among them, the original picture of the scene that Saito's help the wheelchair Santa and the children seen in the second chapter notice I am very good at it. The toy Yamato held by the boy he held is drawn to a very fine place, so even if I see it really many times, I do not get tired of it, when I see such things, I feel "grateful" I will.

G:
Sounds good.

Hanehara:
Even in Chapter 1, there was a place where everyone drinks at the hill of the hero in the evening, but everyone understands from various poses and facial expressions that they are drinking while considering various things, Mobu character I'm really pleased if you see that it is expressing that we are alive too.

G:
Since "2199" a lot of characters with individuality were born, it became obvious that with a gathering scene, "that character is over there" and so on.

Hanehara:
Since the staff of "2199" struggled to make up the characters, I really want to paint cherishly.

G:
Although it is also a point that characters with personality increased, the end result of the story at "2199" also changed greatly from the original "Space Battleship Yamato", the part which was the premise of "Farewell" and "Yamato 2" And it is broken. Is not it hard to take over this baton?

Hanehara:
"2199" I am also only two, but I have been involved, and I have also seen that it is struggling. At the same time, it is hard work because staff's hard work comes out on the film. However, as I thought that I did not undertake here and watching others making it, I thought that I did not want to regret that I should have regretted, so it may be insufficient, but I want to try hard until the end I am thinking. Of course, I think that some people are dissatisfied with seeing "2202", and I understand their feelings very well.

G:
This is because you are "your own Yamato".

Hanehara:
I think that it is after all. While accepting that part, I would like to make "2202" on my own.

G:
"2202" as well as "2199" are all seven chapters configuration. Director Huhara used to be the general manager of Amitetro, Director Nobuyuki Habara, "Break Blade"Although it is also challenged for the theatrical release of all six chapters, is there a part that is easier to do than television animation in theatrical series like this, or is it easier to do it?

Hanehara:
Well ... when it comes to the schedule, the TV series has plenty of time, but when you think of it as the theater version, the time is very small.

G:
I see, it does not apply to either.

Hanehara:
Considering it as a TV series, this method is made to be extremely abundant, so I make up everything tiny but if you look as a theater work it's a bit tough. In the case of "BreakBlade", in all six chapters, I made six pieces of about one hour in just one year, but this can be said that it is making 3 hours of 2 hour movies in a year.

G:
When you give out that number, you can tell that it is surprising ......

Hanehara:
It is exaggerated to make a Star Wars trilogy in one year, but it is rather tough, is not it (laugh) "2202" is made in a shorter time than "2199", so it is still tough. Although it was difficult if it was a story from scratch, the characters are done properly and thanks to the fact that the mechanisms are complete, we are finally able to make new things more quickly by adding things.

G:
Is it saved by the assets left behind?

Hanehara:
Even so, everyone got a hand to the best while in tough conditions. Even if it says "It is OK with this, OK", "I am Yamato and I will fix it a bit more", I think that the tradition from "2199" has been inherited.

G:
Even if the animator is completed before the deadline, I hear that there is a case saying "I'd like to revise the deadline a bit more, but after all, are you stuck with just the limit in Yamato?"

Hanehara:
I'm doing it. Even if it becomes a film, "I'm sorry, please fix a little look". It is a very heartfelt place that paintings are not in time for dubbing, but everyone is very helpful and helpful. The dubbing scene is really good everyone and it is amazing. In chapter 2, there is a scene where Makoto of the wife of Kato sends "to go to Yamato place" to Kato, but Rina Makoto of the role of Makoto who finished recording words at the time of dubbing I caught sight of tears when I arrived. It was such a playful feeling that I almost cried just by listening to the voice.

G:
It is a feeling that Kato and Makoto are exactly on the dubbing scene.

Hanehara:
That line also changed from scenario to contest, and after dubbing, and after discussing with Ms. Fukui "I want to do" "But I feel like this", I finally contemplated that form.

G:
There are scenes that follow "Farewell" and "Yamato 2" like a scene of a hero's hill appearing in the story several times, but also many complete original scenes come out. Since Makoto is a character born in "2199", its surroundings are naturally original, so it is more difficult to figure out how to make it.

Hanehara:
It is a relationship scene that nobody has seen before. But, as it is also a scene that properly rides on the whole theme this time, I am making extra care with extra care.

G:
Since Mr. Fukui from the first stage of the proposal had been saying the "love it", in the relationship before ancient and snow is married, it's that there is Kato of families with children, it blends really the theme.

Hanehara:
I think that there is a future figure to come. I think that it is deep in Yamato 's bosom that various families can get out.

G:
The second chapter including that Makoto scene is screened on June 24 theater. Is there a scene that you are making and saying "This went well?"

Hanehara:
Regarding the second chapter, there is a feeling I've already done within me, and there is not any complaint anywhere. I like everywhere.

G:
It's all one, not somewhere.

Hanehara:
It is also the case in chapter 1, but for what I was involved as a director, "What next time you do the same thing you will not feel different" and "What you want to do a bit more when doing next" There is also. However, in terms of what was done, all the cuts are made with human hands, and there is a person's feelings in it, so there is no single cut "dislike cut". And since all the works I have made, each one has their own feelings, I have a attachment to everything.

G:
In sending the second chapter to the theater, is there a place saying, "Have you fought this hard but accomplished, do look it by all means?"

Hanehara:
As I mentioned earlier, we have done everything we can do now, including the sequence of Yamato departure to the start. It is a series of starting sequences that "I will not come out of me any more."

You can see the appearance of Yamato as it rises to the sea surface and starts.

"Space Battleship Yamato 2202 Ai no Senshi" Chapter 2 Departure Hentai Preliminary Notice 60 Seconds ver. - YouTube


G:
While taking over the flow of "Farewell", the whole was further upgraded, it was a start to feel like powering up.

Hanehara:
Thank you very much. I love Yamato and I think that feelings have entered. In fact when I came out Yamato thought that I would do to return the cell for a moment in accordance with "Farewell", but I do not do it because I can not do it anyhow. I'm doing it like Yamato Mania.

G:
Personally, I saw this notice and I was surprised that "there is a near missed scene." As Mr. Asamiya was making illustrations, I thought there would be, but I was wondering if it would be "fun at a movie theater."

Hanehara:
It is a service from the trailer.

Bandai Visual staff:
Even this is a little hidden, there are many cuts cut.

Hanehara:
I'm entering as much as I want to do. Also, in the second chapter, the key person of the new character is also nice.

G:
Keiman, I thought the name was too straight to be a joke. It is true that the character at the standing position of Keyman is a key man.

Hanehara:
At the main reading meeting, everyone was making "I guess they are keymans" "I guess it is not it" (laugh)

Bandai Visual staff:
The role of that key manHiroshi KamiyaMr. says, although it seems that there are many cases where two people simultaneous utterance scenes of two preliminary announcements "Prepare for shock!" Are usually recorded separately but it is true that this time it was recorded at the same time Is it?

Hanehara:
I am recording at the same time. Because there is a game of sound pressure, the get done by two people is not it a good best kana.

Bandai Visual staff:
Is there synergistic effect of raw acting?

Hanehara:
I think there is. Normally, I will make another record, but with the command of Mr. Acoustic Director, it was said that each other's seriously fight seriously.

Bandai Visual staff:
Masashi EharaWithOno DaisukeMr. Ono is apt to lose because he is a new captain as an ancient role as an ancient player in the fight of Mr. Mr. Ono, but it is difficult to escape by doing so at the same time, it is said that I was doing my best as a loser Kamiya says that it was impressive to say that.

G:
The drawing group is also very hot, and the dubbing field is also exciting.

Hanehara:
That's right. I record in the order of test, rustes, real number, but the test plays with the performance plan that we have assembled, and when it comes to Rustes the performance of yourself will change after taking the performance of the other person . It is exactly "overwhelming". There is often a feeling that the conversations mesh with each other on the scene where good people are available. It is a tremendous scene.

G:
I would like you to see the theater produced by the reward of that technique by all means. Thank you very much for a long time today.

Hamahara dressed in Yamato jacket and Yamato main graphic T-shirt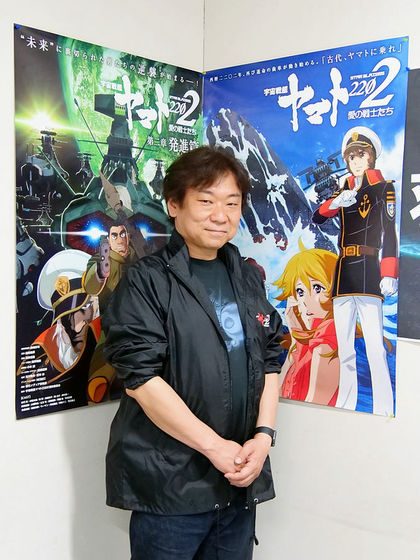 First-come visitor of "Chapter 2 departure story" Present is duplicate character original picture & setting line picture. Keyman / Yamanami / Dreadnought in the first week (from June 24th), Forest snow / Zoarder · Cosmo Tiger I in the second week.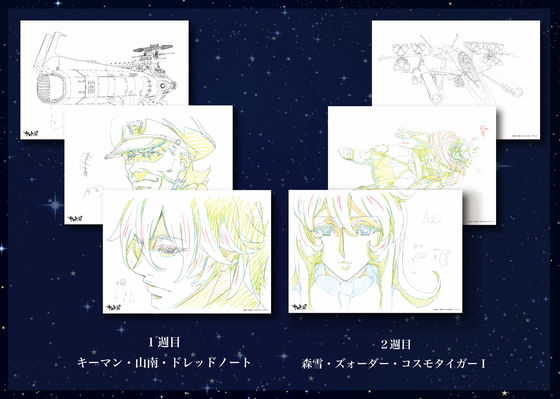 Please be sure to check out the opening 10 minutes of the main part including the opening reflecting the commitment of the director is on YouTube.

"Space Battleship Yamato 2202 Ai no Senshi" Chapter 2 Departure Hen Main Part 10 Minutes - YouTube