Part of the source code of "Windows 10" leaks, Microsoft can accept it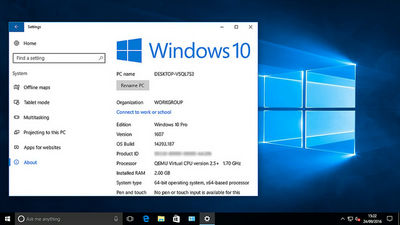 ByOkubax

The Register reported that the source code of a private Windows 10 build that spanned 32 TB was leaked. Microsoft acknowledges the fact that some source code leaked.

Heaps of Windows 10 internal builds, private source code leak online • The Register
https://www.theregister.co.uk/2017/06/23/windows_10_leak/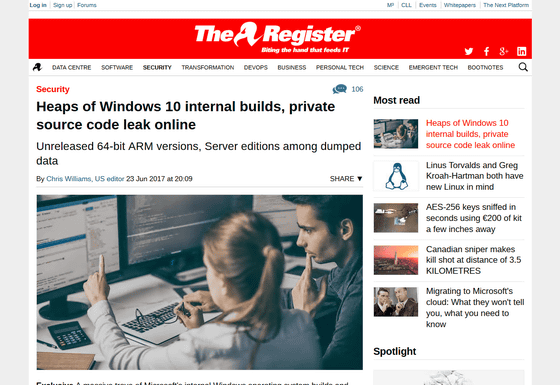 32 TB of Windows 10 beta builds, driver source code leaked [Updated] | Ars Technica
https://arstechnica.com/information-technology/2017/06/32tb-of-windows-10-beta-builds-driver-source-code-leaked/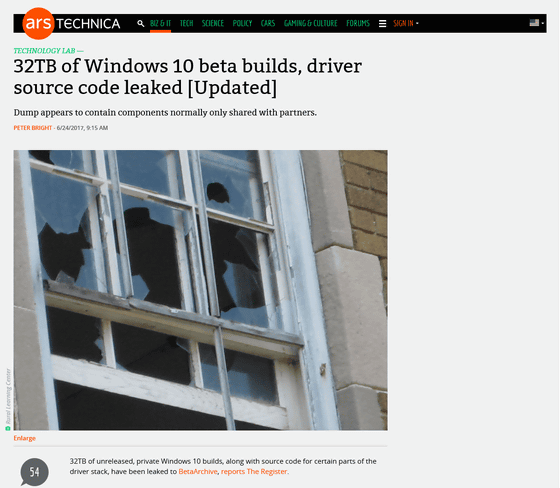 Microsoft confirms some Windows 10 source code has leaked - The Verge
https://www.theverge.com/2017/6/24/15867350/microsoft-windows-10-source-code-leak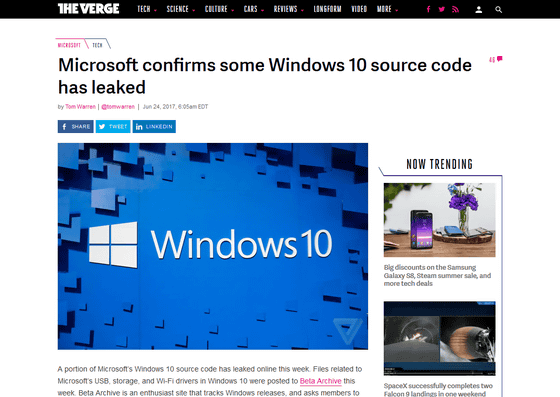 The source code of multiple builds of Windows 10 leaked was the source code of the software sharing siteBetaArchiveIt was published on above. The leaked data includes builds for 64-bit ARM chips and builds on private debugging symbols. Microsoft regularly releases debugging symbols for Windows, which contains additional information not found in the compiled Windows binaries. This additional information is useful for software developers to identify functions that the code calls. Normally, the released symbol is a public symbol, which identifies many functions and data structures, but it does not include information on variables and parameters of each function. On the other hand, the private debugging symbol that seems to have leaked this time contains detailed information on what each part of the code is doing and how it works.

In addition, some of the source code that leaked out includes "Shared Source Kit" which is a source code package related to USB · Storage · Wi-Fi stack, Plug and Play system etc and to build a Windows 10 system for mobile terminals "Mobile Adaptation Kit" was also included.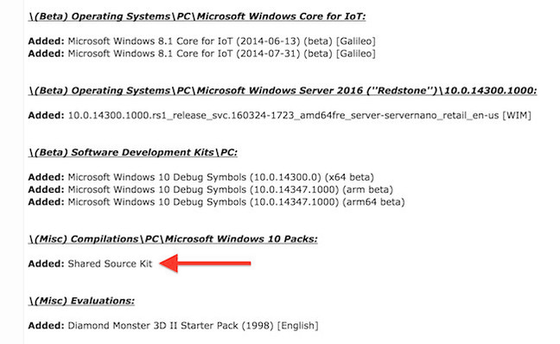 About this, Microsoft's PR advises that "these (leaked) files are part of the source code of" Shared Source Initiative "and are used by OEMs and partners," I admit that commenting and spilling out is source code on Microsoft's Windows 10.

According to The Verge, who confirmed the facts to Microsoft, "The Register reported that" 32 TB of data including unpublished Windows builds leaked ", but the fact that" (the data that flowed out) Most of it was available months or years ago. " Also, The Register woke up in 2004Source code leakage of Windows 2000The Verge claims that "This is inaccurate and the source code leak of Windows 10 is occurring on a relatively small scale," though The Verge insists that it is a larger data outflow.

Although it is thought that hacking to Microsoft's build system that was reported in March 2017 may be the source of the source code leakage, Microsoft has aimed at OEM partners more than Ars Technica wrote that there is a possibility that the source code leaked out from one of the partners because it provides the build.

BetaArchive who had released the leaked source code said that it deleted "Shared Source Kit" from the server according to The Register's reportstatementI am giving out. According to BetaArchive, the source code of Windows 10 that was released was uploaded from multiple sources, and the size of the data is 1.2 GB instead of 32 TB. Also, it is not a request from Microsoft, "I deleted the file at my own discretion".