The view that iPhone 8 is expensive is because organic display is Samsung monopoly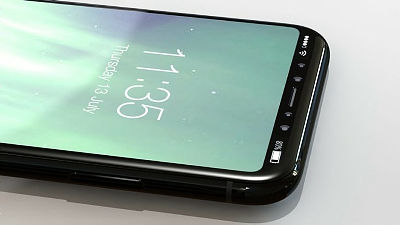 The iPhone 8, which is expected to be equipped with the first "bezelless display" in the series, is the lowest price cheap modelForecast to be $ 999According to Ming-Chi Kuo known as leak information related to the iPhone, one of the causes of the price rise depends on Samsung one company for the production of OLED (organic EL display) which is the essential part of the model It seems that Apple is struggling to find an alternative supplier.

Samsung is sole supplier of costly 'iPhone 8' OLED, putting Apple in 'urgent need' of alternatives
http://appleinsider.com/articles/17/09/06/samsung-is-sole-supplier-of-costly-iphone-8-oled-putting-apple-in-urgent-need-of-alternatives

KGI: iPhone 8 cost higher due to Samsung controlling OLED, no Touch ID due to 3D Touch | 9to 5Mac
https://9to5mac.com/2017/09/06/kgi-iphone-oled-samsung-touch-id/

The next iPhone could be super expensive thanks to Samsung
http://mashable.com/2017/09/06/iphone-8-samsung-oled-cost-rumor/

According to KGO Securities' Mr. Kuo's publication to investors, Samsung is holding a casting boat on iPhone 8's display. This is, of course, because display production is in Samsung monopoly state, the display cost per iPhone is seen as 120 dollars to 130 dollars (about 13,000 yen to 14,200 yen). By the way, the 5.5-inch LCD display of iPhone 7 Plus is seen as $ 45 to $ 55 per piece (about 4900 yen to 6000 yen), you can see how the price of Samsung OLED is high.

Kuo says that Apple is looking for a second supplier that can supply OLEDs. However, it seems that it will take some time for the situation to be improved, as it seems that suppliers that can produce OLED, the latest technology, with quality standards required by Apple are quite limited.

By the way, Mr. Kuo seems to have not obtained certain information on the question "Is TouchID obsolete" being discussed on the iPhone 8 yet? In the material, while saying "There is a possibility of being abolished" in exchange for OLED loading, it is said that they do not affirm assertion. About TouchID or the abolition of the fingerprint authentication function Kuo said, "The fingerprint authentication performance through the display is not expected to be very high, and Apple thinks this is why Apple does not have a fingerprint authentication function in OLED." I will.




Regarding the production of OLEDs, Japan's Japan Display is expected to start producing panels for smart phones in 2018, and expectations are expected to gather here as well.

JDI, mass production of organic EL for smartphones in 18 years - prototype line in Ishikawa next spring | electronics news | Nikkan Kogyo Shimbun newspaper electronic version