Outline editor & task manager "Checkvist" which can operate crisply from keyboard for free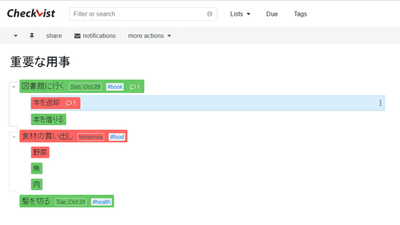 In scenes where it is required to process various tasks at the same time, it is very useful if there is a task manager that manages multiple tasks that you currently have, and an outline editor that remembers writing ideas you do not forget. An outline editor which can easily edit the contents with the keyboard and can also be used as a task manager "CheckvistI tried using it.

Checkvist: Online outliner and task manager for geeks
https://checkvist.com/

To use the free version of "Checkvis""Checkvist" homepageClick "Try now without registration".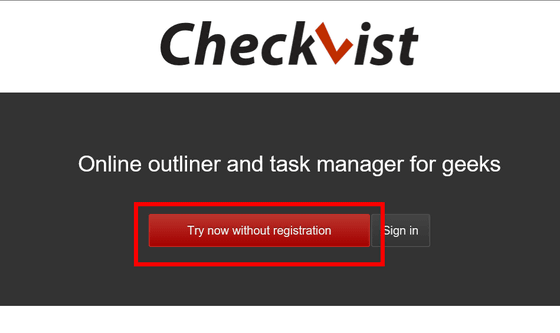 It is possible to enter the project name as it is, but if you do not create an account it will become a temporary session and the data will not be saved. So I will create an account to use save function. Click "Create free account" in the upper right.




Enter your e-mail address, user name and password, check "I am not a robot" and click "Create free account".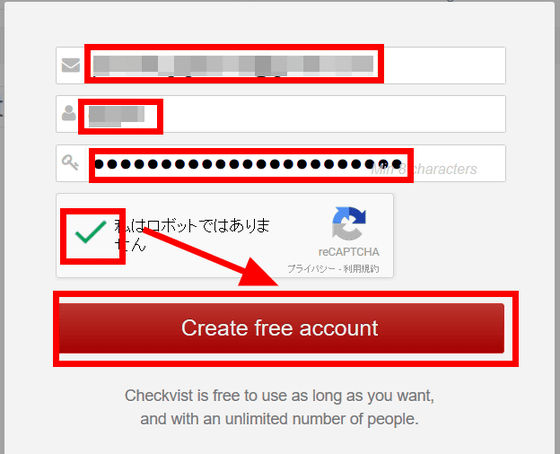 Now a free account has been created for "Checkvist". You can create a list by entering the project name in the area surrounded by a red frame.




From the main page of "Checkvist" it is possible to check the list of created projects. Checkvist also supports Japanese input, and if you want to add a new list you can add by clicking the "New list" button in the upper right.




◆ Moving and hierarchizing lists
In "Checkvist" it is possible to move the list freely or to hierarchize the items in the list.

"Task checkvist" list that allows easy task management with keyboard Move / hierarchize


You can add a new list from "New List" in the upper right.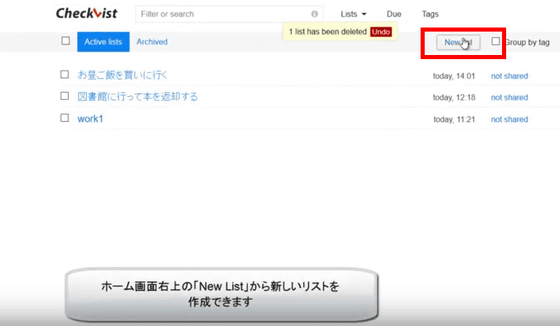 It is possible to engage tasks in a tree format under the list.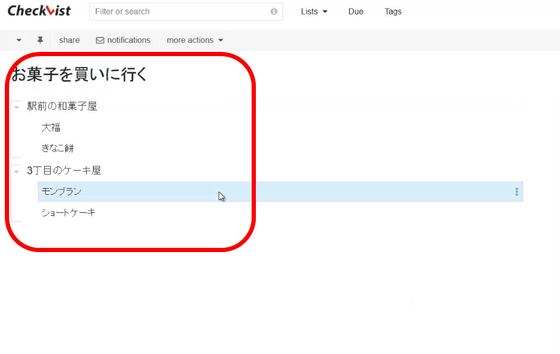 ◆ Tagging and searching tasks
You can also tag tasks and search tasks based on them.

"Task checkvist" which can easily manage tasks with keyboard Tagging / Search


Tagging tasks ......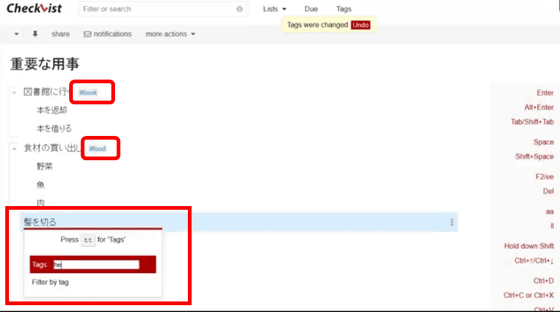 It is possible to set a deadline to complete the task.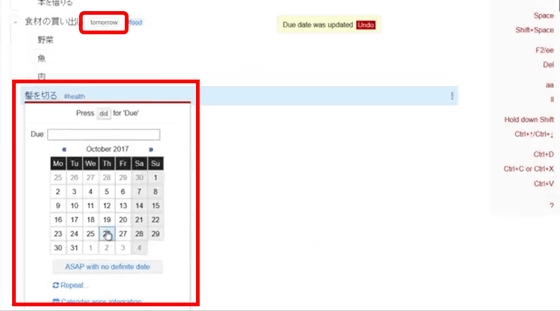 When you enter tags and deadlines in the search form, the corresponding tags and deadline tasks are displayed.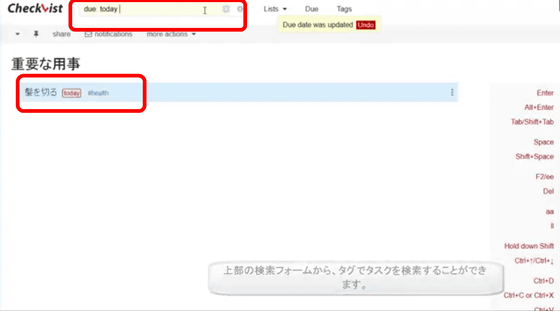 ◆ Express importance of task by color and add notes
It is also possible to color a task from a shortcut key or add a note.

Easy task management with keyboard "checkvist" Change task color · Notes


Coloring tasks ......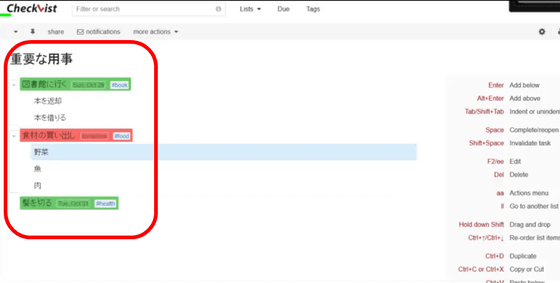 It is also possible to drag notes into tasks.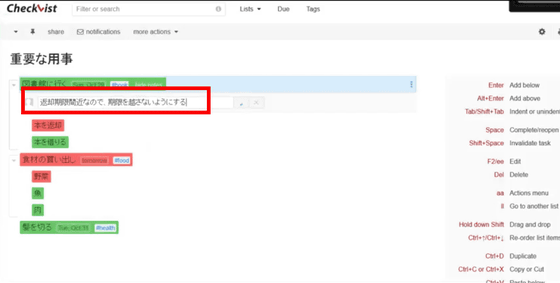 ◆ Import and export text in the list
Tasks can be imported as text data into the list created in "Chckvist". Importing and exporting text data can also be easily operated with shortcut keys.

"Task checkvist" which can easily manage tasks with keyboard Import / export of text


Imported text data is displayed as a task under risk.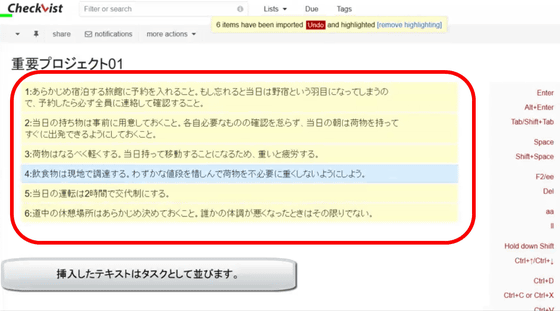 You can select from several formats such as plain text and markdown format to export.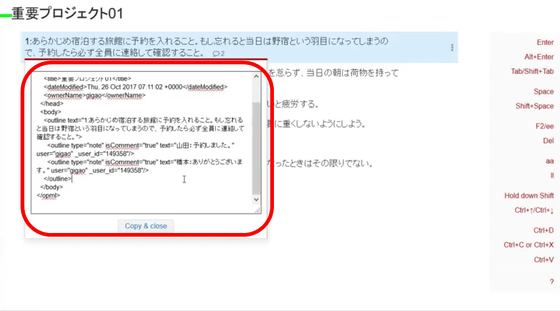 ◆ Add items from the list from the list
It is also possible to add items by sending items in the list by e-mail. Click "more actions" at the top of the list page.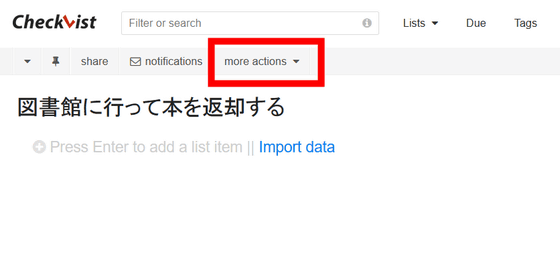 As the menu opens, click "Add tasks via email ...".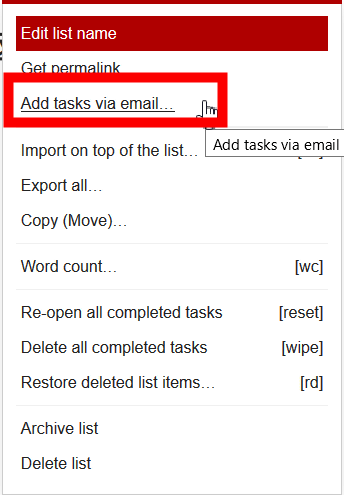 Then, the mail address dedicated to this list is displayed, so copy this mail address.



When you create a mail addressed to the copied mail address and enter the task you want to add to the body ... ...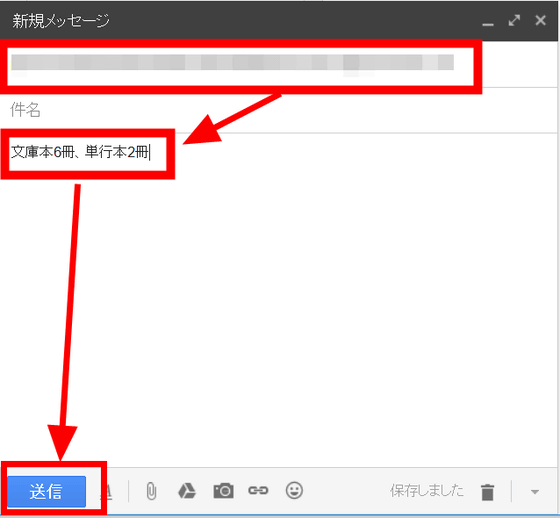 A task has been added to the list.




◆ Paid version function
Although it is "Checkvist" which has many functions even in the free version, even more functions can be used in the paid version of $ 3.99 per month (about 454 yen). At the time of article creation,Paid version download pageA 14-day free trial was in progress. Click "Start free 14-day trial".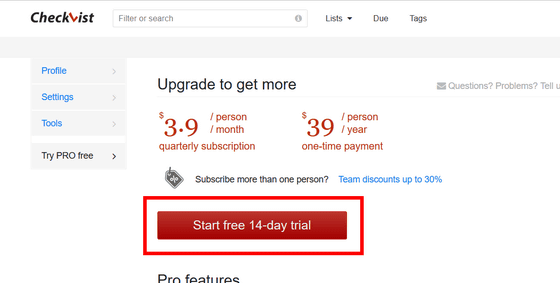 With the free version, we were unable to select multiple tasks at the same time, but ...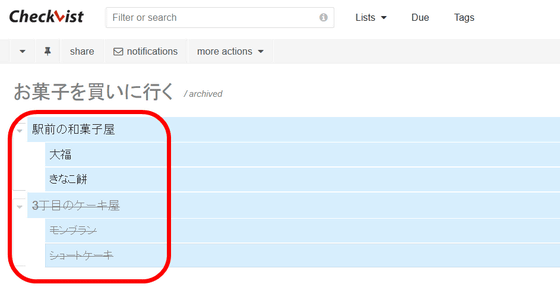 In the paid version, we were able to clear selected tasks at once.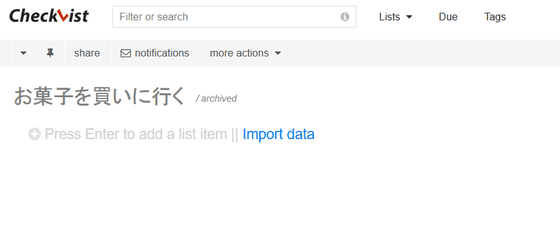 In addition to uploading files associated with tasks ......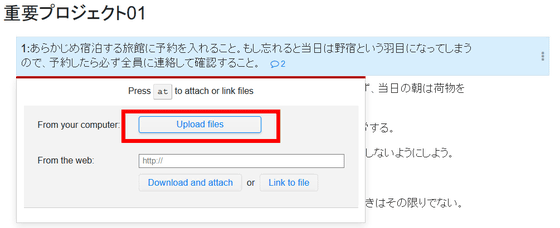 It is possible to cooperate with iCalendar.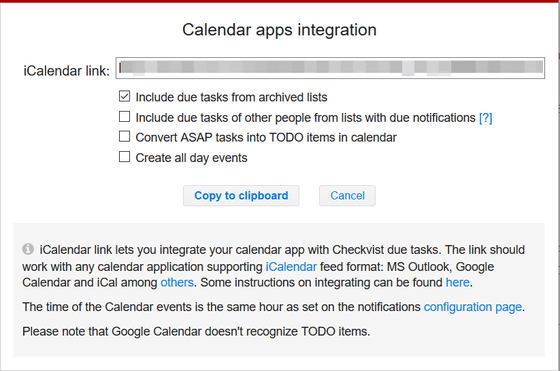 Click "notifications" at the top of the list page ......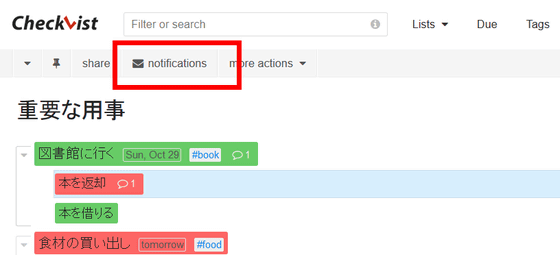 You can receive list update information by e-mail, or remind tasks whose deadlines are approaching. Click "Configure notifications for all lists" ......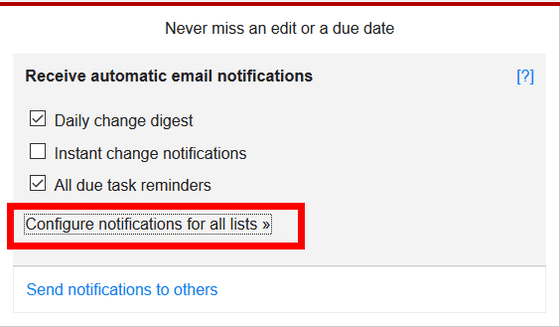 I was able to set time to notify etc.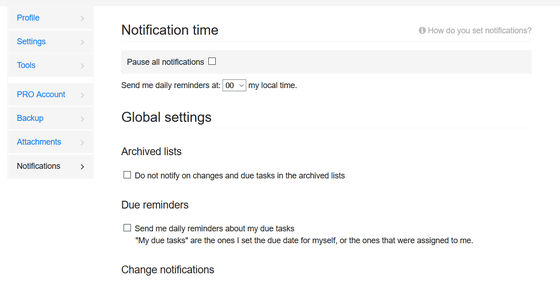 ◆ Smartphone application
"Checkvist" has a smart version application, and you can also edit the list from the smartphone. Install "Checkvist" application from the application store. Tap "Get".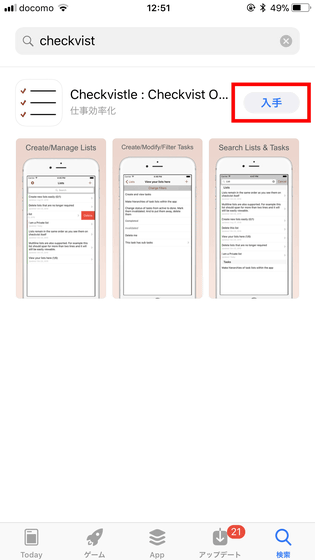 Tap "Install".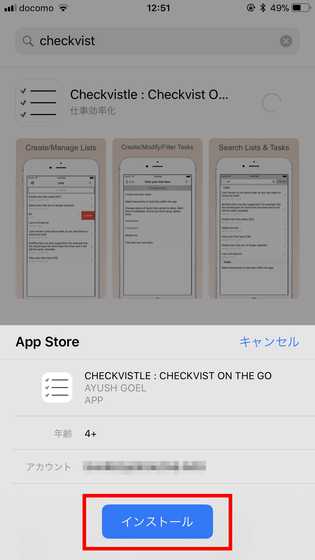 Tap "Open" ......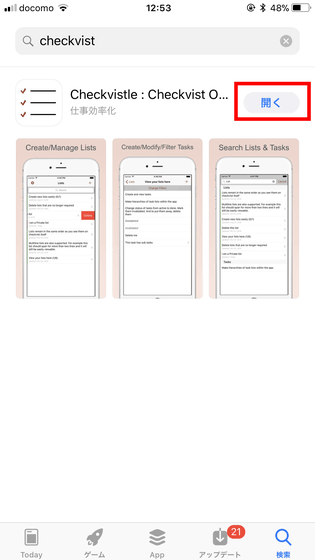 The login screen appears. Enter your user name and password and tap "Login".



The "Checkvist" home screen has opened. Tap the list name ......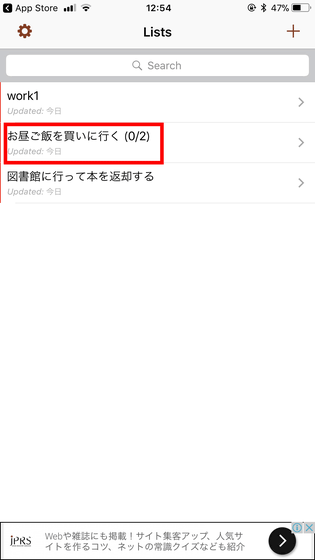 The task opens. Tap the + icon on the top right ... ...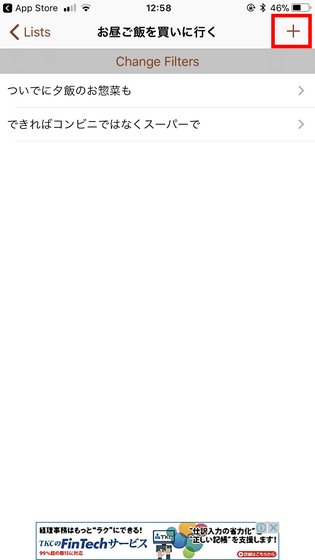 It is possible to add new tasks.



Swipe the task left to edit the state of the task.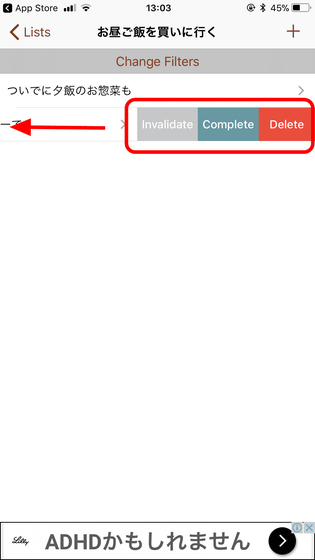 If you press and hold "Back" button on the top left of the task screen ... ....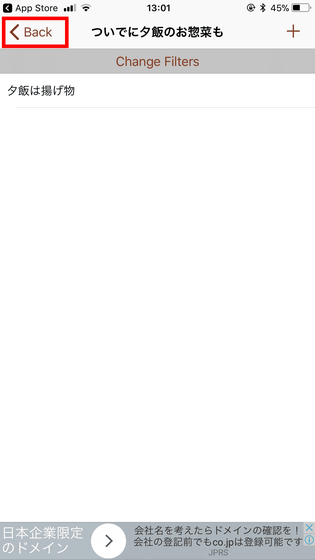 The page before the open page is displayed, you can check the tree structure.