The actual condition of criminal groups that construct fraudulent accounts on Facebook and conduct fraud is like this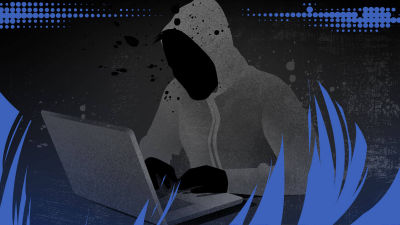 A group that creates fake accounts on Facebook, network each account, and skillfully scams by dividing roles is on the rise. Jeff Yates and his team tracked the trends of criminal groups who had been fraudulent by constructing a large-scale network across Europe, mainly in France, on Facebook for months, followed by fraud damage inflicted on Facebook It is clarifying the actual condition of the.

Inside the fake Facebook profile industry | Radio-Canada.ca
http://ici.radio-canada.ca/special/sextorsion/en/index.html

While in February 2016 Yates was investigating fake news and online fraud made on Facebook, I found a fake account using pictures of a young woman who stole from the net. That account is the name of a woman named "Béatrice Boistard". Regularly post a figure of a painful person whose legs were disconnected, fill in the comment column "write amen" and write it to the followers I was asking for comments. "Ever since she suffered from cancer, nobody loves you." "Because my husband has gone away because of losing his feet", this post has thousands of "nice Ne! "And" Share ", and it seems that Béatrice had more than 670,000 followers.

However, Mr. Yates discovered that the profile image of Béatrice and the picture of the disabled posted were stolen, and found out that it was a fake account.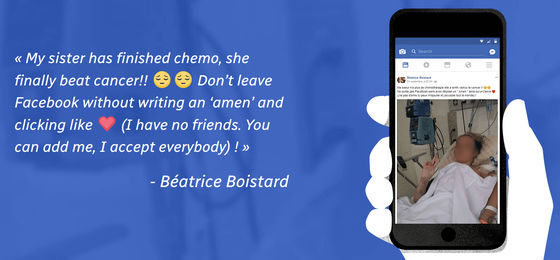 Yates initially purchased and purchased the purpose of the fake account Béatrice which collects a large number of followers as an account with a large amount of followers to the black market,Click baitI thought it was a "farm" plan that raised as a bait feed site for me.

Yates, who was closely watching following Béatrice to see what kind of fraud is done, one day, I realized that Béatrice began to share sexual photos of young girls. All posts with sexy photos are "She's looking for a boyfriend, send me a private message if you give me a comment. Do not be shy. Follow her," 4,5 A sexy girl wanting a boyfriend for a person was posted. According to Yates's survey, it is natural that all the "friends" of Béatrice were also fake accounts.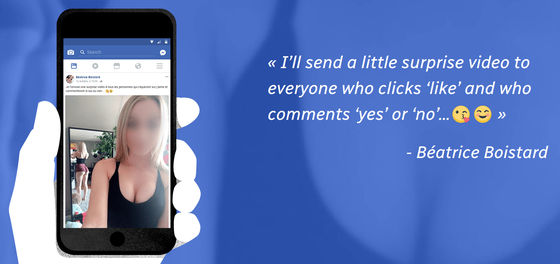 The posted image has something in common with a sexy photo of a minor woman, some of whom claim to be 15 years old. Although most of the images could not be investigated, most of the photos were reprinted from SNS. Since fake accounts are tagged with genuine accounts, it is difficult to identify networks with bogus accounts. Yates analyzed 200 posts posted by about 40 fake accounts and recorded as source and target each time a fake profile tagged another tag. And by using the network analysis software to create a map, I succeeded in making a correlation diagram of fake accounts. Subnetworks are color-coded, among which accounts with large circles are positioned as "nodes" acting on many fake accounts.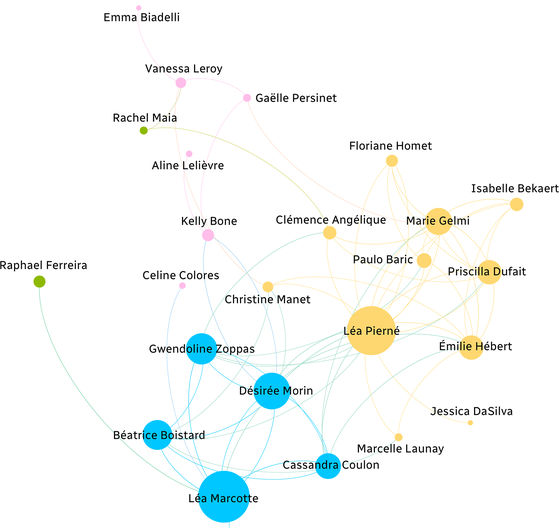 Yates also finds that different sub-networks of different colors have different bases such as northern France, Belgium, Spain, and that the largest network is in Marseille, France. And Yates said that collaboration with subnetworks across national countries suggests that this fraud network is a large-scale criminal network jointly operated by multiple people and organizations.

Yates, who continued to analyze the network, found that there are three different categories of fake accounts. Three of them are "Feeder", "Bait" and "Hunter", each playing a specific role.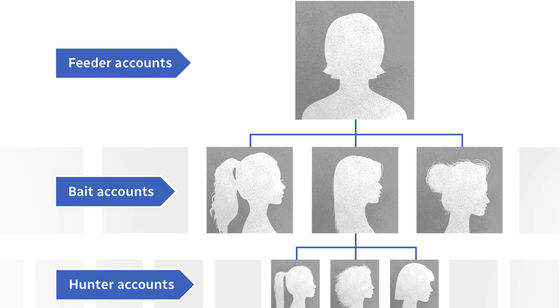 The role of the feeder is to become "the entrance of the network". 0day pay 2.5bi payrence tw pay 2.5 0 0 0 payday twa closed tw payday payday tw payday payday tw payday get tw payday get tw payday get tw payday get tw payday get tw payday getday tw payday get tw payday get tw payday get tw payday get tw payday get tw payday getday tw payday get tw payday get tw payday get tw payday get twa payrence payrenceday closed twa payrence payrenceday closed tw payday payrenceday closed tw payday payrencedayday tw payrence payrence payrence! Sometimes thousands of favorite posters feed! And that she may have a share.

The feeder selects and tags several bogus accounts from the bait. For a male follower of a feeder interested in an account tagged as a beautiful woman, click the bait. In addition, at the feeder stage, the network has excluded those who are not interested in young women and sexy ladies followers.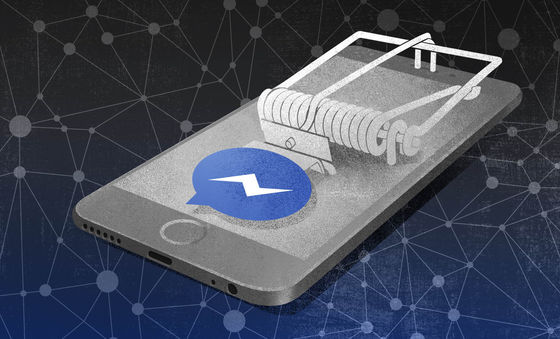 A lot of followers are also attached to the bait. The account of Bait is built in detail until the profile reaches the date of birth and hometown, and many photos of the same picture are not stuffed out, so care is taken to think that it is "real" It is characterized by being paid. However, bait never takes two-way communication, never accepts friends applications or answers messages.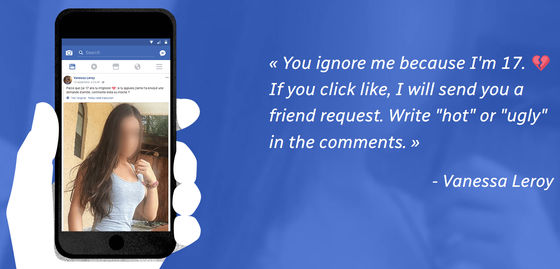 The main function of the bait account is to publish attractive photos and tag other fake accounts. Contents of postings are always forms of asking men, writing their age, sending out private photos and advancing writing comments. These processes have an important role to send people to the third category "Hunter".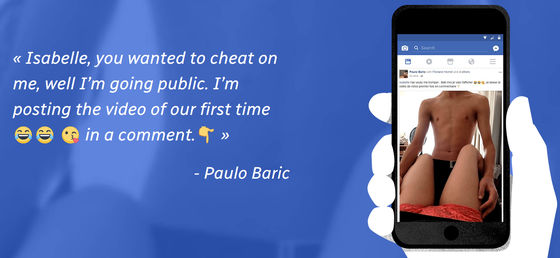 The scene of fraud is the hierarchy of the third hierarchy. When accepting a friend application from Hunter, a direct message (DM) will arrive. DM will ask for conversations with fraudulent pornographic sites, dating sites and other links or by video chat such as Google Hangouts or Skype.

A classic fraud technique invites men to masturbate in front of webcams, pretending to be attractive women. Naturally, the state of the act is recorded, and threatening to pay money if you do not want to publish the movie. Some are threatening to masturbate in front of minors.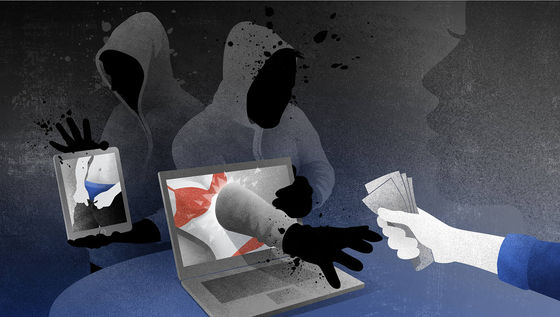 On the other hand, Facebook has introduced an algorithm to find and delete fake accounts. There is a good chance that a hunter account affixed with a link to a fraudulent website will be caught. For this reason, Hunter is DM desperately trying to switch to a conversation on another platform that is not Facebook. According to the answer that Yates sent DM to Hunter, it seems that it was an early job of requesting to turn on webcam and masturbate just a few minutes after receipt of a friend application.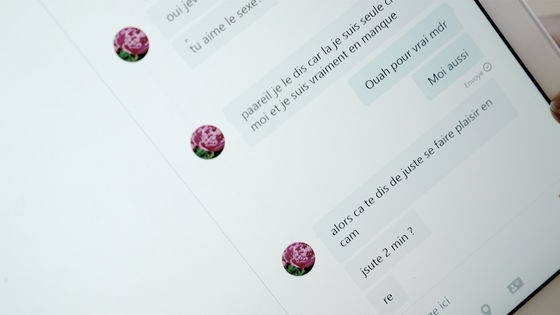 The hunter account that invited prey to chat will be deleted in a few minutes. By making the hunter disposable, it makes it difficult for the victim to flag Hunter as a fraudulent account and warn you, and it protects the entire network.

In order to protect the entire network, a complex network of three layers of feeder, bait, and hunter has been constructed, and even if a certain fake account is BANed, the entire network can survive without being BANed Yates points out that it is structured.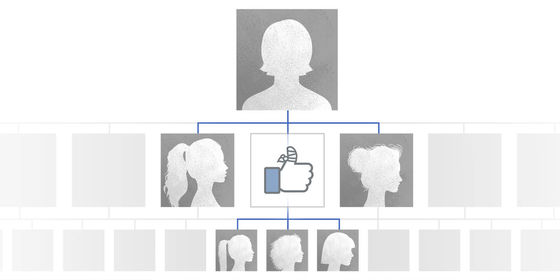 While investigating the fraud group's wrongdoing, Yates has accidentally succeeded in identifying the person "Mehdi (pseudonym)" behind the group that makes use of fake accounts. Mehdi was a leader in the Facebook group with more than 600,000 members and knows that he often handed traffic to the profile of fake accounts.

One day, a Medhi friend's woman posted a picture in the group and tagged her friends, Medhi was included. When Yates put the mouse cursor on the image Medhi, it was tagged with the name "Amandine Ponticaud" which is one of the biggest network ties made up of fake accounts.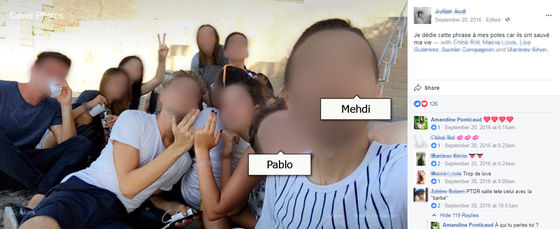 While a man who is a comment field made fun of Mehdi, Medhi caught up in the Amandine account with a comment such as "I will use your mother's picture with pornography posts" and the other men swayed Amandine I blocked it. However, Medhi continued posting insult comments with another fake account "Léa Pierné", and when a man blocks Léa, he did another act of using another fake account "Isabelle Bekaert" . Yates, who was watching this interaction, he said he was convinced that Medhi was accessing at least three fake accounts on the fraud network.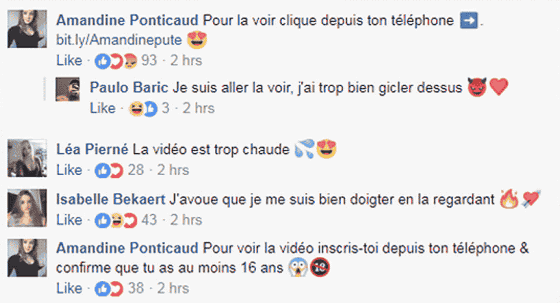 After that, Mr. Yates, who identified a fake network participant, such as Pablo (pseudonym) who appeared in investigating Mehdi, contacted the two persons directly but did not receive a reply. However, two women who joined Mehdi and Pablo's fraud network earned "10,000 euros a month by sharing a link on Facebook" "The bases of the network are France, Spain, I am in Italy. " However, as soon as contact with women ceased, it seems that fraud networks involving Mehdi and Pablo disappeared one after another without placing an interval between them. However, the network has been inactive rather than deleted, he moved the platform to Snapchat and continued to share porn links in the same way as Facebook. Several people cooperate to gather premiums that mutually benefit, changing the SNS platform such as Facebook and Snapchat, but it seems that they continue to create victims even though they are interworking networks.