Deadpool "Excellent Tsuyoyo Noriro" Exhibition of Jealousy to Hugh Jackman Japan Limited Special Video Release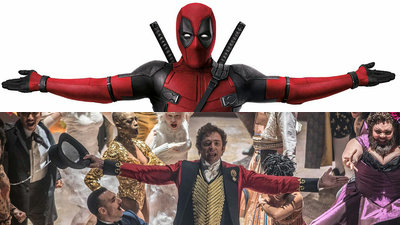 I do not think that it is a very heroes Attractive feeling of selfishnessdead pool"The previous work published in 2016 was a big hit, and on June 1, 2018 (Fri), the sequel"Dead pool 2"Is coming soon. However, as a dead pool, in Japan "dead pool" or more "Greatest showman"Seems to be considerably caught that it hit, and a special image intensely conscious of Hugh · Jackman was released.

Movie "Dead Pool 2" congratulation! Deciding to musical? Presentation footage - YouTube

© 2018 Twentieth Century Fox Film Corporation. All Rights Reserved

"Everyone in Japan, Hugh Jackman's musical seems to be popular" Deadpool that came out.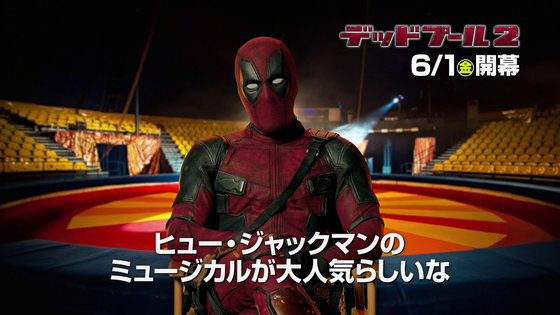 Speaking of Hugh Jackman, the role of Wolverine of X-MEN is famous. For Deadpool Wolverine is a "target of Egypt" and Hugh Jackman who plays it is a target as well. In April 2018, twitter videos actually involved are released.

When you are trying to record a heart of heartfelt birthday message .... but are interrupted by the least greatest showman.@ VancityReynoldspic.twitter.com/RwlE4IXFX1

- Hugh Jackman (@ Real Hugh Jackman)April 27, 2018

The problem is that 'Hugh · Jackman's musical', 'Greatest · Showman' is hit more than 'Deadpool'. "Deadpool" is also a hit work of more than 2 billion yen in box office revenues, "Greatest show show" recorded a box office income of over 5 billion yen as of May 8, 2018. Deadpool to state that impression "I want to kill it is jealousy."



However, "Nunnoro is a furious Tsuyo", he replied, "I changed my new movie to musical only in Japan," instead, I will tell you about the horrible thing. Actually, the place where the dead pool is sitting from before is like the circus appearing in "Greatest show show". I can really do a musical.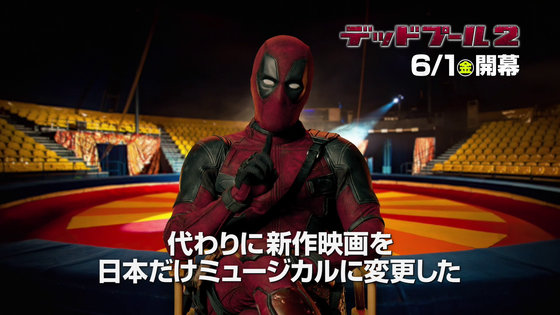 ......, Although it was a message that was poisonous like Deppu, "Deadpool 2" will never become a musical movie even in Japan, so please go to see it with confidence.

· "Dead Pool 2" information
Director: David Leach
Cast: Ryan Reynolds, Josh Brolin, Molina Bacallin, Julian Denison, Zazy Beats, TJ Miller, Briana Hildebrand, Jack Casey
Distribution: 20th Century Fox Movie
© 2018 Twentieth Century Fox Film Corporation