"Space Battleship Yamato 2202 Love Warriors" Interview with Producer Jebeck and Komatsu Komatsu, Yamato Production is "Fun"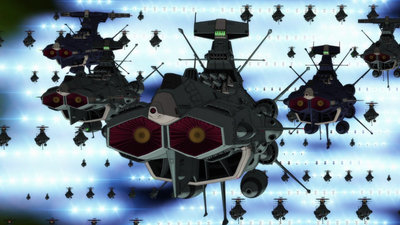 "Farewell Space Battleship Yamato Ai no Senshi" and "Space Battleship Yamato 2" to remodel to the present age in all seven chaptersSpace Battleship Yamato 2202 Ai no SenshiThe fifth chapter "Purgatory Hen" will be shown at theaters from May 25, 2018 (Friday).

GIGAZINE has conducted interviews with various staff and posted articles, but this time we interviewed producer Hiroki Komatsu of Genbec, an animation production company who was in charge of production, and this time, directed by Nobuyoshi Habara and Kobayashi I've been talking to you about how Makoto Seika's production is doing.

Space Battleship Yamato 2202 Ai no Senshi
http://yamato2202.net/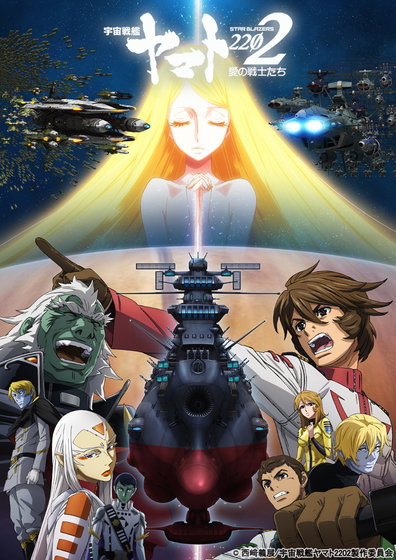 Q:
Komatsu says that he joined the project from "Space Battleship Yamato 2202 Love Warriors". What kind of parts are you in charge?

Siebeck Komori Komatsu Producer (Komatsu):
As a position I am an animation producer. I handed over the responsibility from another person, and now I am in charge at the main.

Q:
How did Mr. Komatsu become a producer after getting through?

Komatsu:
Originally I came to work and joined Jebec about seven years ago. This work is my first work as a producer.

Q:
Mr. Komatsu's own experience of Yamato, what kind of form was touched upon childhood?

Komatsu:
I think that I first saw it was an elementary school student. It was the first time I saw it on a program like NHK BS, anime theater. Although I was watching it with my parents, it was an old work, but I remember watching it pretty well. Parents have been watching Yamato since long ago, so they explained the parts that seemed like this scene is meaningful. My father said that "Farewell" also went to the theater and said, "It's a great work."

Q:
It is a wonderful meeting that you get involved in such work on work.

Komatsu:
When I told my parent "I am making Yamato now", it was "That's what I expected, it was awesome." When was the work of until now "such work, do not know," because such a place, tells them that it is (laughs), I am happy it is because comes back after all reaction.

"Space Battleship Yamato 2202 Ai no Senshi" From Chapter 5 "Purgatory Hen", Yamato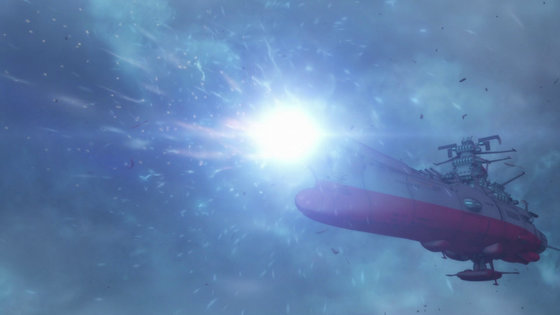 Q:
In "2202", how is the concrete production progressing?

Komatsu:
Basically, Mr. Habara advances mainly, and support Mr. Makoto Kobayashi is doing the support. Mr. Kobayashi is rather feeling that he is watching the mechanical system and the art of Gatlantis, and the rest is Mr. Habara. Mr. Habara is going to fix the story, but Kobayashi also raises the opinion that "I want this to do" "I want it like this".

Q:
Is Mr. Komatsu working for the adjustment part as well?

Komatsu:
Well, Kobayashi comes to the office and talks to us, so we have a place to talk with two people.

Q:
Since both of us have a career, what kind of feeling is it ...?

Komatsu:
Mr. Hanehara is also listening to Mr. Kobayashi's opinion and the opinion of Mr. Harukoshi Fukui of the series composition because I believe that "I will surely be able to do something good if I hear the opinions of everyone." I think that it is quite difficult to listen to the opinions of everyone, but Mr. Habara is working on it without giving up, so I trust Mr. Habara as myself.

Q:
Because individual personities including Habara-san are gathered, it is quite hard to put together.

Komatsu:
Well (laugh). When I heard various ideas, I feel uneasy as "Does this really stand up?", But it seems like I can see places to convince each other by discussing directly.

From "The Space Battleship Yamato 2202 Ai no Senshi" Chapter 5 "Purgatory Hen", ancient era



Q:
Komatsu participated from "2202", but what was the impression when I received the story "I participate in" Space Battleship Yamato 2202 Love's Warriors "?

Komatsu:
As it is still a big title, I thought "Can I do it myself?", And I was concerned about taking over after my seniors. But actually it is really fun to try. Because it is a big title, the fans' voices are well heard and it is very rewarding.

Q:
Even if you are watching from the outside, you can see that a big project is moving, but how is the impression of moving in? Is it hard work? Or is it fun?

Komatsu:
I am happy to do it. A variety of opinions came out, each of them "certainly think so", and how is this put together?

Q:
Does Mr. Komatsu feel like watching how Mr. Habara gathers up?

Komatsu:
Well, basically it is not a human being who says so much, and Mr. Habara and Mr. Kobayashi are also people who like Yamato from the old work, so it is best to create those works by making those people I am thinking.

From "Chapter 5" Purgatory Hen "Space Battleship Yamato 2202 Ai no Senshi", Surveyor and the Zodiac Emperor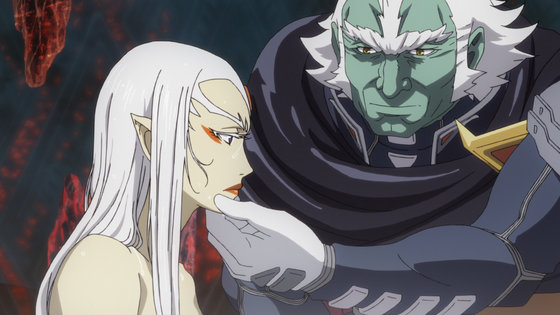 Q:
What kind of work does the "job animation producer" title mean in the first place?

Komatsu:
"Will you look at the whole animation production?" Of course it is necessary to check the site as well and there is also a job of bringing people ... .... As for the current position of yourself, the things around the site are the main. I'm consulting various places to decide "I'd like the schedule a bit more like this".

Q:
Mr. Habara and Mr. Kobayashi gathered mainly in the meeting and it was a story that Ms. Habara is able to compile while supporting Mr. Kobayashi. I was told that the story line was originally created by Mr. Fukui ... ....

Komatsu:
I have raised the container based on Mr. Fukui's scenario, and on top of that I am adjusting some parts such as "A bit better like this" at the time of supervision check.

Q:
Is it a concrete drawing method of a battle scene omitted in the scenario, or how to inflate in such a fine part?

Komatsu:
There is also it, if possible, I hope to do all the scenarios of Mr. Fukui, but since there will be some parts that do not fit on the scale as they all do, there are also such adjustments.

Q:
For example, if the inflatable part is interesting, is there sometimes the part that Mr. Fukui was originally written down by cutting it in there?

Komatsu:
Since there is also a part saying "I have to draw this properly in order to make a mountain of a story", there are also cases where weights are put on that person.

One of the battle scenes appearing in "The Space Battleship Yamato 2202 Ai no Senshi" Chapter 5 "Purgatory Hen"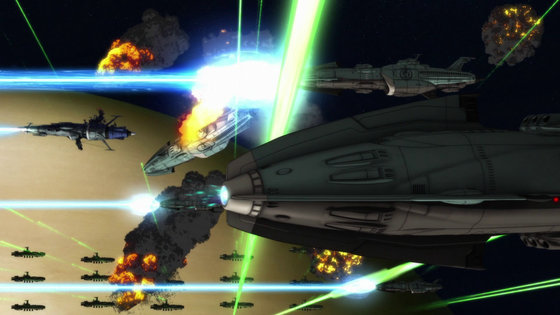 Q:
As I mentioned before, there was a story that fans' voices are big and rewarding because they are big titles, but are there any differences from other works that Mr. Komatsu was in charge of?

Komatsu:
When looking at the reaction on the net, Yamato is well treated also in blogs and so on, and that was the one who seemed to write a comment by pasting a scene photo every cut. Knowing that there are such enthusiastic fans, you will be worth it. There is a little pressure, too (laugh)

G:
While there is a nice voice when it is a net, I think that there is also the opinion that "it does not hurt my ears" is also written. How much will it take?

Komatsu:
Of course nice things are written and it is nice, and sometimes I feel depressed when written in disgust. However, I think that it is an opinion after having seen it properly, and how it felt is each person. Just because there is a reaction, it is said to be happy or fun ... .... It is worth doing if you find it to a fine place and it is nice that you have seen me until I thought that no one would notice.

G:
Is there something like "I was glad, there was a person I noticed?"

Komatsu:
There are also such things.

Q:
On the production side, did you have anything different about Yamato from other works?

Komatsu:
Until now I was in charge of drawing with main and 3D, but there are plots and 3D in Yamato, the work process is complicated. Until now, mostly, I had the drawing drawn first, I got a character drawn and passed it to the drawing director ... .... In Yamato it is tough to cut by cutting respectively. Depending on things, there are things that must be ordered from art after preparing 3D materials, and there are many places where various things get intertwined.

"Space Battleship Yamato 2202 Love's Warriors" Chapter 4 "Tenshi Hen" from Yamato in battle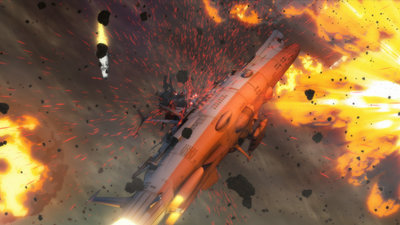 G:
Is there a specific difficulty in the position of the producer who drew a step back from the site?

Komatsu:
It is a work that people have to move, so that point is always a problem. Does he / she properly give instructions and does the person who received the instruction understand properly? Although it is said that it is not done well that getting done and returning different results at all are not well conveyed, how far should we say at that time? I do not want to say too much to say ... ....

G:
Is there some of you who worked as a producer, "This person was helpful" or "This person had an influence"?

Komatsu:
I wonder how ... I think that Mr. Habara who has seniors and producers experience as well. Especially, Mr. Huhara seems to place importance on how to make people motivate, and I will study together by doing it. Sometimes this is motivated by Ms. Habara's remarks. That is why I feel like "I must respond" as well.

Q:
In terms of schedule management, although it seems to be necessary to have schedule management that is quite different from the TV series, all seven chapters in a theater work as well.

Komatsu:
Although it is different from television, I think that this work is blessed in that it has more time than television. Because it is because if it starts on TV it will have to be delivered every week.

G:
Do you have anything like tips and techniques for schedule management?

Komatsu:
Whether it is important to move in advance or not is that it becomes a sensual place after all. There are people with fast work and late people, the work itself is slow, but some people do not take trouble if they go up, so I am balancing around that.

G:
Understand and adjust each individuality about work. For example, what was successful in the 1st chapter can be successfully done in the same way in the 2nd chapter?

Komatsu:
In the last accumulation, it is possible to predict the work a little, it will be easy, but it is timing and condition of the person at that time, it is a change in the quantity of work, and in the end it can proceed as expected It is difficult.

Q:
Chapter 5 Although the interview article will be released as soon as the screening starts, do you think about looking back on the "voyage" of the production so far?

Komatsu:
Well ... Even if the fifth chapter is screened, there are only two more chapters yet, but I feel like I finally came here. At the first stage, there was a fumbling part of the interaction with the staff, moving thinking that it would work out. We also got on track and less troubled with the part of exchanges.

Q:
Looking back on the chapters screened so far, which time was the most difficult thing?

Komatsu:
Is it the third chapter? At the beginning, I felt like I had been desperately doing it without knowing it, but in the third chapter there were various struggles in the third chapter ... ....

From Space Battleship Yamato 2202 Love Fighters "Chapter 3" Pure Love ", the smile of the Zodar the Great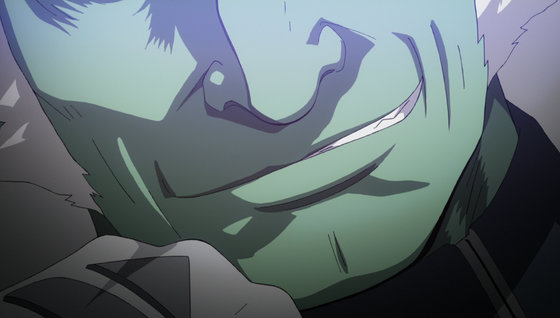 Q:
At the time of chapter 4, I feel like I got over it one time.

Komatsu:
I think that the fourth chapter could be made with a lot of time being used. There are things that 3D got used to it and the speed went up. At the beginning, the part that took a long time also got to go smoothly, and the difficulty of 3D real work has decreased. There are many 3D cuts and asking 3D to the point that it is close to photographing processing, and there is a part like "dock on a 3D in a 3D", but it is saved very much.

From "Chapter Space Battleship Yamato 2202 Ai no Senshi" Chapter 4 "Tenshi Hen", two types of space fighting Gatlantis army Mobility Koji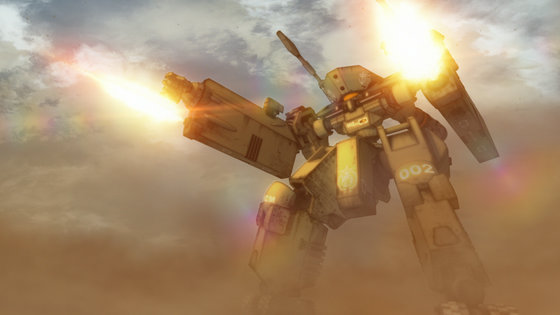 Q:
If it is 3D, as models are made and stocked, you do not have to create a new model, so do you have such circumstances that your hands are getting empty?

Komatsu:
I think that modeling is still the most time consuming. If all around it is done, we can modify the original thing a little bit and then we can do it quite smoothly. Although the explosion at the time of the fleet warfare is almost 3D this time, I make such kinds of patterns in various patterns.

Q:
"Withdrawals will increase".

Komatsu:
However, we are doing a new trial for each chapter.

Q:
I agree. A new mecha will come out one after another.

Komatsu:
For example, in the twelfth episode, because of fusion of drawing and 3D, effects are added by drawing, and the shooting main gun is doing things like 3D ...... Since the form is completely different, I changed the shape according to the surrounding drawing, so that I did not feel uncomfortable.

Q:
Waves splashing is also true.

Komatsu:
Also the cut at the time of departure from Yamato of the fourth episode. We add processing to what we originally drew ... .... It takes time and effort to do a lot to improve the picture.

From "Space Battleship Yamato 2202 Ai no Senshi" Chapter 2 "Departure Hen", the flying Yamato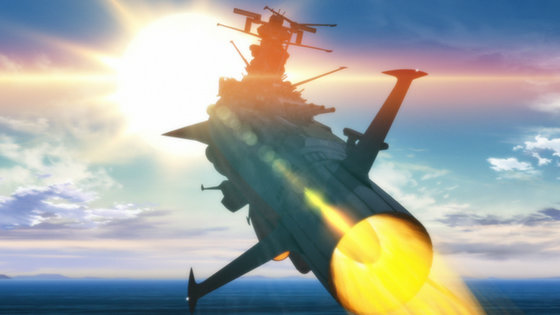 Q:
I think there are many hardships that can not be drawn from the finished images, but is there some kind of difficulty unique to Yamato?

Komatsu:
You do not have much of Yamato's "huge feeling"? And there is something to worry about. However, Mr. Huhara and Mr. Kobayashi are watching from there, so when you see the final picture you are working firmly. Director Hahara says "I do not care about giant feeling or something", I am doing a takeoff and fine adjustment to 3D.

Q:
After all, "huge feeling" is a big factor to make a powerful image.

Komatsu:
Actually, if you put it in contrast with 3D, there are things that do not seem bigger so far, so I forcibly make it 3 times bigger, and I'm also daring to make it look bigger (laugh)

Q:
Does it look like something that has gone up and it seems to be fixed as "bigger"?

Komatsu:
"Three times".

(All lol)

Komatsu:
Because moving speed is too fast, there are times when you try to take the scale about 3 times. If it is too early, it looks light and small. I will be careful as I have to finish adjusting the schedule of the number of talks, etc. until cutting timing.

Q:
From whatever form it is heavy.

Komatsu:
Also, if it is a character's drawing, there are also character's weakness / disadvantage depending on the person even in drawing director. Sometimes I get a little off the character of Nobuhiro Yuuki, when I do that, I have something to worry about.

Q:
There are also images of characters that have accumulated among those who are seeing ... ....

Komatsu:
It seems that antiquity, forest snow and deserr are difficult.

Q:
Are not there many people who took a turn? (Laugh) Do you think there are similar points if you hold down such a place?

Komatsu:
I can not say anything, perhaps it will be different for each worker. So, I'm going to go into the general work director there only, and I correspond accordingly each time.

Rumor disputers that it is difficult to resemble Yuuki's design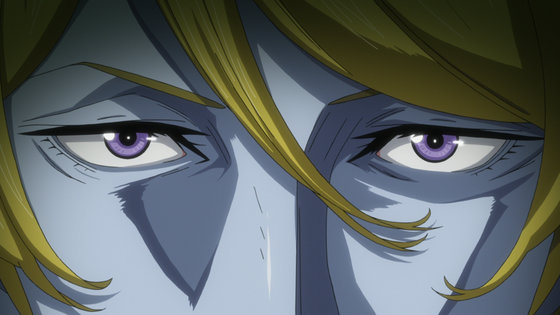 Q:
When compared with other works, is there a part that looks like there are parts that take time in Yamato?

Komatsu:
It is a contest that feels a little time consuming. First of all, since there are so many settings, it is necessary to understand it, and when we make corrections to the upwardly coming contest, we also need to take various opinions at the time of the contest, so we need time by all means. Also, I spend a lot of time drawing. There are more lines than many other works, and it takes time for movies to be able to resemble characters.

Q:
It is a mechanical part, not all of it is CG, but I think that there are parts of drawing, but what about those places? I think that it is a person who is good at mecha and person who is good at character.

Komatsu:
It is occasionally to draw mechanics from scratch, but sometimes there is not so much quantity, it is often done with CG. Compared with "2199", we are seeing down detail improvement as well. Regarding mecha, Mr. Kobayashi and others are in charge of about 3 others, and I have not done anything difficult.

Q:
I think that there are many difficult parts, but since the image actually seen is wonderful, I feel that excellent staff are gathered and made.

Komatsu:
The staff is excellent. I listen to him for the first time, thankfully. As for here, we place great emphasis on getting staff to feel comfortable, and we are always thinking about how we can work comfortably.

Q:
Is Komatsu san from "Konnichi" for the first time? Is it from Mr. Habara?

Komatsu:
It is from Mr. Habara. There seems to be many things to come up with while doing work, there are things to be told suddenly (laugh). Sometimes it says "Let's go with it" or "It's a little difficult," sometimes.

Q:
Movement finer than with battle scenes, Detail up explosion, etc. Is it such feeling?

Komatsu:
As an example of realization, cutting of the third episode ... Yamato is staying at the dock and PAN scenes, "I want to detail up!" (Laugh). "It can not be done so quickly?", But by actually doing a detail up, a very cool Yamato has been completed.

Yamato in the dock. This is from "Space Battleship Yamato 2202 Love's Warriors" Chapter 1 "Shuya Hen" (1 st story · 2 nd talk).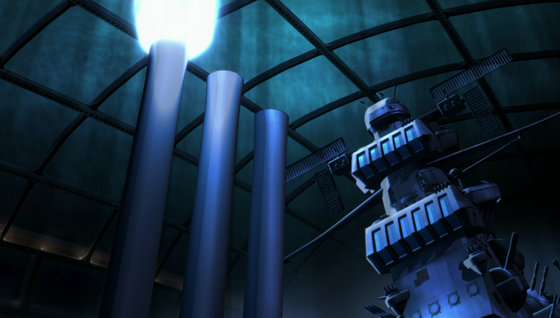 Q:
We only saw what we were able to do, so we did not know where it was as scheduled from the beginning and where it was unreasonable, but it was there.

Komatsu:
By doing that, even in the number of stories behind "things like detailing, you should do it" seems like (laugh). But it is certain that it became a good picture by that, so I think that I should listen to the unreasonable effort to improve my work.

G:
Are there any criteria for "can" and "can not" and the point that this can not be handed over?

Komatsu:
Whether it is effective or not. There is time to suppress things that are impossible in the first place that you will have to do everything else if you do it. Basically, it is in a direction to do if told.

G:
Does it mean that there are quite severe expressions of "inconspicuous?"

Komatsu:
When the timing of opinion comes late, "If you tell me from the beginning ... ..." (laugh)

G:
If it had been out from the beginning, there might be a case that it might have been possible ... ....?

Komatsu:
There is a thing called "There is not much time ......" when it is time to check such as all-rush hour.

G:
In answering "I want you to do it pleasantly" that you mentioned earlier, Hahaha coaches by responding to this inconspicuous ... ....

Komatsu:
It seems so. Motivation of creators is quite large like whether the picture is getting better or not, because motivation will go down if it becomes "not so good" I think that it is a place I should care .

G:
As things reflecting the detail up got up, is the response of coach director Hahahara and coach Kobayashi any different?

Komatsu:
Because Mr. Kobayashi will detail up oneself. Because Mr. Habara is obediently saying "Good-looking!" On the spot (laugh). Mr. Habara himself, maybe there is also a place where people around the world will feel good by doing a positive reaction like that. I think that I have to imitate such a place. Although I might just say it (laugh)

G:
Although I am talking about various things in the interview, it is the same feeling even on site.

Komatsu:
It is truly a service spiritful person.

G:
Mr. Makoto Kobayashi, assistant director who supports Habara and is behind the scenes, from Komatsu-san's perspective?

Komatsu:
There are places that are awful, and it is friendly.

G:
Director Hanehara is watching stories that Mr. Kobayashi is an idea man on the scene.

Komatsu:
More and more stories will come out. Mr. Habara gives us more ideas. However, there are things that various things have come out too, and I'm worried about how they pick up which (lol)

Q:
Finally, what is called the highlight of Chapter 5, if there is a place that everyone of readers wants to see like this, please do.

Komatsu:
Deserrar who appeared at the end of chapter 4 decorates the main part of the first half of chapter 5. I think that I can draw good-looking, such as revealed past sufferings. The second half is fleet warfare, I'm doing a lot of fiddling, so I think if you can see a powerful image.

From "Space Battleship Yamato 2202 Love's Warriors" Chapter 5 "Purgatory Hen" ... ....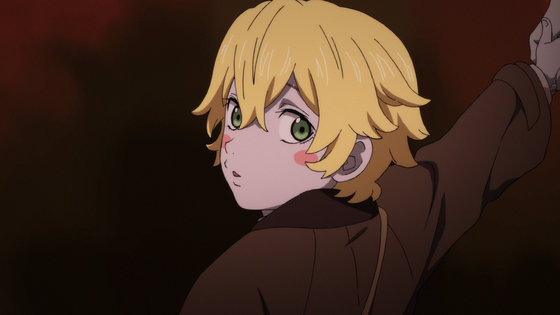 Q:
Thank you very much.

Before screening theaters, please see the fifth chapter "Purgatory Hen" at the beginning of the opening 10 minutes on YouTube.

"Space Battleship Yamato 2202 Ai no Senshi" Chapter 5 Purgatory Hen 10th Minute - YouTube

© Nishizaki Yoshinobu / Space Battleship Yamato 2202 Production Committee