"Mobile Suit Gundam THE ORIGIN" Finale Greeting held, Message from Sha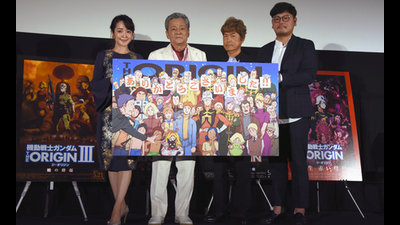 "Mobile Suit Gundam THE ORIGIN birth red comet"On June 1, 2018 (Friday), which will be the final day of the theatrical screening, Mr. Shuichi Ikeda as Chara Aznable, Toru Furuya as Amuro Rei, Mr. Ban Megumi as Seira Mas, and Producer Taniguchi of Sunrise The final "Greeting from the finale stage" was held at Shinjuku Piccadilly, and a message from Chia Aznable was presented.

"Mobile Suit Gundam THE ORIGIN Birth Red Comet" Finale Greeting Implemented Decision! | Mobile Suit Gundam THE ORIGIN Official Site
http://www.gundam-the-origin.net/information/info06.html#event3

How mobile "Mobile Suit Gundam THE ORIGIN" has developed has been tracked to a certain extent by looking at these two images released on the official YouTube channel.

"Mobile Suit Gundam THE ORIGIN" Understood in 3 Minutes - YouTube


"Mobile Suit Gundam THE ORIGIN birth red comet" at the beginning 15 minutes video - YouTube
https://www.youtube.com/watch?v=c9bRWHR9yF0(Delivery ended)

Shinjuku Piccadilly became the venue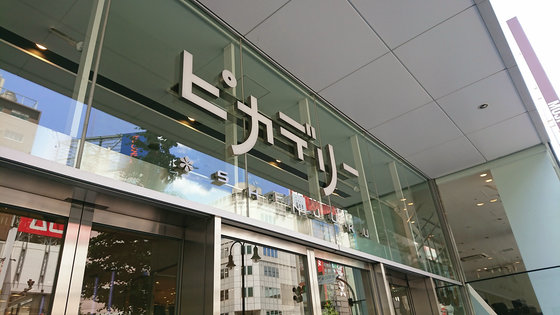 On the walls of the stairs continuing from the 1st floor to the 2nd floor, there was a cast signed panel of the Zabi family and Shah.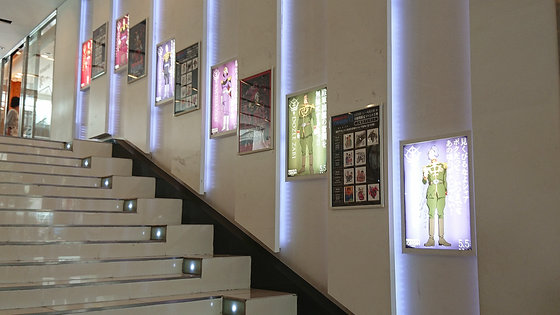 Garuma: Do not despair, I'm a sharp man ... forever it is not that time!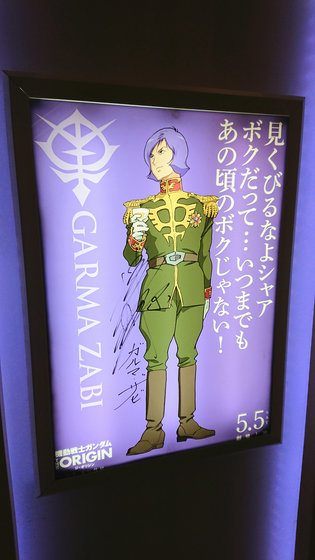 Dizzle: "Do not waste the struggle of the military vessels !!"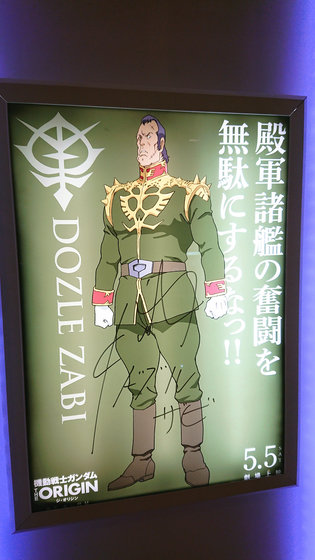 Xylia "I'm Girls' Prime Minister ...... I do not care"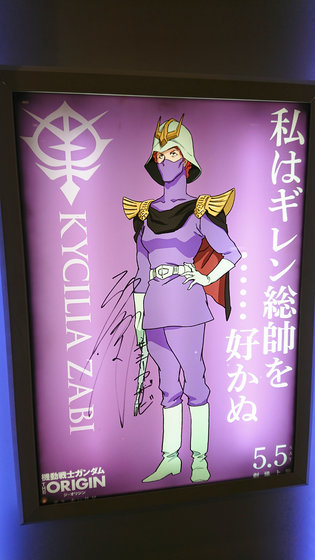 Gilen "We have already fostered a history of living outside the area of ​​experience of humanity!"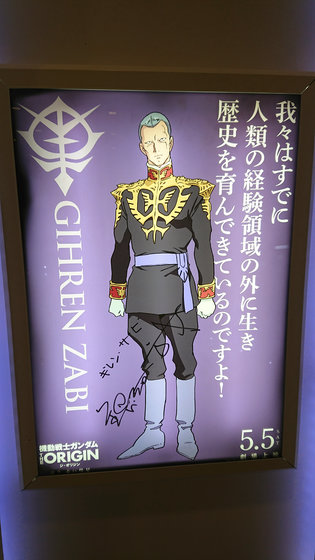 Degin "Stop beating down the militant aliens thoroughly!"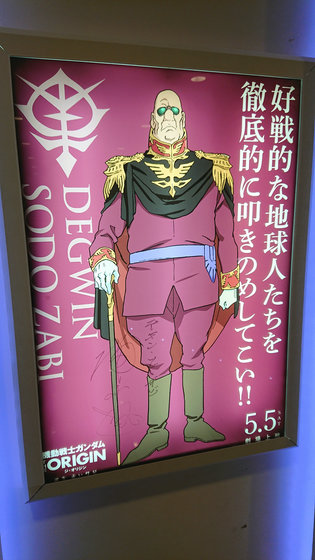 Shaa "Let me kneel! God!"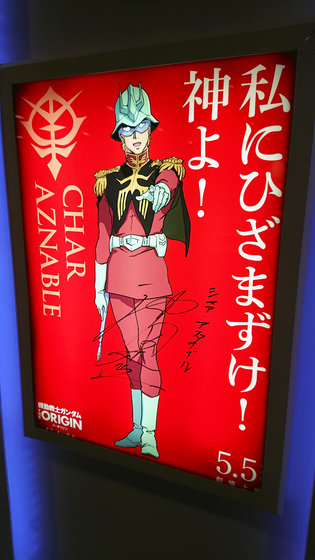 From May 5th to June 1st, a picture list of weekly gifts of screening screened for 4 weeks was also displayed.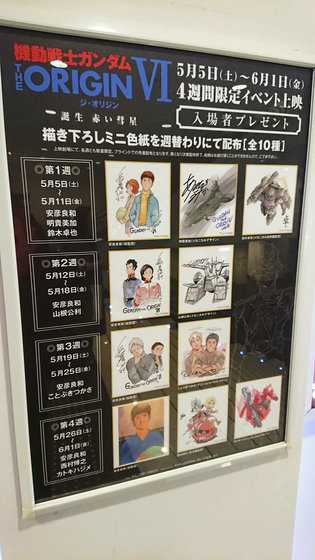 A packed guest packed the finale greeting that the ticket was sold out in only 15 minutes.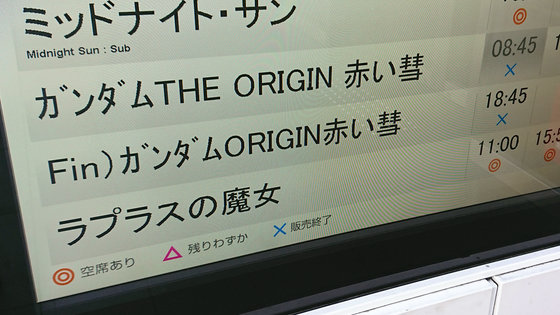 Amuro role · According to Mr. Furuya, "Birth red comet", in particular, has been released to the theaters at the same time by playing the main characters themselves "Detective Conan Zero Enforcer in Theater Version"Due to the fact that the population density against the number of seats was high," I've never seen such a happy thing! "And showed Amuro's pleasure.

In the stage greeting that it was the final screening day, a talk was held while looking back from the first episode.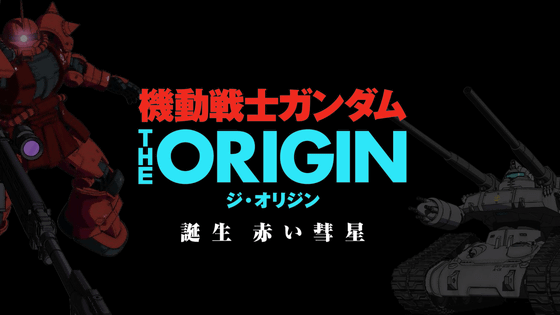 ◆ Episode 1 "Caval in blue eyes"
At the screen greeting, the schedule of dubbing, screening and screening, and the list of speakers were displayed on the screen in this way.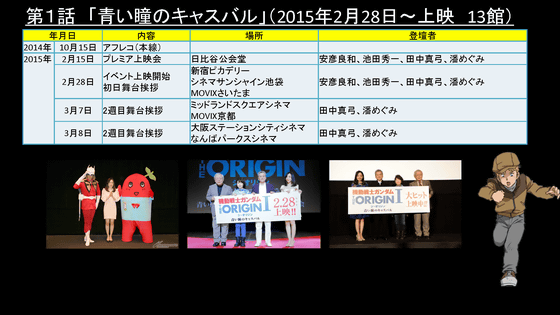 It is this work that started with animation visualization of the original manga "Shia · Sailora", but in the first episode it was drawn as a young "CASBAL · REM · Daikun" in addition to appearing slightly at the beginning as Char Mr. Ikeda who laughed at the audience seat was "I was bored." I took it back to Mr. Furuya, saying, "As the main character is hard work all too hard, I understood the feelings of Amuro Rei," but from Mr. Furuya " I was thinking that it was thought that it was. "

Mr. Furuya seemed to have seemed to see it secretly from the second floor without appearing at the stage of the first episode of the story held at Shinjuku Piccadilly, but Ikeda heard the information that "Amuro is coming" To be talked from Ms. Amuro appearing in the second episode is 8 years old, so I was worried that I would not be playing and in the story with Yoshihiko Yoshikazu in this stage greeting "Amuro will also go out, so please Furuya-san, thanking you in advance I said, "As a result of responding to" Please leave it to me ", I recalled that 8-year-old Amuro was playing as well.

Meanwhile, Mr. Ban Megumi who played Arteiaia (Seira) through the series has had something with Mayumi Tanaka who played Caval in the first episode at Chiba's famous theme park early childhood, and there is a fateful thing there He showed off his episode that he told me that he might have started with dubbing at the time of dubbing.

◆ Episode 2 "Artesia of Sorrow"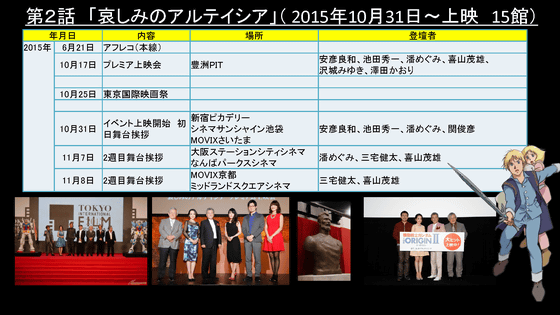 The second episode was a schedule that the Tokyo International Film Festival will be held just before the theatrical screening, so we carried out a red carpet. Mr. Yoshiyuki Tomino, Yoshikazu Yasuhiko, and Kunio Okawara also gathered "Three Major Bigheads", so Mr. Ikeda said "I was excited about when to start."

Mr. Ban, the only woman who participated, remembered that he was honored because he was an opportunity to walk once in his life, but remembered that he was trembling very much.

At the premiere screening, songs by Mr. Kaori Sawada who talked with the staff about Taniguchi producer Taniguchi singing a song in the play realized, "Can you offer something another?"

◆ Episode 3 "Akatsuki's Uprising"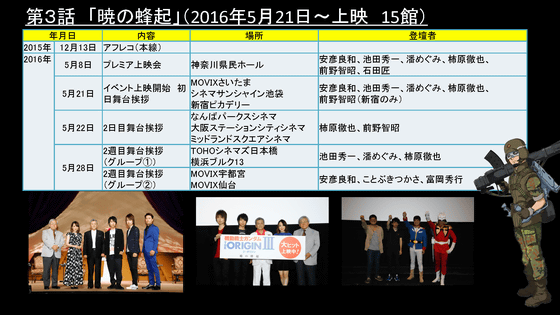 In the third episode, "Edwa · Masu" finally becomes "Chia · Aznable" and I meet Garma at the military academy. Mr. Ikeda who talked about Mr. Takuya Kakihara who played Garma is expressed as "Boy" even on the field. "It was very easy to do," he told me.

◆ Episode 4 "The Eve of Fate"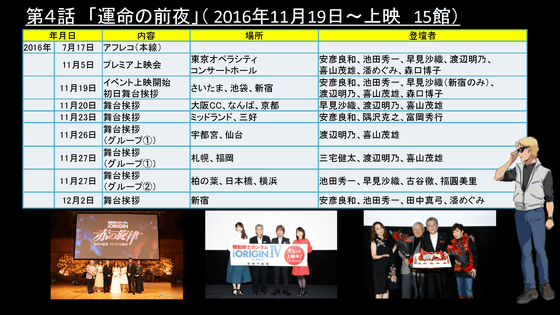 Premier screening of episode 4 was held at Tokyo Opera City Concert Hall. It was popular from Mr. Ban and Mr. Ikeda who participated in the event that Taniguchi producer was prepared by live performance with live performance & reading aloud.

As for the work, the turn of Amuro has finally increased, the second episode joined with everyone who was recording with Takuichi Sakaguchi who is playing Tem-ray with few serifs. A conversation with Toshio Furukawa acting as a role of Kai seemed to be advised against Ms. Mikasa Fukuneni who is the role of Frau Bou who was suffering from feelings making.

In addition, Lala · sun appeared in this number of stories. Mr. Ikeda touched on this subject, "I thought of various things, but as expected, I hope young lala is nice."

Speaking of the role of Lala of First Gundam, Ms. Ban Keiko who is Mama's role as a role of Seira, Mr. Ban Megumi. According to Taniguchi Producer, it was said that there was such "border of people" at the time of casting, because he was listening to Mr. Ban's voice at the audition and playing a good act, he considered role "Seira It seems to have chosen it. However, for that reason it was said that there were many things to say, "What will Lara do?"

◆ Episode 5 "Crash Battle of Lumium"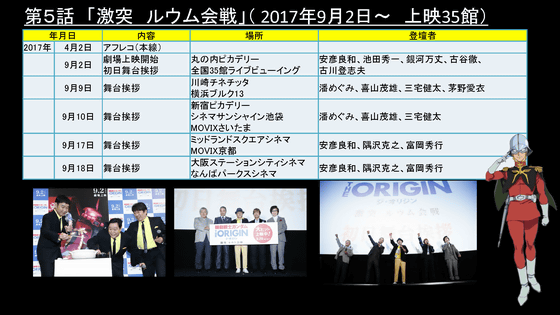 After passing through Chap · Seira editing of four stories, the fifth episode and the sixth episode are edited by Lum. The first day stage greetings were held with Mr. Ikeda, Mr. Furuya with luxurious members that Mr. Ginga Masatomo and Mr. Toshio Furukawa join.

It is also the number of stories Kai who actively participates in Amuro, and Kai 's call for "Amuroku ~!" Gave the feeling that current would run to people including Taniguchi Producer is. Furuya says Furukawa playing Kai happily and an audio commentary of Blu-ray · DVD benefits. "I felt very nostalgic and enjoyed it."

◆ Episode 6 "Birth Red Comet"
And, the closing of this animation project is the sixth episode, "Birth Red Comet". As one of the highlights, Taniguchi producer cited the fact that the cargo terminal that appeared in the escape of General Levir is the same as the cargo terminal that Caval and Artesia used to escape to the earth in the first episode. Of course, the way to draw is different, but once you review the first episode again you should feel a connection.

Finally, the following message was sent from the four speakers.

Producer Taniguchi:
Thank you for seeing us for three years, I really appreciate it. I am grateful to you for letting me say "sequel" for everyone. Cast people, everyone in the staff say, but for the time being, "I want you to take a rest" (laugh). So, I hope to have a day to see you again because of your strength. Thank you very much for three years really.

Ms. Ban Megumi role as Seira:
Today is also full of people. Thank you very much for visiting us. I did not think that it would be possible for me to engage myself in the work "Gundam" over time. At the same time as I think that it is genetically felt like a fateful thing, at the same time, after 40 years, I had not thought that Mr. Ikeda and I could play brothers and sisters ...... Char · From the Seira edition, the 5th episode, the 6th episode (towards Mr. Ikeda) older brother, thank you for protecting us.

Shaa, Mr. Ikeda Shuichi:
No, thank you for your help.

(Applause applause)

Mr. Ban:
I sincerely express my heartfelt thanks to all the fans who have supported us for a long time. Thank you very much. Surely, I think that this is not the end! Continuing we have to cheer the Gundam, we're looking forward to seeing you to everyone in the "THE ORIGIN".

Amuro role, Mr. Furuya:
We are a little relieved as the producer said "I'm off for the time being." As I thought ... ... Amuro want to see the protagonist Gundam, I want to do (applause from the venue) ...... There is a thought. I'd like to encourage you to support us further and rush to the theater. For the time being, up to chapter 6, I am pleased that I am able to make works with the best staff with the latest animation technology like this, with support of everyone. I'm also happy that I am 8 years old, 13 years old, 15 years old I am happy that I was able to make Amuro, "I am aware that this kind of Amuro and Char is in the past, so that I will lead to that one year war" I thought, played, and showed me. This "THE ORIGIN" is finished for the time being in chapter 6, but next year will celebrate the 40th anniversary, and since chapter 6 seems to have been a huge hit in anticipation, I hope that the feeling of a great person will change We are. And ... ... The movie of "Aomori" continues still more (venue haha), since the extended screening has been decided, thank you there too.

Mr. Ikeda:
40 years much to have played a Char, finally Meguria' the work that this "THE ORIGIN", I be able to play or the Char young of which could not have know, you really feel the fate ones. This is also thanks to everyone. Thank you very much. ...... Today, I keep messages from Shaa.

Furuya san:
Do not do, Chia!

Char aznable:
The story of the birth of a red comet, thank you for having a drink and thank you. I am now watching over you quietly in the darkness of the universe. In any world, everyday mercilessly keeps time and stands in front of you. ... ... but it's about the wise guys. I certainly hope to find something there and survive surprisingly. Glory of Victory to you !! Char Aznable

It seems that the real thing of the letter was like this

Today, at the "Mobile Suit Gundam THE ORIGIN" finale memorial stage greeting, letter from Shaa Aznable was read by Mr. Ikeda Shuichi.# THE_ORIGINpic.twitter.com/G4Uz6PbEKL

- Mobile Suit Gundam THE ORIGIN (@ G_THE_ORIGIN)June 1, 2018

Lastly, led by Mr. Ikeda, "Sieg Jeon" three singings echoed throughout the whole venue, and illustrations of characters were released at the photo session for the general public after casting descent.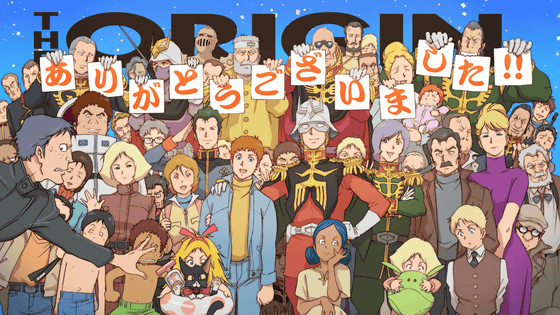 In the photo session for press, Mr. Pan, Mr. Ikeda, Mr. Furuya, and Taniguchi producer photographed this panel in hand.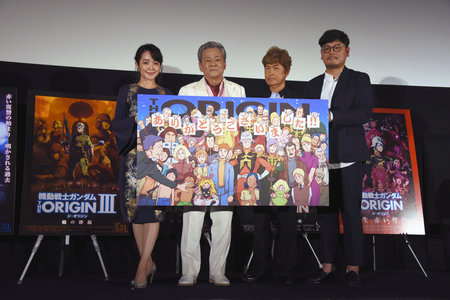 As on the official website, the animated project of "Mobile Suit Gundam THE ORIGIN" is "complete" in all 6 episodes, as a series of "Gundam" not THE ORIGIN, a sequel to Mobile Suit Gundam UC (Unicorn)"Mobile Suit Gundam NT (Narrative) will be released in November 2018 theatrical releasedoing. 2019 is the 40th anniversary of Gundam broadcasting. Is there something prepared for surprises other than Gundam NT ...?

Normal Edition Blu-ray & DVD of "Mobile Suit Gundam THE ORIGIN birth red comet" generally available from July 13, 2018 (Friday). Furuya's says Following the theater screenings of "was a big hit of unexpectedly", if BD & DVD also "surprisingly big hit", do you ...... seen Datte One Year War ed?
© Suzumi · Sunrise