Mature chilled beef and special sukiyaki sauce have eaten Matsuya 'Beef pot sauce' which is tough in the pot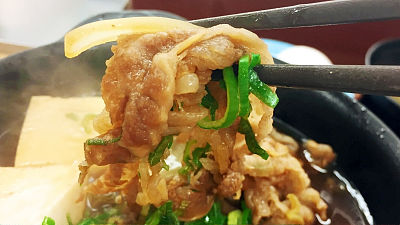 "Aged chilled beef" that confined umami in the meat, onion, tofu special cooked in Sukiyaki Sauce " Sesame pot sauce " appeared in Matsuya on October 9, 2018. I went to eat what kind of taste the finished beef pot that the natural ingredients were incorporated without using chemical seasonings or artificial sweetener.

Beef pot serving new release! | Matsuya Foods
https://www.matsuyafoods.co.jp/2018/10/03/4570/

Arrived at Matsuya.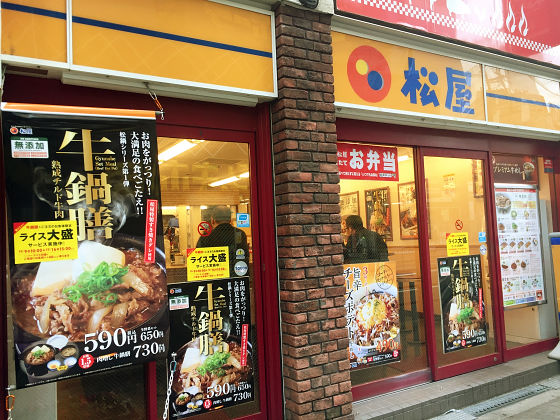 A banner of Beef pot was served at the shop front. As in this shop, like Mr. Matsuya, "Beef with aged chilled beef" is used for beef at the store offering "Premium Beef Cattle", and there was a description on banners and others as well. Also, in celebration of the introduction of the new menu, campaigns are being held which will bring the rice noodle free to 15 o'clock on October 16th.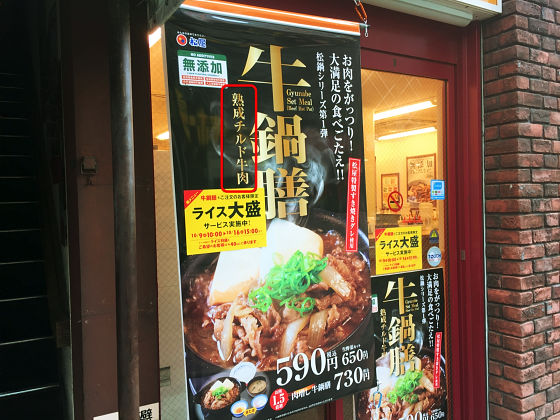 When purchasing a ticket at the ticket vending machine and arriving at the seat, a cow pot sauce (590 yen including tax) was delivered in a few minutes. For beef pot dishes, rice and miso soup, and "small bowl to choose from" can be chosen from raw eggs and semisolid eggs. In addition, this time, we use campaigns to have rice a big day.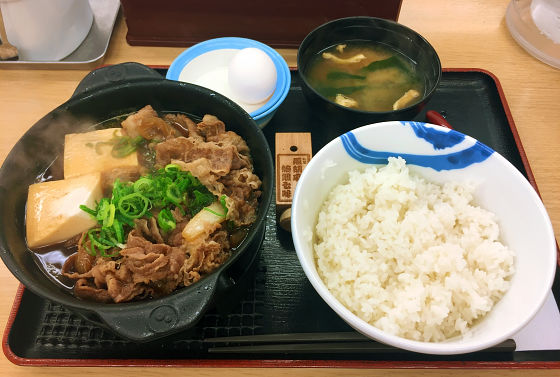 Mature chilled beef and tofu that can be cooked with a bunch of cooked in a steel pot fired with solid fuel fire from the bottom. From a special sukiyaki saga, a faint sweet smell drifts.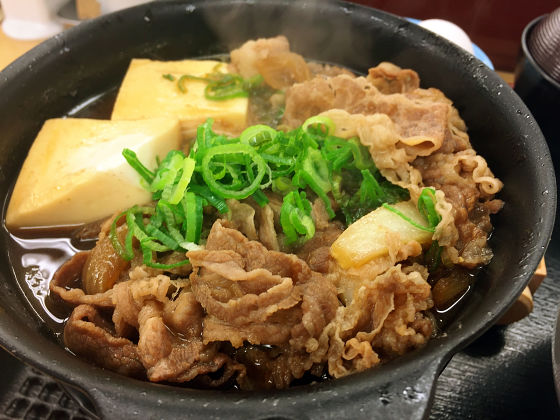 Beside the pot, black sesame roasted seasoning was added as a condiment.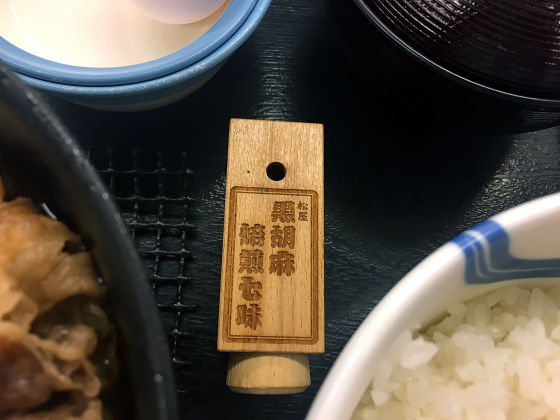 First of all is a bite of beef. Sweet special slices of sliced ​​beef are frequently entwined, so as to complement the meat's taste. It was impressive that beef itself felt the "meat taste" thoughtfully, but maybe this is the unique taste of "aged chilled beef". Whether the umami comes out little by little every time you put it in your mouth, and the chewy texture with depth is impressive.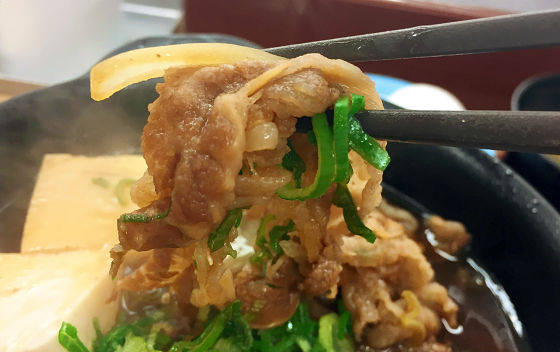 If you melt raw eggs attached to a pot and tangle them with meat, the more it goes up, the more the rice progresses. It was just the taste of Sukiyaki itself, I felt like I was able to taste it at 590 yen. Actually, this time, I tried eating a cow pot sauce which is not aged chilled beef, but the size of the meat was larger than that of the aged chilled beef and the taste of the meat itself could be tasted stronger I felt like.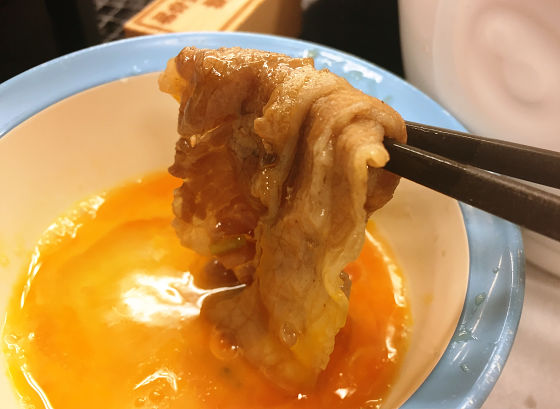 Special tofu warmed to ahachi is also frequently entwined with sukiyaki sagari, and you can enjoy a smooth texture of silk tofu. Also, as the fire from the bottom of the pan lasted until we finished eating, we were able to eat it warm until the end.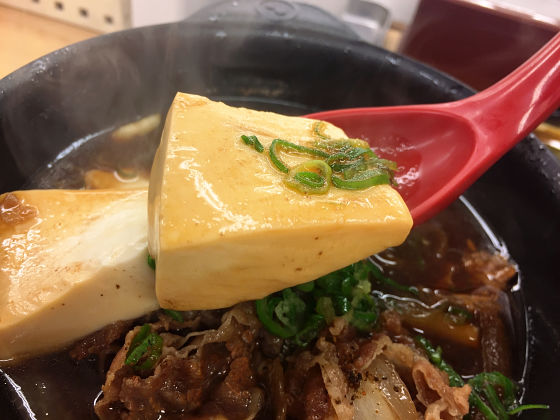 When roasted black sesame roasted seasoning, the taste and taste of meat which tends to sweet tighten up tightly.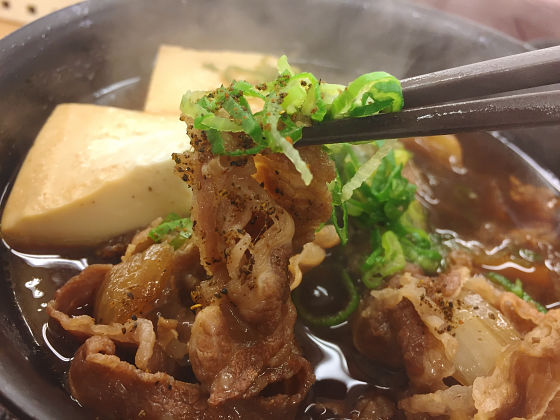 ◆ I also tried eating a cowpan meal which is not "ripened chilled beef" <br> <br> In this cow pot sauce there are two types of shops where aged chilled beef is used and shops where normal beef are used Thing. "If so, you will have to eat both," I tried to eat compared. It is easy to distinguish from the posters pasted in the store that there is no notation of "aged chilled beef" and the price is 550 yen.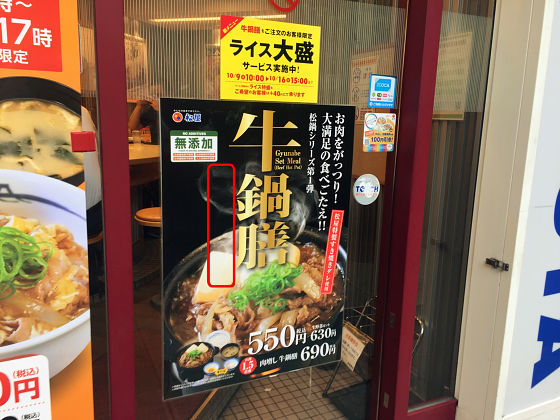 So, ordered beef pot sauce which is not aged chilled beef. The price was 550 yen including tax, 40 yen lower than those of aged chilled beef.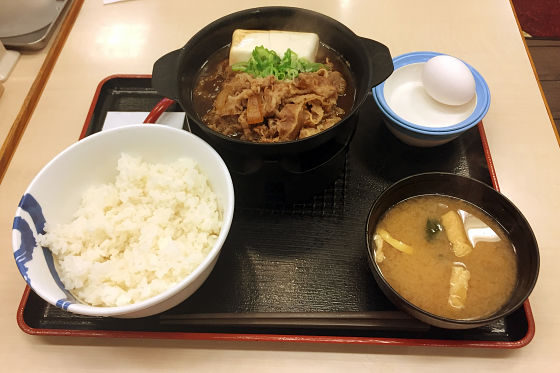 I can hardly see a difference in appearance.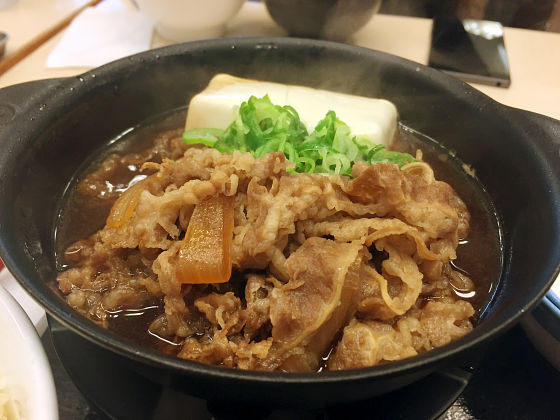 However, when I tried it, I found that there was a slightly distinct difference. Compared to aged chilled beef, ordinary beef feels "Umami" is somewhat weak, I feel that the taste of the meat that comes out when it makes a bite is somewhat weak. Nonetheless, it was never inferior, as it is possible to taste the sliced ​​beef's sweet sukiyaki saga fully mixed with it. It was a dish that it was good to enjoy the taste of beef pot serving as well as taking the cosa as well as to taste the meat taste more plus with plus 40 yen.



In addition to the set tasted this time (590 yen including tax), the beef pot dishes also included 1.5 meals of "beef boiling pot sauce (tax included 730 yen)", and "raw beef vegetables" A set (650 yen including tax) is also available.