I have heard stories about how sublimation producing 'Cosmic Battleship Yamato 2202 Ai no Senshi' CG creates a great battleship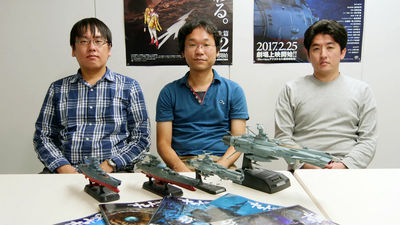 Theatrical screening of "Space Battleship Yamato 2202 Ai no Senshi" Chapter 6 "Regenerative Hen" will start from November 2, 2018 (Friday). So far, with the series composition · Harukoshi Fukui , director · Nobuyoshi Hahara , screenwriter · Hideki Oka , composer · Akira Miyagawa , sound director · Toshihiro Yoshida , producer · Hiroaki Komatsu and the staff involved in the work I have been talking to various people about various styles, but this time I got the opportunity to talk to the sublimation people who are in charge of CG production, so how to create Yamato and galaxies and that big battleship I bought a variety of materials while also including materials that sublimation received at the time of ordering.

Space Battleship Yamato 2202 Ai no Senshi
http://yamato2202.net/

The interview was answered by a sublimation project manager / CG animator Ueno friend, Mr. Taichi Kimura, director, CGI director, CG designer Yasunori Honma.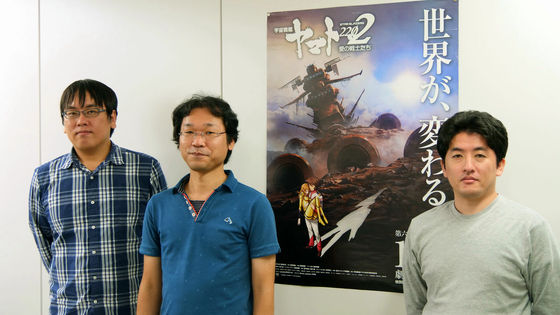 GIGAZINE (hereinafter referred to as G):
First of all, as the work finishes, we are going to see a story at the timing that the theatrical screening of chapter 6 is coming closer at the end of the work, so I would like to ask your frank thought after finishing the work up to chapter six .

Sublimation Director CGI Director Taichi Kimura (Kimura):
Was it in a flash? After putting in the preparatory period, it will be about 3 years or so, but I really came up to chapter six in a moment. In 3D, the first one was made by exploring, but I'm accustomed to Oita so I think I've come to feel like a battle scene or something pretty awesome.

G:
How is your opinion, Mr. Kamoi and Mr. Honma?

Project manager / CG animator Mr. Fumito Uesumo (Kamijo):
Well, after a while and two years and a half passed, it does not feel like that, but you can understand when you see the work, but because the content is "dense", I feel that time has passed in no time. In retrospect, "Oh, are you gone so far?" Recently, as I mentioned earlier by Kimura, I'm getting used to it, and I'm working on the feeling "to make it more", so I hope you will look forward to Chapter 6.

CG designer Yasunori Honma (hereinafter Honma):
It is the same. The screen density has also increased, the spectacular scenes are getting more and more ... ... especially the battle is intensifying from around the 5th chapter. Even though I make it, I feel that excitement is amazing, I believe that CG should also raise the quality so that I can go there.

Q:
How is Omikata's role divided?

Ueno:
From the actual cutting work, there are a lot of work such as grasping the schedule of each worker, management concerning the progress, communication work such as exchanging data with Mr. Genbeck which is the client, window work and so on. Since it is also a CG animator, in case of hurrying, it is sometimes in the form of support, working in one cut and two cuts in an emergency.

Q:
In general animation it's like "Progressing Progress".

Ueno:
I agree. It may be close to progress of production.

Kimura:
We are also asking for data confirmation. In fact, at the time of the first episode it was not my current position, but an animator. Just a bit, I will not go around ... ....

Ueno:
The amount of work is more than expected, and it is said that it is a bit tough if you turn 2 cool 26 episodes until chapter 7, and you are involved in management as a role sharing.

Kimura:
I am looking at the work and quality aspects of CG in general. As actual work is not so much, it is a check of work load and completion. Overall, if you do not see it alone, the quality will fall apart, so check until it shows to some extent, listen to Hahaha director and Deputy director Kobayashi's opinion, make something suitable for that opinion My job is to get OK from the director.

Q:
understood. How is Honma?

Honma:
I am in charge of actual work. It is the part that makes base data of beams and effects, is not it? If everyone creates them separately, "Because the color of the beam is different depending on the person", the effect will be completely different, so prepare the data to make the base data in a form that makes it easy for anyone to handle doing. On top of that, I pick up difficult cuts and such places a few cuts in one episode.

Q:
I understand. Thank you very much. It took about 3 years to go back to the preparation period, but what is the part to prepare before actual production? Is the CG data of the previous work "Space Battleship Yamato 2199" inherited, or is it doing all from one?

Ueno:
Regarding CG data, I can not use it as it is because the software used by Sunrise DID Studio who was in charge of CG when "2199" was different from what I mainly use. Although it has an outline as it is animation, it does not come out as it is with the line of that hand, and color data also fly, so we will convert all of it so that it can be used with the software used in our company Did. About three to four months or so, I converted about 30 to 40 models.

Kimura:
It took a lot of time because it was a lot.

Ueno:
Still, since we inherit the assets we made when "2199", it takes less time to compare than making it all from one. Besides that, since the shape of the hull has changed in Yamato etc, we started modeling work such as model correction and Andromeda and large battleship (Karakulm battle ship) which come out from the first episode. Three years ago I began preparations around here, as it was about the beginning of 2016, as I went up preparing for cuts, as the container came up, we aligned the foundation and actually put animation and cut work It began in the summer of 2016. Meanwhile there was preparation of data of effect beam and wave cannon. Actually there are something more difficult than a ship ... There are places that use 'software specific features', so you can not transplant easily, and the image of '2199' that has been completed and actually used I looked at the reference data I had and copied with my eyes (laugh)

Kimura:
Mr. Honma has done it there.

Honma:
Since there is a place which can not be done as it is, including the conversion of modeling etc., once it rose all the data by herself, it replaced it and reproduced form close to original by LightWave. Among them, it was naturally to add an arrangement called "this way".

G:
In the sublimation, it is said that there was experience of helping when "Space Battleship Yamato 2199 Star Cruise Ark" released after the series of "2199", but in this way, the software is totally different Is there something that is inevitable inheriting the work? Or is it an unusual offer?

Kimura:
It will be a long story, but when it is "Ghost in the shell ___ STAND ALONE COMPLEX", Eiji Inen representative of the present Orange has worked only with Tachikoma at 3ds Max. But it is unusual to take over the whole thing.

Ueno:
Supplementing, it is a rare case to take over the entire data of the project or to take over while the series is progressing. Mr. Kimura said that before, "Because it comes out only in some scenes, different software is okay", so there are other cases in that kind of case.

G:
In converting, I think that there are parts that can not be converted well because they use the "software's unique function" which I talked about earlier. The image of '2202' we see is naturally finished clean, so we do not know the part that did not go well, but is it because we fixed it in detail? It is not automatic conversion, is it?

Ueno:
It is not automatic conversion, all workers are working. If it's easy to understand ...... There are fine detail information on a large battleship. That is no problem because that is new data, but other Gatlantis ships also have something pretty detailed in the same way. As each line exits, we set parameters one by one in data where the line comes out.

Q:
Do you have any battleships made from 1 again after taking over?

Kimura:
Yes.

Q:
Does it feel like modeling by taking the design of Mr. mechanical design?

Kimura:
That's right.

Ueno:
For example, regarding Yamato and the galaxy, the shape of the engine nozzle has been changed slightly by widening the ship's hungry compared to Yamato of "2199". I think that shape change of the bow fair leader part is also easy to understand. This is remodeling from the base. Kataya, Andromeda and the main battleship ship, the Earth patrol ships and escort ships are all new. If you are on the Gatlantis side, you have big battleships and balsae.

Kimura:
Desresher ships also.

Ueno:
Yes, Gorland and Neu Deausura are completely new. I think that it will be easy to understand if you actually look at the materials, but we are making corrections with instructions from the designer.

I gave you a new and old control commentary on what actually changed in Yamato. As shown in the figure, 2199 Yamato drawn with red outline, 2202 Yamato drawn with black outline. The bulge of the ship's belly when viewed from the front is changed to "slightly pear-shaped".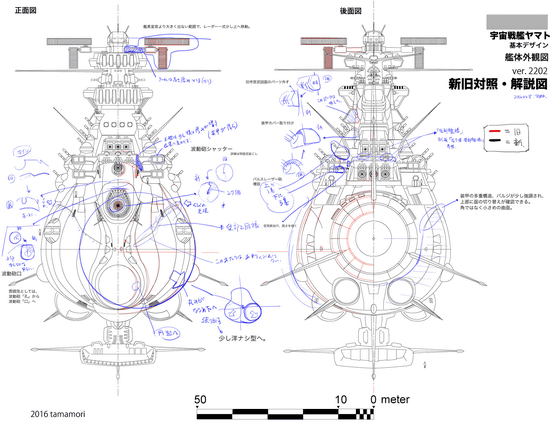 Here I can understand the side, the enlargement of the aft nozzle a lot.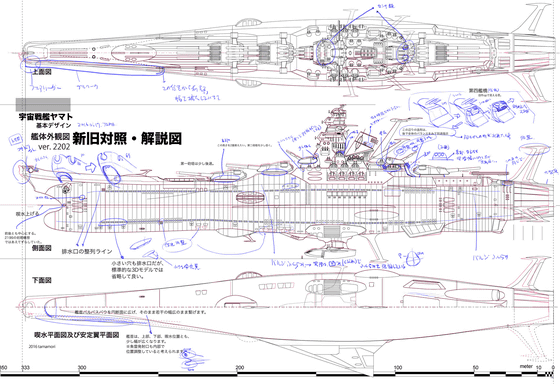 Documentation of the command tower, rear bridge, rocket anchor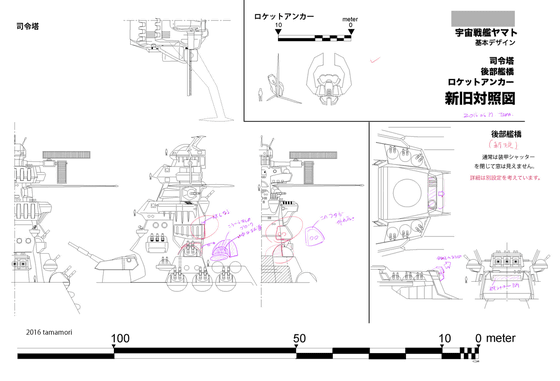 Ueno:
There are also settings on how to open the rocket anchor as to how it opens. This is the most difficult thing ... ...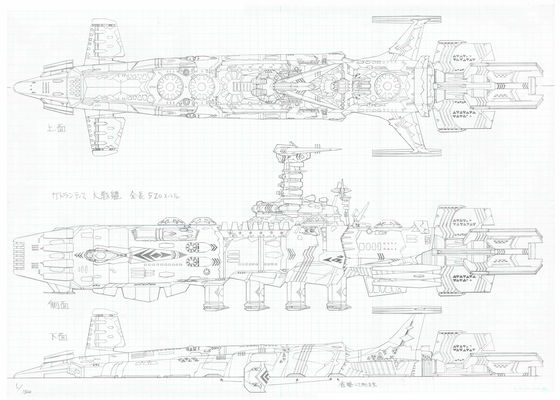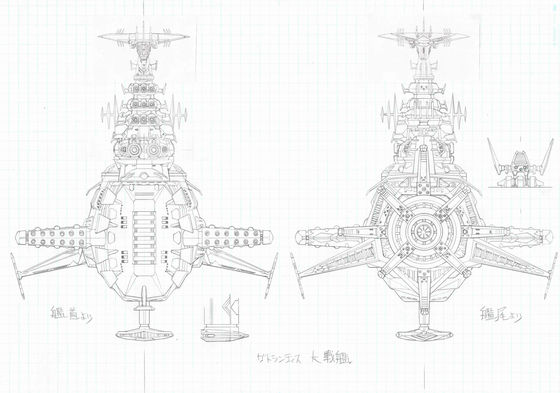 Q:
Oh ... this is amazing ... ....

Ueno:
Given such ordering materials, we will send data created based on this data to Mr. Jebeck, and will be checked by director and designer. At that time, there is an instruction saying "I want this line to be increased like this in a much more way", such as correction of addition, or "This angle is more like this", and further modifications are made based on that . How long it took ... ....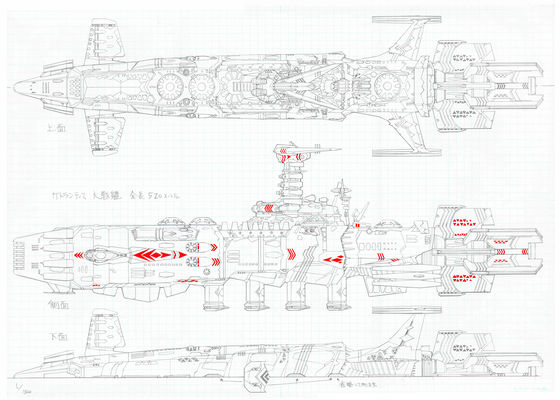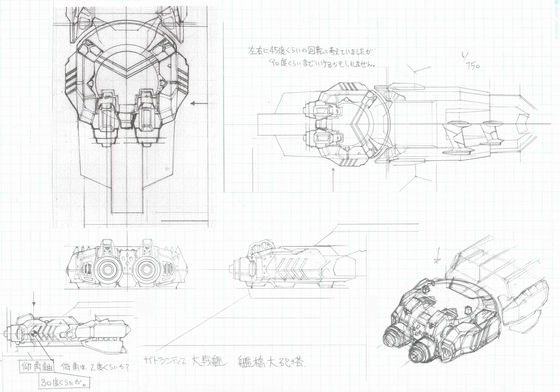 Kimura:
It is about 4 months or 5 months.

G:
4 to 5 months!

Honma:
After modeling took four months it took about 5 months in total, including textures, such as getting to LightWave for the first time, and such adjustments.

Kimura:
Large battleships were especially filled with additional lines ... (laugh).

Ueno:
It was a ship we were doing early in the preparation period, so we had time, so we got a feeling that we wanted to "quality like this!" And the director and designer said "I want to like this" It got me feeling of getting detailed settings.

Q:
There are more lines than this order diagram?

Kimura:
It increased more than this (lol)

Ueno:
Because the large battleship of Mecha collection is all out of 3D line, if you compare it with the real thing, you can see that the details around the engine are finer than this.

Kimura:
When checked, there was also an instruction here saying "Please add details."

Ueno:
Although I will have multiple angles wearing it with a 3D parse attached, since there are also cases where it can not be seen with a three-sided figure, I'd like you to add a line here "" Here is a depression instead of a line " You see.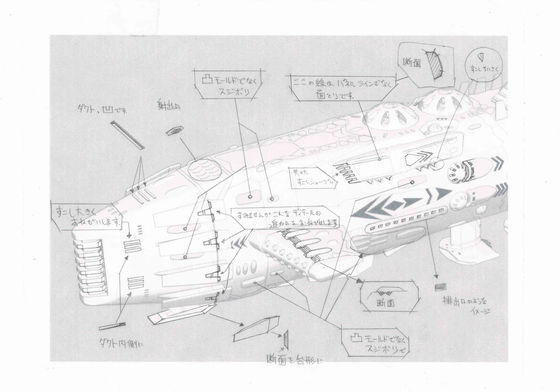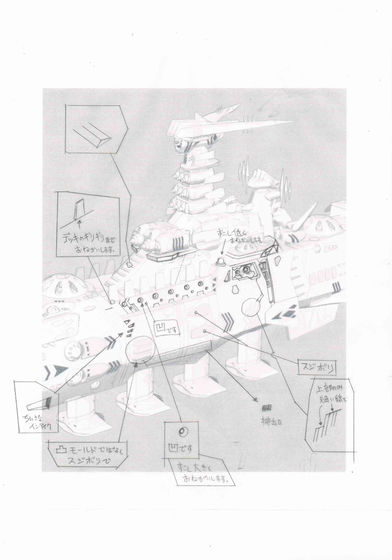 Kimura:
As gradually saying "It will do as you say", it will escalate (laugh)

Ueno:
I also packed the turret design with this feeling. Basically it is based on the rotary turret of the Gatlantis series.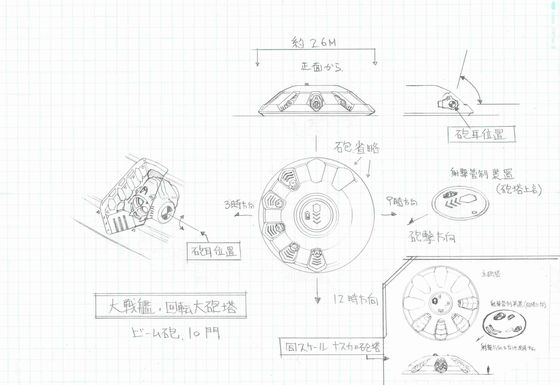 Ueno:
It's such a bridge line.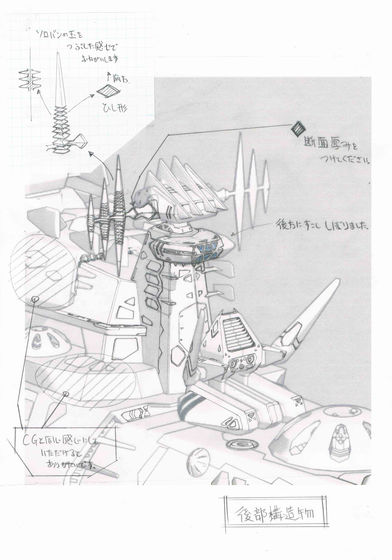 Kimura:
Although it may not have understood by pulling it, if it is detail of the rear part of the hull, it is around here.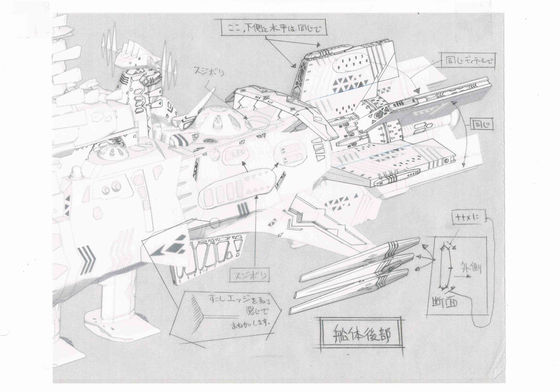 Kimura:
I also know that the places I could not draw on other three-sided figures are getting up.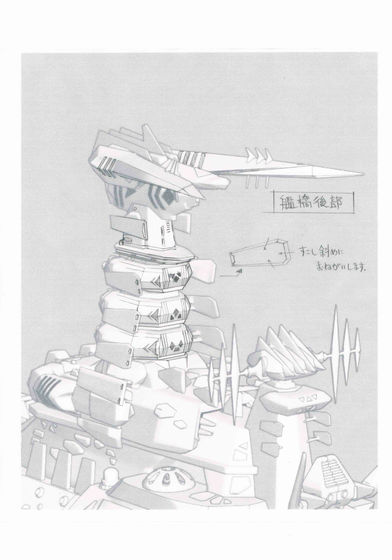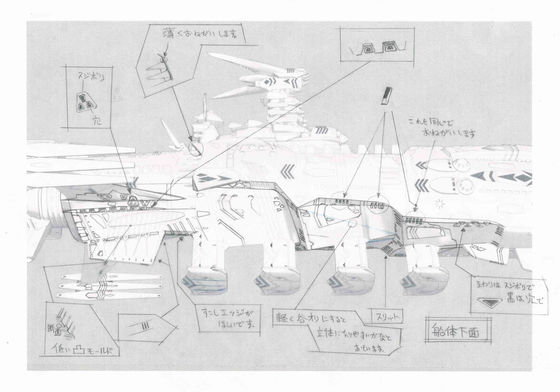 Kimura:
I've put in various things about "I do not end this" (laugh)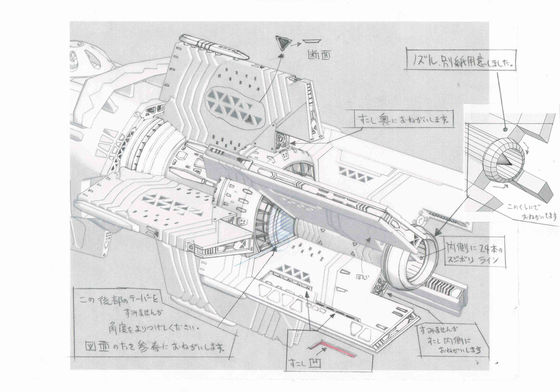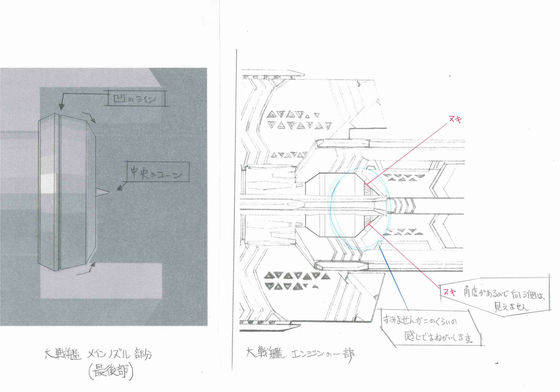 Q:
Is this one model? Is there a distinction between distant view and up.

Ueno:
Regarding large battleships, there are things with a slightly lighter design that reduced the amount of data, because they will be densely packed with "Regionel Canyone" that appeared in chapter 3, and there are high, middle and low There are 3 types. Basically it is high and moving all the time, but it is truly tough in a scene like that (laugh)



Kimura:
That is the difference of software. When 3ds Max comes to a lot of models, it is difficult to handle it as a high model, but if it is LightWave it can be surprisingly a high model.

Ueno:
LightWave does not have any complicated functions or convenient functions, but all the basic parts are complete and, to put it simply, it is "software that can handle quantity". It is light and easy to work with.

Q:
"2199" was "Yamato vs Gamirasu", "2202" is "Earth & Gamiras v Gato Lantis" so a mixed unit is made, and if you do not do it, hundreds of ships will come out in one cut Because it is light, it is very important.

Ueno:
Yes, thanks to "lightness of software", everything has been done with a high model. Actually, as both workers and directors, I am saving all because it costs high. That's because it's unnecessary for a simple check, "If it's this distance, you should not have a middle rather than a high," a fine check is unnecessary.

Q:
Chapter 6, since a lot of fukuji came out ... (laugh).

Kimura:
It is already from Chapter 5 already (laugh)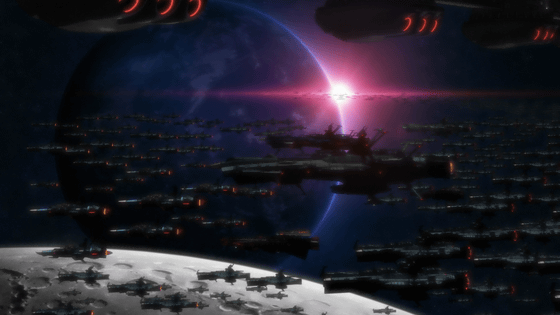 Q:
That software is alive.

Kimura:
That's right.

Q:
Thank you very much. As a range of the CG model that he is working on, is it to say that all of the mechanisms, such as ship and aircraft, are all over?

Kimura:
It is almost all.

Q:
Is there something called a mechanic that is done by hand drawing alone?

Ueno:
In other works, 3D is used for cars etc, but all about this work is hand-painted.

Q:
Ancient and snowy ... ....

Ueno:
Yes, that pink open car is hand-drawn.

Honma:
After that, for example, it is another variant of Andromeda, etc. Is it a ship "Only one cut comes out" ship?

Kimura:
It is the one who comes out in Chapter VI.

Ueno:
Since it is a guest ship that does not come out enough to prepare 3D data, since the original fleet is mixed in the scene where the Earth fleet is singing out, I think that you can see it by all means.

Q:
Is it Andromeda type?

Ueno:
That is what I enjoy seeing it. As for the hand-drawn data, it is actually sent to us that we do not grasp the whole picture (laugh)

Kimura:
In the scene where the time fault of the 21 story comes out, it is OK because it appears easy to see (haha). It will be found soon.

Ueno:
"There is a guy I have never seen!" (Laugh)

Honma:
After all it will be "Oh". It's casually crowded.

G:
Mr. Kamiya said that the amount of work done by Mr. Kimura was higher than expected, so it was a story that I entered management, but that is more than 2 assumptions so it was more than expected. Did something happen to be a heavy work unique to this work?

Kimura:
The first assumption I had is that, as with "2199", near short distance was to hand drawn including explosions etc, but this time it was almost done in 3D. Also, the size is more than I thought.

Ueno:
When I did the work of the first story thought that it would be a hand-drawn near distance, when I checked the director, I got a story saying "Please also here in 3D."

Kimura:
Before the first contest meeting, I was assuming that "Atari" will be issued from within.

Ueno:
"Atari" is for outputting a 3D picture as a line drawing as reference of the drawing, and drawing it along it.

G:
As for the schedule, after putting out Atari, it was a set-up to turn to drawing.

Kimura:
Although I thought that it was such an assumption, I had a meeting, "I will ask you all here", "Yes" and (laugh) Once, I made a reference to Honma that "I can only do this until now" It is a flow that it was ok if you asked "I will do it if it is okay with this".

Honma:
At first I made one cut, a scene that was exploding, etc, and first of all presented "I can do it with CG at this point". I was asking you "I would like you to draw it because it is tough if it comes to anything more than that", but that was why I liked it, so it may have been followed as it is.

G:
As good things came up better than what Hamahara thought, it may have been like a "let's leave it to 3D in the end!" (Laugh)

Kimura:
Does not it (laugh)

Q:
In the interview of the early stage, there was a story saying that it was difficult to transition at the beginning, but have you come back to chapter 6 and again have the difficulties and the quality of the hardship changed?

Kimura:
At the beginning, there was handover from the previous work, so it was the first goal to say "Let's be no better than that". When it got used to it, the demand also came up (lol), but everyone got used to it, "I will do this this time", "I will make the explosion better," "Let the battle intensify" and become another I'm suffering in the sense of (laugh)

Ueno:
From the director's side "There was an order even if we asked for such as we had done so far last time," and some of us like "I tried like this", "I tried making effects gaudy" from us Sometimes I will give a suggestion. Really it is about the early stage, "Scene where Andromeda and Yamato pass", I propose from here to extend the scale. In the meaning of "2199 matching", the first episode was hard to suffer, but from then on, we made ourselves "I can do it like this, I can make it more flashy, I can do it coolly," and the data Increasingly, it takes time to render 3D images and make pictures, and there are things that I suffer from.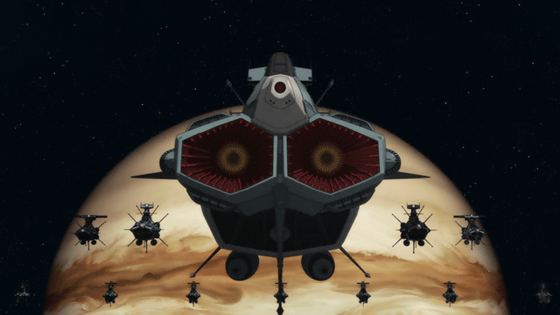 Kimura:
Really, the explosion in the early days and the current explosion are quite different.

Ueno:
Quality is different. Since broadcasting on television is just being done, if you are the one who saw it up to chapter 5, you might think that "Is that the first episode like this?" That means that we also worked hard on various things (laugh)

Kimura:
In the second half, the preference of the explosion of the director and deputy director comes out ... .... At first I think that it was okay if we had exploded normally, 'OK for a bit more lighting, or strengthening the flare', we have liked the preferences, too. From the first episode, I think that it got better and steadier.

Q:
Is Honma the main work actually?

Honma:
Explosive classes and others gave the standard data that I made, to all the staff, and then it was a form like "Arrange coolly within myself, please freely".

Kimura:
From that point onwards it is truly everyone's personality.

Ueno:
Depending on the shape of the hull and how it hits, the direction in which the flame comes out and the direction in which the smoke comes out are different, so each person in charge arranges according to the cut.

Kimura:
On the contrary, I have to arrange it (laugh)

Ueno:
It will be an explosion all the same feeling (laugh).

Q:
Even in drawing, you got a personality for the explosion.

Ueno:
That's right. After that, Mr. Kimura will check the quality of the check movie that has gone up, but when you explode, for example, if it is a strong explosion the light bubbles! I feel like coming and I want to feel something that looks like a fever, but there is something that is not well received as a staff of inexperienced staff, so there is a brush-up instruction such as "lack of lighting!" Then, if the director sees it and OK gets out, it will be the picture that you are reaching to you under the check passing.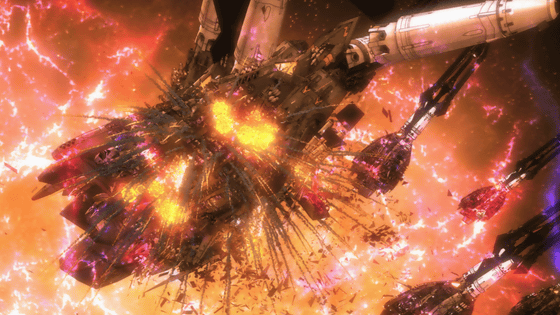 Q:
Commercialization of plastic models and superalloys, etc. are being done, but at that time, is the ship's data handed down sublimation's 3D data and is it based on that?

Ueno:
As for 3D data, we are sending to Bandai, but we can not know whether we are using 100% of that data (laugh) In addition, if it is Andromeda, the Earth Federal Defense Army We are sending together the texture data used in the main part, such as the mark or the name of the ship. I think that you are making a decal based on that. Recently, it is also true that Zwałke's keyman only machine pattern. However, there are places where proportions are different from 3D data. Yamato's hull has a lot of curves, but its swelling or curve is more beautiful than 3D data. So, I think that the area around it is even closer. As 3D data eventually falls into animation, there are some parts that are deforming or are omitted, saying "This will be enough."

Kimura:
"Galaxy" probably is much cooler than 3D data.

Ueno:
Looking at three-dimensional objects, it is said that we are cooler than working in 3D (lol)

Q:
There are such things (laugh), thank you.

After that, I also showed the inside of the studio which actually produces Yamato. It will be posted as a report later, so please look forward to it.

[to be continued]