A famous e sports team is gathering one after another in 'Apex Legends'

Basic Play by Respawn Entertainment " Apex Legends ", a free battle royal game, shows a nonstandard popularity that it gets over 10 million people in just 72 hours from delivery and over 50 million users in a month . It has been revealed that famous e sports teams are gathering at Apex Legends which is not known to Nori since it was released in February 2019.

Apex Legends is primed to be the next big esport - The Verge
https://www.theverge.com/2019/3/10/18254498/apex-legends-esports-battle-royale-team-liquid-tsm-100-thieves

Groups such as TSM , 100 Thieves , Gen.G , NRG to which professional e-sports athletes belong, have announced their entry into Apex Legends one after another in March 2019. A pro e sports player belonging to each group, or a team to which a professional player belongs seems to participate in Apex Legends, and belongs to Team Liquid which is a professional organization which is particularly successful in the e sports area There is also a case where the professional team who is doing the announcement to change the game of competition from Blackout which is the battle royal mode of " Call of Duty: Black Ops 4 " to Apex Legends.

We're launching into Apex Legends and opening a proving ground for you to do the same # Lets Go Liquid

???? https://t.co/RYRzjQlDOO pic.twitter.com/C5Tb72ZlF3

- Team Liquid (@ Team Liquid) March 6, 2019

Tanner "Rogue" Trebb, who became Team Liquid's pro Apex Legends player, said that in the case of "Blackout", developers are interested in hosting events and focusing on e-sports There was nothing.The event and the tournament held at the Blackout were mainly held by a third party and it just supported the side as e sports.The developer made some remarks As Apex Legends appeared when the developer was not showing interest, in this game the development team clearly stated that the e-sports scene will be supported, so competitive "Blackout" e-athlete Most of the players will change games to play, "he said, raising interests in the development team's e-sports as a major reason to change the game to play, I predict that Black Earth Blackout players will become Apex Legends players just like their own.

Proud to announce, @TeamLiquid has extended our Blackout contract into Apex & I am competing for them as an Apex Legend.

SUPER EXCITED AND THANKFUL THAT I WAS GOOD AT THIS GAME AS WELL. # LetsGoLiquid pic.twitter.com/BzLWSzVp4s

- Rogue (@ Liquid_Rogue) March 6, 2019

In fact, most of the professional e sports players who are competing in Apex Legends are transfer groups from other games. On the Gen.G's Apex Legends team belongs to the players who have participated in the overwatch league which is the professional sports league of " overwatch " and players who have long been active as professional players in " Team Fortress 2 " I will.

100 Thieves's Apex Legends team is a professional player who was playing games such as Overwatch, " Destiny ", " H1Z1 ".

Likewise, TSM's Apex Legends team seems to be building a team based on professional athletes who have entered the professional league of H1Z1.

Apex Legends hit 50 Million players worldwide! We are humbled by all your support and can not wait to show you what's next. Pic.twitter.com/QTDH 57 lfvB

- Apex Legends (@ PlayApex) March 4, 2019

Developer Respawn Entertainment plans to develop Apex Legends as e sports, but details are not disclosed at the time of article creation. However, Apex Legends boasts considerable popularity on the game live broadcasting service Twitch, and already in a month or so beyond release, many distributors are distributing game play. The number of users following Apex Legends on Twitch has already exceeded 3.1 million at the time of article creation, and you can find more than one Japanese distribution channel.

Apex Legends - Twitch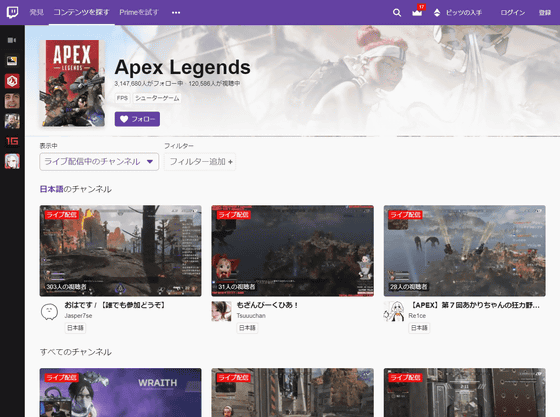 Apex Legends has many users, and it is becoming popular content where many viewers gather in distribution. However, since prize money tournaments and professional leagues do not exist like PUBG and Fort Knight, it is unknown whether the professional team can be financially stable. In fact, in the case of Fort Knight, professional e-sports players were not seriously tackling the game until Epic Games announced that they would make top-class e-sports prizes of over 10 billion yen to the official competition .

For Apex Legends where new players are rapidly increasing, whether or not the entire genre of games and battle royal games can continue to maintain competitiveness is a major point, but Matthew "Nadeshot" Haag, 100 Thieves CEO "The success of the genre called Battle Royale game is proved by the success of H1Z1 to Fort Knight and Apex Legends that it is not a momentary epidemic.We cooperate with the best players in the world, 100 Thieves is committed to the long-term commitment to the battle royal game, "he talks about the success of their team who entered the battle royal game and Apex Legends It is.
in Game, Posted by logu_ii