New 'AirPods' appeared, special case is compatible with wireless charging & sale of only wireless charging case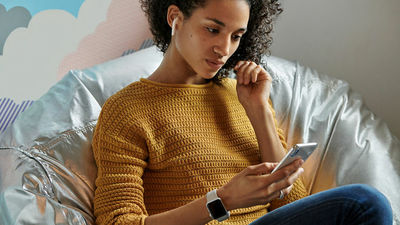 Apple has updated its wireless earphone, AirPods, to deliver a 50% longer talk time and to be able to use the hands-free 'Hey Siri'. In addition, from a previous
rumors
as that has been, has also appeared dedicated charging case corresponding to the wireless charging, has evolved even better user-friendly.
AirPods-Apple (Japan)
https://www.apple.com/jp/airpods/
AirPods Makes World's Most Popular Wireless Headphones More Comfortable-Apple (Australia)
https://www.apple.com/newsroom/2019/03/airpods-the-worlds-most-popular-wireless-headphones-are-getting-even-better/
On March 20, 2019, Apple announced the second generation AirPods. There is no change in the exterior design, but there is a green LED indicator on the outside of the case, and the new dedicated charging case found in
iOS 12 beta 5
is finally unveiled.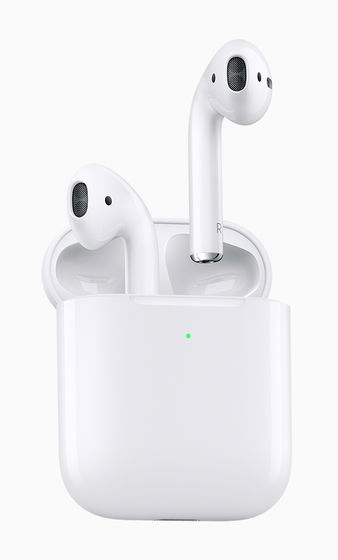 Apple is developing a new H1 chip for this second-generation AirPods, which offers more efficient performance, faster connection times, and increased talk time. The H1 chip has its own audio architecture, creating a revolutionary audio experience while helping to improve synchronization performance. With the H1 chip, the new AirPods talk time is up to 50% longer than in the first generation. Also, while enjoying music on the iPhone / Apple Watch / iPad, even if you switch to another device, the time it takes to connect the device to AirPods is twice as fast as the previous model. Furthermore, with the new AirPods, you can use the voice recognition assistant Siri just by saying 'Hey Siri' without tapping on the side, so you can change hands-free playing songs, make calls, or make volume changes. You will be able to request adjustments and directions.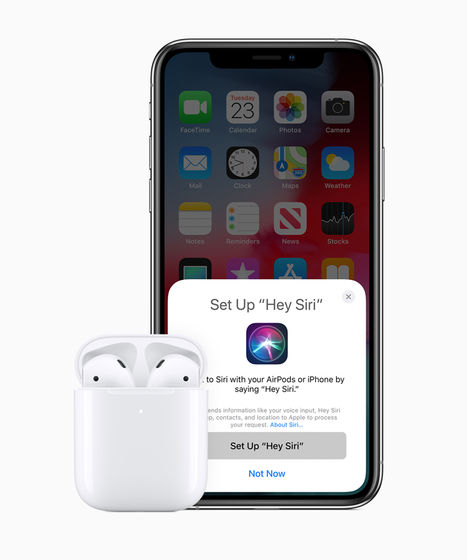 In addition, the 2nd generation AirPods comes in two types: charging cases that can be charged only with the conventional Lightning cable, and charging cases that support wireless charging. In both cases, AirPods can be charged multiple times and kept in total for over 24 hours, but the wireless charging case can be wirelessly charged using a Qi compatible charger, and will soon be Apple I foresee the arrival of AirPower, a genuine wireless charger. Furthermore, the status light newly added to the front of the case makes it possible to check the charging status of the special case, improving convenience.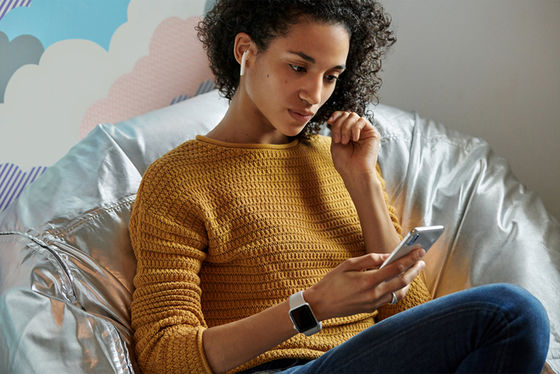 'AirPods is a magical wireless experience and one of our most beloved Apple products,' said Philippe Schiller, senior vice president of worldwide marketing for Apple. AirPods is your Apple device It's easy to connect to everything, not only plays clear and clear sound, but also controls music and audio in an intuitive and innovative way: the new AirPods make the world's best wireless headphones even more comfortable The new H1 chip, designed by Apple, extends the call time by one hour, shortens the time to connect, and runs hands-free 'Hey Siri'. 'It became more convenient with the new wireless charging case.' is.

The new AirPower and regular charging case set is ¥ 17,800 excluding tax, the new AirPower and wireless charging case set is excluding tax and ¥ 22,800, and the wireless charging case alone is ¥ 8800 excluding tax and can be purchased from the Apple Store is.

AirPods-Apple (Japan)