Interview with Masaharu Kawamori on the fantasy work 'The Movie: Who's alchemist', a challenge since 'Escape of Escaflowne'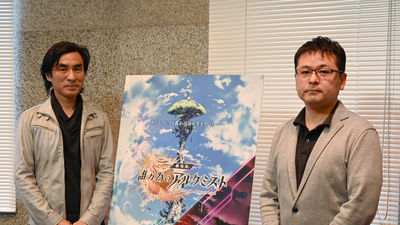 '
The Alchemist, who is the Movie version, who
is directed by
Shoji Kawamori
who has released groundbreaking works such as the' Macros 'series and the' Aquarion 'series, will be released on Friday, 14 June 2019 It will be public.
After showing them the
digital department
and
production studio
of the animation production company and satellite that
produces
the work, we talked with the director Somoto Kawamori and director Takahashi Direct about the work.
Masaharu Kawamori and Masanori Takahashi who responded to the interview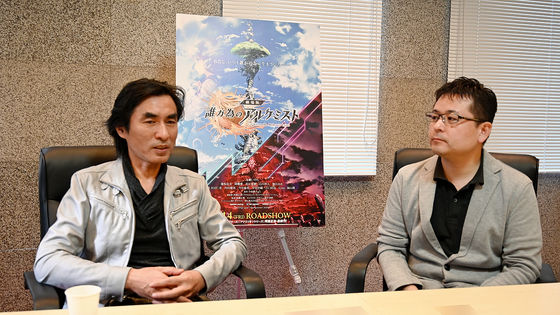 General manager Masaharu Kawamori (hereinafter referred to as Kawamori):
This work, 'The Movie: Who's Alchemist' is a game-based work. There are several worlds in the game, and the style is such that the protagonist changes from chapter to chapter, so I really thought where to cut it into a movie. However, I thought that it would be difficult to see the characters of other chapters no matter where I was cut, so the episode of the game has not been completed yet, but I made it on the assumption that it was completed.

Some game users are very good at it, but on the other hand, I want the movie to be seen by anyone who doesn't know the game. So, as a new episode, a girl in the real world was summoned to the world of 'Tatagame', and it was considered as a plot that would be involved in a battle to save the world with the warriors, and it was a completely new story. A powerful enemy appears in the world of 'Tatame', and the alchemy and magic powers possessed by the heroes are sealed off, causing a great pinch. If you try to summon the strongest hero as the secret of the revival, it is a major source that a girl without a special ability will be called and puzzled from a totally different world.

Q:
I think Kawamori has always said, 'I only do originals,' but this time it is a work with an original. Does it mean that this work had that much attraction?

Kawamori:
It does not mean that you can only do originals. I always start saying 'I can change it no matter how', but I have about 10 works that are said to be 'change so ...' at the stage of scenario or conte. (Laughs) 'Who's alchemist' is an experience that has drawn a game version of OP's, not long after game development began. At that time, I had a solid meeting with Imaizumi producers and everyone else, and I was asked to reflect the plan for Conte in the game, and it was not one that started from scratch was.

Producers of Imaizumi examined the proposed plan, and it was approved that they could be made as a single independent film while expressing the world of 'Tatagame' properly. I was interested in 'Alchemy', which was originally treated in the game. I was planning an original work dealing with alchemy, but it was not easy to get a GO sign. At that time, one of the things I thought was that if I got a story about filming "Taga-tame" and borrowed this world that I was really involved with, I could do something close to what I wanted to do.

Takahashi Masanori (hereinafter referred to as Takahashi):
Kawamori-san talked about the original, but this time, gumi, who is in charge of developing and managing the game, cherishes Kawamori-san's view of the world, and the animation is different from the game Even if it is, I think that something was created that never left the game too much. I think that the harmony between the world of "who's alchemist" and the world created by Mr. Kawamori is an interesting view of the world.

Kawamori:
The very structure in which you were in a position close to you, but in a slightly separated position, entered the world of 'tagless' that originally existed, and the process of 'How do the residents of the two worlds become one?' But I think I just got addicted.

Takahashi:
The summoned Kasumi himself is similar to Mr. Kawamori's standing position, and above all, the staff on the animation side can collectively project himself to Kasumi.

Kawamori:
With the point of view of a foreigner, Kasumi, even if it is a game that has continued for many years, it is possible to make something that can come in even if the stranger sees it, and when it sees the person who knows it 'I see, this character has come out like this' 'I'm active like this,' I think I could have made a way to enjoy it.

Q:
I think there is a theme that 'the people's will is tossed by the gods' in 'tagless'. What are the thoughts and themes that director Kawamori and director Takahashi put in the film?

Takahashi:
'Who is the Alchemist' There is what kind of standing position of the existence called the phantom illusion (phantom) which is the key. In the game, I don't know what the illusionary soldier is, 'Where are we going from? Where are we going?' However, those places were not dug deep, so if Kasumi was summoned, we would dig deeper in the game again I think it was shaped and it was a good time to handle it.

Kawamori:
Rather than alchemy as art or skill, we consider another aspect, "alchemy of the soul," or the stage that human beings will always pass as they grow, as a sub-theme, a deep theme. Then, it is the individuality of each person. Even in the game "Tatagame", because Edgar, Lizbet, and Rogi etc. are made to think of the character standing up in each chapter, it will be the individuality of each person, what is their individuality. I thought that I wanted to draw the conflict between emotion and personality, including Kasumi.

Q:
Kawamori told you about the cut in the film, 'It's a fantasy because it's an ant like that,' but is there any mechanical depiction or approach that you can do with this work?

Kawamori:
I have been doing fantasy works in earnest since '
Esca Flowe in the Sky
'. If it is a military robot, it is a problem of air resistance, how to avoid bullets, etc. Although the presence or absence of a radar is based on a battle close to reality, the fantasy is called 'a human being and a huge enemy' It is very fun to draw because it is easy to take composition. The military system is not limited by reason, but it is possible to create an action that brings out emotions more in fantasy, and I feel that it is extremely attractive to me.
Takahashi:
I think that there is a high degree of freedom. Even if you fly in the sky, if you can be persuasive, you can make various movements based on reality. As for the movement and shape of the mechanism, Mr. Kawamori has already given me something wonderful, so I get brushed up and proceed in a way that rides there.
Kawamori:
In terms of reality, many of the production members of the Macross series also participate, and based on that, I also talk about how fantasy can be shown.
Q:
I think that it was important what kind of protagonist this work is. What did you put in when you were conscious of Kasumi's modeling and action on the story? In addition, in the face making in the screen making, what kind of place do you care about acting?
Kawamori:
The main character of fantasy planning that I had been thinking about myself is the basis of Kasumi. However, if it is a mechanical one, the plan passes, but there is a place where it is difficult for the fantasy one to easily go through (laughs) So, in this work, at the time of drawing the 'heroine active in the unknown world' It was decided that it would seem addicted if we put out a plan of and suggested 'How is it like this?' Of course I've arranged for 'Tatami', but that's the base.
When I was in my school days or in my twenties, there were a lot of people who would say "I do not like" but I would say "I should do it" for a while. It's not very good to get things done and say, 'Young young girl now' ... but it seems like more people are going to do it unless they say it's okay. think. In this society where SNS continues to be popular and 'read the air', I think it may be difficult to express myself voluntarily. Although there are so many expression media, you have to be aware of how you can see them first. I was alive in such an age, and I thought what would happen if there was a 'child who could not get out of myself'. It doesn't mean that it's a shame, it just doesn't mean it's a very minor place. I did not want to say 'I would like to stay a lot', but I wanted to aim for a heroine image of such a situation.
Takahashi:
I think that it will be the case if it is expressed as the so-called 'now-born kid' or the young girl now. However, it is not the case that you are calm and depressed, but there is an aspect that goes well with things you are interested in. I hope that I would like to depict the growth of these characters as characters in my work. The expression is also sharp, and the quiet part is quiet, and the interesting part is expressive.
Q:
I think that game enthusiasts also pay attention to the original game. For those who do, please let me know if there is an appeal point in the work.
Takahashi:
There are popular characters in the game, such as Zain and Setuna that appeared in the first PV, so I hope you can see their success.
Kawamori:
Instead of time-condensing movies compared to games that you can play for a long time, you can see how it works on a large screen. In addition, because it is a world slightly later than the time axis of the game you are playing, there may be something that looks different from the figure of the game you have been familiar with before. I hope you enjoy it including that. Everybody is on the active scene.
Takahashi:
It is a climax.
Kawamori:
I also saw the people of the game original gumi, so I think that feeling is surely transmitted.
Q:
With Kawamori-san as director and Takahashi-san as director, what role do you share in each role?
Takahashi:
At the planning stage, Mr. Kawamori takes the lead, and it is a form that oneself participated in the place where it went to the reading. Conte also draws by himself, but as a percentage, Mr. Kawamori is the majority, and he is supervised by Mr. Kawamori. Mr. Kawamori is also invited to attend the main performances, art works and make-ups, and I will proceed with the main work on paper and ask Mr. Kawamori to check in some places. 3DCG sees himself with Mr. Kawamori.
Kawamori:
I mainly do the planning, and how to organize the story and the outline of the storyboard etc, and after having a basic meeting with the main staff, we have you divide the site by Takahashi-san . After recording and dubbing out together, we are covering each other.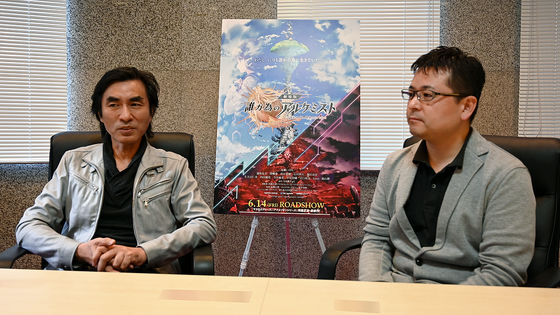 GIGAZINE (hereinafter, G):
I think that Director Kawamori has made many animation projects so far. In the Machi-Asobi vol. 4 seminar held in Tokushima, I make a plan book and make a presentation, but when the idea I thought at that time was replaced by something more, 'this plan can be saved' I was talking that I felt .... How do you replace ideas?

Kawamori:
For example, in the case of 'Macros', at first I was thinking of a hard science-fiction work called 'Genocydas'. The stars were being destroyed more and more, and people were dying, so it was not easy for the project to get through, and it was the predecessor of Macross that I made up with a dummy for the time being. But that's the case (laughs)

G:
Dummy is (laughs)

Kawamori:
It's a comedy from the beginning, so it's very comedy-colored, and if you make it as it is in the contents of the project it will look like a parody and its originality is weak. It is quicker to come up with something as a parrot when you come up with it. So I'm replacing all that with originality. With Macross, I thought that this would not be the case when I thought about solving with 'songs' rather than solving with battle.

G:
It is very creative that Macross solved the battle with songs. What time did you come up with that?

Kawamori:
In fact, it is almost in production (lol) By the song of Minmei, it was thought that the enemy who doesn't know the culture receives culture shock, but it was thinking that ending the battle with the song itself was on the way . Even if you look around the world, there is probably no work done so far with such a concept. If you go back to the myth, you will not be overwhelmed by the song, but you should not end the battle. It was said that it would be a challenge, because it would not be epoch-making unless the song was sent to the battle in real time, so I was persuaded with the original author's privilege.

G:
There was a story that fantasy things like "Who's alchemist" has been since "Escaflowne". After that, I was telling myself that I could not go through fantasy planning, but why not?

Kawamori:
'Lobo will not come out' (laughs)

Takahashi:
It means that people around you are thinking 'I want you to put out'.

Kawamori:
There are a lot of cases that do not pass saying 'I'm different from what I thought'. In the case of 'Tatagame,' I was thinking of a theme similar to alchemy in a fantasy project that I had set up before, but I didn't pass easily ... So, the world in which the main character jumps into a whole 'Tatagame' It looks like it was rewritten. One of the reasons for being attracted by 'tags' is the title, 'Who's alchemist' is very good. It was a project I was thinking of myself, but for whom I should make it, and who I would like to make in the world, I felt that the title 'Who made' overlapped with the title.

G:
Speaking of satellite works, there is an image of CG crunchy that can be seen in the recent 'Macros' series, and it has an impression that is quite digitalized by itself, but when you look at the studio, analog hand-drawing work is also done Many were done. Is this a feeling that it combines the advantages of analog and of digital?

Takahashi:
It is true that the anime industry is in the midst of moving to digital, but one of the characteristics of this industry is that it is difficult to change rapidly. As an element, the part that needs to be analog work is disappearing, and I think that life becomes digital. However, if it is digital, it has no meaning unless everyone does it. If there is an analog person alone, it will be difficult to fit in ....... When you look at Satellite from the standpoint of a free human being, you have the impression that you are quite good at 3DCG and so on.

Kawamori:
The meaning of digital here is that it means drawing by hand but using digital tools. 3DCG modeling, hand-painted digital tools, and analog hand-painted on paper may also lead to a mix of the world (lol) Even now, for the facial expressions of characters, is it a digital tool? Aside from whether you draw on paper, hand-painted textures produce finer nuances.

Takahashi:
Certainly, there are places where characters are used in full 3DCG, but there are many hand-up plays that are up.

Kawamori:
Given the current environment and budget, it is better to draw by hand as a nuance of the play. And the freedom of camera work is higher in 3DCG. So, I use it according to the characteristics of the play for each cut.

G:
When Kawamori was
interviewed
by
Ritsumeikan University / Animation Archive Project
, 'It is the situation in Japan where originality is hard to come out to the world. In short, it is a weak culture as a culture, there is a culture where it is difficult to accept it when trying to do something new, and I would like to change that. ' I feel that it is a commitment to originality even in other interviews, etc., but is there anything that you would normally take from the day-to-day attitude or way of thinking to sublime to the original rather than just imitation?
Kawamori:
The word "originality" is sometimes used in the sense of groundbreaking / revolutionary invention or in some cases close to personality. As I like 'breakthrough', I think that the concept itself is not new. If the concept is new, it is close to the feeling that what is out is the same as the conventional one but is original. For example, in Macross, it was understood that everyone would be the same as long as they were resolved by weapons, so 'Star Wars', 'Space Battleship Yamato' and 'Mobile Suit Gundam' are all the same. If so, try to solve it with a song. On the other hand, even if it is the same 'Macros' series, I want to change as much as possible each time, so 'Macros 7' is 'a pilot who does not sing and fight'. If it is 'a pilot who sings and fights', anyone can come up with it. It is true that it will be cool to see the fight while singing, but I decided not to do it because I will surely do it later.
G:
Oh, I see.
Kawamori:
At the same time,
Macross Plus, which
I did at the same time, put out a virtual idol. Of course there have been robots and android characters until then, but they differ in that they are virtual and everyone gets enthusiastic. In 'I was a robot,' everyone is enthusiastic because they are human beings, so they are essentially the same as human idols. It came out to the black box from the beginning, and I thought that it might be new that people are still enthusiasm. As for the originality, I'm doing an exhibition that contains my 40 years of creative process,
Shoji Kawamori EXPO
at
Gallery Armo in
Tokyo Dome City, so if you are interested please take a look I think.
G:
'Who's alchemist' has a general framework of the game original, in which process in what process did you bring out the originality?
Kawamori:
At first, I was thinking of making it as an episode of the game, but I thought that as long as it was done, it would not be something similar.
G:
The concept that came out earlier is similar.
Kawamori:
Besides, I thought that it would be difficult to get in when people who did not know the game saw it because they were well organized. Also, if you are making a movie over a year and a half or two years, new characters will appear more and more in the game while you are making it.
G:
Certainly that is.
Kawamori:
So I wondered how much fun people would like to watch but don't know games but like movies rather than match. When that happened, I thought that the structure of the growth story of the soul would be addicting to the title 'Who's For'. However, because I do a story that is not in the game, I thought that it might be dropped by this (lol)
G:
(Lol)
Kawamori:
However, Mr. Imaizumi said, 'Good, let's go with this!'
Takahashi:
It was like 'let's make Kawamori film!'
Kawamori:
I thought that I had a deep feeling. Rather, they told me, 'I want them to be fun movies with souls, not just movies for the fans,' and the words were very encouraging and helpful. The
G:
I see. So, it's a 'Kawamori Film' and a 'Tatameme', it's a combination of the two. Thank you for your talk today.
Please come to the theater to see what kind of 'Kawamori Film' it is. 'The Movie: Who's Alchemist' is open on Friday, 14 June 2019.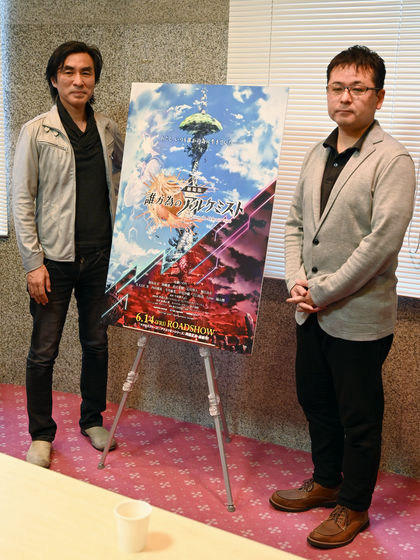 The Kawamori Shoji EXPO will be held until June 23, 2019 (Sun).