Trump's block on Twitter is ruled 'constitutional'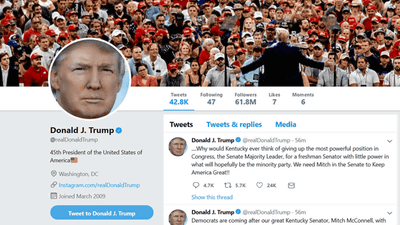 On July 9, 2019, the US Federal Court of Appeal ruled that '
President Trump
blocking users on Twitter violates the United States Constitution.' In the courtroom, the question was 'Is President Trump's account private or public?' 'Is Twitter functioning as a forum for discussion?'
In the United States Court of Appeals For the Second Circuit
(PDF) https://knightcolumbia.org/sites/default/files/content/Cases/Twitter/2017.07.09_Opinion.pdf
Trump's blocking of Twitter critics unconstitutional: US appeals court-Reuters
https://www.reuters.com/article/us-usa-trump-twitter/trump-cannot-block-twitter-opponents-us-appeals-court-idUSKCN1U41NM
President Trump can't block his critics on Twitter, appeals court rules-The Verge
https://www.theverge.com/2019/7/9/20687521/donald-trump-president-twitter-blocking-appeals-ruling
President Trump had previously blocked users who wrote critically on Twitter. In 2017, users blocked by President Trump's Twitter account, such as the
Knight First Amendment Institute of
Columbia University, said, "The fact that President Trump blocks on Twitter violates the constitutional right to involve officials in public places It was an opportunity to have filed a lawsuit for being
Blocked By Still Attorealdonaldtrump ? If You Have Not Already, Send An Email To Infoattoknightcolumbia.Org. Pic.Twitter.Com/07JjiuXHeU

— Knight 1st Amendment (@knightcolumbia) April 3, 2019


In the court case, 'Is President Trump's account still running before he became president? Is it still a personal account, or is it a public account?' 'Twitter's site design is public for free speech exchange.' Two points were the focus of the controversy, 'does it function as a forum?'

In May 2018, Twitter's block by President Trump, as described in Article 1 of the Amendment to the United States Constitution , states that 'the federal parliament establishes a state religion or enacts a law that prohibits free acts of religion. It also violates the content of freedom of speech or press, or the law that the people shall gather in peace and violate the right to petition the government to seek relief from pain. It has been lowered. In other words, it was determined that the president blocking anyone on social media was unconstitutional.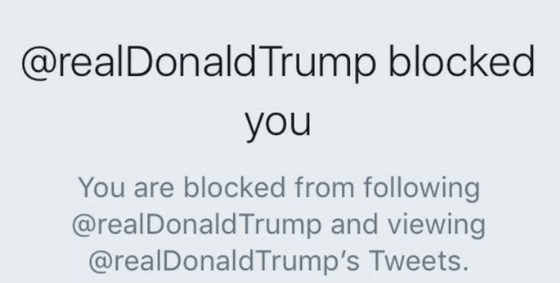 The presidential administration has appealed that 'if Ticker does not block Twitter, President Trump's own freedom of speech is threatened,' but the Federal Court of Appeals said in President Trump's account that 'a fairly extensive government 'Involvement' is acknowledged, 'President Trump's account is an official account operated by the federal government', and 'Twitter is a place for public speech.' And, in the judgment issued on July 9, 2019, the judgment in the district court was found to be appropriate.

The decision of the Federal Court of Appeal is strictly limited to the account of President Trump, 'How much of the personal account of high-ranking government officials in social media is bound by this decision', 'Social Media Platform Revised Article 1 It is not decided whether it is necessary to review it in accordance with However, the Federal Court of Appeals has ruled that 'publicly used social media accounts must always be open for dialogue, and no one should be disturbed.'

In the decision, the Federal Court of Appeal stated, "In making this decision, what the First Amendment means means to argue rather than keep silent on unwanted remarks about public interest. We will communicate to the parties and the public of the case that it is the best response.

'We were disappointed with the court's ruling,' said Kelly Rako, a spokesman for the U.S. Justice Department, and is ready to appeal.