It is controversial that YouTube's new terms of service will be able to delete `` unprofitable channel '' without permission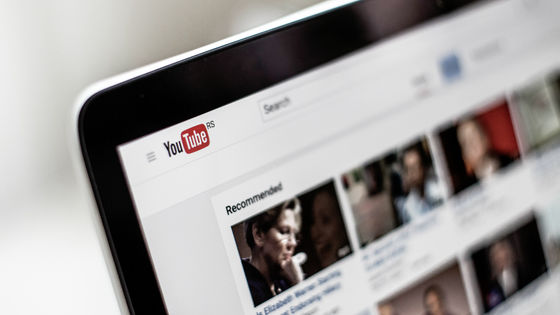 by NordWood Themes

It has become clear that YouTube will update its terms of service. The new terms of service allow many users to opt out of access to the service for users that YouTube deems unprofitable at their discretion, which means that they can delete channels or delete accounts on a per-account basis. Voices anxiety about the future on YouTube.

YouTube says it can delete accounts that aren't 'commercially viable'
https://mashable.com/article/youtube-new-terms-of-service-no-longer-commercially-viable/

YouTube has announced new terms and conditions that will take effect on December 10, 2019. You can check the full text of the new terms and conditions that are not yet valid at the time of writing the article.

Terms of Service-YouTube
https://www.youtube.com/t/terms?preview=20191210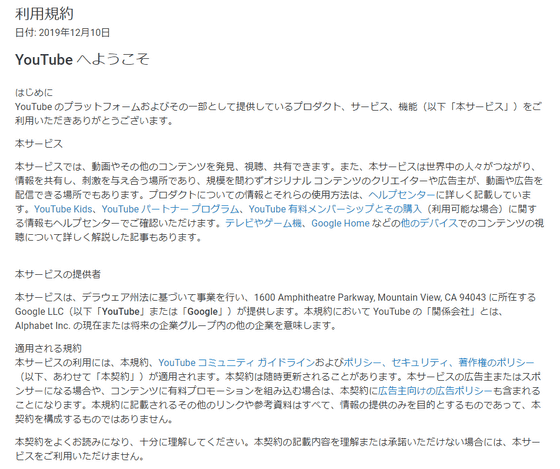 What is attracting attention in the new agreement is the part of "Cancellation by YouTube based on changes in this service" in the item of "Account suspension and cancellation". The terms of service are written as follows, and if it is determined that YouTube does not make a profit, the YouTube channel may be deleted at the discretion of YouTube. The terms of use used at the time of article creation do not include the item "Cancellation by YouTube based on changes in this service".

If YouTube determines, at its sole discretion, that providing the Service to you is no longer profitable, YouTube will give you or your Google account access to all or part of the Service. You can cancel access.


Twitter user Kizzume, who discovered that the terms of service have been updated, said, "YouTube presents the possibility of making the future of creators on the platform terrible. You can delete your channel, 'tweeted to YouTube users that they have retweeted more than 3000 retweets and over 6500 likes.

YouTube is updating their Terms of Service on 10 December, 2019.It presents an awful possibility for the future of creators on the platform.It seems they will be able to terminate your channel if it's 'no longer commercially viable.' Https: // t.co/UrVpXmq4k5 pic.twitter.com/aHIV3XbsRN

— Kizzume (@Kizzume) November 8, 2019


Wrestler YouTuber Christian Maracle said, "YouTube will apply the new terms of service as of December 10th, which will probably end if the YouTube channel is not making enough money. I think I fought well to the end, but now I feel I'm losing something important to me, such as livelihood, passion, and audience ... '

YouTube has new Terms Of Service on December 10th.This basically says that if channels don't make enough money, THEY WILL POSSIBLY TERMINATE THEM !!!

Looks like I fought to the very end but now I may be close to losing my livelihood, losing my passion, my audience and my ... pic.twitter.com/P74uQe8jpW

— Christian Maracle (@MaracleMan) November 9, 2019


"Before 2020 (applicable to new terms of service): Yes! Get $ 10 in advertising revenue. After 2020: Your Google account will be suspended and your Gmail `` Because of uploading a Resident Evil 8 play movie under the Children's Online Privacy Protection Act (COPPA), a fine of $ 42,000 has been imposed. '' Some users make the story of YouTube becoming something hard to use.

Youtube Pre-2020: Oh wow I made 10 bucks off ads. Neat
Youtube Post-2020: 'Your account has been suspended and your gmail deleted for not being commercially viable.You are also being fined 42,000 dollars for uploading' Let's Play Resident Evil Part 8 'under COPPA'

— Mister AntiBully (@MisterAntiBully) November 8, 2019


YouTube is starting to send emails to users to update the terms of service. In the e-mail, YouTube explains the reason for updating the terms of use in a summarized manner, 'To make the terms clearer'. However, there seems to be no mention of the newly added item "Cancellation by YouTube based on changes in this service", which is regarded as a problem by many users.

Regarding the item of "Cancellation by YouTube based on the change of this service", Mashable of overseas media said, "For example, if a video that does not bring enough advertising revenue is uploaded or distributed by live streaming, the creator's account will be deleted on YouTube 'It gives authority.' In addition, in the item of "Cancellation by YouTube based on the change of this service", it is pointed out that it may affect the viewer side because it does not refer only to the creator side who posts videos on YouTube .

However, it has also been pointed out that the change in terms of service will allow YouTube to unilaterally delete channels that continue to post hate speech and other violent content because it is not profitable. The

In addition, Mashable pointed out, "Caution is that corporate users' Google accounts may also be suspended," he said. If your Google account is suspended, you will be warned that you will not be able to access all services such as Gmail, Google Photos, and Google Docs.

Discussions on YouTube's new terms of service are also heated on Reddit on the overseas bulletin board, and the newly added item "Cancel by YouTube based on changes in this service" is a very vague and comprehensive term. 'It can be widely applied to users who create content that does not generate YouTube ads and users who use ad blocking.'

YSK that Youtube is updating their terms of service on December 10th with a new clause that they can terminate anyone they deem 'not commercially viable': YouShouldKnow



Twitter user Liz Ryerson said, "If you have 100,000 subscribers, you can use the YouTube studio in Los Angeles. This update to the terms of service has been successful on the platform. "It 's completely unrelated to people, and many of those who are successful on YouTube have gained their current status by posting conservative trash." Says that the video will not point out any updates to the terms of service.

note that if you have 100,000 subscribers, youtube will let you use their studios in LA.it's a completely different lane for people who are successful on these platforms.and a lot of the people who have been successful on youtube have got it from doing reactionary garbage.

— Liz Ryerson (@ellaguro) November 10, 2019


In addition, YouTube is taking measures to keep small creators out by changing the specification so that it can no longer generate money on channels with less than 10,000 total views in 2017.