Interview with Choi Eun-young, a producer who draws out 'fun animation production'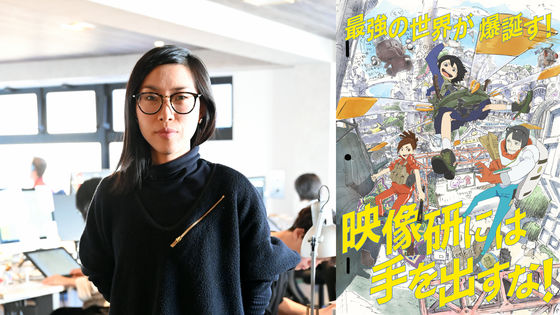 A TV animation '
Keep Your Hands Off Eizouken!
'
That
perfectly reproduces the atmosphere of the original manga and also thoroughly pursues the fun of 'moving' as an animation work.
Science SARU,
who was in charge of animation production, decided how to work on this work, how it was made, and how to grow people at Science SARU in the first place, producer
Choi Unyoung
I've heard from you.
TV animation 'Don't mess with the video lab!' PV 3rd [1/5 (Sun) 24: 10-Broadcast on NHK general TV]-YouTube
Q:
Please tell us how you came to make 'Do not mess with the video lab!'
Choi Eun-young (hereafter, Eun-young):
After the production of the previous work was finished, when I was talking about 'what should I do next?' I had never made a terrestrial work at Science SARU, so it was very refreshing to hear from NHK. When I told Yuasa about the story 'Keep Your Hands Off Eizouken!', I didn't usually have the image that (Yuasa) read manga, but this work says 'Oh, I know.' It was a reaction. There was also a voice on the Internet saying 'I want Yuasa to do' Iken ', so he said,' It's pretty interesting. '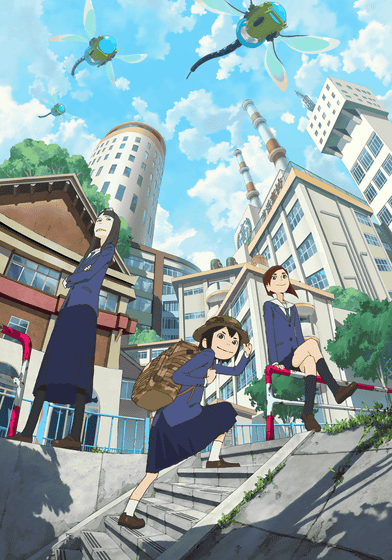 Eunyoung:
However, if the original is animated, the goodness of manga must be overcome by making it animated. If it is said that 'a great thing was made' in the work, it is not convincing unless it is actually a 'great thing', so the issue was how to express it. Animation production is a difficult task to finish one by one, and it tends to be difficult at the scene, but the three people at 'Iken' are excited and happy to make animations. I think it's very nice to draw that 'fun animation production', and I thought it might be rewarding, so I decided to try it.

GIGAZINE (hereinafter G):
Two directors,
Mari Motohashi
and
Fuga Yamashiro
, serve as deputy directors in this film. What made you choose these two?
Eunyoung:
This time the deputy director has a major role as assistant director, Mr. Motohashi is an animator and Mr. Yamashiro is a production, each has a different backbone. I thought that different ideas came out because they were from two different countries. In particular, Mr. Yamashiro is in the position of directing and assisting the director through the production process, so he will be involved after understanding the intention of the producer. In addition, the understanding and perspective of the work are different from those of the animator. So, I thought that both of us could assist Yuasa-san from both sides and add positive elements to the work.
Q:
Did the title of 'Iken' come from NHK? Are you from Science SARU?
Eunyoung:
Mr. Sakata of NHK told me, 'Mr. Yuasa is definitely interested in this work,' and Mr. Daido, the original author, said 'Must'. I'm going to talk about various works, but I think it was great that Director Yuasa knew about the work of 'Iken'.
Q:
Was Yuasa enthusiastic?
Eunyoung:
It's more like 'I had an understanding of the work,' rather than 'comfort.' I will talk a lot about the next work, and there are many original works that Yuasa has never read, but the reaction from the beginning was different at the time of 'Iken'. After that, when I talked to the field about what direction to make this, I began to think that it fits with Science SARU. We sometimes talk about the project 'I'm thinking about whether to do this kind of original work', including animators, but many people liked 'Iken'. In the actual scene, it's often not just fun, so you have to be motivated to make good things, and if you have an interest and want to do something, go smoothly. I feel that it will be easier to live.
Q:
When I read the original work, I was excited about what would happen to Mr. Yuasa, but that's what the production side feels like. In this way, when it comes to animation, there are some places where the expression differs from manga, but is there anything you emphasized or tried to show?
Eunyoung:
The animation created by the three people is said to be 'great' in the process, so it was a problem to actually make it a great image. 'How do you express it?' (Laughs). Director Yuasa was wondering if everyone would be able to make something that can be said to be amazing when animated, even if it was established in manga. I had a discussion in-house from the development stage, researched the whole thing, and came up with ideas in-house, so I feel that it has expanded and expanded.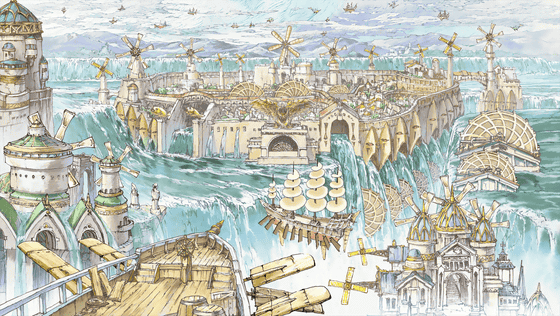 Q:
This work will be broadcast on NHK, but is there anything that makes the NHK work different from the others?

Eunyoung:
Netflix's '
DEVILMAN crybaby
' is the only series we have made, so it will be extreme (lol)
(All laughs)
Eunyoung:
I think it's important to 'match' your work when it goes out into the world. Intuitively, I thought that the work called 'Iken' was a good balance between NHK and Science SARU. It's easy to think that broadcasting on NHK may be limited in terms of expression, but with 'Iken', there is nothing to be careful about. 'DEVIL MAN cry baby' ...
(All laughs)
Eunyoung:
So, 'Iken' is really good. When you make a work, if you use expressions such as 'Keep this down' and 'Stop this', it will be boring, and your motivation at the scene will also be diminished. With 'Iken', you can express without problems even if you do not limit it because it is NHK, so the compatibility was also good. I don't see the phrase, 'This expression shouldn't be done?'
Q:
Are you making as much as 'DEVIL MAN cry baby' at the scene?
Eunyoung:
I agree. Since it does not bleed, there was nothing difficult about limiting the expressions (laughs).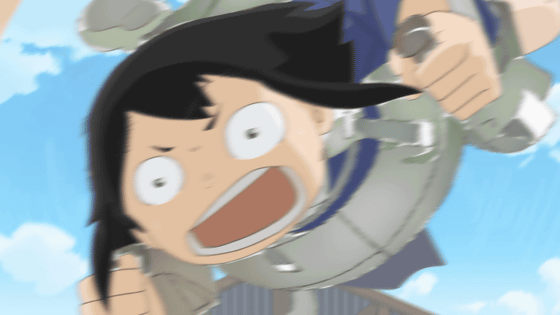 G:
It was said that the reaction on the scene was good in doing this work, but what was your impression when you read the original work?

Eunyoung:
First of all, the cuteness of the picture was impressive. And Science SARU aims to be fun to move, rather than increasing the illustration-like density, 'the quality and detail of one picture'. It's exciting when you move, and there's a drama there. I got the impression that 'Iken' could be an animated work with fun moving characters and settings. As I said earlier, it can be a bit difficult to make at an animation production site, but the three people are engaged in animation production in their respective roles, and although the dialogue seems to be painful, there is humor in each other. Having fun makes me agree with what we are aiming for. If you focus on the pain of animation production, there is no future, but it is good that 'Iken' focuses on fun things.

Q:
When I saw the first episode, I felt that the strengths and charms of Science SARU were utilized. As a producer, where do you think your company's strengths and attractiveness are?

Eunyoung:
Is it flexibility and power of action? I think there is a feeling inside the company that you want to have fun doing animation production, as you can see at 'Iken'. Of course, we do our best seriously and there are many difficult situations, but we say that we make good things. There may be disagreements depending on their roles, but I think that the feeling of 'making good things' is in the same direction. In that respect, it is also a place where people with different backbones are gathered compared to other studios, so there may be less sense of rejection of 'different things'. For example, if "purple" comes into a group of "blue", it will be "something different?". But Science SARU is a rainbow.

(All laughs)

Eunyoung:
There are so many people, and I don't think it's easy to feel like 'why do you do that?' When you try something new. First of all, Director Yuasa is an open-minded person, absorbs new expressions, and if he likes it, he wants to do it himself, and I think the people at the scene have that kind of place as well.

Q:
I think that flexibility creates images that other studios do not have.

Eunyoung:
I feel that Yuasa's aim is to put in 20-30% of fun experimental things after understanding the goodness of animation. It will not be realized if there is a repulsion in the field when putting experimental things. It's difficult to take on challenges unless everyone wants to give it a try. Furthermore, it is even more difficult to move and realize. I think it is important to have the power to achieve that. Once the policy is decided, there is a quantity that must be actually cut 100 or 300. Whether it can be taken into action. It would be nice to be able to proceed as usual, but if there are many people who do not want to do it, then it is not possible.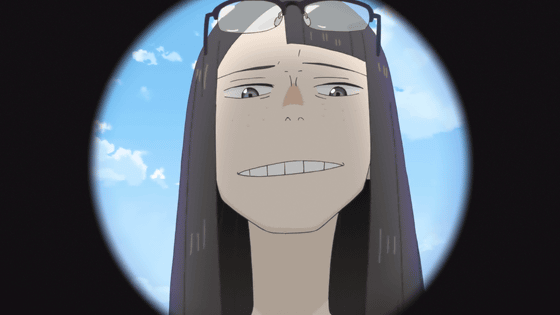 Eunyoung:
And from the perspective of the same producer as Kanamori, sometimes I have to say, 'But let's do this now' (laughs). You can do development and expression research in the early stages, but in the second half of the work, you have to make cuts surely and hold back. You can say as much as you want, but in order to make it into a work, you also need the ability to turn around. I think it's a fairly difficult place, and whether it is well balanced.

Q:
Science SARU's work has a lot of original elements in the original work, but how do you make it?

Eunyoung:
If there is an original work, Director Yuasa always respects the original work and firmly studies the goodness. I think that is the important place. If you don't understand why 'everyone likes this original work', you cannot make good use of it. First, read the good points. On top of that, if you leave it as it is, you can read manga and watch anime, so there is no difference. If you want to make an anime, I think that plus is necessary. To that end, we are focusing on determining the development stage and concept.

Q:
Is it an image that inflates the good points of the original?

Eunyoung:
I agree. If it is a devil man, 'How was this today?' In the case of 'Iken', how do you actually make images that are said to be 'awesome' made by everyone? We have to develop to the point where we are satisfied. I think it is important to study where it is.

G:
There was a story that 'Science SARU is Rainbow', but is there any policy to recruit human resources?

Eunyoung:
I think it basically means that we have no prejudice. At the time of hiring, I see the resume and the reason why I want to join the company, but it is difficult to judge the motivation of that person and what they are thinking, but the story 'There is no such person in SARU?' I will. Instead of saying, 'Such people are doing well right now, let's put in similar people in our team.' I think those people have new perspectives and ideas.

G:
So that's it. At Science SARU, is it the style of actively assigning the storyboards and direction of each story to those who raised their hand, saying 'I want to do it?'

Eunyoung:
I agree. However, it is not that people who simply want to do do it, but they are competing with 'It is such a content, so if you want to do it, try drawing a storyboard ~'. The storyboards you draw are not always used as they are, and if you say, 'This person can draw such storyboards,' I'll probably leave it to the next opportunity. Even if you are in the process of making a piece of work, if you can draw it, you are actually asked to draw a storyboard.

G:
It seems that Mr. Yamashiro, who was working on 'DEVIL MAN cry baby', is in charge of the 4th episode of 'Iken'.

Eunyoung:
When I said, 'I'm having a meeting with this kind of work this time, people who are interested in it will come in.' Lol). At the very least, I don't ask him to say, 'You have done this work for a number of years, so this is the next time.' 'Do you want to try mechanical design?'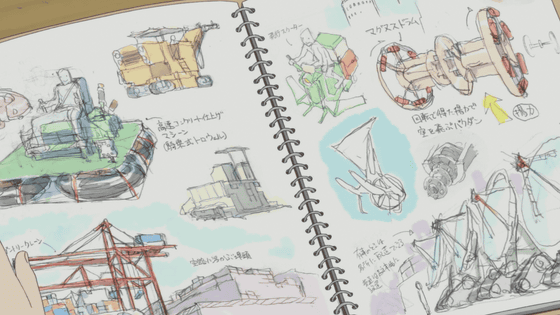 G:
That's how you sometimes become a mechanical design person.

Eunyoung:
Of course, it's important to raise your hand, because it's important whether you want to do it or not. 'I want you to think actively' is something I always talk about. It doesn't mean that you have a chance to sit down, so please appeal what you want to do. Even if it doesn't work at that time, if you appeal it, you have the next chance.

G:
There are many opportunities.

Eunyoung:
Of course, if the skill at that time is still uncertain, there is a chance of 'again', but I think that the more people raise their hands, the more they tend to grow. In that case, even if you don't raise your hand, there is a case where you see the work being done by the person next to you and it sounds interesting. I think that the content changes depending on what you are told and what you want to do. After all, I want people who want to do it, and people who want to take on challenges.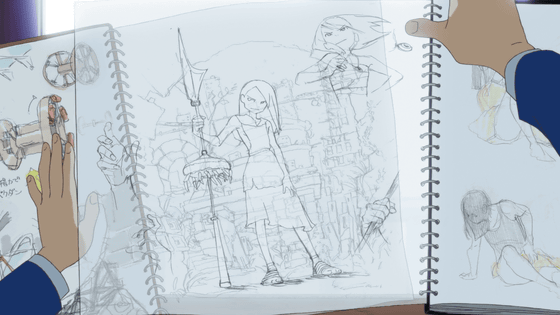 G:
There was a story that the three people at 'Video Lab' are making animations with happiness, but something that you are trying to do in the field of Science SARU and a technique to do it happily Do you have anything?

Eunyoung:
That's a problem ... (laughs). But I'm telling you that it's important not to get nervous. Besides, we have a lot of overseas staff, and
Abel
, the animator chief, is bright, so it's hard to be serious. I don't really see everyone feeling nervous because they keep the atmosphere bright. However, production progress and producers like me will be 'a little !!' when the deadline is close, so there may be a difference (laugh)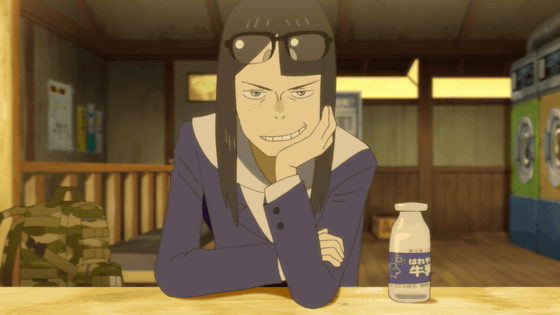 (All laughs)

Eunyoung:
I think it would be better if we could have an exchange, so we have a lunch meeting once a week, have lunch at the office, and have a face-to-face conversation while eating rice together.

G:
There were few partitions in the studio, it was very open, and the sun gave a bright impression.

Eunyoung:
This was talked about doing so from the beginning. When I work for a long time, I tend to be sensitive to even a small amount of stimulus and tend to want to make more partitions. So, if you divide it into sections, communication will be lost and you will not be able to see the face of the person next to you. If that happens, I think that the unity of the team will be weakened. I think it would be better to make it while interacting with people so that the field of view would not be narrowed.

G:
It's just like the three people at 'Iken' are making it while they're happy.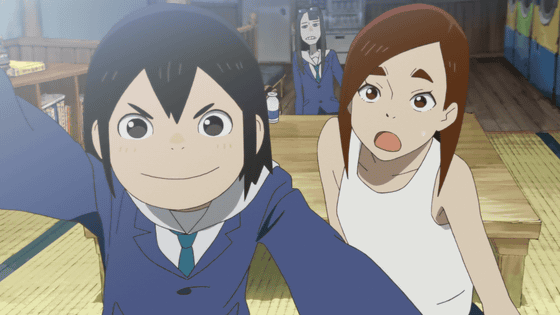 Eunyoung:
Well (laughs), thank you.

'Don't mess with the video lab!' Is being broadcast on NHK General Television every Sunday from 24:10 (24:45 in the Kansai region). In addition, exclusive distribution on FOD is also available.

Do not put your hands on visual research! Fuji Television Official [FOD] [Free for 1 month]

https://fod.fujitv.co.jp/s/genre/anime/ser5a86/
Unyoung stands in the studio. See the next article for the interview with the studio.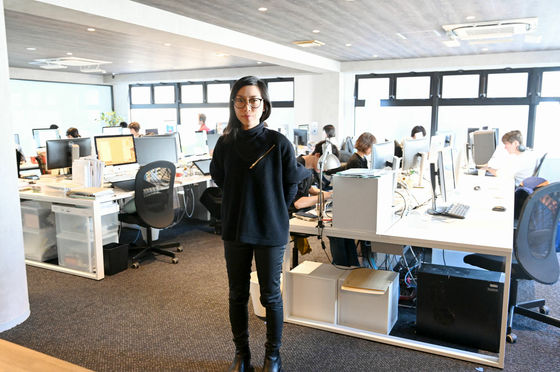 ・ Continued

What kind of place is 'Science SARU' that sends out works that show the charm of movement unique to animation? -GIGAZINE