The Japanese translation function appeared in the topical machine translation `` DeepL translation '' if the accuracy was extremely high, so I actually tried using it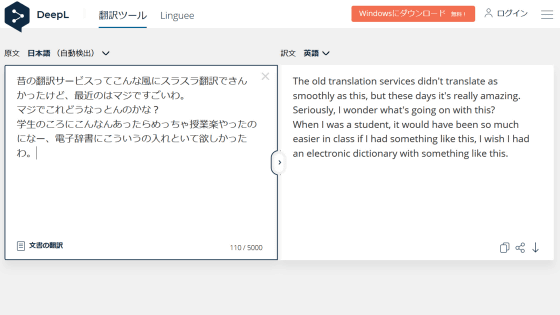 In recent years, machine learning has been used for online translation services, and translation accuracy has been dramatically improved. The online translation service `
` DeepL translation
'' using machine learning, which was launched in August 2017, has newly
added
support for Japanese and Chinese translation, so it actually provided a translation function in Japanese. I tried.
DeepL translation
https://www.deepl.com/translator
DeepL translation learns Japanese and Chinese
https://www.deepl.com/blog/20200319.html
DeepL Translator gets support for Japanese and Chinese languages-gHacks Tech News
https://www.ghacks.net/2020/03/19/deepl-translator-gets-support-for-japanese-and-chinese-languages/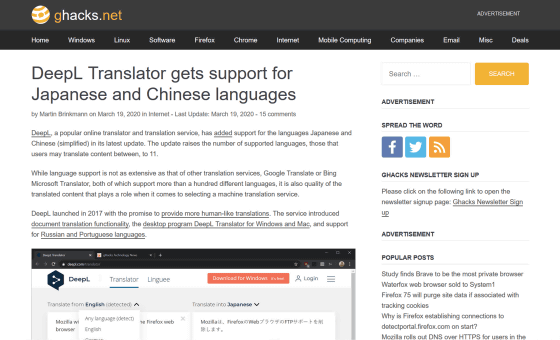 DeepL Translation is a machine learning-based artificial intelligence translation system developed by a German-based company. Formerly, English, Dutch, French, German, Italian, Polish, Portuguese, Russian, Spanish, etc. were supported, but from March 19, 2020, Japanese and Chinese It was announced that also supported.

According to the official announcement, DeepL translation has significantly improved the neural network in early 2020, and this improvement has improved the translation accuracy of Japanese and Chinese. In order to check the translation accuracy of Japanese and Chinese, DeepL translation performs a blind test, the sentence translated by Google, Amazon, Microsoft, etc. translation system and the sentence translated by DeepL translation, with the translation system name hidden We had you evaluate in. As a result, the accuracy of DeepL translation was evaluated as being superior to other translation systems. The following image shows the results of the blind test, and the vertical axis shows the evaluation score.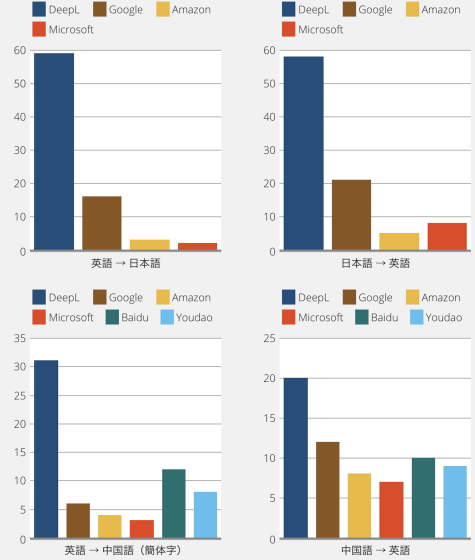 When you open DeepL Translator, you will see an input form similar to traditional online translation services, such as: When you put the original text on the left side of the form, the translated text is displayed on the right side.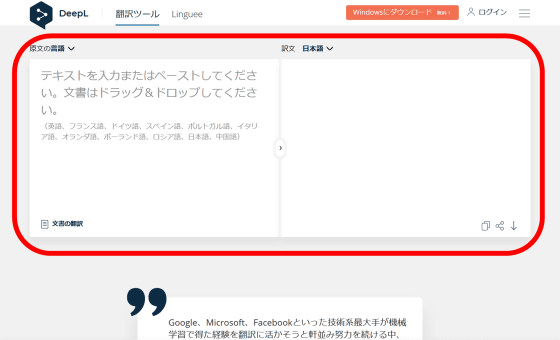 Actually, I will extract sentences from an English
paper
on 'Response of stress and emotion' and translate them with DeepL translation. When the text is pasted, the language is automatically recognized and translation starts.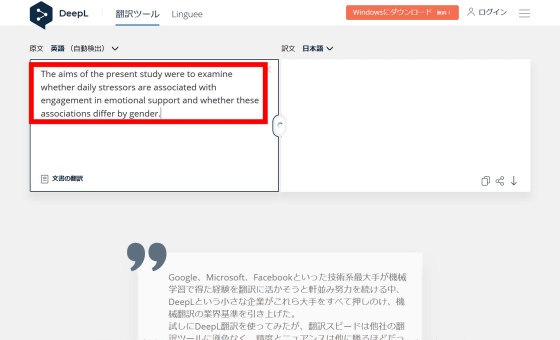 In a few seconds, the Japanese translation was displayed in the form on the right. The text `` The aims of the present study were to examine whether daily stressors are associated with engagement in emotional support and whether these associations differ by gender. '' The question was whether it was related to involvement and whether these relevances differed by gender. '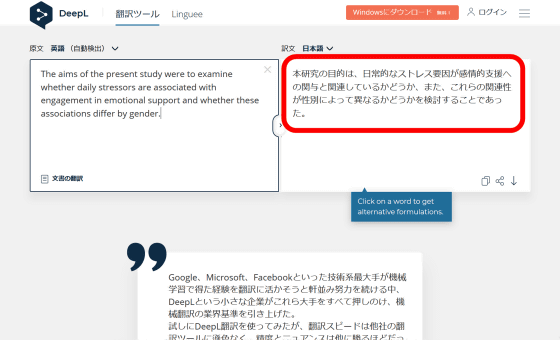 Entering a similar sentence into Google Translate and translating it, `` The purpose of this study is whether daily stressors are related to involvement in emotional support, and whether these associations differ by gender. Was to look up. ' Although the meaning is understood, in some places there are Katakana words such as 'daily stressor' and 'emotional support', and in the DeepL translation, the part translated as 'sex' is 'sex', such as reading in Japanese DeepL translation seems to be better in terms of ease.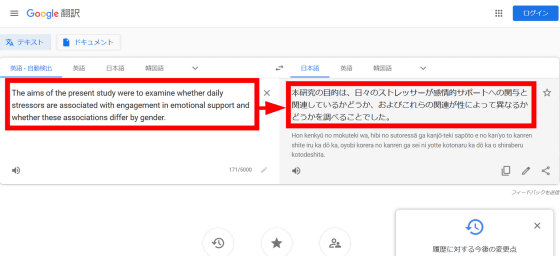 This time, paste the abstract (Abstract) of the dissertation and translate it into DeepL translation.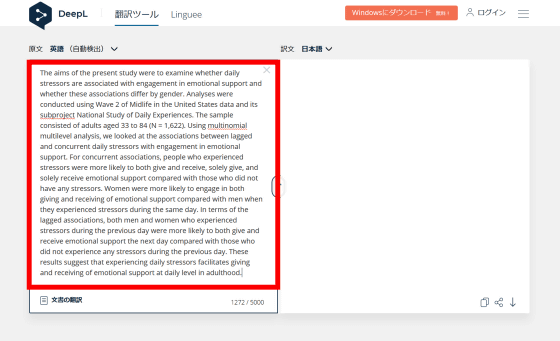 A meaningful translation was displayed. You can see that Japanese sentences that are easy to read even in long sentences are maintained.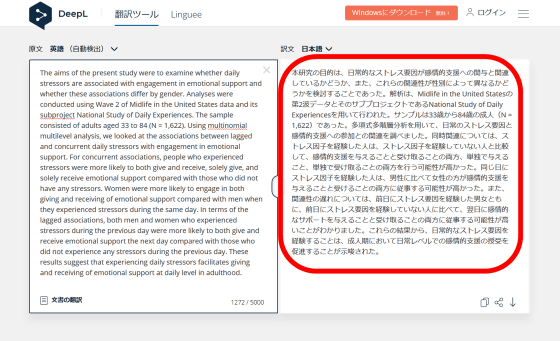 If you try to translate the same sentence with Google Translate, you can see the meaning here, but it is an impression that it is a somewhat poor translation.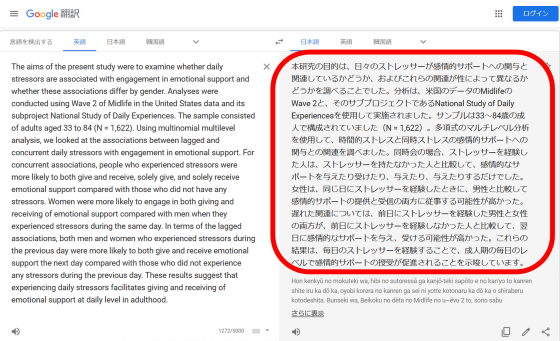 Next, paste the Japanese text extracted from the
GIGAZINE article
into the DeepL translation and translate it.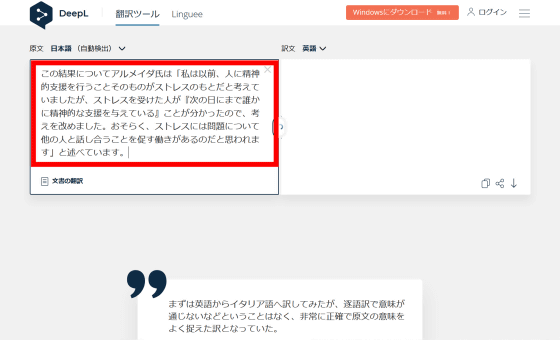 Then, it was translated into English without any problem.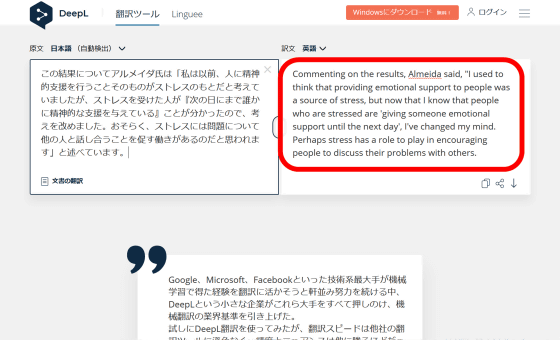 This is the result of translating the same sentence into English with Google Translate. Either the double brackets were not read well or the text was partially translated.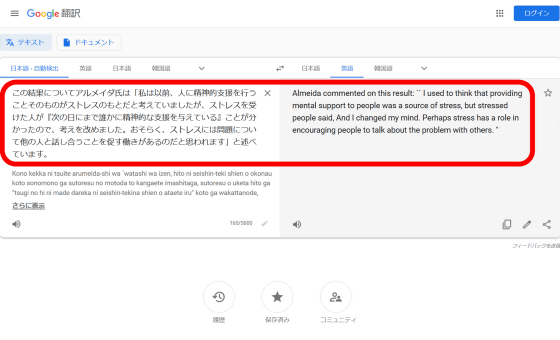 Someone who actually tried DeepL translation also reported that they could translate the dialect.

https://t.co/hGo8Hn6Sme
I tried a translation of the rumored DeepL. Because the translation of the paper was a topic, I tried to include the dialect of Matsusaka City, Mie Prefecture. I could translate. What happens to this? pic.twitter.com/7OzsJtwcmV — Sayonari ???? Ryota Nishimura (@sayonari) March 21, 2020


To verify this point, let's translate a sentence that is similar to a spoken language with a mixed dialect into English. When I enter a sentence into DeepL translation and translate it ...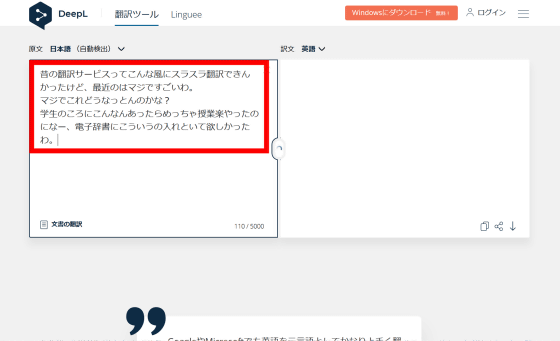 I was able to accurately translate the text into English. The sentence 'I was able to have fun in class' is also translated as 'it would have been so much easier in class'.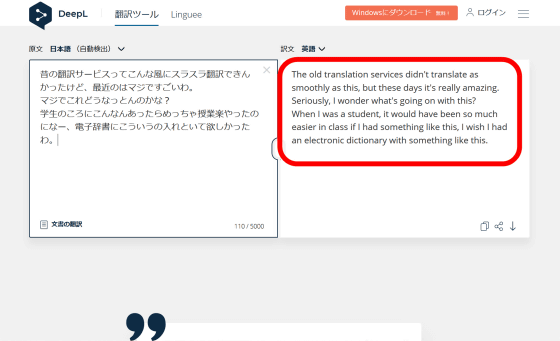 Next, when experimenting with Google translation, even though the translation itself was done here, the sentence meaning `` I was able to enjoy the class '' was translated as `` I really enjoyed my class '' There are translation problems that have problems.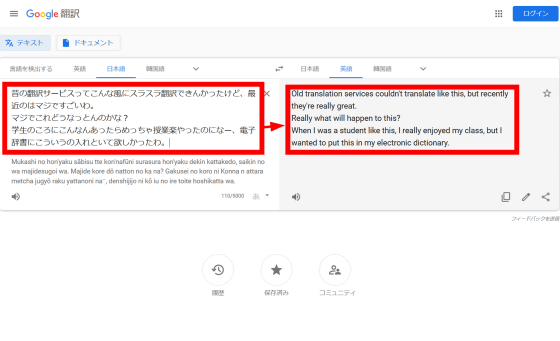 A software version is also available for DeepL translation, and it is possible to download the Windows version or Mac version from the
download page of
the official website.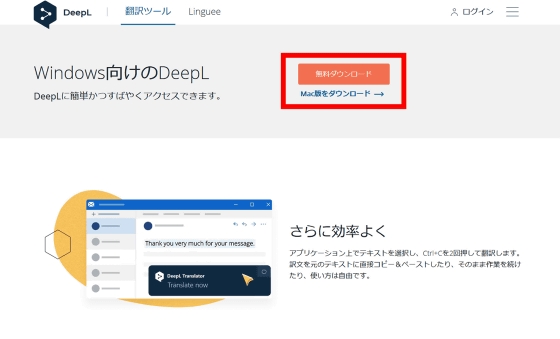 As a result of using DeepL translation, I felt that the translated text was easy to read even in Japanese, and it was a good sentence. DeepL translation performed machine learning based on millions of translated texts and integrated Japanese and Chinese expert advice and realized Japanese and Chinese translations. With the addition of words and Chinese, there are more than one billion potential new users, 'said the official blog.