President Trump signs executive order targeting social media for 'freedom of expression'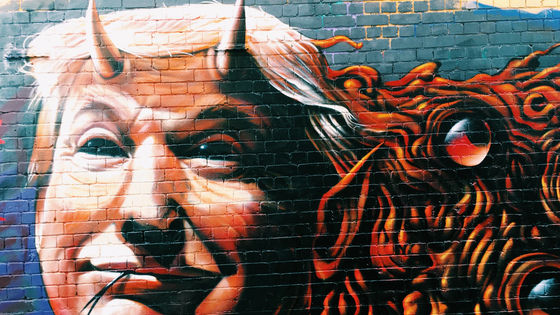 Until now, operating companies have been exempted from the content posted by users on the Internet under Article 230 (Section 230) of the Communications Quality Act. However, President Trump,
who had made clear his confrontation with Twitter and other social media companies
, included a review of this section 230 because of 'freedom of speech,' which is the foundation of American democracy. I signed the Presidential Decree.
Executive Order on Preventing Online Censorship | The White House
https://www.whitehouse.gov/presidential-actions/executive-order-preventing-online-censorship/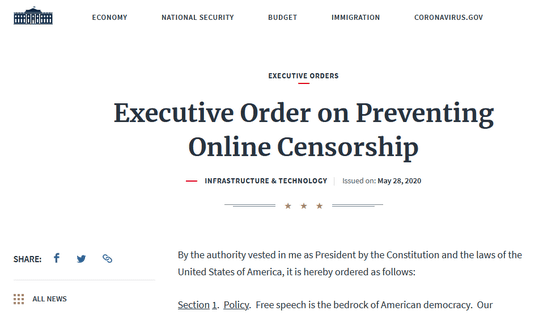 U.S. President Trump signs declining SNS protection-Reuters

https://jp.reuters.com/article/twitter-trump-executive-order-idJPKBN2343IB
Trump signs presidential decree restricting liability for SNS companies-Bloomberg
https://www.bloomberg.co.jp/news/articles/2020-05-28/QB25M4T0G1L301
Trump Signs Executive Order on Social Media, Claiming to Protect 'Free Speech'-The New York Times
https://www.nytimes.com/2020/05/28/us/politics/trump-order-social-media.html
Trump executive order challenges Section 230 protections for Facebook, Twitter and Google-The Washington Post
https://www.washingtonpost.com/technology/2020/05/28/trump-social-media-executive-order/
Trump signs executive order targeting protections for social media platforms-Axios
https://www.axios.com/trump-executive-order-social-media-protections-8a53f1c6-3c05-4844-98a3-071373b497a8.html
The presidential decree added that 'freedom of expression' stipulated in the First Amendment of the United States Constitution was the foundation of American democracy. The social media that has grown with the development of communication technology is referred to as the '
public square in the
21st century', and President Trump himself participates in open discussions on the net, and these discussions maintain democracy. Admitted that it is important.
On the other hand, he pointed out that the company that manages social media conducts selective censorship and violates freedom of speech. Specifically, we have named four of Twitter, Facebook, Instagram, and YouTube as 'manipulating information and controlling what people see and do not see.' Especially regarding Twitter, 'apparently, we selectively attach warning labels to specific tweets after reflecting political prejudice,' he said.
Twitter labels Trump's tweet as `` may be misleading '' for the first time-GIGAZINE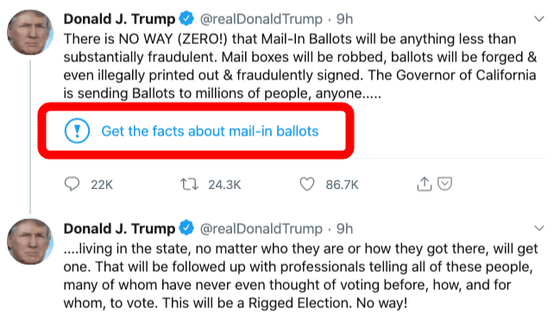 It is stipulated in Article 230 of the Communications Quality Act that social media operators do not have to take legal responsibility for the content posted by users, with the exception of the exception. If you 'edit', you should be held responsible just like any other publisher.

Naturally, against such movements, the social media side opposes that 'it will adversely affect the economy and America's position as a leader of the free Internet world' 'it will be crippled rather than free of online speech' Is rising.

There are also voices that question its effectiveness in the first place, and some point out that President Trump will eat 'boomerang' about what he wrote on social media.


in Note, Posted by logc_nt