Amazon's Jeff Bezos and Microsoft executives speak out after a black man died while being detained by police officers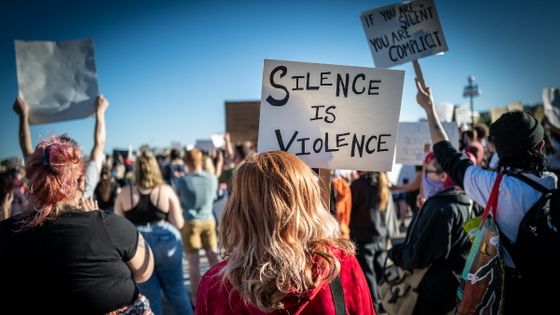 by
Phil Roeder
In the United States, radical protests have spread throughout the country following the death of a black man in Minneapolis, Minnesota. CNN
black reporters
who were being
attacked
and rioted at various
Apple Stores were
arrested during live broadcasting,
deepening confusion, famous technology companies such as Amazon and Microsoft are treating unequal treatment against black people We are protesting against it.
Amazon, Microsoft, other tech leaders sound off amid protests over death of George Floyd-GeekWire
https://www.geekwire.com/2020/amazon-inequitable-brutal-treatment-black-people-country-must-stop/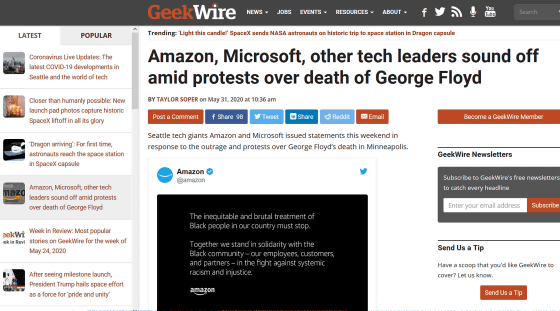 The series of protests began with a black man, George Floyd, who was arrested on May 23, 2020 on the suspicion of using counterfeit money near Minneapolis, when Derek Chovin was a police officer at the time. It was the case that the neck was pressed down by the knee and died. Mr. Floyd repeatedly complained, 'I can't breathe,' but Chovin died without losing his restraint even after Mr. Floyd stopped moving.

The state of the arrest was filmed by ordinary citizens who were present at the scene, and Chovin did not respond to the requests of Mr. Floyd and the surrounding public, and Mr. Floyd's death was spread on the Internet. Due to the influence of this movie, protests occurred in Minneapolis, eventually developing into a riot involving the destruction of buildings and the looting of stores. Chovin, who initially remained unemployed, was also charged with third-level murder , but his protests have spread to the United States, rather than ending.

Meanwhile, Amazon said on Twitter, 'We have to stop the brutal treatment of unequal black people in our country. In the fight against systematic racism and injustice, we are employees. , Will stand up in partnership with a black community of customers and partners. '

May 31, 2020


On the other hand, mob people have destroyed windows of ' Amazon Go, ' a cashier-less retail store in Seattle.

Shattered window at Amazon go store.Protesters moving through downtown Seattle.pic.twitter.com/RdGBsebjWG

— Chris Ingalls (@CJIngalls) May 30, 2020


In some areas where riots are intense, Amazon is adjusting the delivery route and reducing the normal business.

With Protests Raging in US, Amazon Curbs Operations and Apple Keeps Some Stores Closed
https://finance.yahoo.com/news/amazon-calls-delivery-drivers-back-051009908.html



In addition, Amazon CEO Jeff Bezos said on his Instagram, `` Race discrimination and violence against the black community we are witnessing causes widespread pain and emotional trauma, '' a series Introduced an essay by Mr. Shenequa Golding about the events of.



Satya Nadera, CEO of Microsoft, also announced a comment to employees, saying : 'We recognize that we will be smarter, smarter and stronger when we consider the voices of people and the behavior of all communities. I am confident that Microsoft will continue to be the voice of all those voices and respects, 'empathizing with those who feel fear and uncertainty, and changing communities and societies. Insisted that he should sue.

'The video of George Floyd's brutal death broke my heart,' said Melinda Gates, wife of Microsoft founder Bill Gates, on Twitter.

The video of George Floyd's brutal death broke my heart.I've watched the protests that followed and have felt overwhelmed with solidarity.And I'm listening as Black advocates and activists call on every American to treat racial justice as a shared responsibility.

— Melinda Gates (@melindagates) June 1, 2020


'We stand with the black community in the fight against violence and inequality,' Zillow , the operator of the online real estate database, said with the unique motto 'There is no house of racism here.' ..

Stand With The We Black Community In The Fight Against Violence And For Equality. Pic.Twitter.Com/gVlbEgG3Rz

— Zillow (@zillow) May 31, 2020
in Note, Posted by log1h_ik