Facebook employee openly condemned Zuckerberg's response to 'Trump's social media censorship problem'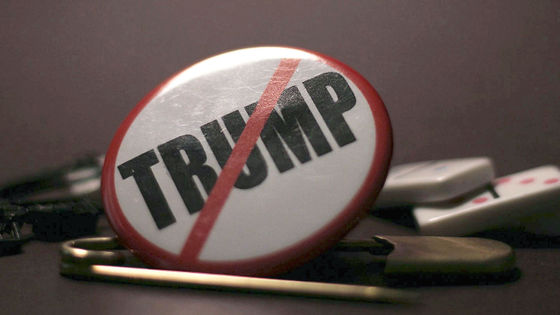 Facebook employees and Mark Zuckerberg's CEO are facing conflicts over President Trump's allegations that social media fact checking is censorship. Several Facebook employees, including seniors, have publicly criticized Zuckerberg's decision on social media.

Facebook Employees Revolt Over Zuckerberg's Hands-Off Approach To Trump :NPR

https://www.npr.org/2020/06/01/867215427/facebook-employees-revolt-over-zuckerbergs-hands-off-approach-to-trump
Facebook employees share anger and frustration after Mark Zuckerberg refuses to delete Trump threats | The Independent
https://www.independent.co.uk/life-style/gadgets-and-tech/news/facebook-trump-mark-zuckerberg-shooting-threat-minneapolis-protest-looting-a9542236.html
Facebook Employees Stage Virtual Walkout to Protest Trump Posts-The New York Times
https://www.nytimes.com/2020/06/01/technology/facebook-employee-protest-trump.html
Trump criticized Twitter and Facebook's social media as 'censoring' Twitter because
it labeled Trump's tweets as
'possibly misleading.' As a countermeasure,
we signed
a
presidential decree
requiring a review of the
Telecommunications Quality Law
, which exempts social media services from censorship and editing.
In response to President Trump's allegations, Facebook CEO Zuckerberg stated that Twitter's policies were wrong, saying 'private companies should not be'decisors of truth'' and said, 'Facebook is political
fact check
that does not perform '
the attitude expressed
was.
You can read more about the sequence of social media censorship and Trump's reaction in the following articles:
Facebook's Mark Zuckerberg directly explains his policy to President Trump resented by censorship of social media-GIGAZINE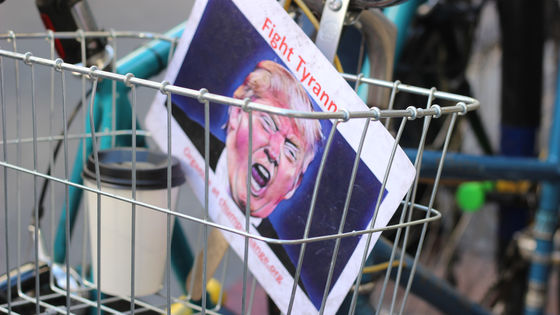 In such a trend, the label attached to President Trump's tweet is causing ripples inside Facebook. The
death of
a black man,
George Floyd, who was
seized by a white police officer in Minneapolis, Minnesota, has spawned protests from across Minneapolis across the United States for black discrimination. In response to this protest, President Trump suggested on Twitter that 'when the looting starts, the shooting starts' would be countered by the military, saying, 'Twitter on the praise of violence Violated the rule'.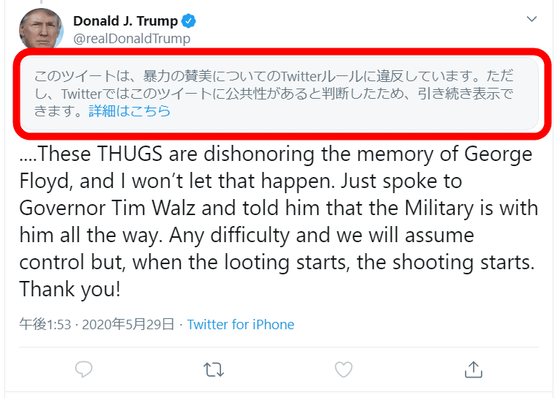 Trump has posted the exact same thing on Facebook, but the post on Facebook is unlabeled. This reflects Zuckerberg's policy of 'not censoring or editing political statements.'


However, there is a criticism inside Facebook that "Zuckerberg's policy is wrong". 'It's wrong to censor information that helps us get the big picture,' said Andrew Chau, head of design for portal video chat hardware at Facebook. Offering is not acceptable, regardless of who the contributor is, or whether the post is valuable as news. I don't agree with Mark (nicknamed Zuckerberg).'

Censoring information that might help people see the complete picture *is* wrong. But giving a platform to incite violence and spread disinformation is unacceptable, regardless who you are or if it's newsworthy.I disagree with Mark's position and will work to make change happen.

— Andrew (@AndrewCrow) June 1, 2020


'Mark is wrong. I will do my best to change his mind,' said Ryan Freitas, design director for Facebook's newsfeed.

Mark is wrong, and I will endeavor in the loudest possible way to change his mind.

— Ryan Freitas (@ryanchris) June 1, 2020


'I'm working at Facebook, and I'm ashamed of that now. Most of my employees seem to feel the same as I do,' said Jason Toff, product manager. All of the employees questioned President Trump's remark as 'inciting violence,' blaming the Zuckerberg CEO's choice to 'do nothing for political remarks' and changed the policy. Requesting

I work at Facebook and I am not proud of how we're showing up.The majority of coworkers I've spoken to feel the same way.We are making our voice heard.

— Jason Toff (@jasontoff) June 1, 2020


According to National Public Radio, an American radio network that reported this issue, Facebook's 48,000 employees often have discussions about their policies and actions, but it is rare to publicize their criticism. thing.

'We are aware of the pain many employees are feeling right now, especially the blacks,' said Facebook spokesman Joe Osbourne. We are frank when employees are against leadership. We will encourage you to speak to our colleagues and continue to seek honest input from our employees when facing difficult content decisions.'