In an effort to support protest against racism, which spreads the 'Black Out Tuesday' movement with music services such as Apple Music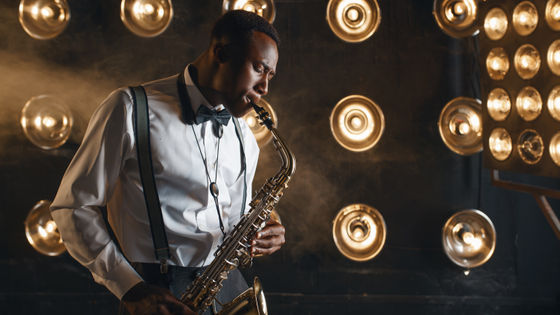 The
deaths of
a
black man
in Minnesota on May 25, 2020,
due to police detention have resulted
in violent demonstrations and riots throughout the United States. Meanwhile,
Spotify
and
Apple Music
participated in a strike movement called '
Black Out Tuesday
' that was called around in the music industry, and efforts to support the black community by dyeing the service UI with solid black are done. It was.
Blackout Tuesday posts are drowning out vital information shared under the BLM hashtag-The Verge
https://www.theverge.com/2020/6/2/21277852/blackout-tuesday-posts-hiding-information-blm-black-lives-matter-hashtag
Spotify Stands With the Black Community in the Fight Against Racism and Injustice — Spotify
https://newsroom.spotify.com/2020-06-01/spotify-stands-with-the-black-community-in-the-fight-against-racism-and-injustice/
Apple Music joins wider music industry Black Out Tuesday awareness campaign with app takeover-9to5Mac
https://9to5mac.com/2020/06/01/apple-music-joins-wider-music-industry-black-out-tuesday-awareness-campaign-with-app-takeover/
The death of a black man, George Floyd, on May 25, 2020, in police assaults created a huge ripple in American society. Inspired by this matter, social
media
centered on Instagram is
carrying
out a movement called '
#BlackLivesMatter (#BLM)
' to post a
solid
black image and call for empathy with the black community.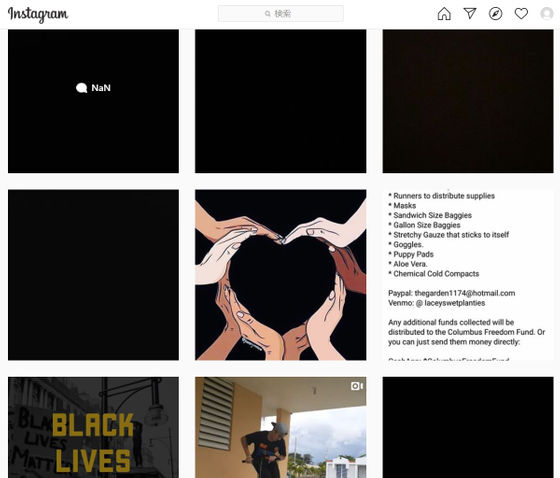 The movement is based on the slogan called for in February 2012 when a black boy,
Traybon Martin,
who was then 17 years old, was
shot dead by a white police officer
.
However, some people are worried that the movement to fill up SNS with black images will 'buy necessary information and important messages.' On Twitter, "The first thing I felt was that it was dangerous. If you click the BLM tag even once, it overflows with black images instead of useful content for information," or… …
Initial Thought Is My Feels Dangerous ... Because Once You Click On The Blm Hashtag You'Re Directed To An Overflow Of Black Images, Instead Of Other More Useful Content People Could Look At For Information. Pic.Twitter.Com/QiaHPeoWGP

— A (@atothebed) June 2, 2020


'This is counterproductive. Before you do it, make sure you understand what it means. Let's make the black voice louder, rather than fooling exercise,' a tweet is posted.

This understand counter-productive.Please understand what ur doing before u do it.Amplify black voices WITHOUT silencing the movement pic.twitter.com/pahDbXnYOO

— ???????? (@makeupbyshaniah) June 2, 2020


Meanwhile, 'Black Out Tuesday' began with a call from Brianna Agyemang, an executive of the music startup ' Platoon '. This is a large-scale strike campaign that was held on June 2, 2020 (Tuesday) with the aim of 'away from work and participating in anti-racism efforts.' In addition, music distributors who agreed with this support for the 'Black Out Tuesday' movement with the slogan ' #TheShowMustBePaused '.

Music streaming service Spotify announced on June 2, 'Today is Black Out Tuesday. It's meant to help people cut themselves out and unite to support the black community.' , Delivered a silent track of 8 minutes and 46 seconds as a podcast for this day. The '8 minutes and 46 seconds' is the same length of time that Floyd fixed his neck with his knees when Floyd died after being arrested by a police officer and complaining that he could not breathe.

In addition, Apple Music will stop the distribution of normal music content on the 'find', 'For You' and 'Radio' services after making the content black, and the playlist 'For Us, By Us' featuring black artists Was delivered.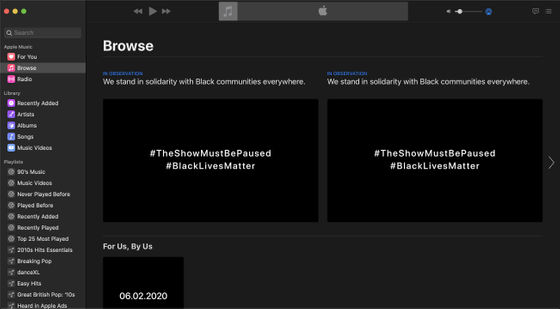 by 9to5Mac.com

In addition, Amazon Music, YouTube Music, etc. have been providing support for '#TheShowMustBePaused' one after another.

In solidarity with the Black community-our colleagues, artists, songwriters, musicians, producers, and music listeners, Amazon Music will observe Black Out Tuesday to listen, learn, and find more ways we can act in the ongoing fight against racism.pic . twitter.com/HA1Urd9n4c

— Amazon Music (@amazonmusic) June 1, 2020
We stand in solidarity against racism and violence. # TheShowMustBePaused #BlackLivesMatter #BlackOutTuesday pic.twitter.com/HA1fErI0AZ

— YouTube Music (@youtubemusic) June 1, 2020