Report that more than 120 journalists have been unfairly violent by police during coverage of black discrimination protest movement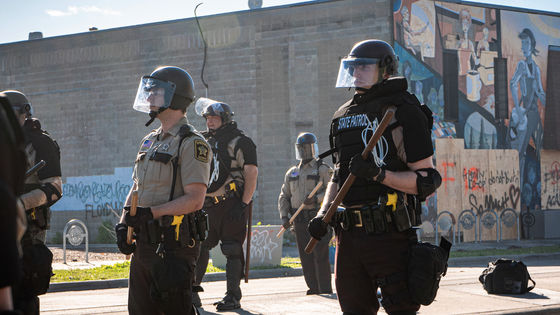 George Floyd's blacks 'was suffocated been Toriosae to the White police officers on May 25, 2020 death of George Floyd in the wake of the incident,' ' Black Lives Matter Black Elimination of All Forms of Discrimination against and flown a message that' There are protests all over the United States. The protest movement became radical in some areas due to collisions with police officers and developed into a riot known as the ' Minneapolis Riot .' Numerous journalists covering the confused scene have been attacked or arrested by the police, with some claiming that 'law enforcement agencies in the United States are deliberately targeting journalists.'

US police have attacked journalists more than 120 times since May 28 »Nieman Journalism Lab
https://www.niemanlab.org/2020/06/well-try-to-help-you-follow-the-police-attacks-on-journalists-across-the-country

On May 29, 2020, a black reporter from CNN, who was covering a riot case in Minneapolis, Minnesota, which is the center of the protest movement, was arrested during live broadcasting.

Why was the CNN black reporter who was covering the riot arrested during the live broadcast? -GIGAZINE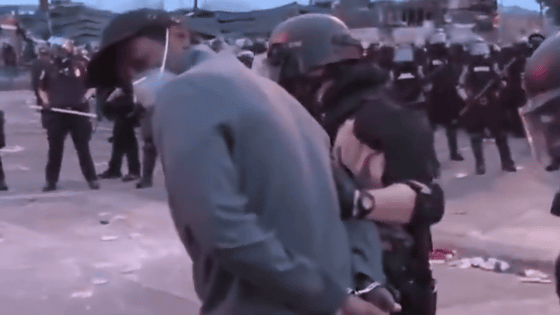 Nick Waters , a journalist from the news media Bellingcat , said that in order to track police attacks on journalists, videos and photos of the arrests and attacks posted on Twitter were posted on Twitter in June 2020. By 15:30 on the 2nd of the month (Eastern Standard Time), 124 items have been collected.

For example, the following is the moment when one of the police forces chasing a fleeing protester hits a cameraman on the road. We can see the other police officers rushing to stop.

101 Incident:. Member Of The Press Deliberately Attacked By What Appears To Be Federal Law Enforcement In Order To Allow Mr Trump To Walk From The White House To St John'S Church Without Being Disturbed Https://T.Co/VIjETSqEsH

— Nick Waters (@N_Waters89) June 1, 2020


``In some cases, journalists can be accidentally attacked or affected, but the records of the incident make journalists clearly identifiable as a media outlet, so journalists in Minneapolis deliberately identified them,'' said Waters. It's clear that they have been targeted.'

According to US Press Freedom Tracker , an organization that tracks and records press freedom violations in the United States, as of June 3, 2020, 192 press freedom violations were confirmed, with more than 31 journalists. He was arrested. In addition, 131 attacks on journalists were reported by police, 108 of which were reported to have damaged 30 news items. The assaults received by the journalists were not only physical attacks, but tear gas, pepper spray, and rubber bullets.

You can see our spreadsheet tracking this data below.Please note these are preliminary numbers, so please let us know if anything is accidentally mischaracterized! (Also, some journalists were assaulted multiple ways.) https://t.co/73e9qJ0uLp

— US Press Freedom Tracker (@uspresstracker) June 2, 2020


'Police regularly attacks and arrests journalists in protest demonstrations, but many are unnamed journalists who are freelance,' said Jeremy Scahill , co-founder of The Intercept, a foreign news media. So nobody paid any attention to it. Police are still deliberately and continuously attacking corporate journalists,' he said.

Police forces have regularly attacked and arrested journalists at protests in this country. But often it has been unfamous journalists from non-corporate outlets, so no one paid attention to it. Now, the police are deliberately & consistently attacking corporate journalists too.

— Jeremy scahill (@jeremyscahill) May 31, 2020


Maggie Huberman , a White House reporter for the New York Times daily, said, 'It's the first time that police and reporters have collided in different cities at the same time. It is something different that simultaneous and multiple attacks on reporters occur all over the country.'

I've never seen so many incidents with police and reporters simultaneously in different cities.Tension between cops and reporters is nothing new.Aggression on reporters in multiple locations nationally at same time is something different.https: //t.co/SA5s1Wy3DP

— Maggie Haberman (@maggieNYT) June 1, 2020


Wesley Rowley , editor-in-chief of the daily newspaper The Washington Post , said of the protests that led to Eric Garner's suffocation death in 2014: ``This turmoil feels different to me. I think police are crossing the line of press freedom that hasn't been exceeded by the protests that have been taking place since 2014.'

This is the thing, to me, that feels different.This is the action where the police are crossing a line in terms of press freedom that they hadn't routinely cross before at 2014-2019 protests. Your "new" and "increasing" narratives are now accurate https://t.co/MNq3sCrvvl

— Wesley (@WesleyLowery) June 1, 2020
in Note, Posted by log1i_yk