Possibility that Apple Pay will support QR code payments on iOS 14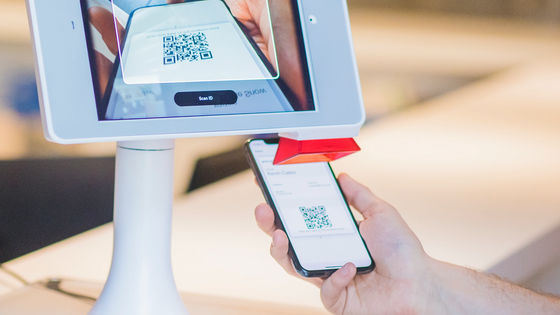 On July 8, 2020, Apple has released '
iOS 14 beta 2
', a beta version for developers of '
iOS 14
'. In the image assets included in iOS 14 beta 2, the image ``I am paying for Apple Pay using QR code'' was discovered, so Apple Pay on iOS 14 may support QR code payment It is reported that there is.
Exclusive: Apple is working on QR Code payments for Apple Pay, iOS 14 code reveals-9to5Mac
https://9to5mac.com/2020/07/07/exclusive-apple-is-working-on-qr-code-payments-for-apple-pay-ios-14-code-reveals/
iOS 14 might let you scan QR codes to use Apple Pay-The Verge
https://www.theverge.com/2020/7/7/21316667/apple-ios-14-pay-qr-codes-barcodes
Apple-related media 9to5Mac analyzed the source code of iOS 14 beta 2 and found the following images in the image assets. The image says 'code payment', and it seems that payment is completed by having the QR code displayed on the screen read. It seems that Apple Pay also had traces corresponding to QR code payment in ``iOS 14 beta'' released in June 2020, but the image discovered this time is the first when using QR code payment It looks like the displayed user interface.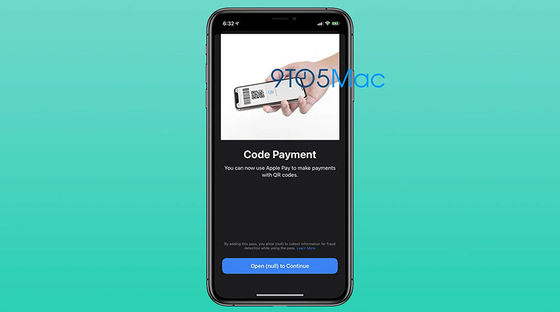 Apple Pay's QR code payment is still not working on iOS 14 beta 2, but 'read the QR code with the iPhone camera and pay with a credit card registered with Apple Pay' and 'iPhone screen Make payment by having the QR code displayed above read with a special scanner."

Apple didn't mention Apple Pay QR code payments in WWDC 2020, but it's quite possible that iOS 14 will support this feature when it's publicly available. The code related to QR code payment of Apple Pay was found in the public system API of iOS 14 beta 2, so it is considered that there is some interaction with a third-party app when paying the QR code.

In addition, QR code is set to play an important role in iOS 14, and a new function called App Clips allows users to scan a special QR code and download and use some functions of the application. Will be.