The most popular game on YouTube in September 2020 is the alien wolf game 'Among Us'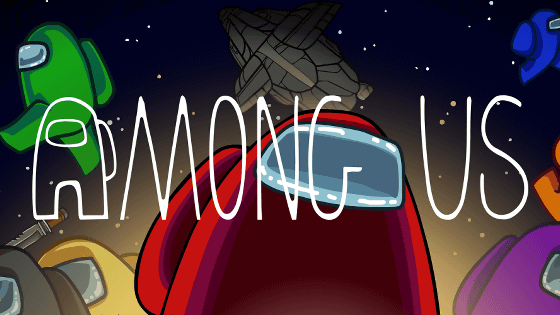 YouTube has announced that the
Werewolf-
like game 'Of
Us
', which finds traitors in a spaceship, was by far the most popular in September 2020. It is said that Among Us, two years after its release, recorded more than 4 billion views of related videos in September 2020.
YouTube Culture & Trends-'Among Us' Surged in September
https://www.youtube.com/trends/articles/among-us-september/
Among Us is an online multiplayer game developed by
Inner Sloth
, an American indie game studio, released for Android and iOS on June 15, 2018. The player will be the crew of the spaceship (crewmate), but some of the crew will be fraudsters (impostor). The impostor kills and turns around the crewmate, who must find, denounce, and expel the impostor while performing the mission of the spaceship.
If you look at the preview movie released by InnerSloth, you can see what kind of game Among Us is.
Among Us --MIRA HQ Launch Trailer --YouTube
The game was released in 2018, but its attention has skyrocketed in September 2020. Below is a bar graph that summarizes the number of monthly views of videos related to Among Us. It was almost flat until July 2020, but increased slightly in August, and in September it exceeded 4 billion times in total.


In addition, the PC version is also sold on the game sales platform Steam, and the overall evaluation of Among Us is the highest 'overwhelmingly popular'. Looking at the time when the reviews were gathered, it was mostly concentrated in October 2020, and a total of more than 100,000 were gathered.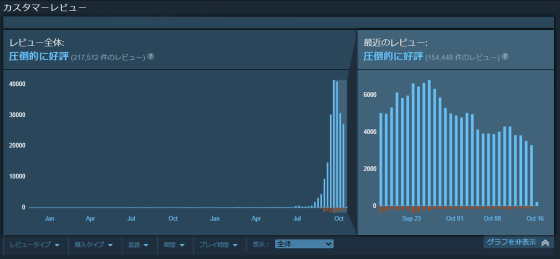 An analysis of the viewers of Among Us related videos by country shows that the most common users were American users at 18.7%, Mexico at 7.9%, and South Korea at 6.4%.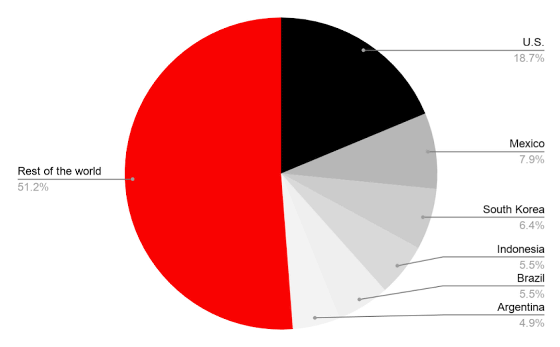 It's unclear what sparked this 'Among Us boom,' but YouTube points out that as of July 2020, it was becoming more popular among South Korean YouTubers.


32524 명이 감탄한 빅헤 드 & 서새봄 의 깔끔한 살인 ㅣ 어몽어스 --YouTube
In addition,
PewDiePie
's Among Us movie, which has the highest number of registered users in the world, has exceeded 6.9 million views in just nine days since it was posted on October 7, 2020.
My Best Impostor Game in Among Us # 7 --YouTube
Even in Japan, it has been gradually becoming popular since the end of September 2020, and the number of Among Us play videos is increasing. In addition, live distribution of Among Us multiplayer while having a lively voice chat, for example, as in the following movie, is also popular.
[#Niji Alien Wolf] Korose! [Nijisanji / Debidebi Debiru] --YouTube
In addition, YouTube said, 'What's amazing is the variety of videos related to Among Us. As you can imagine, there are plenty of gameplay videos, but not only memes, tale, songs, DIY, animations, etc. Videos in various categories have also been posted. ' According to YouTube, 6.6% of Among Us related videos include 'animation' in their titles.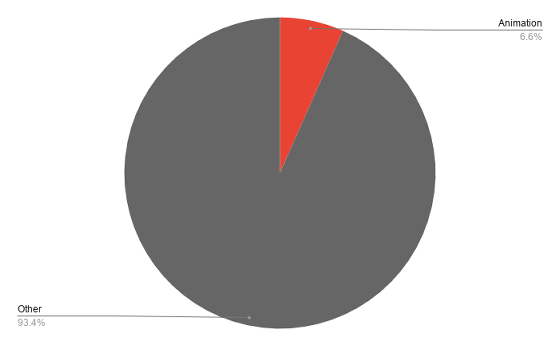 The following movie is an example of Among Us's own animation that is actually posted.

Show Yourself --Of Us Animation (original song) --YouTube


YouTube says, 'Among Us has something in common with many of the most watched video games of the year. It provides players with the opportunity to interact with others online at a social distance. And it's the latest in Pandemic Games, including Animal Crossing : Ultimate Knockout and Fall Guys: Ultimate Knockout . All of these games have fostered a sense of social connection during a difficult year of connecting with people. ' Said.

You can get Among Us for iOS and Android for free.

Among Us! On the App Store
https://apps.apple.com/us/app/among-us/id1351168404

Steam: Among Us
https://store.steampowered.com/app/945360/Among_Us/

In addition, the PC version is Steam and can be purchased for 520 yen including tax.

Steam: Among Us
https://store.steampowered.com/app/945360/Among_Us/