Mr. Biden takes over the US president's official Twitter account '@POTUS' with 0 followers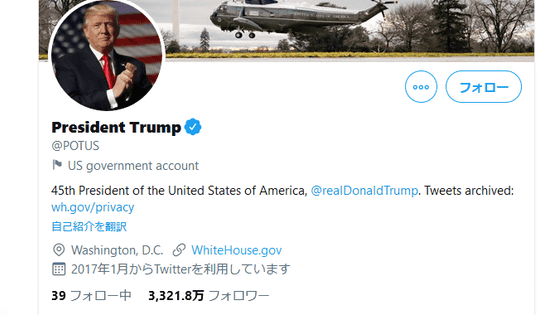 The President of the United States will operate an account called '
@POTUS
' as an official Twitter account in addition to his personal account. This account has 33.21 million followers at the time of writing the article on December 23, 2020, but the staff said that the next president Joe Biden will take over with 0 followers. It became clear.
In 2016, the Trump admin absorbed all of President Obama's Twitter followers on @POTUS and @WhiteHouse --at Team 44's urging.

In 2020, Twitter has informed us that as of right now the Biden administration will have to start from zero. Https://t.co/wj1R02SmiK

— Rob Flaherty (@Rob_Flaherty) December 22, 2020


Twitter will make Joe Biden's @POTUS account start with zero followers --The Verge
https://www.theverge.com/2020/12/22/22195713/twitter-biden-reset-accounts-trump-potus-whitehouse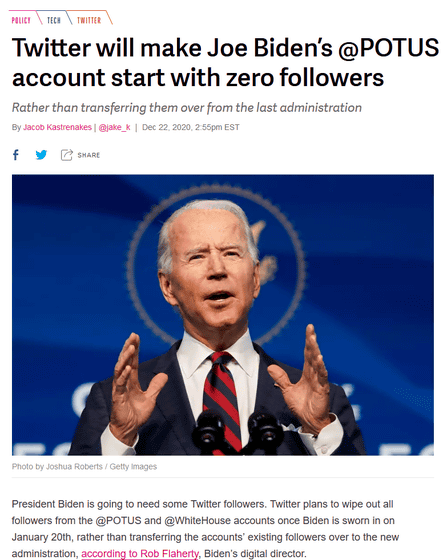 Twitter @POTUS Account Will Reset Followers to Zero for Joe Biden --Bloomberg
https://www.bloomberg.com/news/articles/2020-12-22/biden-potus-account-to-start-from-zero-without-trump-followers

'Take over with 0 followers' is not the policy of the Biden camp, but the Twitter side decided. 'In 2016, Trump took over all the followers that President Obama had collected at @POTUS and @WhiteHouse (the official White House account),' said Rob Fraherty, director of digital at the Biden camp. In 2020, Twitter has informed us that the Biden administration must start from scratch. '

This measure is not only for the president's account '@POTUS', but also for the Vice President ' @VP ', the First Lady (Mrs. President) ' @FLOTUS ', the White House Press Secretary ' @PressSec ', and the latest information on the administration. ' @Cabinet ' and the Spanish version of the White House official account ' @LaCasaBlanca ' are also targeted.

When Mr. Trump took office, all the tweets in the '@POTUS' account were erased, but the 11 million followers remained unchanged. Mr. Obama's previous job's tweet has been moved to ' @ POTUS44 ', which indicates the 44th president.

According to Twitter, President Trump's account has been renamed to '@ POTUS45', giving followers the option to follow the new administration's account, @POTUS.