'Section 230 Amendment' to limit the immunity of social media such as Twitter and Facebook is submitted to Congress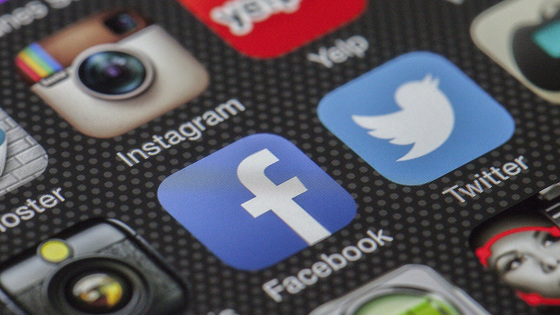 US Democratic Senator 3 people, 'management companies such as SNS and bulletin board users do not bear the legal responsibility for the published content' and establish ' Communications Decency Act the scope of Article 230 (section 230).' I submitted a revised bill to the Congress to limit it. If this bill is passed, the operation of SNS such as Twitter and Facebook will be greatly affected.

ALB21198 --66DECFBC0D6E6958C2520C3A6A69EAF6.safe-tech-act --- final.pdf
(PDF file) https://www.warner.senate.gov/public/_cache/files/4/f/4fa9c9ba-2b34-4854-8c19-59a0a9676a31/66DECFBC0D6E6958C2520C3A6A69EAF6.safe-tech-act---final.pdf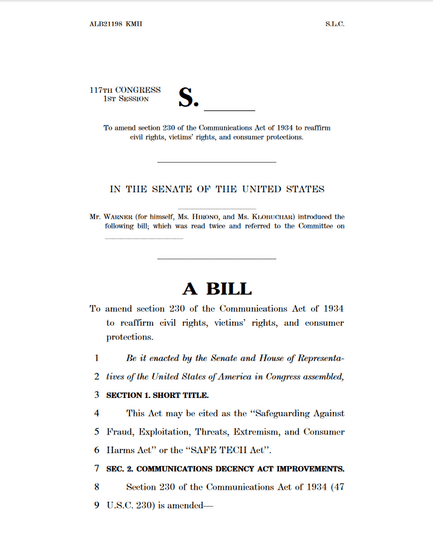 US senators propose limiting liability shield for social media platforms | Reuters
https://www.reuters.com/article/us-usa-tech-section-230-idUSKBN2A5233

This is the Democrats' plan to limit Section 230 --Protocol — The people, power and politics of tech
https://www.protocol.com/democrats-plan-section-230

Democrats' proposed Section 230 reform may not be as helpful as it looks
https://mashable.com/article/section-230-safe-tech-act-reform/

The revised bill was submitted by Senator Mark Warner, Senator Maggie Hirono, and Senator Amy Klobuchar. The bill makes American social media operators liable for 'cyberstalking, harassment and discrimination on social media.'

Section 230, enacted in 1996, states that 'social media operators do not have to be legally liable for content posted by users.' The move to amend this section 230 was driven by the January 6, 2021 attack on the Capitol . It was reported that the supporters of former President Donald Trump, who caused the attack on the Capitol, were organized on Facebook, and there were voices saying that the legal responsibility of social media should be pursued.

The Capitol at dusk. Photo by @LeahMillis pic.twitter.com/MSzdmTKnMs

— Corinne_perkins (@corinne_perkins) January 6, 2021


Senator Klobuchar said, 'We need to ask big tech companies to do more. It's important to hold social media platforms accountable for ads and content that could harm the real world. Yes, this bill does exactly that. '

'Section 230 is a jailbreak for social media operators, despite fraudsters, harassers, and violent militants using social media to create injuries and damages,' Warner said. 'Our bill does not impede freedom of speech. It allows social media itself to take responsibility for the harmful criminal acts made possible by social media. That's it. '

The move to revise Section 230 has existed since the time of former President Trump. Former President Donald Trump argued that 'social media operators are selective censorship and violate freedom of speech,' and should be held as legally liable as newspapers and publishers. In May of the year, he signed an Executive Order, including a review of Section 230.

President Trump signs an executive order targeting social media for 'freedom of expression'-GIGAZINE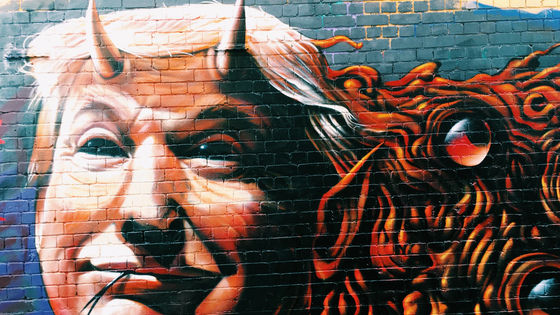 Meanwhile, at the hearing held in October 2020, Section 230 was on the agenda, with Google CEO Sundar Pichai, Facebook CEO Mark Zuckerberg, and Twitter CEO Jack Dorsey attending the invitation. Each CEO gave Section 230 the view that 'law is essential for freedom of expression on the Internet,' and 'Section 230 is necessary to balance freedom of speech with content moderation. '.

Facebook, Twitter, and Google CEOs attended 'Section 230' hearings that could undermine social media, what was discussed? --GIGAZINE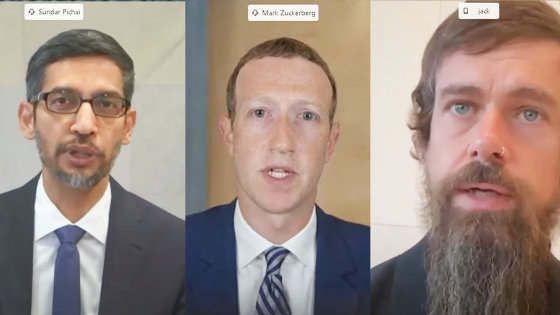 IT news media Mashable said, 'Taking the example of the crackdown on Rohingya on Facebook, we will be able to sue Facebook in an American court for the Rohingya slaughter.' It may sound great on paper, but the revision of Section 230 could have a disastrous impact on the Internet in the future, 'he said, skeptical of the revised bill in Section 230. I'm showing you.