Microsoft Store announces that 'PC game sales commission will be reduced from 30% to 12%', moving to break Steam's stronghold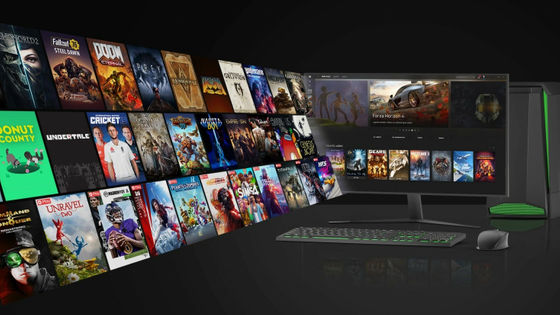 Microsoft has announced that it will reduce the sales commission imposed on game publishers from 30% to 12% for PC games sold in its own app store, the Microsoft Store.

Continuing Our PC Gaming Journey in 2021 and Beyond --Xbox Wire
https://news.xbox.com/en-us/2021/04/29/continuing-our-pc-gaming-journey-in-2021-and-beyond/

Empowering PC game creators with new tools, greater opportunity
https://www.linkedin.com/pulse/empowering-pc-game-creators-new-tools-greater-opportunity-sarah-bond/

Microsoft shakes up PC gaming by reducing Windows store cut to just 12 percent --The Verge
https://www.theverge.com/2021/4/29/22409285/microsoft-store-cut-windows-pc-games-12-percent

Matching Epic, Microsoft is slashing what it takes from developers to 12% | PC Gamer
https://www.pcgamer.com/microsoft-is-slashing-the-cut-it-takes-from-developers-by-18/

In an official blog, Matt Booty, director of Microsoft's Xbox Game Studios division, said, 'To provide all PC game creators with more opportunities to play, PC games in the Microsoft Store since August 1, 2021. We will increase the developer share of sales from the conventional 70% to 88% (= reduce the sales fee from 30% to 12%) '. This '12%' commission is equivalent to the sales commission that Epic Games claims is appropriate. However, this change is for 'PC games only' and does not apply to Xbox games sold on the Microsoft Store. The reason has not been clarified, but the fact that overseas news media are moving to expand the market by strategically lowering the hardware price of Xbox and the fact that it provides marketing etc. have an effect. I am analyzing that there is.

Booty argues that although Microsoft has been 'player-first' with games, the market has been divided into consoles, PCs, mobiles and platforms. However, with the emergence of many games that can be played across platforms today, he said he would extend his 'player-first' efforts to PC games and continue to invest in the entire PC game ecosystem. I did.

As part of this investment, Booty promised to 'improve the installation accuracy and download speed of PC games purchased from the Microsoft Store,' which said, 'Microsoft Store plans a major refurbishment of the Microsoft Store. It is reported that it is intended to improve the performance of the Microsoft Store after overhaul.

Microsoft is trying to renew the app store 'Microsoft Store' --GIGAZINE


by Microsoft Corporation

'In the last 18 months, Booty has released PC versions of Age of Empires II: Definitive Edition , Age of Empires III: Definitive Edition , Gears Tactics , Wasteland 3 , Minecraft Dungeons , Microsoft Flight Simulator, and more. Many of the titles sold more than Steam at the time of release, 'said rival Steam. Valve sets Steam sales commissions at 30%, 25% for sales of 10 to 50 million dollars (about 1.1 billion to 5.4 billion yen), and 20% for sales of 50 million dollars or more. , Emphasizes the benefits to game publishers of this revision of sales commissions.

Steam is the largest PC game sales platform, but most games do not reach $ 10 million in sales, so many game creators suffer from a high sales commission of 30%, and some sell. Voices are beginning to rise that the fees are 'unfair.' A April 2021 Game Developers Conference survey of game developers found that only 3% of developers believed the 30% sales commission was justified. I will.

'Our work on the entire PC ecosystem has the potential to unite to advance the industry and deliver great games to more gamers around the world,' Booty said. He emphasizes that he is aiming for the profit of the entire PC game market.