'Rurouni Kenshin Final Chapter The Final / The Beginning' Music Interview with Naoki Sato, supplementing works that transcend the boundaries of historical drama with appropriate music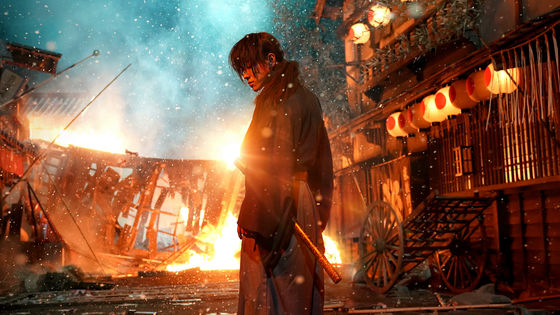 The latest work of the movie 'Rurouni Kenshin' series, which has been released since 2012, '
Rurouni Kenshin Final Chapter The Beginning
' is on sale from June 4, 2021 (Friday).
Naoki Sato,
a composer who is active in a wide range of fields such as 'ALWAYS Sanchome Sunset,' 'Kyojo,' and 'Symphonic Psalm Eureka Seven,' handles music throughout the series. This time, we asked him not only about gekitomo music but also about composition.
Movie 'Rurouni Kenshin Final Chapter The Final / The Beginning' Official Website
https://wwws.warnerbros.co.jp/rurouni-kenshin2020/
GIGAZINE (G):
Was the gekitomo music in 'Rurouni Kenshin' a method of making a song by watching the video and getting inspiration?
Music: Naoki Sato (hereinafter Sato):
I think it was a rather concrete meeting from the first shot, in which I actually met with Director Otomo and confirmed 'what kind of music should I put on' for each scene while watching the video. Since the series is already the 'final chapter', the world view of the movie 'Rurouni Kenshin' has been created. The rest is how to follow the music and how to inflate it, so we shared ideas with each other while looking at the pictures.
I listened to the explanation of the scene and the thoughts put into it from Director Otomo, and based on that, I came up with ideas and wrote songs, and when possible, I sent a demo sound source to the director. The director said 'OK' or got an additional idea 'Why don't you do this more?'
G:
Did you have a story like 'I want to do this because it's the' final chapter '?'
Sato:
Regarding 'The Final', I thought that I would like the audience to enjoy it to the fullest without breaking the world view of 'Rurouni Kenshin'. 'Let's enjoy the movie' Rurouni Kenshin 'as much as possible,' was a big thought. Of course, not only that, but the music was made so that the human depth of the character that came out each time could be enjoyed while giving depth and breadth to the music.
G:
We hear from not only Director Otomo but also the staff that the two 'Final Chapters' had a lot of trouble due to different times. How was the music in that respect?
Sato:
I had a lot of time to make it, so I didn't have a hard time, but ... Is there a part where the music doesn't trace the emotions of the 'front side'?
G:
What is music that does not trace the 'front side' of emotions?
Sato:
For example, in the action scene, 'fighting' is what you see as a picture, so I used to add music to supplement what the fighting people were thinking about when they were fighting. That may have been a difficult point.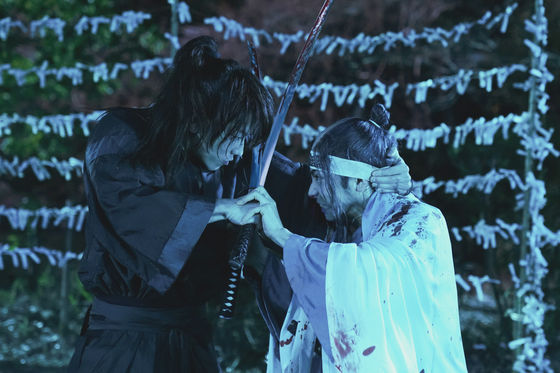 Of course, there are some parts that look better if you add music to the action you are fighting. However, on the other hand, there is also a place to attach to the emotions of the person who is taking action. The point is how to choose it. There is also a place where the main theme of 'Rurouni Kenshin' should flow comfortably, and I, Director Otomo, and the music selector really thought about what kind of music to choose in that scene. If you just adjust to the movement, the movie will be superficial. 'Rurouni Kenshin' is a movie that isn't just about action, and because it was shot by director Otomo, it's hard to think about what you think behind the action and why you're fighting. It was difficult whether music should play a role in exposing that feeling, or not.

G:
There are also places that match the flow that does not look like.

Sato:
I was careful not to be overwhelmed by the image of the original manga in order to match the direction that Director Otomo wanted to shoot and show. This is not limited to 'Rurouni Kenshin', but in the movie, there is a script, a video taken, and the director's thoughts, so I'm thinking of writing a song with that as a hint. If I strongly empathize with the original manga, I may be pulled there. Therefore, I was always conscious of what I should do to match the direction that Director Otomo wants to show.

G:
'Rurouni Kenshin' is a work set in the late Tokugawa period and the Meiji era, but the gekitomo music of this work is not Japanese music, but mainly stringed and wind instruments such as violin and cello, and I felt that it sounds like classical music.

Sato:
The use of orchestral instruments is a staple in modern historical drama. However, if I used a Japanese musical instrument because it was a work belonging to a 'historical drama,' in the case of this 'Rurouni Kenshin,' I felt that it wouldn't go beyond the frame, or that it would 'get together.' It's fine if it's a 'historical drama' work as a genre, but in 'Rurouni Kenshin', the appearance of the characters is fantasy, and it's a little different from the real thing. Even if you look at the costumes and visuals, there is a part of fiction that goes beyond the 'historical drama'. In that sense, it sounds like a 'historical drama,' but I thought I would supplement it with music that goes beyond that framework and is suitable for a world view.

G:
So that's it.

Sato:
As I mentioned in other interviews, for example, you can produce a tone similar to a Japanese instrument called Biwa with an instrument called 'Oud' in the Middle East. Iran's Santoor instrument produces a koto-like sound. I'm actively using such instruments that 'it sounds like a' Japanese 'instrument when matched to the picture, but the scale and sound are different.'

G:
What you hear and think is the sound of a koto is actually the sound of Santoor?

Sato:
Like the video production method that Director Otomo is doing, I want to aim for a fantasy feeling that seems to be a little out of Japan, so I am doing that kind of music production.

G:
By the way, how much time do you spend in composing in a day?

Sato:
Is it about 10 to 12 hours on average? Basically, it's like 'I'm writing a song when I'm awake.'

G:
Oh ...

Sato:
Since my workplace is inside my house, I wake up in the morning, and after 30 minutes, I'm at my workplace and continue writing songs ... I'll keep writing until I think it's good. It's not a job of 'what time it ends and let's drink alcohol from there', so I write songs until I go to bed. If I can't sleep, I may drink one or two glasses, but I basically spend my wake-up time composing.

Instead, I sometimes take a day off when I think 'I can't do it anymore' or 'I can't write today'. I'm not commuting to work, and I'm not being watched by my boss (laughs). You can take a break or keep writing.

G:
I hear that there are various cases when you write a song, such as when you get a flash of inspiration, or when you have no choice but to twist anything, but what about Mr. Sato?

Sato:
I'm the type who can't write for the rest of my life if I'm waiting for it to come down (laughs). Basically, it's a type of 'I can't write songs', and I have to squeeze it, so I sit at my desk all the time and look at the images I receive tens or hundreds of times to find out the music.

G:
What ...

Sato:
If you can find it, your finger will write the score, but of course you can't write even one note. I just keep going to my desk so I can write songs.

G:
Is there anything you are inputting to compose?

Sato:
If there is more output, the ideas will be exhausted, so I try to listen to both pop and classical music regardless of genre. It feels like 'wide and shallow'.

G:
Is there anything you can refer to as an image like this song?

Sato:
I don't really think 'referring to this song' from myself, but it's a form of outputting music with my filters applied to the video while inputting various music anyway. Maybe there is something that unknowingly affects me.

G:
In an interview project called 'Music to be listened to by a writer' by JASRAC, about the harmony and counterpoint learned during the music college era, 'Although it is useful for composition, such sounds are disturbed by the rule that you have to do this'. Sometimes, especially when I was young, I was hindered by the rules. Now I can write a lot freely, 'he said, but this' keep the pattern 'stage. Was there any specific reason for moving to the 'breaking the mold' stage?

Sato:
There is no such thing as 'this is the trigger', but as I write dozens, hundreds, and thousands of songs, 'my own music style' and 'my own music theory' ... the theory is exaggerated. , That kind of thing will be completed. At the same time, the experience of writing songs gives me confidence, and it is not always good music to follow the rules of so-called music theory, and writing music with my own good theory is me. I think it's becoming more and more understood that it will lead to a uniqueness.

G:
I myself have learned music, but the rules are so strict that I sometimes wondered 'how to compose ...'. Still, is there no choice but to continue composing?

Sato:
I think it is difficult to apply music theory to contemporary music as it is, as the 'counterpoint' that came out earlier was created from the Renaissance to Baroque music. But when it comes to studying music, we start with that theory. If children who don't know the rules of music learn it, they will think, 'That's what music is.'

G:
Okay.

Sato:
Actually, that's not the case with music today. Although I follow the rules taught at the beginning, I don't necessarily have to follow all the rules. Depending on the times and the circumstances at that time, there are times when you have to protect it, but there are times when you can break it. If you're too bound by the rules and lose sight of your freedom and fun, that's not very good. However, even if I don't say it, I think that all composers will do so as they gain more experience.

G:
In the same interview, Mr. Sato said, 'I think it's difficult to continue for another 10 years. I wish I could do it for about 7 years. When I was in my 20s, I thought I wouldn't be able to write interesting songs after I was 40 years old. I answered.

Sato:
That kind of thing (laughs). If that happens, how many years will I be able to continue?

G:
The interview is from 2014, so it's only 3 years until '10 years', just 'if you can do it for about 7 years'. How is it as a real feeling?

Sato:
3 more years ... I think we can still have 3 years! (Lol)

G:
(Lol)

Sato:
I'm 50 years old (at the time of the interview). Ten years ago, I might have felt that it would be tough when I turned 50, but when I turn 50, I think I can do a little more. And ... 5 years? Well, how about it? I used to think, 'When I get older, various ideas die and my musical sense shifts from the times.' But in reality, at least the ideas aren't exhausted. Rather, I felt that something like 'collaboration of video and music' that had been surprising until now was unleashed within me, and I finally started writing music freely.

G:
Oh!

Sato:
So, at least for now, I don't think I need to quit, I think I can write a little more. …… However, considering the matching with the times, is it impossible until the age of 60? (Lol)

G:
(Lol)

Sato:
I think it's about 5 years left. When I turn 55, I say 'about 3 more years' (laughs), but I feel like I'm not dull or weakened than I expected. So, let me do it for another 5 years.

G:
Thank you for talking a lot about the work and the composition!

'Rurouni Kenshin Final Chapter The Final / The Beginning' is showing a big hit. On June 20th, the birthday of Kenshin, director Keishi Ohtomo will give a stage greeting at the IMAX Laser Theater.

Movie 'Rurouni Kenshin Final Chapter The Beginning' This Notice Released on June 4th (Friday) [The Final Big Hit Screening] --YouTube

© 和月伸宏/ 集英社 ©2020 映画「るろうに剣心 最終章 The Final」製作委員会
© 和月伸宏/ 集英社 ©2020 映画「るろうに剣心 最終章 The Beginning」製作委員会