Interview with Shogo Sugiya [Human Plamo], the original author of 'Pompo-san, who loves movies,' who draws one book at a stretch from the series.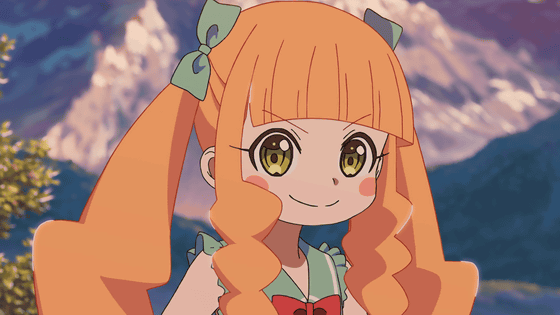 Theatrical animation 'Pompo-san, who loves movies
', which has been highly acclaimed since June 4, 2021 (Friday). The original is a popular manga posted on pixiv, directed by Takayuki Hirao of 'Sky Boundary Chapter 5 Contradiction Spiral' and 'Witch Girl Sisters Yoyo and Nene'. This time, I had the opportunity to talk to the original author,
Shogo Sugiya [Human Plamo]
, so I asked him various questions other than theatrical animation.
Theatrical anime 'Pompo-san, who loves movies' official website
https://pompo-the-cinephile.com/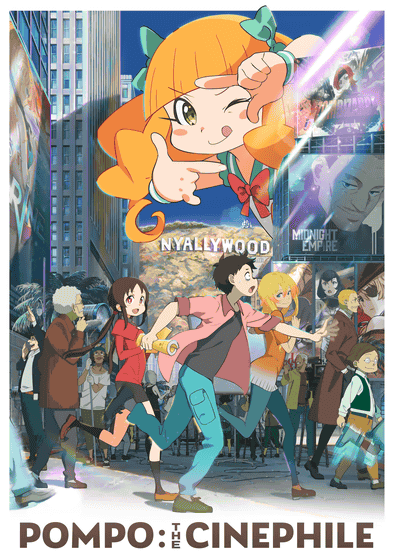 GIGAZINE (G):
An interview with Mr. Sugiya was published in WHAT's IN tokyo in December 2020. Among them, in response to the interviewer's remark that 'Pompo-san, who loves movies' was published on pixiv all at once and for free, 'I continued to be ignored by so-called commercial magazines, so I had to announce it online ( (Laughs) ', but was this an application for the award? Or did you bring it to the editorial department?

Original author, Shogo Sugiya [Human Plamo] (hereinafter, Sugiya):
This is not about 'Pompo-san', but I wanted to be a manga artist and sent 16-page and 32-page manga to various magazines, but all of them were missed in the award. At some stage, I realized that 'this is no good anymore' and started to post what I drew on the net.

G:
That was the background.

Sugiya:
In the editorial department, I don't know if there are 5 or 50 people, or how many people read it, but that's about it. However, there are many people who can read it on the internet, so even if it doesn't make money, I'm grateful for what I'm drawing.

G:
So that's it. In the same interview, he said, 'I always tell myself the themes of'don't listen too much to others' opinions'and'think for myself''. How did this idea come about? Is it an interview?

Sugiya:
I wonder ... I don't really listen to the teacher since I was a student ...

G:
(Lol)

Sugiya:
Since teachers study at school and come to school as they are, I have the image that they are on the side of teaching people without experiencing society.

G:
surely.

Sugiya:
Even when I heard the story of such a teacher, I had the feeling that it would not be very useful to society. I wonder if it came from such a place.

G:
Regarding 'Pompo-san, who loves movies', which became a theatrical animation, the same intention was sent out in this interview and a tweet at a later date, and he said, 'I didn't talk at all after the meeting.' Also, do you still not know the contents of the main story until the release?

About Anime Pompo pic.twitter.com/9bLXnP6T6X

— Shogo Sugiya (Mr. Pompo, who loves movies) (@pompothecinema) May 30, 2021


Sugiya:
I agree. I sent the finished product as data, but I thought it would be a little difficult to see it on a small screen of a PC. I was informed that there was a preview, but he said, 'A reporter will come to the preview, so I might be asked to talk to him.' He said, 'I don't want to go there.'

G:
So that's it.

Sugiya:
I'm also entrusted with the script and storyboards, so I really don't know anything. I'm thinking of going to see it with my friends on the day of the release.

G:
I think it's a very valuable experience as a creator to refrain from releasing your work as an anime movie, but is there any tension just before the release?

Sugiya:
I think it's the original author who sees the latest timing (laughs). Well ... This time, I really left the animation to the production side, so it may be a strange word, but it feels like 'animation is a work independent of the original'. That's why it's just a matter of 'going to see an anime movie that looks interesting'.

G:
Is it a feeling like 'By the way, this was the original one'?

Sugiya:
I agree

G:
So that's it. When did you start drawing manga in the first place?

Sugiya:
I started drawing when I was really small. I wonder if I was drawing from kindergarten. I've been drawing for a long time, and I started drawing seriously when I was about 18 years old when I went to a vocational school, and I started drawing seriously and posting it in magazines.

G:
Did you get serious about it?

Sugiya:
Originally, I was thinking, 'Let's become a manga artist in the future.' Anyway, I wasn't good at getting up in the morning since I was little, and I didn't like it. So, 'I definitely don't want to go to the company!'

G:
I see, that is connected (laughs)

Sugiya:
Anyway, I only wanted to get a job where I could control my time. Perhaps the intention of 'never becoming an office worker' was stronger than 'becoming a manga artist.'

G:
(Lol)

Sugiya:
I still got up before 20:00 to get an interview. Anyway, I can't get up in the daytime, so I went to bed early and forcibly got up.

G:
Do you usually get up later?

Sugiya:
Yes, so I was grateful for the interview at 22:00 or 23:00 (laughs)

G:
I don't know that (laughs). I'm sorry, I should have made it slower. However, there was such a background ... You said that you currently belong to the production good book that handles animation production. What made you belong to the animation production company?

Sugiya:
When I was posting a manga on the net, I saw it, people who were thinking of starting an animation company from now on, those who are currently managing directors of Good Book liked it and said 'I want to animate this' I was asked, 'Why don't you meet me once?'

G:
Oh.

Sugiya:
I was talking about creating an anime company, so I thought I was from Tokyo, but it was about 30 minutes by train from where I live.

G:
Close (laughs)

Sugiya:
It was a story that it was insanely close, and I met there, and I was invited to 'I'm going to start an animation company, but Sugiya-kun will also participate?' At first, that person was talking about becoming an original man, but he refused, 'I only draw manga,' and four to five years later, I drew 'Pompo-san,' and now I'm like this. It means that you are in a situation.

G:
I see, that was the flow. In the 'Pompo-san' manga, three favorite movies are set for each character, and I thought that the characters were easy to understand and effective. Mr. Sugiya himself said, ' Theatrical version Aikatsu! '' Aikatsu! Music Awards Everyone has received an award SHOW! ] ' Theatrical version Aikatsu Stars! ], But what kind of things do you like other than these three?

Sugiya:
When asked, 'Aikatsu! (Laughs), but that alone wouldn't be an article ...

G:
I'm sorry (laughs)

Sugiya:
However, since I have given each character my other favorite movies, they will be the same.

G:
That means that the movies that Mr. Sugiya actually saw and liked were listed.

Sugiya:
At the very least, I'm tied up with the movie I watched once. If I dare to mention it, I would say ' session ', ' taxi driver ', and ' fight club ' ...

G:
Those three are certainly interesting. Jean's favorite movies are ' Sting ', 'Taxi Driver', and 'Fight Club', and these three movies were featured in the middle column and mentioned at the end of the book, and he says he likes them. I think that there is a part that makes sense when you read the work on the premise.

Sugiya:
'Sting' isn't originally a movie that Jean puts in the top three. Actually, I wanted to make it more antisocial ' Easy Rider ', but at that point it seems that I'm not a movie lover but just an antisocial character, so here is 'Sting' which is exciting as a movie I feel like I did.

G:
So here is 'Sting'.

Sugiya:
Therefore, I think that the image is slightly different.

G:
How was your first impression when you saw the three works that Jean liked?

Sugiya:
'Sting' has been completely taken care of by the Good Book, so it's relatively recent. I have the impression that it is a very well-made movie. I wondered if the origin of such trick-prepared gambling such as 'Kaiji' and 'Akagi' is here. I saw 'taxi driver' when I was a student. At that time, I usually watched it as an action movie, not 'How about the social problem' or 'How about the youth's worries'. Therefore, the main character bought a gun and attached it to his arm in the same way as the armed scene of 'Rambo 2'.

G:
I see (laughs)

Sugiya:
'Fight Club' has been around since I became an adult. The two leading men are simply cool. And the underground martial arts are boys' dreams (laughs)

G:
It's a burning development (laughs). By the way, in ' Pompo-san 2 ', the three favorite movies of production assistant Jose are ' Hidden ', ' John Carpenter's ', and ' Unknown object from the blob space ', so I wondered what the lineup was ...

Sugiya:
I wonder what it is (laughs). Pompo-san likes B-class movies, but there weren't many B-class movies in his 'favorite movies,' so I decided to throw them all in here (laughs). I have the impression that I used to do it every week at the 'Friday Road Show', whether it was the end of the Showa era or the beginning of the Heisei era.

G:
That's why (laughs). Certainly, I remember seeing it because I was doing it on TV all the time.

Sugiya:
It feels like it's neither a poison nor a medicine.

G:
Mr. Sugiya mentioned 'Ashita no Joe 2 ' as the best part 2 movie. What was the best part 2 movie you saw?

Sugiya:
A movie that was good in Part 2 ... Part 2 is generally interesting, isn't it?

G:
That kind of story came out even in the main story (laugh)

Sugiya:
' Alien 2 ' was really interesting, ' Die Hard 2 ' was also good ... and I love 'The Godfather PARTII'.

G:
Regarding the Part 2 movie, you mentioned that 'popularity is important' in the film, but did you notice this kind of thing while watching the movie?

Sugiya:
The first thing I noticed was 'Rambo's Escape from Anger'. The first work, ' Rambo, ' is very social and depicts the irresistible and uncomfortable feelings of humans returning from Vietnam, but the second work is just an action that blows away everything. It has become.

G:
Certainly (laughs)

Sugiya:
Also, ' Lethal Weapon 2 Flame Promise ' is about that.

G:
'Lethal Weapon'! surely!

Sugiya:
When I was watching Part 2 of American action movies from the 80's to 90's around that time, I thought, 'Part 2 shows more action than drawing humans.'

G:
So that's it. It was because I actually saw it that way that it was a real-life exchange. This time, a comic drawn by Mr. Sugiya is being distributed as a bonus for visitors. It is said that this is 'I drew it after Pompo 3 so it is really the last Pompo', but when did the benefits be decided?

My manga will be distributed as a bonus for visitors to the movie Pompo

It's the last Pompo-san because it was drawn after Pompo-san 3.

It's a privilege, but it's not a lukewarm chopstick rest, but a serious and readable story.

If you can't get Pompo at the nearest movie theater ... Please excuse me.

https://t.co/44aEcQTjvn

— Shogo Sugiya (Mr. Pompo, who loves movies) (@pompothecinema) June 1, 2021


Sugiya:
The release was postponed once, but it was before the announcement. At the request of the production side, in addition to working at an animation production company at that time, I was writing 'Movie Love Pompo-san the Omnibus ' and ' Pompo-san 3 ', so I was in a situation like 'Can I draw !?' Fortunately, the release was postponed.

G:
I felt like I was done with 'Pompo-san 3', but what does it mean to 'connect firmly to the main story' ...?

Sugiya:
How to connect ... I have no choice but to read it (laughs). As an image, I think that some people come to see the movie without reading the original, so when they read it, it is a manga that you can understand that 'this leads to the movie'. Not only can you read it before watching the movie, but it is also a story that is completely connected to 'Pompo-san 3'.

G:
I can't predict what the content will be like just this story, so I have to read the real thing (laughs). I would like to ask you about writing manga again. How do you feel about drawing manga, whether you spend a lot of time, or if you follow the flow and it goes smoothly?

Sugiya:
There are very few people who suddenly publish comics without serialization. That's what Masamune Shirow used to do in the past ... So I think he's drawing in a rather strange way.

G:
Do you think that serialization is tough?

Sugiya:
How about ... It's connected to the story that posting in a magazine didn't work at all, but I think I wasn't very good at drawing in the 'magazine posting size' on pages 16 and 32. In the end, I think it was 136 pages that I became a professional in 'Pompo-san', and when I drew it all at once, people recognized me, so I was good at drawing comic sizes at once. I was wondering if it was a distance.

G:
Is 'Pompo-san' written by one person?

Sugiya:
Yes, there is no assistant.

G:
It's amazing ...! Is page 136 of the first 'Pompo-san' drawn all at once? Or did you schedule it to some extent?

Sugiya:
I work for an animation company and have various jobs, so I sewed the gaps and drew them.

G:
Is it an image that you draw between the time you finish work and the time you go to bed?

Sugiya:
No, I will do my best when the work comes, so I will draw 'Pompo-san' until the next work comes, and when the work comes again, I will do that and draw 'Pompo-san' in the gap where it is over. It's a feeling.

G:
The work was posted on pixiv, but how did you feel when you uploaded it?

Sugiya:
It was difficult to complete it so that I wouldn't lose my feelings, so the first thing I said was 'I'm glad I completed it.' The upload to pixiv itself was nothing more than 'completed' because the manga had been released before that.

G:
At the end of 'Pompo-san' and on Twitter, it was written that there were talks from various publishers, but how much talk do you have?

Sugiya:
I know about 15 cases. All the talk is devoted to the managing director, so I'm sure there were many more talks at the managing director.

G:
How did you set the theme for your work?

Sugiya:
After all, 6 volumes of 'Pompo-san' were released, but I'm doing it completely as I like.

G:
How (laughs)

Sugiya:
When the editor asked me to draw another book, I drew a 160-page name by myself and sent it to me without consulting with the person in charge, and said, 'I will draw with this.'

G:
It's a great strong style (laughs)

Sugiya:
Otherwise, I feel like I can't draw something interesting.

G:
I was wondering how to make the name, but when I made it all at once and sent it, I had never heard of it (laughs). By the way, is there any reason for the stance of 'not being involved in anime at all'?

Sugiya:
When I saw a work in which the original author and the anime staff were talking about 'making good things' together, it wasn't 'totally boring', but it was always 'I've seen it somewhere.' It was a story like that. I felt that making a story together means making about 85 such things.

G:
Ah ... Certainly, in the case of manga, the author himself comes to the fore, but in animation, it may be because it is a collective work.

Sugiya:
The recent 'Star Wars' has been around 85 points, and it feels like 'Is that okay ...'. I think it's okay to get either 0 or 200 points.

G:
I want you to shake it off (laughs). I want everyone to enjoy it. Thank you for talking with us today.

In addition, Mr. Sugiya's impression of actually seeing the work is the following tweet.

It is the impression of Pompo the movie pic.twitter.com/1UdrXEhaKU

— Shogo Sugiya (Mr. Pompo, who loves movies) (@pompothecinema) June 5, 2021


Theatrical animation 'Pompo-san, who loves movies' is being released with great acclaim, including screenings with sub-audio commentary.

Pompo-san is here ~~~! !! !! !! #Pompo, who loves movies , is now open to the public ✨
Commentary screening is also underway ???? ️

Click here for a list of screening theaters → https://t.co/V0OfWI9dYQ # Pompo-san pic.twitter.com/RMvT826yZ1

— [Theatrical release! ] 'Movie Love Pompo-san' Official (@pomposan) June 18, 2021


By the way, about the privilege booklet mentioned in the interview, revival distribution will be done when the screening theater is expanded from July 2 (Friday). Please take this opportunity to get it. The additional theaters are as follows, with the first part being distributed in the first week and the second part being distributed in the second week.

Hokkaido Dinos Cinemas Asahikawa: July 2nd (Friday) ~
Hokkaido Dinos Cinemas Tomakomai: July 2nd (Friday) ~
Hokkaido Dinos Cinemas Muroran: July 2nd (Friday) ~
Aomori Prefecture Forum Hachinohe: July 16th (Friday) ~
Iwate Prefecture Forum Morioka: July 16th (Friday) ~
Yamagata Prefecture FORUM Higashine: July 16th (Friday) ~
Tokyo, United Cinema Aqua City Odaiba: July 23 (Friday) ~
Kanagawa Prefecture Odawara Corona Cinema World: July 22 (Thursday) ~
Tochigi Prefecture Oyama Cinema Roble: July 2nd (Friday) ~
Utsunomiya Hikariza, Tochigi Prefecture: From Friday, July 23
Tochigi Prefecture Forum Nasushiobara: July 16th (Friday) ~
Nagano Prefecture Eye City Cinema: July 2nd (Friday) ~
Nakagawa Corona Cinema World, Aichi Prefecture: July 9th (Friday) ~
Shizuoka Prefecture Cinema Sunshine Numazu: July 9th (Friday) ~
Ishikawa Prefecture Cinema Sunshine Kahoku: July 22 (Thursday) ~
Fukui Prefecture / Fukui Corona Cinema World: July 22nd (Thursday) ~
Demachiza, Kyoto Prefecture: From Friday, July 2nd
Hyogo Prefecture Toyooka Theater: July 16th (Friday) ~
Nara Prefecture United Cinema Kashihara: July 22 (Thursday) ~
Hiroshima Prefecture Cinema Mode: July 30th (Friday) ~
Shimane Prefecture, T. Joy Izumo: July 9th (Friday) ~
Yamaguchi Prefecture Cinema Sunshine Shimonoseki: July 22 (Thursday) ~
Nagasaki Prefecture Sasebo Cinema Box Sun: July 22 (Thursday) ~
Miyazaki Kinemakan, Miyazaki Prefecture: From Friday, July 16th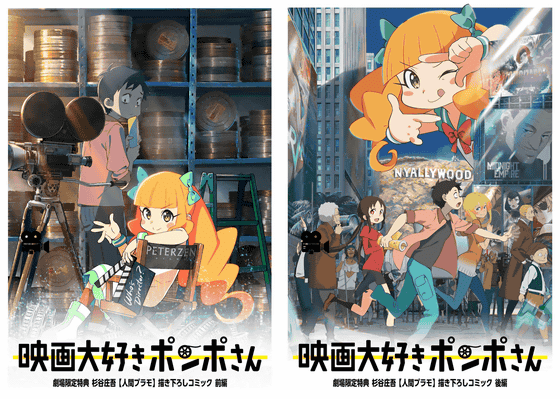 ©2020 杉谷庄吾【人間プラモ】/KADOKAWA/映画大好きポンポさん製作委員会