Cloudflare criticizes AWS transfer charges for being exorbitantly high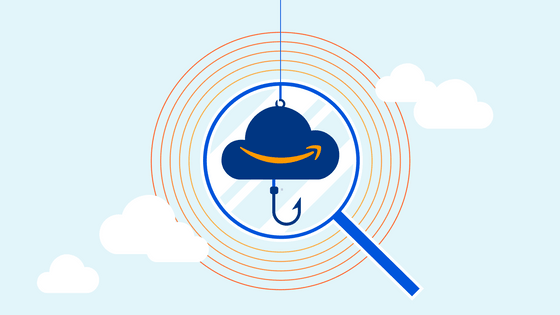 On July 23, 2021, Cloudflare posted an article on its official blog criticizing
Amazon Web Services (AWS) for unusually high downlink (eggress) charges.
AWS's Egregious Egress
https://blog.cloudflare.com/aws-egregious-egress/
Cloudflare slams AWS egress fees to convince web giant to join its discount data club • The Register
https://www.theregister.com/2021/07/24/cloudflare_aws_egress_fees/
Cloudflare Calls Out Amazon Web Services On Its Pricing, Says The Company Keeps It Artificially Inflated
https://www.moneycontrol.com/news/technology/cloudflare-calls-out-amazon-web-services-on-its-pricing-says-the-company-keeps-it-artificially-inflated-7217641.html
Matthew Prince, CEO July 23 of Cloudflare, pricing of 'AWS of bandwidth on Twitter has been crazy. In addition, customers
peering
because not a discount when sending traffic to a network that is is, Only AWS in the industry. '
AWS's bandwidth pricing is bonkers. And they stand alone in the industry not discounting when their customers send traffic to peered networks. Https://t.co/ONbJbukpYn

— Matthew Prince ???? (@eastdakota) July 23, 2021


Prince also noted in an official blog that AWS charges its customers for data capacity, while AWS itself only pays for bandwidth. On top of that, ' Transit prices in the industry have fallen by an average of 23% annually, down 93% over the last decade, but AWS's egress rates have fallen by only 25% over the same period. 'No,' he said, criticizing AWS for setting different pricing for customer billing and cost-bearing, and forcing the difference to make a profit.

Below is a table of the differences between AWS charges and operating costs calculated using the AWS Simple Monthly Calculator. For example, assuming a usage rate of 20%, the Tokyo region of Japan charges $ 116.63 for a 1TB capacity, resulting in a charge of $ 8.07 per Mbps. Is assumed. On the other hand, the regional cost per Mbps is only 0.5 dollars (about 55 yen). The raw data for this table can be obtained from this link.




Due to the difference between these charges and operating costs, AWS charges customers 17 times the operating costs in the Tokyo region and 80 times the operating costs in North America and the EU.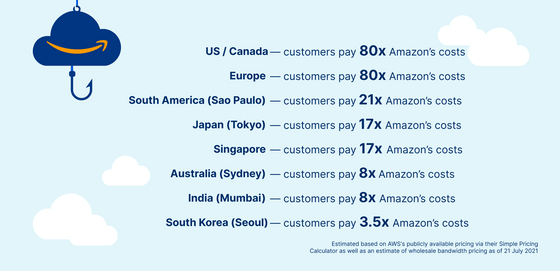 From this result, Prince CEO said, 'A reasonable reason for AWS to set such an egress fee is to keep customers in their cloud. That's exactly what AWS claims to be customer-first. Probably. '

On the other hand, the IT news site The Register said, 'At least the face value egress fee is $ 0.11 (about 12 yen) per 1 GB of Google Cloud Platform, $ 0.0875 (about 9 yen) of Microsoft Azure, and $ 0.09 in AWS. It seems that there is not much difference with (about 10 yen). The difference between Google Cloud Platform or Microsoft Azure and AWS is 'whether or not there is an egress fee discount for customers who use Cloudflare together'. In other words, Cloudflare is AWS. Maybe it's sticking to AWS in the hope that it will get along with you. '