Interview with Cho Kyung-hun, director of the movie 'Beauty Water,' which says, 'It's a horror movie that makes you feel uncomfortable after watching it.'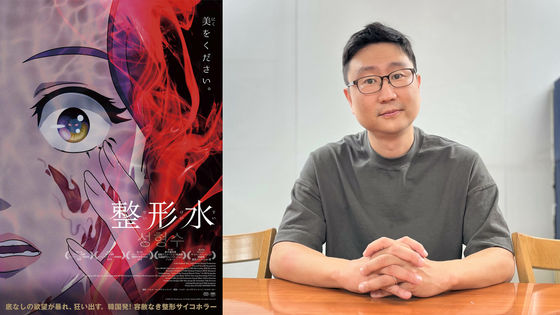 Anyone got the 'miracle of the shaped water' that can become beautiful, open to the public from drawing the figure of the woman going obsessed with beauty animated movie 'shaping water' is 2021 September 23 (Thursday). We interviewed director Kyeong-hun Jo about this work, which depicts the darkness of modern society, such as lookism, which evaluates people with their ugliness in appearance, and slander on the Internet, which is a worldwide problem.

Movie 'Beauty Water' Official Website

https://seikeisui.jp/
GIGAZINE (G):
Please briefly tell us how you took over as the director.
Director Cho Kyung Hoon:
Originally, the co-production company SS Animent had signed a contract with the original author in an attempt to turn the original 'Strangely Mysterious' into an omnibus horror TV series. Around that time, the popularity of 'Beauty Water', one of the 'Tales of the Unusual', increased in China, so there was talk of making a feature-length anime by separating only 'Beauty Water' instead of the entire 'Tales of the Unusual'. I did. Around this time, I also asked Studio Animal, to which I belong, to outsource. However, the Chinese company withdrew from the investment, and the production was to be done in South Korea, and Studio Animal also decided to invest as a joint production. So I joined the production as a co-producer, but the withdrawal of the Chinese company prevented me from collecting production costs, and in South Korea I could not find a director who worked on horror and thriller animation, so I have been without a director for a long time. Was there. So, with the support of the producer, I decided to take over as the director.
G:
What ...
Director Cho Kyung Hoon:
I myself have been involved in the work from the beginning of the production, I am also a horror movie enthusiast (laugh), and I had respect for the original, so I said, 'I will do it.' With the help of SS Animent, I decided to make a movie for the first time in 20 years, but this is my first experience with a feature film.
The main character is a make-up artist Yeji who has a complex appearance.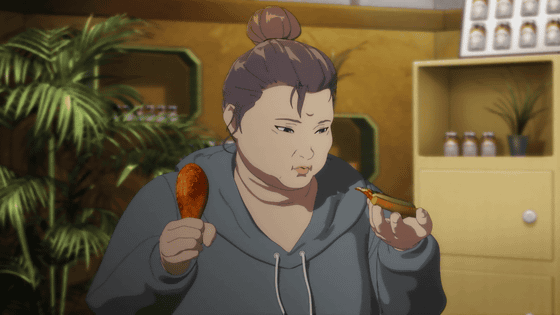 Yeji, who got the topic 'Shaping Water' and got the perfect beauty, enjoys a new life as 'Sole'.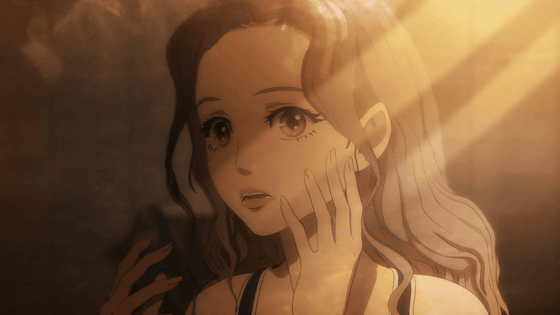 G:
What kind of horror movie does the director like?

Director Cho Kyung Hoon:
I watch horror movies almost entirely. I love works that leave me feeling unpleasant after seeing them.

G:
(smile)

Director Cho Kyung Hoon:
Recent and it is the work '
to the ready tally / inheritance
' and '
mid-summer
', if the past work '
Santa Sangre / holy blood
I like, such as'. I like works that are a mixture of realism and fantasy fantasy.
G:
Does the 'unpleasant feeling' that remains after watching is 'unpleasant feeling'? Or does it feel like a mystery remains and makes you feel uncomfortable?
Director Cho Kyung Hoon:
Well ... I think 'mystery' and 'horror' are completely different things. I think that horror movies thoroughly observe the appearance of us living in the present age and portray what we are. It draws out and describes the essential dirty parts, cruel parts, and negative parts of human beings, and faces us. So, the more you feel uncomfortable when you finish watching, and the greater the impression you have left, the more vividly you feel that you are alive, and you cannot look back on your life and way of life. I wonder.
G:
Oh, I see.
Director Cho Kyung Hoon:
When you finish watching a work that has a strong horror element and a lot of negative parts, I think that such unpleasant feelings will unknowingly remain like a lump. That's why I think it's a good horror movie to feel uncomfortable and unpleasant after watching it. This 'shaping water' was also made with the desire to incorporate such elements.
What does 'miracle shaping water' bring to Yeji (Sole)?


G:
According to the materials, the director's animation production career began when he studied an animation course at the Hankyoreh Cultural Center and made a short animation, but what made him want to learn animation in the first place? Did you?

Director Cho Kyung Hoon:
Actually, when I was a student, I loved games until I was in high school, and I lived only playing games (laughs). When I was in my second year of high school, I saw the Disney movie 'Mermaid Princess' that changed me.

G:
method.

Director Cho Kyung Hoon:
It was so funny and shocking that I became absorbed in anime. After that, I saw a lot of anime made in Japan from the 1980s to the 1990s. It was an era when Japan developed economically and had a rich culture. When I saw a work called 'masterpiece', I realized that 'animation is so attractive and magnificent', and I started to want to make anime myself.

G:
That's why the director commented, 'I'm honored to be released in Japan, the best animation powerhouse.' This time, 'Shaping Water' is produced in 3D, but is there any part that requires an expression that cannot be done in 2D?

Director Cho Kyung Hoon:
Although there is a budget problem (laughs), there are few characters in this work, and considering the fantasy appearance and the action as an animation, I thought that 3D would be easier to do. Also, if you do it in 2D, it will be a limited animation like Japanese animation, but if you feel uncomfortable, cramped, or anxious as a horror work, 3D is better than 2D. There was also the idea that the smooth movement and realistic atmosphere of the would be suitable. Even in Japan, animation production company orange and others are making 3D animation, so we tried to try it, but it was the first time for us, so it was a lot of trial and error.

G:
I feel that the Korean film industry is at a very high level. Do you feel that there is any reason or cause in the industry?

Director Cho Kyung Hoon:
I'm glad that Japanese people say that the level of movies is high, but from my point of view, the level of Japanese animation is also very high. In other words, it seems that they are just overestimated because they are looking at only the good ones (laughs).

G:
(smile)

Director Cho Kyung Hoon:
But I think it's true that the Korean film industry has some good points. The point is that there is a movement to reflect the energy of creators and creators in movies as they are.

G:
Oh.

Director Cho Kyung Hoon:
I think there are many works that reflect the creator's essential 'want to make' rather than 'let's make it because the world wants this kind of thing'. To that end, creators have fought fierce battles with the world's capital and sometimes with the government. In that process, I think that the passion to stick to what we want to make and let the audience see what we have made has been effective and has become a great force.

G:
So that's it. The original 'Beauty Water' in this work is about 10 episodes, but did you have any difficulty in making it into a movie?

Director Cho Kyung Hoon:
Rather, when I saw the original, I thought it was the perfect amount to make into a movie. There is a core motif, and the development of the case is likely to be about 90 minutes to 110 minutes, which is the scale of the movie. If you make use of the skeleton and flesh it out, you can improve the degree of perfection, so it was a really good amount. The scenario was written immediately, and the storyboard was completed quickly.

G:
Oh, the production itself was going well.

Director Cho Kyung Hoon:
The hard part was the drawing work. When I tried to start drawing, there was a limit to my budget, and it was difficult because I couldn't collect any more production costs. As a director, I have a goal and standard of 'I want to shoot here', but it was a pity that I had to give up because of the restrictions. It was also difficult to replenish the staff due to various reasons.

G:
The work has been completed successfully in this way, so I hope that the passion will be received at the movie theater. Thank you for talking with us today.

The movie 'Beauty Water' has been released since September 23, 2021 (Thursday).

Movie 'Beauty Water' book notice released on 9/23 (Thursday / holiday) --YouTube

©2020 SS Animent Inc. & Studio Animal &SBA. All rights reserved.