GM announces new driving support system 'Ultra Cruise', enabling hands-free autonomous driving in 95% of driving scenarios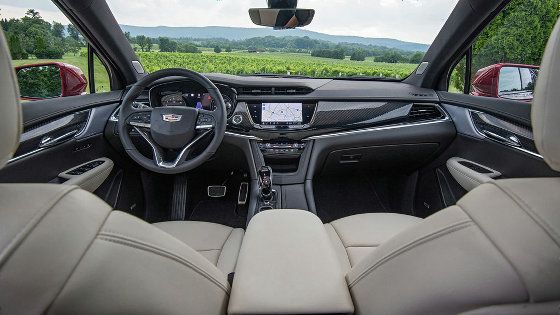 by
Automotive Rhythms
Automaker General Motors (GM) announced a new driving assistance system, the
Ultra Cruise
, at an investor conference held on October 6, 2021. Ultra Cruise will enable hands-free autonomous driving in '95% of driving scenarios' on paved roads of more than 2 million miles (about 3.2 million kilometers) including urban areas.
GM Announces Ultra Cruise, Enabling True Hands-Free Driving Across 95 Percent of Driving Scenarios | General Motors Company
https://investor.gm.com/news-releases/news-release-details/gm-announces-ultra-cruise-enabling-true-hands-free-driving
GM claims Ultra Cruise will go hands-free in 95% of scenarios, due in 2023
https://www.greencarreports.com/news/1133797_gm-claims-ultra-cruise-will-go-hands-free-in-95-of-scenarios-due-in-2023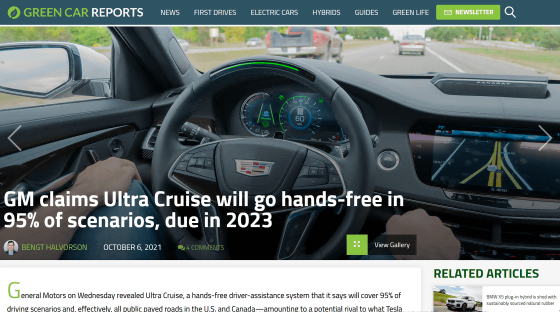 GM Announces Ultra Cruise
https://gmauthority.com/blog/2021/10/gm-announces-ultra-cruise/
GM reveals Ultra Cruise'hands-free' system that covers '95 percent' of driving scenarios --The Verge
https://www.theverge.com/2021/10/6/22712566/gm-ultra-cruise-adas-hands-free-driving
GM'Ultra Cruise' Hands-Free Driver Assistance System --Consumer Reports
https://www.consumerreports.org/driver-assistance-systems/gm-ultra-cruise-hands-free-driver-assistance-system-a4904409015/
In 2017, GM introduced the driving support system 'Super Cruise' to some Cadillac brand models. Super Cruise is a system that enables hands-free autonomous driving on some highways by using maps, GPS data, and
road mapping data by LIDAR sensors that measure the terrain using lasers.
Cadillac launches a new model equipped with the driving support system 'Super Cruise' to chase the existing semi-automatic driving vehicle --GIGAZINE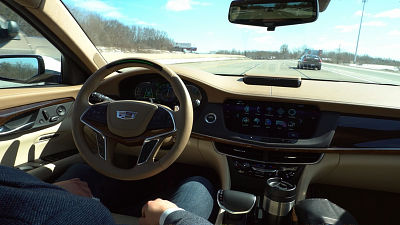 The newly announced Ultra Cruise is a driving support system that is a further evolution of the existing Super Cruise. Ultra Cruise uses sensors such as cameras, radar, and LIDAR to control various driving operations such as vehicle steering, speed adjustment, and braking.
The existing super cruise is limited to 200,000 miles (about 320,000 kilometers) of highways in North America, but the ultra cruise has expanded the available range to 200 including urban areas other than highways. It will operate on 10,000 miles of North American paved roads, and GM claims to offer hands-free autonomous driving in 95% of driving scenarios.
In addition, Ultra Cruise has the potential to extend its reach to more than 3.4 million miles (about 5.5 million kilometers). GM Chief Engineer Jason Dittman said of Ultra Cruise, 'Drivers will be able to travel hands-free on almost any paved road, including urban areas, fragmented roads and rural paved roads.' Stated.
According to Ditman, it can support various driving operations such as maintaining the distance between vehicles, tracking routes according to the speed limit, changing lanes, turning left and right, avoiding nearby objects, and parking on private roads of houses. On the other hand, in
complex road conditions such as roundabouts
, the driver needs to control it, so lights and tactile feedback encourage the driver to operate it.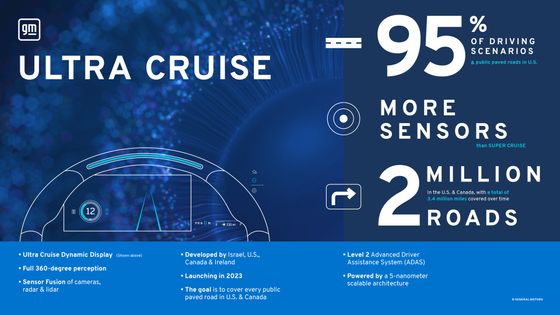 In a monthly Consumer Report reporting on product and service comparisons, a GM spokeswoman said, 'Ultracruise operates on essentially the same type of sensor as Supercruise, but behind the windshield. There are 70% more sensors, including LIDAR integrated into. ' Ultra Cruise uses sensor suites such as LIDAR and cameras to perceive the 360-degree environment surrounding the car in 3D.

'We believe that the combination of different sensors will lead to the most robust hands-free driver assist system for our customers,' said Doug Parks, GM's Vice President of Global Product Development. GM's policy of making autonomous driving systems robust by increasing the number of sensors such as LIDAR is in contrast to Tesla, which aims for an autonomous driving system with pure camera vision without using LIDAR.

Another major difference between Tesla and GM is the 'driver monitoring system' when using a driver assistance system. Tesla monitors the driver's condition by the weight on the steering wheel, but research has shown that it is easier for the driver to trick the load detection system and that he is more likely to look aside. On the other hand, GM has introduced a mechanism that uses infrared rays to detect the driver's line of sight and warn when it finds a tendency to distract, and Consumer Reports highly evaluates GM in terms of safety.

How much does inattentive driving increase when Tesla's 'autopilot' is turned on? --GIGAZINE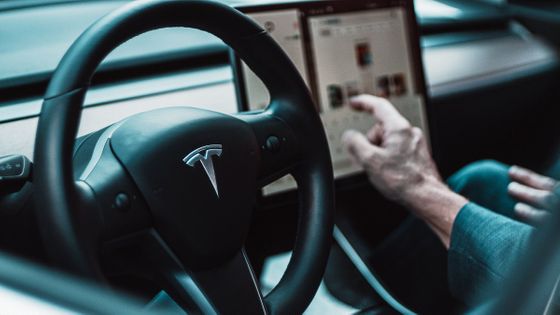 Ultra Cruises will be available on high-end Cadillac brand vehicles starting in 2023. On the other hand, existing Supercruise will also 'coexist' with Ultracruise, and by 2023, 22 models will be equipped with Supercruise. Foreign media say that while Ultracruise will be an option available in luxury cars, Supercruise will be available in cheaper cars.

At the Investor Conference, GM called UltraCruise 'an advanced level 2 advanced driver assistance system with valuable subscription opportunities' and showed the potential to offer UltraCruise through subscriptions. .. Healso suggested that the electric vehicle jointly developed with Honda and Acura could be equipped with Supercruise, but he did not mention whether this would extend to Ultracruise.