Summary of Apple events where ultra-high performance next-generation Apple Silicon 'M1 Pro & M1 Max' and new MacBook Pro were announced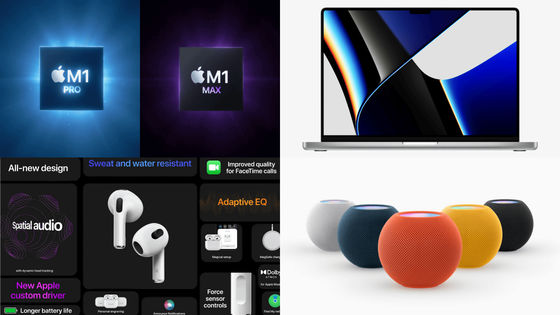 From 2:00 on October 19, 2021 (Tuesday), Japan time, Apple delivered a new product announcement event. At the event, along with the new colors of the HomePod mini and the 3rd generation AirPods , the M1 Pro & M1 Max , which is a higher-performance Apple Silicon for professional use, and the new MacBook Pro equipped with these are announced.

Apple Events-Apple (Japan)
https://www.apple.com/jp/apple-events/

Apple Event — October 18 --YouTube


The first movie to be distributed was a movie that mixes various 'sounds' produced by Apple, which boasts a history of 45 years, to create a single piece of music.

Start Up IA song made from 45 years of Apple sounds I Apple --YouTube


So, Apple's announcement will focus on two things: music and Mac.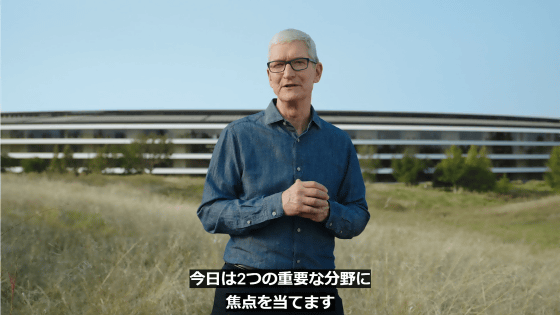 Start by further evolving your Apple Music experience.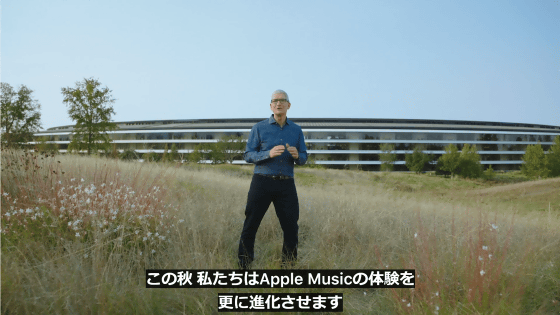 Apple Music works with voice recognition assistant Siri to provide an easy and enjoyable music experience.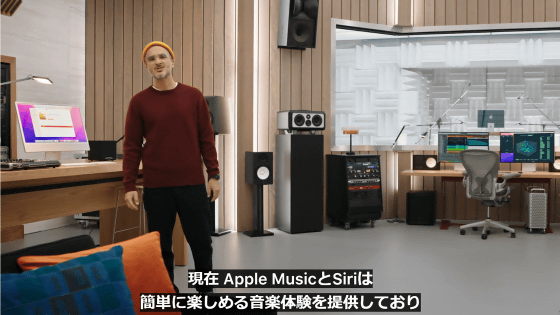 However, in addition to playing your own playlists, you may want to find the right music for each situation.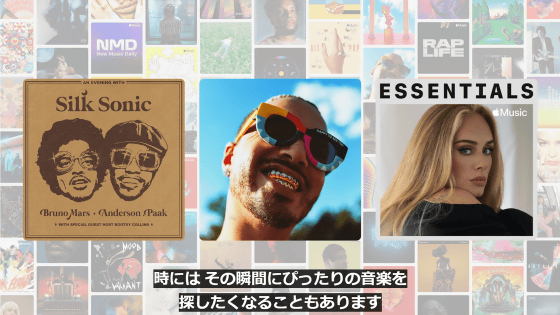 So Apple officially created new playlists for different moods and activities.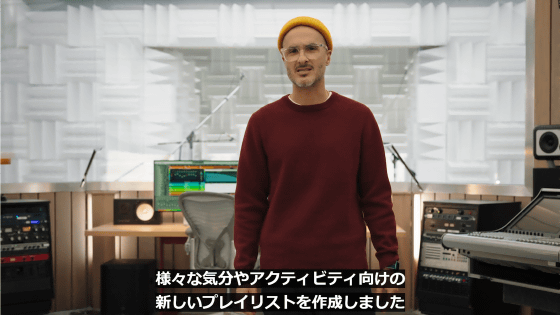 In addition, you can ask Siri to play playlists for each situation.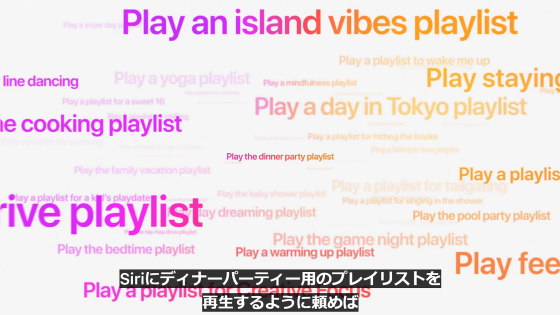 Along with this, a new subscription plan 'Voice Plan' was announced to encourage more people to use Apple Music. Voice Plan combines user voice instructions with Siri to make all Apple Music songs and playlist stations available on all Apple devices.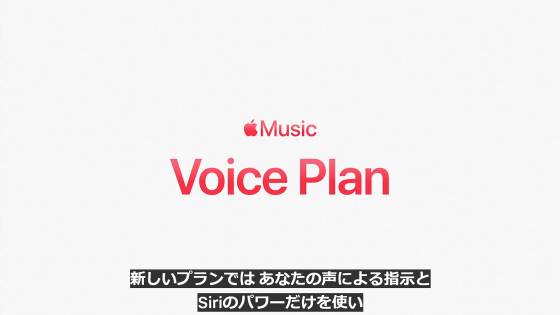 The price is $ 4.99 a month (about 570 yen).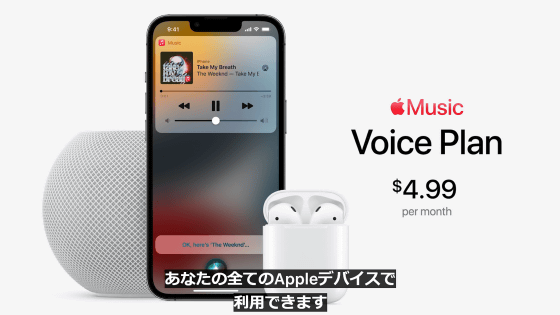 The service is scheduled to be provided in Japan as well, and the service is scheduled to start in the latter half of autumn.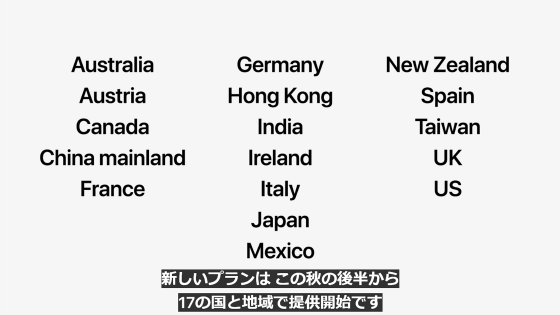 In addition to the previous individual plans and family plans ...



Voice Plan will be added. If you check the details of the plan, Voice Plan does not support spatial audio or lossless audio, and it can be used only on Apple terminals, so it seems that you can enjoy Apple Music at a lower price than other plans. In the case of the regular plan, you can also access Apple Music from the browser of your Windows PC and play it.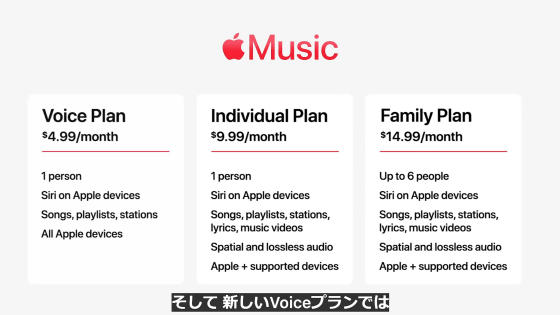 ・ October 19, 2021 02:18
Apple's smart speaker 'HomePod mini' has a new color-GIGAZINE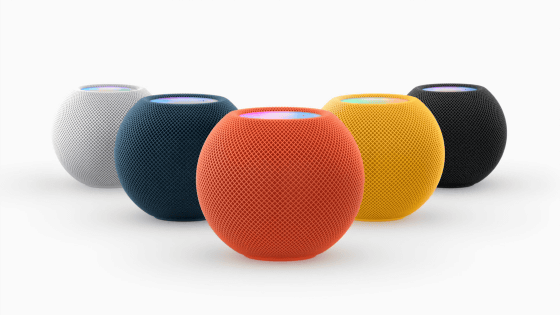 ・ October 19, 2021 02:20
New model of Apple's wireless earphone 'AirPods' has appeared, reborn with spatial audio support & new design --GIGAZINE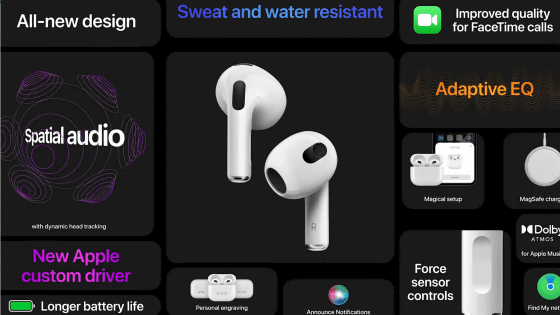 ・ October 19, 2021 02:22
Next-generation Apple Silicon 'M1 Pro & M1 Max' announced to evolve Mac into high-performance terminal for professionals --GIGAZINE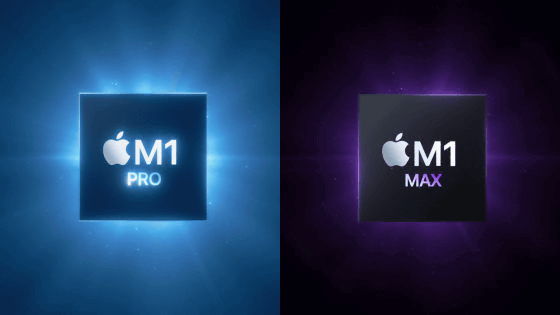 ・ October 19, 2021 02:38
Apple announces 'MacBook Pro' with M1 Pro / Max, MagSafe that attaches charging adapter with magnet is revived, but Touch Bar is abolished --GIGAZINE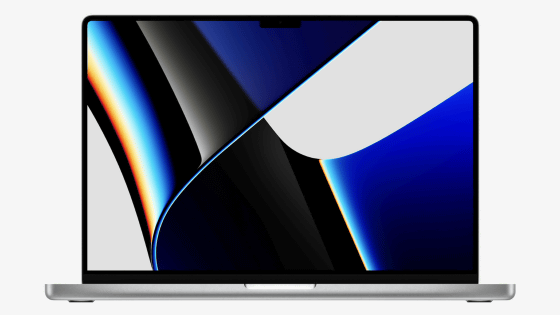 ・ October 19, 2021 05:50
High-resolution image summary of new Apple products such as ultra-high performance 'MacBook Pro' and new 'AirPods' --GIGAZINE