Next-generation game engine 'Unreal Engine 5' is finally officially released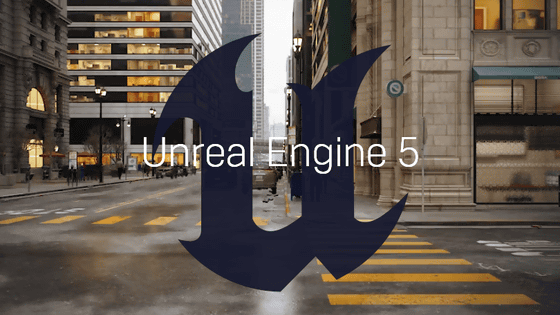 On April 6, 2022, Epic Games officially released the next-generation game engine ' Unreal Engine 5 '. Unreal Engine 5 is available as a free download and is free of charge unless you use it for a project with total sales of more than $ 1 million.

Unreal Engine 5 --Unreal Engine

https://www.unrealengine.com/ja/unreal-engine-5
Unreal Engine 5 has been released! --Unreal Engine
https://www.unrealengine.com/ja/blog/unreal-engine-5-is-now-available
'Unreal Engine 5' provided by Epic Games is a game engine used in a wide range of games such as '
Rainbow Six Siege
' and '
Bioshock
' developed by other companies as well as '
Fort Knight
' and '
Unreal Tournament
' developed in-house. The latest version of
Unreal Engine
. The Unreal Engine series also has excellent performance in video production such as real-time rendering, and it is also
famous
that the Star Wars live-action drama '
Mandalorian
' used 'Unreal Engine 4'.
In the latest version of Unreal Engine 5, the virtual micropolygon geometry 'Nanite' that enables movie quality assets created with ZBrush etc. to be directly imported into the engine and the dynamic global illumination solution 'Lumen' that instantly reflects lighting information in 3D space. With two new technologies, it is possible to create 3D graphics that can be said to be 'completely live'. You can see the power of the engine by watching the tech demo '
The Matrix Awakens: An Unreal Engine 5 Experience
' that explains Unreal Engine 5 based on the movie '
Matrix
' series.
The Matrix Awakens: An Unreal Engine 5 Experience-YouTube
As for the movie about Unreal Engine 5, we also recommend the 'Movie that runs a real-time demo created with Unreal Engine 5 on PlayStation 5' released in 2020. The following articles explain the footage of this real-time demo and the technical details used in the footage.
Real-time demo movie by PlayStation 5 of next-generation game engine 'Unreal Engine 5' is released for the first time, 'completely live-action' 3D graphics are a must-see --GIGAZINE

In this official release, in addition to the above-mentioned 'Lumen' and 'Nanite', a fast, easy and efficient UI & workflow and ...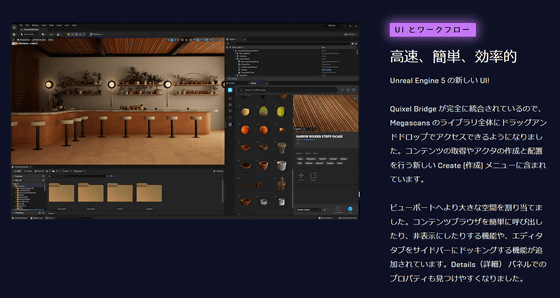 'Temporal Super Resolution' that can output higher resolution than input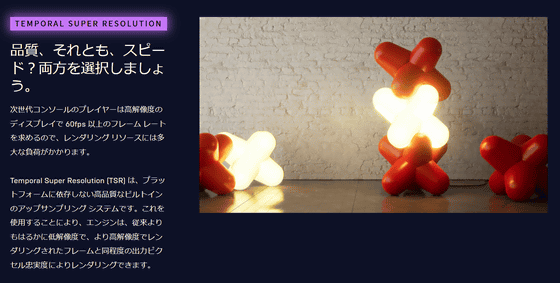 Map management system for open world 'World Partition'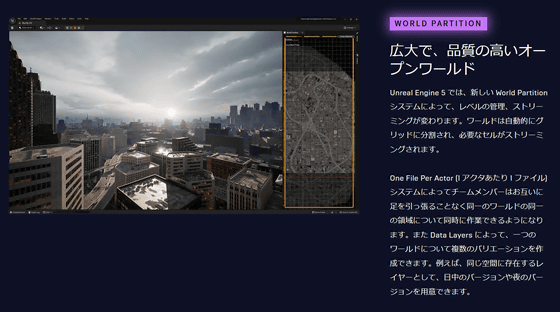 Artist-friendly 'animation production toolkit'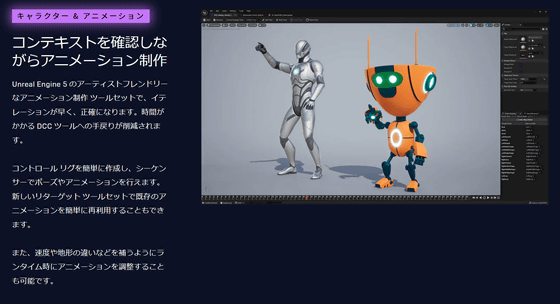 'Modeling toolkit' that allows you to create and irlate assets directly in the engine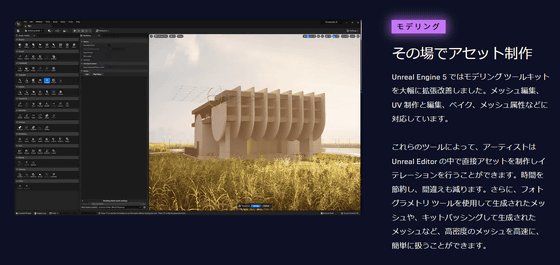 'MetaSound' that realizes the next-generation procedural audio experience is appealing.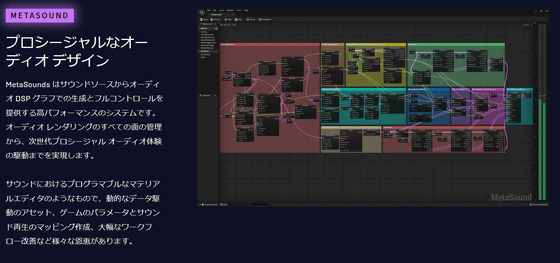 'Unreal Engine 5' can be downloaded for free from the link below, and the usage fee is 5% royalty when the total sales of products using Unreal Engine 5 reach 1 million dollars (about 124 million yen). It costs, but it's free if you don't reach $ 1 million.

Download Unreal Engine-Unreal Engine
https://www.unrealengine.com/ja/download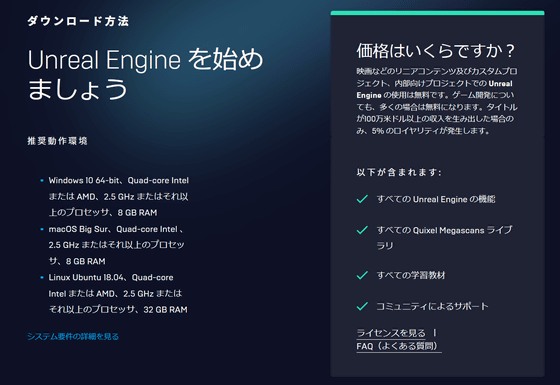 You can also download the various asset packs available in Unreal Engine 5 below.

City Samples: Engine Feature Samples --UE Marketplace
https://www.unrealengine.com/marketplace/ja/product/city-sample

City Sample (Crowd): Character-UE Marketplace
https://www.unrealengine.com/marketplace/ja/product/city-sample-crowds

City Sample (Building): Environment-UE Marketplace
https://www.unrealengine.com/marketplace/ja/product/city-sample-buildings

City Sample (Vehicle): Prop / Accessories-UE Marketplace
https://www.unrealengine.com/marketplace/ja/product/city-sample-vehicles

Lyra Starter Game: Learning Games --UE Marketplace
https://www.unrealengine.com/marketplace/ja/product/lyra